Air fryers vs toaster ovens: is there really a difference?
Learn the difference between air fryers vs toaster ovens and find out appliance is best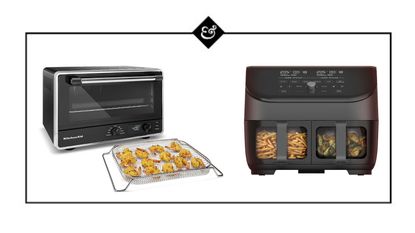 (Image credit: Instant/KitchenAid)
When considering air fryers vs toaster ovens, it can be a little confusing. Lots of models also have 'air fryer' in their name, so it's not always clear if there's any real difference between the two appliances.
This is made worse by the pressure consumers are under to make a choice. The best air fryers are the fastest growing appliance in the market, and they're a bit of a fad. There's lots of models available and manufacturers and retailers are spending millions to advertise and market them. It's certainly working: we saw unbelievable demand when we covered them over Black Friday. Conversely, toaster ovens have been a staple for years, so they seem a little less glamorous. You might be worrying that the same old toaster oven is just playing it safe, and you're missing out on newer innovations.
Thankfully, we've tested dozen of both appliances, so we know all of their features and foibles. With my personal experience and key insights from our reviews, I'll explain the details of each appliance and which makes the best investment.
As Head of eCommerce, Alex has plenty of hand-on experience with air fryers and toaster ovens. He got his start in reviewing at the iconic Good Housekeeping Institute and has since worked on a variety of publications, testing homewares, kitchen appliances and gardening machinery.
Air fryer vs toaster oven: what's the difference?
You can trust Homes & Gardens. Our expert reviewers spend hours testing and comparing the latest products, helping you choose the best for you. Find out more about how we test.
Air fryers are designed to quickly roast and bake. Because they suspend food in a basket so that air can circulate, they're great for healthy fries and roast salmon.
Toaster ovens can not only roast and bake, but also toast bread and melt cheese, which makes them the perfect appliance for making toast, grilled cheeses, and store-bought pizzas.
As a point of comparison, here's the two top models from best air fryers and best toaster ovens.
Instant Dual Basket Air Fryer
Cooking modes: Air fry, roast, broil, bake, reheat, and dehydrate
Capacity: 8 quart
Dimensions: 17.8 x 17.5 x 14.8 inches
RRP: $299.99
For
Easy to use
Removable inserts
See-through drawers
Sync to cook
Match your finish time when cooking whole meals
Against
Very large
Quite noisy
Packaging could be more sustainable
KitchenAid Digital Countertop Oven with Air Fry
Cooking modes: Dehydrate, Proof, Bagel, Toast, Air Fry, Bake, Broil, Air Fry, and Keep Warm
Capacity: 9x13-inch baking pan, or two whole chickens
Dimensions: 16" x 17" x 11.3"
RRP: $219.99
For
Monitor food as it cooks
No flip air fryer
Sleek interface with not too many buttons
Large capacity
Very versatile
Against
Interior can get messy when air frying
Exterior Hot to the touch
Ending timer is not very loud
You can see from the two appliances that the toaster oven has a bigger capacity and more functions. Where the air fryer focuses on speed and fuss free cooking, syncing two different meals to finish at the same time, the toaster oven excels at cooking a wide variety of dishes.
How do air fryers and toaster ovens work?
Think of an air fryer as a compact oven. Just like a convection (also known as fan) oven, an air fryer consists of a circular heating element and a fan to blow the heat around. However, traditional ovens are often much larger than is efficient. If you're cooking a single portion of fries, there's a lot of extra hot air in the body of the oven that isn't cooking anything at all. Air fryers therefore shrink this surplus volume, making them more efficient — and therefore faster and cheaper to run —than a traditional oven. They also cook in a basket, suspending the food in mid-air so hot air can circulate around it. Unlike a normal oven, this achieves an effect similar to frying, without having to use cooking oil.
A similar principle is at work in a toaster oven. Heating elements run parallel across the top and bottom of the oven to heat up food, like a toaster laying on its side. Just like air fryers, toaster ovens shrink a full-size oven to make it more efficient.
Which is better for cooking?
When it comes to performance, it depends on what you want to cook. For example, when it comes to fries, air fryers circulate hot air more efficiently, so they tend to produce tastier results. Consider Millie's test of fries made in the Instant Dual Basket Air Fryer:
versus the KitchenAid Digital Countertop Oven:
The difference is undeniable. The toaster oven fries are certainly cooked, but they don't look too appetising. By comparison, the fries made in the air fryer are perfectly crisp, charred, and golden. It seems like an open-and-shut case: an air fryer is the way to go.
However, the air fryer is pretty limited. Millie's test of the Instant Dual Basket Air Fryer covered fries and frozen meals. There's not much else worth cooking in it, and this is where a toaster oven shines. When I tested Breville's Smart Oven Air fryer Toaster Oven a couple weeks ago, I made six slices of toast, a pizza, fries, crispy bacon, roast vegetables, and cookies. That's breakfast, lunch, dinner, sides and snacks, all in one machine.
Is an air fryer or a toaster oven better value?
In the two examples above, the recommended price for the air fryer is more expensive than the toaster oven. This is rare - it's usually the other way around. Air fryers tend to be made of plastic, and are therefore cheaper to manufacture. What's more, because they're so on-trend, air fryers are on sale throughout the year. There's lots of air fryers that are never sold at their RRP. The toaster oven featured here is a rarity too - it's #1 in our guide because it has such a relatively low RRP. Toaster overs generally go for upwards of $300. That means that — at first glance — an air fryer is a better deal, because it's cheaper.
Nevertheless, as we've found above, toaster ovens are a more versatile appliance than air fryers. Where the Instant air fryer has 6 functions, the KitchenAid toaster oven has 9. Air fryers are great, but they can usually only replace ovens and deep fryers. Toaster ovens, on the other hand, can be a substitute for a toaster, an air fryer, an oven, a deep fryer, a dehydrator, a slow cooker and much else besides. A good toaster oven can replace multiple kitchen functions in a single appliance, which air fryers can't hope to match.
Do I need a toaster oven if I have an air fryer?
It depends. If you have an air fryer and a toaster, you're probably fine. These two appliances together can do everything an toaster oven can do, so you wouldn't gain anything by buying a toaster oven.
However, double-check your air fryer's functions. If all it can do is air fry and keep your food warm, you aren't getting as good value. A toaster oven with an air fry function could do all that and more, so if you need to replace your air fryer, consider a toaster oven.
Which should I buy?
If you're trying to cut down on your appliances, the toaster oven is the way to go. It will save you from having to store five difference appliances and let you cook almost everything you want in one machine.
For the sake of value, I'd opt for the toaster oven too. It might not match an air fryer for cooking quality, but this is a small difference, and if you're just making a quick batch of fries for the kids you aren't aiming for a Michelin-star dish. Toaster ovens might not have the glamour or prestige of air fryers, but I think they're the way to go.
Sign up to the Homes & Gardens newsletter
Decor Ideas. Project Inspiration. Expert Advice. Delivered to your inbox.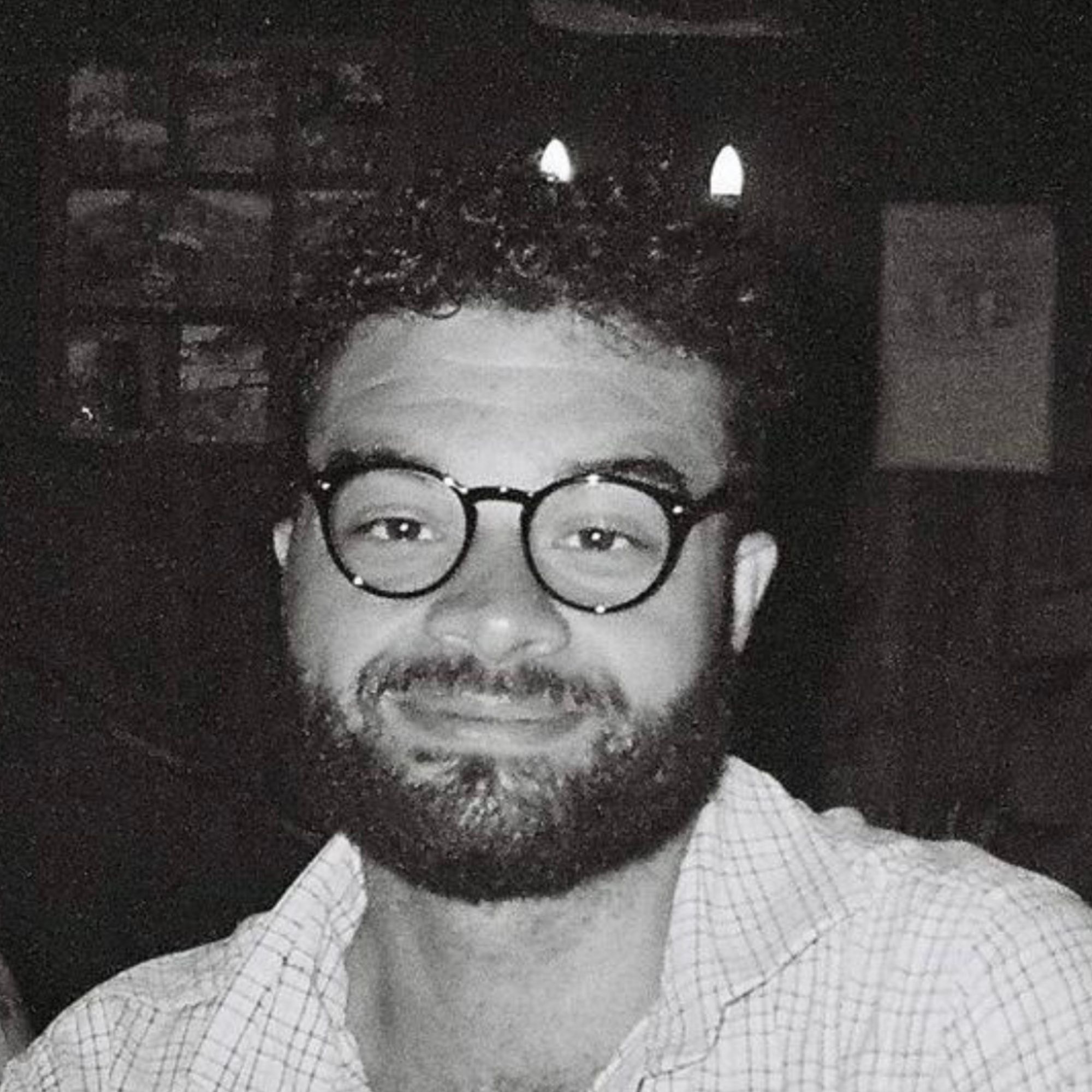 As Head of eCommerce, Alex makes sure our readers find the right information to help them make the best purchase. After graduating from Cambridge University, Alex got his start in reviewing at the iconic Good Housekeeping Institute, testing a wide range of household products and appliances. He then moved to BBC Gardeners' World Magazine, assessing gardening tools, machinery, and wildlife products. Helping people find true quality and genuine value is a real passion.