Are air fryers healthy? Everything you need to know, according to experts
Experts reveal why air fryers are a healthier option than deep or even shallow frying...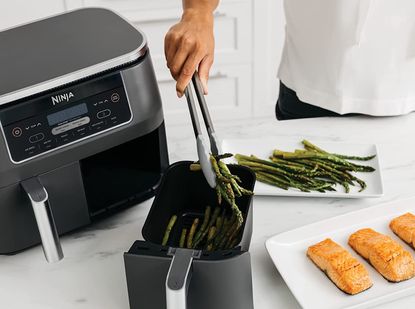 (Image credit: Ninja)
Are air fryers healthy? It's an important question, considering the word 'fry' is in the name.
The answer depends on a number of factors including, of course, what you cook in it. Baked salmon and crispy asparagus will always be healthier than fries and bacon. And steaming your food will always be healthier than frying of any kind.
But investing in the best air fryer is certainly a healthier way to enjoy those delicious foods that are often cooked in a deep-fat fryer or in lots of oil. We take a look at the benefits of cooking in an air fryer, and whether they really are the healthier option.
Are air fryers healthy?
Here are five reasons why an air fryer is a healthier choice than many other ways of cooking.
1. An air fryer cuts calories by up to 80%
Looking to indulge in some guilty pleasures without the hefty calorie count? An air fryer can help.
Adele Brennan, home electrics buyer at VonHaus, says: 'Cooking in an air fryer, in comparison to deep frying, can cut calories by up to 80%. Therefore, air fryers are a great option for those looking to cut down on their calories and fat intake.'
This is especially true when you're opting to make fried snacks at home in your air fryer, as opposed to picking up takeout from your favorite restaurant.
2. Air fryers offer a lower fat way of frying
If you're keen to keep indulging in fried food on the odd occasion then an air fryer is the healthier way to do it.
'Air fryers work by heating the food in hot air that contains small droplets of oil, so the fat intake is far lower than deep fat frying,' says Adele Brennan.
And Zoe McClean, senior home economist at Breville says: 'Air fryers are a healthier way of cooking food when compared to a deep fat fryer or even shallow frying.
'Placing food items in a perforated basket or tray allows any oil from the food to drain as it cooks, which is then collected underneath and can easily be discarded.'
3. Air frying lowers levels of acrylamide
Often found in starchy foods, acrylamide is a known carcinogen, so lowering levels is always a healthier option.
'Compared to cooking in oil, air frying helps to lower levels of acrylamide, which is found in starchy foods, like potatoes, when cooking at high temperatures,' says Adele Brennan.
4. Air frying helps to preserve nutrients
Some studies have shown that air frying helps to maintain some nutrients, including vitamin C and polyphenols (plant compounds).
Adele Brennan says: 'Convection heat, which is used in air fryers, helps to preserve nutrients during the cooking process.' Another plus of convection cooking is that it speeds up the cooking process, and will result in a crispier finish to your homemade foods.
5. Air fryers are more eco-friendly
'Air fryers also have a smaller footprint when compared to standard ovens and heat up very quickly,' explains Breville's Zoe McClean. 'Hot air is circulated fast around the oven, allowing food to brown and crisp, mimicking fried food in a short amount of time.'
What's more, deep fat frying poses a safety risk with regard to spilling hot oil or even catching fire, which is not a concern when using an air fryer.
6. You can cook without any oil
Believe it or not, you can cook without using any oil in an air fryer, especially if the food you are cooking already continues oils. This is done through hot air convection which speeds cooking time without the need for oil.
If you want to cut back on the oil and fat in your food, air fryers are great for crisping it while not submerging it in fat.
What are the healthier alternatives?
If you'd like to include air-fried food as an indulgence in an otherwise healthy diet, you could invest in the best Instant Pot, also known as a multi-cooker, which has air fry as a function but will also steam, sauté, roast and more, for a whole range of healthier options.
You'll get flavor-filled meals every day, from a simple stew to a multi-layered meal of steamed greens and baked fish, but can also throw in the odd air-fried crispy chicken and fries for a treat night.
However, don't forget that many air fryers also have the option to roast or bake, and are often versatile choices themselves.
Are air fryers toxic?
No, air fryers are not toxic, and are perfectly safe to use. Air fryers have lower levels of acrylamide, making them a healthier option than deep-fat frying your food. Remember, air fryers are only as healthy as the food you cook in them.
Sign up to the Homes & Gardens newsletter
Decor Ideas. Project Inspiration. Expert Advice. Delivered to your inbox.
Ruth Doherty is an experienced digital writer and editor specializing in interiors, travel and lifestyle. With 20 years of writing for national sites under her belt, she's worked for the likes of Livingetc.com, Standard, Ideal Home, Stylist and Marie Claire as well as Homes & Gardens.