Instant Pot vs Ninja Foodi: which should you buy this Black Friday?
In this Instant Pot vs Ninja Foodi test we put the Instant Pot Pro Crisp and the Ninja Foodi 11-in-1 SmartLid multi-cookers head-to-head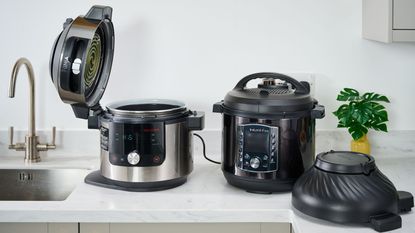 (Image credit: Future Studio / Philip Sowels)
Instant Pot vs Ninja Foodi: which should you buy? If you're in the market for a new multi-cooker, it's likely that you've whittled it down to these two brands. Both are well-respected in their own right, but Instant made its name with its multi-cookers, which is why we have a dedicated guide to the best Instant Pots featuring the Duo, the Pro, and more great options.
There are fewer iterations of the Ninja Foodi, which is a relative newcomer to the game. These multi-cookers all come with an air frying lid, which is something you'll only find on select Instant Pots. If you're someone who has always wanted to try the best air fryers but would prefer to do your pressure cooking, baking, and air frying in one smart device, there are an increasing number of models for you to choose from.
In this Instant Pot vs Ninja Foodi battle, I put the Instant Pot Pro Crisp and the Ninja Foodi 11-in-1 SmartLid multi-cookers head-to-head. Both are some of the latest (and in my opinion, greatest) models from their lineups, with comparable capacities, functions, and styles.
My verdict? While it's not suitable for every space, the Ninja Foodi is the multi-cooker I'd pick for my kitchen. However, if you're someone who will make good use of the pressure cooker function and sees the air frying setting as a 'nice to have' and not an essential, the Instant Pot will be your best bet.
Ninja Foodi 14-in-1 8-qt XL
If smart design and excellent air frying are your top concern, choose the Ninja Foodi
With a smart control panel and single-lid design, the Ninja Foodi is a storage-friendly multi-cooker that won't demand any extra space for an additional lid or an assortment of barely-needed extras.
Our major gripe is that the lid is hinged, and when extended fully it wouldn't fit under our kitchen cabinets. This will be workable if your kitchen is not entirely fitted with cabinets, or if you're able to cook on a kitchen island, but it won't be a fit for every home.
For
All functions can be done under one lid
The preheating time is quick
The recipe book caters for a wide range of dietary requirements
The 'keep warm' function makes it easy to eat when you are ready
Great for batch cooking and for families
Against
The pot cannot be used on the stove top or in the oven
Hinged lid can be too big for cabinets
If you're looking for a pressure cooker that can also air fry, we recommend the Instant Pot.
While it doesn't have the single-lid design of the Ninja, the Instant Pot Pro Crisp does offer a number of advantages. One of these is the fact that it can be used on stovetops or in the oven, and a number of extras (including the lid of the pressure cooker) can go through the dishwasher.
We also enjoyed how the handles of the pot insert can sit on either side of the cooker, meaning the pot won't spin when you're trying to stir your food. This is one issue we did have with the Ninja Foodi.
For
Pressure cooking is safe and easy
Heatproof silicone handles on the pot
Can be used on the stovetop or in the oven
Extras are dishwasher-safe
Against
It's the brand's most expensive option
You will need lots of storage space
Recipes may need to be adjusted when slow cooking
Reviewed by
Millie Fender is Head of Reviews at Homes & Gardens. She was formerly our Small Appliance Editor, meaning she is very familiar with the entire range of Ninja and Instant products, and has compared a fair few multi-cookers in her time.
Millie compared the Ninja Foodi and Instant Pot for a number of weeks, following the same recipes in each to make sure her tests were fair.
Price
Why you can trust Homes & Gardens Our expert reviewers spend hours testing and comparing products and services so you can choose the best for you. Find out more about how we test.
The models I tested are incredibly well-matched: both retail for around $250 before discounts. However, if you're asking which is cheaper, Instant Pot or Ninja Foodi, the answer is Instant Pot.
Instant has a huge range of multi-cookers, and on any given day you can pick up the Instant Pot Duo for under $100 (opens in new tab), and other less flashy Instant Pots often go on sale for around $70. By comparison, the cheapest Ninja Foodi model is the Ninja Foodi FD402, and it's currently down to $199 on Amazon (opens in new tab).
With Black Friday home deals just around the corner, we're expecting some big savings on both Instant Pot and Ninja Foodi multi-cookers, but we'd be surprised if you could buy a Ninja Foodi for less than a more basic Instant Pot.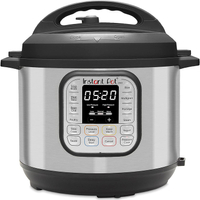 (opens in new tab)
Instant Pot Duo 7-in-1 Electric Pressure Cooker: $99.99 $79 at Amazon (save $21) (opens in new tab)
The Instant Pot Duo 7-in-1 Electric Pressure Cooker is a classic choice for those who want to pressure cook without the fuss of dealing with dozens of pre-sets. It is packed with safety features and can cook for up to six people, perfect for families.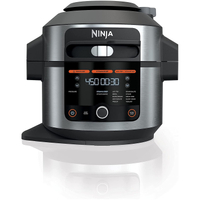 (opens in new tab)
Ninja OL501 Foodi 6.5 Qt. 14-in-1 Pressure Cooker: $279.99 $129.99 at Amazon (save 54%) (opens in new tab)
The Ninja OL501 is fully set to be the workhorse of your kitchen. It's got a sliding scale lid that can transition easily from pressure cooking to air frying, with added Steam Crisp functions that make moist cakes and delicious meat.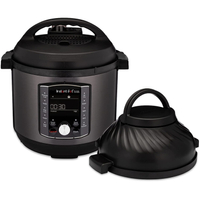 (opens in new tab)
Instant Pot Pro Crisp 11-in-1 Air Fryer and Electric Pressure Cooker Combo: $269 $169 at Amazon (save $100) (opens in new tab)
The Instant Pot Pro Crisp is our favorite Instant Pot, with an oven-safe pot and heat protected handles that prevent it from spinning when you're stirring. A range of the attachments are dishwasher-safe, and you can even pair it with an app.
Instant Pot vs Ninja Foodi: design