We're obsessed with McGee & Co.'s Winter Collection – these beautiful designs are too good to miss
McGee & Co.'s versatile new Winter Collection can enhance your home with moments of warmth, inviting textural details and a refined sense of enduring elegance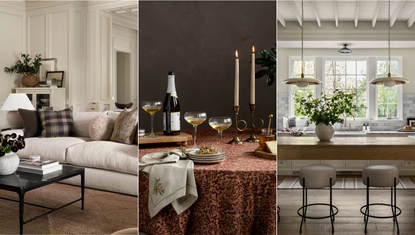 (Image credit: McGee & Co.)
Rich with cozy, comforting and contemporary character, McGee & Co.'s Winter Collection showcases a wonderful new range of furniture, lighting, and accessories.
The collection is centered on helping to create inviting moments of warmth, comfort, and timeless style in the home, and beautifully embodies McGee & Co.'s classic blend of the upscale and traditional with the more modern and casual. Perfect for cozy room ideas, the range is defined by tactile textures, deep, cocooning color palettes, and a celebration of natural materials.
We've rounded up our favorite pieces from McGee & Co.'s Winter Collection so you can peruse the very best buys that are on offer.
Our favorite designs from McGee & Co.'s Winter Collection
From beautiful patterned cushion covers and tablecloths, to beds, dining tables, and wall lights, there's something for every room in the home with McGee & Co.'s Winter Collection – explore our favorite pieces below.
Furniture
From beds to sofas, armchairs to dining chairs, there is an extensive collection of new furniture available in McGee & Co.'s Winter Collection.
With an emphasis on natural materials, such as warming wood and soft linen, the beauty of many of McGee & Co.'s furniture designs is that they are effortlessly able to integrate and grow with interiors of all ages and styles; making them wonderfully timeless.
Included in our favorites below is the Limited Edition Clemence Floral Lounge Chair, ideal for making a subtle statement in a winter living room, and the magnificent Hughes Oak Extension Dining Table – perfect for dining rooms for those who love to entertain.
Lighting
The right lighting can make all the difference in adding to the look and feel of a room, and during the colder, darker winter months, the more warming, cozy pools of light you have dotted around your home – the better.
From elegant pendants, ideal for suspending over a kitchen island or dining table, to inviting table lamps, these lighting designs from McGee & Co.'s Winter Collection can elevate your interior with practicality and style.
A simple yet wonderfully sophisticated hanging pendant, this design features an opal glass shade with a white finish on the exterior and a brass finish on the interior, perfectly complementing the delicately designed brass chain.
Abbott Ceramic Table Lamp
This cozy ceramic table lamp is an updated take on a classic table lamp design. The curvaceous, round base is subtly bold and textural, with the simple white linen shade perfect for coordinating with a range of styled spaces.
Defined by a modern, coastal feel, this beautiful wall sconce design is perfect for coastal decor ideas in a bedroom or living room, adding classic shape and inviting texture.
Kitchen and dining
As we spend more time inside during fall and winter, many of us use this time to host friends and family indoors – gone are the days for dining al fresco.
With celebrations such as Thanksgiving and Christmas on the horizon, these accessories are perfect for adding a fresh new design to your Thanksgiving table decor and Christmas table decor.
From colorful tablecloths and tea towels to glasses and pitchers, ensure you're the host with the most this winter.
Decorative accessories
It is often the smallest of accessories and decorations that can help to tie a room's design together. Whether it's decorating with mirrors or decorating with art, these final flourishes can add beautiful character and personality to a space.
We love the rustic, natural feel of McGee & Co.'s Winter Collection and have picked a few of our favorite decorations that will help to enrich your space with cozy charm.
Adding a cozy, vintage feel to your wall decor, this Berries & Leaves features a whimsical design of flowers and foliage, finished with a neutral background and a bronze-finished frame.
Featuring an ever-so-subtle curvaceous silhouette, this organic woven mirror has been crafted from lampakanai rope, abaca rope, and rattan, adding wonderful texture and unique shape to any room.
Throws and pillows
Having plenty of comforting throws and pillows dotted around your home throughout fall and winter is an absolute must.
From throws draped across sofas, helping you get cozy when watching TV, to beautiful patterned cushion covers that can bring fall and winter color into your home, styling your space with new soft accessories is an easy way to refresh your home decor for the season and make it feel more layered with inviting, warming texture – ideal