How far should your coffee table be from your couch?
For fewer spilled lattes and to keep coffee table books within reach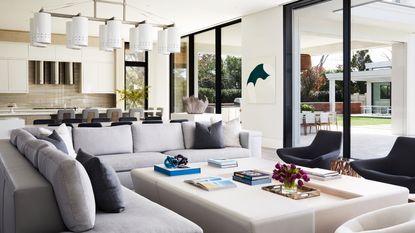 (Image credit: Read McKendree)
The coffee table could be regarded as the beating heart of a living room space. It pays to give it the perfect spot in your living room layout, as one that is in the wrong place, too far or too close to your couch, can interrupt the flow of the room, invite awkward stretching to reach coffee cups, or heaven forbid, spills.
Not only is it where we drink lattes – made in our trusty coffee makers – but it is also where we gather with friends and family. It is a vessel for connecting and relaxing, not to mention there are endless ways you can style your coffee table, too.
With that said, a coffee table does need special attention for it to bring joy to this space. Just as when defining the layout of any room, building an aesthetic that supports function is key, and a poorly placed coffee table will not do.
How far should your coffee table be from your couch?
When arranging living room furniture, steering clear of symmetry and working with the room's dimensions can create a space that feels inviting but that is inherently functional too.
With as important a piece of furniture as the coffee table, there are some factors to consider so that your best espresso cup stays intact, and your favorite coffee table book within reach. This is what to go by, according to designers.
1. Take 16-18 inches as 'the rule of thumb'
When it comes down to precise measurements, the interior designers we spoke with all go by the same golden rule: between 16-18 inches, with some recommending 17 inches exactly. Alexia Sheinman, chief strategy and brand officer of Pembrooke & Ives, explains more on the why: 'It is a comfortable distance to pass through and move around the table but also to be able to rest a drink down while sitting on the sofa.'
Alexia's passion for design has been inspired by the varied cultures and environments in which she has lived, studied, and worked. She was born and raised in New York, but has worked and studied all around the world. Alexia has studied in Greece, worked in Italy, attended university in the United Kingdom where she received a BSc in Philosophy and Politics, and completed her Masters degree in New York, receiving an MFA in Interior Design from Parsons.
Alexia joined Pembrooke & Ives as an interior designer in 2013, and has been working on multiple exciting projects ever since – including the renovation of a country club in Long Island, a reading room of the Center for Jewish History, and a 10,000 sq ft office space on Madison Avenue.
Owner and interior designer at VERDE Interior Design, Luis Carmona tells us that leaving 16-18 inches between a couch and coffee table is the rule of thumb to go by for a space that feels balanced. 'These measurements give enough room for walking and the placement of feet without the feeling of being crowded,' says Carmona.
Luis Carmona is the owner and lead designer at VERDE Interior Design. With almost two decades of experience in the creative space (interior design, advertising, and marketing), Carmona gets to blend his many passions into one design studio. Offering interior design and branding services to his commercial clients, VERDE has worked on boba tea shops, Mexican taquerias, sushi restaurants, and financial planning offices. Between the commercial and residential clients, in both Houston and Dallas, the team at VERDE continues to push the limits of design with their signature clean design aesthetic.
2. Size matters in this instance
At this stage, you might be wondering what to do if your space isn't currently accommodating this much room surrounding your coffee table. Should you be working with a particularly small or narrow lounge, you may need to reconsider your choice of couch or coffee table design so that they work better together to enhance your space.
Carmona recommends sizing down so as not to overwhelm the area: 'If one has a small space, I always suggest getting a regular-sized sofa while acquiring a smaller coffee table to make the space not feel so cluttered.'
Sheinman also recommends an alternative route to a well-balanced space: 'Opt for a narrower table, or for side tables instead.'
Taking into account how your space is already styled, and how you use it day-to-day will help with this design decision. 'It is always easier to find more surface areas to place a drink or decor item rather than finding more places for guests to sit,' adds Carmona.
3. Work with the shape of the coffee table itself
Carmona adds that shape plays an important part in creating a more inviting finish: 'Finding a coffee table with rounded corners or an asymmetrical shape also helps the space not feel as small.'
This will naturally affect the ratio between the coffee table and the couch which will impact how the space feels.
'As for the ratio between a coffee table and couch, I always suggest a table that is at least 2/3 the size of the couch,' notes Carmona. 'Not only does that give a visually aesthetic look to the space, but it also is functional in the sense where all individuals on the couch should be easily able to reach the coffee table to place their drinks, phone, or dare I say, feet.'
When it comes to feet on the coffee table, we will let you make the rules.
FAQs
How tall should a coffee table be in comparison to the couch?
How tall a coffee table is will impact how it fits with your furniture setup and couch placement.
Carmona recommends keeping your coffee table a little below cushion level. 'As far as the coffee table height, the rule of thumb is 16"-18", but that truly depends on the height of your sofa,' says Carmona. 'Having your coffee table 2" lower than your sofa is ideal. The coffee table would sit at a lower plane than your sofa while still being comfortable enough for someone to use.'
What should you do if you can't reach the coffee table?
If you are actually working with a large living room layout and would rather avoid replacing your couch or main coffee table, consider supplementing your setup with side tables as Ami McKay, creator of PURE Design, suggests:
'Ideally, everyone should be able to reach the table. If that isn't possible, add side tables beside the seating further away from the coffee table.' With smaller additions, you can take it as an opportunity to include more accent designs that will add flair and color to a neutral living room space, or one filled with gray.
Ami McKay founded PURE Design in 2000 on the belief that design is found in the art of giving. The work that she puts into each project reflects her personal life experiences and she believes they are at the heart of her business. Today, she is proud to be named one of Canada's Top Five Interior Designers.
How much legroom should you have between the couch and coffee table?
Going by 16-18" between the couch and the coffee table will accommodate access, flow, and function of the space as a whole. So if in doubt about how much legroom you need, use the precise measurements recommended by designers. '17 inches is my general guide, but it depends on the configuration,' says McKay. 'The way you set up your sitting area should work for everyone sitting around the coffee table.'
---
Though it might seem a little over the top, it pays to be specific with measurements when finding the perfect layout for your space – coffee table included.
Sign up to the Homes & Gardens newsletter
Decor Ideas. Project Inspiration. Expert Advice. Delivered to your inbox.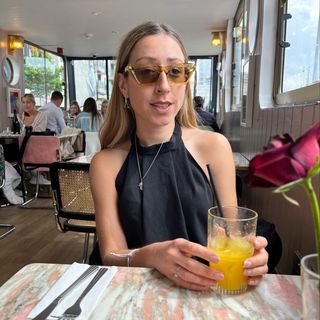 Camille is the former deputy editor of Real Homes where she covered a broad range of topics, including house tours, small space design, and gardens. She studied English language and Italian at the University of Manchester and during a year abroad studying linguistics and history of art in Bologna, Italy she started documenting her adventures and observations in a blog. Camille is always creating and spends her downtime painting, taking photos, traveling, and writing short stories.