How to organize and declutter when moving in with a partner – 7 expert tips to save your relationship
Organizing and decluttering with someone else can be a test of your relationship, here is what the experts suggest for keeping the peace – and tidiness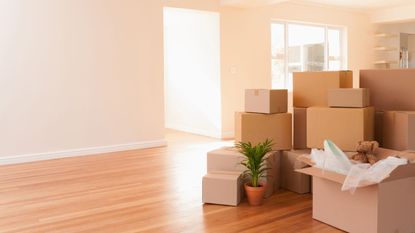 (Image credit: Getty Images)
Sign up to the Homes & Gardens newsletter
Decor Ideas. Project Inspiration. Expert Advice. Delivered to your inbox.
Thank you for signing up to Homes & Gardens. You will receive a verification email shortly.
There was a problem. Please refresh the page and try again.
Moving in with a partner for the first time can be a wonderful experience – until you have to find a place for both of your things all under one roof.
No matter how meticulous your house moving checklist is, you are bound to end up with duplicates, home decor that doesn't exactly match one another's style, and clutter that drives one or other of you up the wall at some point. So how do you organize and declutter when moving in with a partner?
Luckily, professional home organizers have the solutions.
What professionals say about organizing and decluttering when you move in together
Working out how to deal with everyday items and household clutter with a partner is just as important as learning how to merge your interior style with your partner's when moving in together. Not only does it result in a more harmonious house, but in a better relationship too.
This is how to go about it the right way, without letting stress come between you.
1. Take an honest inventory of both collections before packing up
The decluttering and organizing process should really begin before you start to pack to move in together, believes Laura McHolm, home organization expert and co-founder of NorthStar Moving. This way, you can beat away some of the obvious duplicates and 'need-to-gos' before you even get into the same space, she says.
'Before you pack, take an honest inventory of both places. If you have duplicates, decide which is in better condition or which fits best in the new shared home. If you are choosing to start fresh, sell, recycle, or donate your unwanted items.'
2. Learn to love – or tolerate – your partner's organizing style
It is vital when moving in together to remember that not everyone's home organizing ideas are going to line up perfectly, in fact, 'opposites attract!' says Janet Bernstein, professional home organizer and owner of The Organizing Professionals.
'As a professional organizer, I typically meet couples where one is very organized and the other, well, let's just say they have skills in other areas! Respect for your partner is key and I always discourage the "organized" partner from giving away anything that does not belong to them.
'I advise couples to communicate and discuss how they want to live in their home together. Nagging the other partner to give away their items never seems to be effective.'
Janet is a Certified Professional Organizer,* (CPO)® a Golden Circle** member of the National Association of Productivity & Organizing Professionals (NAPO), a member of The National Association of Senior and Specialty Move Managers, and a member of the Institute for Challenging Disorganization. She holds specialist certificates in chronic disorganization and ADHD from the Institute for Challenging Disorganization
3. Be mindful of sentimental attachments
If you are struggling to see why a partner may want to hold on to an item, remember to consider any possible sentimental attachments before nagging them to toss it out, reminds Nathaly Vieira, cleaning and organizing expert, and founder of InspireClean. 'It's so important to be mindful of your partner's emotional attachments to certain items and discuss which pieces will remain in the home,' they say.
Although it is possible to declutter sentimental items, it might not be time for your partner to let go quite yet. If you are trying to declutter when your partner is a hoarder, however, then it may be worth sitting down with them to talk them through some alternatives, especially if they can't let go of smaller things that really are getting in the way.
4. Make sure you both still have your own space for belongings
Just because you are moving into a shared space, it doesn't mean you have to share all of it. Establishing personal spaces, or even just personal home storage is a great way to organize your belongings without encroaching on one another and causing stress, advises Laura McHolm, home organization expert.
'Although you're probably moving in together to be closer, remember that absence makes the heart grow fonder! Find a little space to call your own; where you decide what goes and how it's used. Whether it's a workspace decked out with your unique style or a reading nook with piles of your sassy pillows, a little space for yourself will allow you to later regroup and compromise regarding the rest of the shared space.'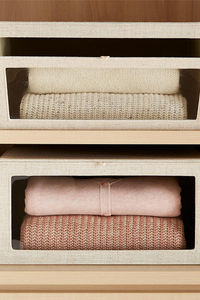 Linen Cambridge Drop-Front Sweater Box | From $34.99 at The Container Store
A commonly stored storage space in a shared home is the closet, so investing in some good closet organizers such as these baskets can help to keep your things separate, and allow you to organize your belongings as you like without encroaching on your partner.
5. Work as a team, not as competitors
As with any big decisions when moving in together, decluttering should be done as a duo, not individually. Working separately can lead to one person doing more than the other, miscommunication, and eventually some quarrels. Instead, Janet Bernstein, a professional organizer, recommends scheduling time in your calendars to tackle a certain area or group of items together.
'Keep these sessions short to about two to three hours,' she recommends. 'You will get quite a bit accomplished which will give you momentum for the next session. Blocking off an entire day typically leads to fatigue, arguments, and weak follow-through.'
It can also help to establish some guidelines for what you will buy and what you bring into the house when you move in too. Establishing which home items to stop buying will prevent either one of you from bringing in junk that the other hates or you will both regret in a year's time.
6. Use a new home's floor plan to your advantage
If you are moving into a property that is new to both of you, then pulling out the floorplan of the building can help you make smarter, more informed decisions when it comes to decluttering larger pieces such as furniture, Laura McHolm, home organizing expert, suggests.
'Take important measurements beforehand and plan out what furniture fits where. You might find his couch fits better than yours into the new space. A floor plan will also help the movers move your items and boxes a lot faster.'
7. Make space in advance in an existing home
If one partner is joining the other in an existing property, then making space for both their belongings and decor is essential, and should be done well in advance of the move to make sure the other half feels welcome when they arrive.
'Making space in an existing home for a partner can be challenging, especially if the space is limited. It's important to look at what items are necessary and which items can be donated or recycled. Following some good decluttering tips, such as the Ski-Slope method, will help to maximize space while providing a sense of order within the home,' suggests Nathaly Vieira, cleaning and organizing expert.
'Additionally, when selecting furniture and accessories, consider multi-functional pieces that can serve two purposes. For example, a coffee table with drawers that can also double as a storage unit is a great way to save space while adding style to the room.'
FAQs
What should you get rid of when moving in together?
Although what you choose to let go of when moving in with someone varies, a good starting point is duplicates of items – be it kitchen tools, books, furniture, bedding, and so on. Try to keep equal halves of each other's items, so not everything in the kitchen is one person's things, for instance, as this can feel alien to the other partner, and make them feel a little unwelcome.
When should you start decluttering when moving?
When planning a move, it is a good idea to start decluttering as early as possible, usually two or so months beforehand at a minimum. This gives you plenty of time to work through your belongings without having to rush or declutter when stressed about packing. It is also a good idea to put yourself on a buying ban during this period too, limiting yourself only to the essentials to help you work through what you already have a little quicker, and prevent adding more things you will need to pack.
---
Of course, if trying to work through all of your combined times together leads to trying to declutter when overwhelmed, then you can always call in a professional, reminds professional organizer Janet Bernstein. 'Hiring an experienced professional organizer can work wonders in decreasing the tension between a couple and the organization of their home,' she assures. 'It never hurts to have an outsider's perspective on some things.'
Sign up to the Homes & Gardens newsletter
Decor Ideas. Project Inspiration. Expert Advice. Delivered to your inbox.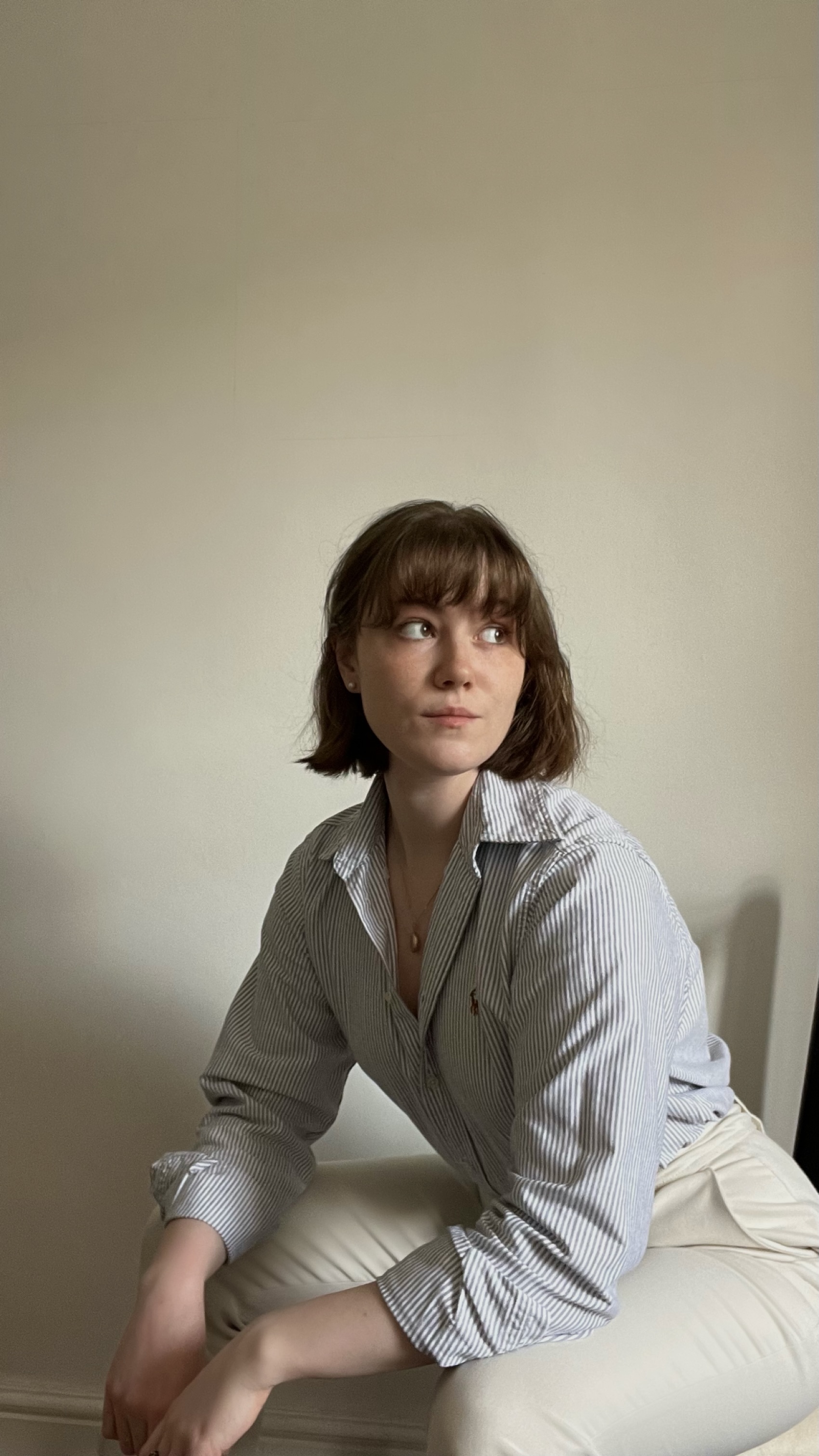 Chiana has been at Homes & Gardens for a year, having started her journey in interior journalism as part of the graduate program. She spends most of her time producing content for the Solved section of the website, helping readers get the most out of their homes through clever decluttering, cleaning, and tidying tips – many of which she tests and reviews herself in her home in Lancaster to ensure they will consistently deliver for her readers and dabbles in the latest design trends. She also has a first-class degree in Literature from Lancaster University.