6 places you didn't know you needed a mirror in your home – for a bigger, brighter, better space
Experts share some unexpected places to consider placing a mirror in your home, for a far more interesting reflection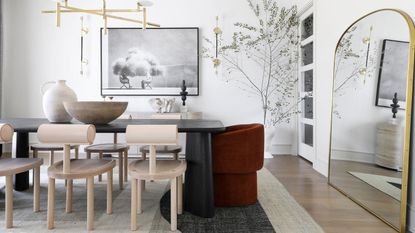 (Image credit: Urbanology Designs, Matti Gresham Photography)
Sign up to the Homes & Gardens newsletter
Decor Ideas. Project Inspiration. Expert Advice. Delivered to your inbox.
Thank you for signing up to Homes & Gardens. You will receive a verification email shortly.
There was a problem. Please refresh the page and try again.
Long have mirrors been finding purpose in our homes. Though naturally primed for the necessary checking of one's reflection, there is, in fact, much more to mirrors than meets the eye.
Not to mention, their placement goes far beyond the bathroom vanity. Mirrors can create the illusion of space and add a sense of grandeur to a home, but it seems as though these heroes of the interiors world could actually be working even harder.
Places you didn't know you needed a mirror in your home
How designers use mirrors is getting more inventive than ever, so could it be that you are missing out on some golden mirror decorating opportunities? We caught up with a handful of experts to see their most interesting mirror placements yet.
'Mirrors can be a great addition to any home, not just because they're functional but also because they can add some visual interest to a room,' shares Erick Garcia, Principal of Maison Trouvaille.
'While most people think of hanging mirrors in the usual spots like over a dresser or a bathroom sink, there are some unexpected places where a mirror can really shine. For example, hanging a mirror in a hallway can help make the space feel larger and more open,' continues Erick.
Erick Garcia is the founder of design studio, Maison Trouvaille and he creates spaces that explore and enhance a client's personal style. Trouvaille is actually French for 'lucky find', to express discovering something wonderful by chance. This is a defining part of Erick's design process, from which he draws inspiration from his travels, as well as the art world, culture, and fashion.
1. Opposite static artistic features
A mirror above an entryway or hallway console may not sound new, however, shifting the positioning to ensure that you will be reflecting something more striking might be. Lauren Lerner, CEO and Founder of Living with Lolo encourages us to use mirrors with artistic purpose.
'There are not any hard nos about where not to put a mirror, but we always like to think about what the reflection will be in the mirror,' says Lauren. 'For example, putting a mirror across from a door may not be the best option as you will be looking at the door opening and closing, but if it is located somewhere else with a more static reflection, it can be a piece of art that is seen in the reflection.'
Note how the trio of artwork and hanging pendant in this round mirror's reflection complement the contemporary decor atop the console.
Lauren Lerner is the principal designer and founder of Living with Lolo, the interior design firm based in Scottsdale, AZ, since 2017. Fueled by her love for clean lines, mixed metals, colors, and timeless pieces, Lerner thrives on bringing a client's home to life from the very beginning.
2. In cramped corners of your home
Where you place a mirror will depend on your home's needs. Ginger Curtis reminds us of how mirrors visually enhance rooms.
'They can make a room feel larger and brighter, so if a corner of your home is dark and feels cramped, a mirror is a brilliant solution to make your space feel lighter.'
In slight contrast to Lauren's advice, Ginger placed this mirror on a modern entryway bench opposite the front door to do precisely this.
'This mirror placement was an opportunity to do something unexpected and reflect the abundant light coming through the front door this is across from,' shares Ginger Curtis.
It opens up the space and provides a place to quickly check your outfit before heading out, too.
To create a similar look, lean this zinc floor mirror, reduced at Anthropologie on a bench or the floor. Alternatively, you may want to consider this statement arch mirror from Wayfair, which has a classic shape and clean lines, which will work well whatever your home's aesthetic.
Rooted in simplicity and elevated by extraordinary beauty, interiors by Dallas-based Urbanology Designs bring organic luxury to life. Their soft, modern approach allows clients to relax in the warmth of a comfortable and crafted home. Their design-forward sensibility looks beyond today's times, trends, and whims to create homes with longevity and intention.
3. As a dramatic backdrop in a living room
A wall of acid-wash mirrors is a feature in and of itself. Brad Ramsey, the principal and founder of Brad Ramsey Interiors used antiqued bronze mirrors in this living room space to detract attention from the television, and there is no denying that it is doing a fine job.
Brad Ramsey landed in Nashville, TN in 1999 after leaving his Georgia roots and began his design career in 2008 at a Nashville interior design studio that went on to have its own feature television show on HGTV. He would eventually launch his namesake firm, Brad Ramsey Interiors, in 2012. Since its formation, the BRI team has built and reimagined homes and commercial spaces around the country with their intuitive approach to design and creativity.
'We added antiqued bronze mirrors on the one wall we had to work with to add some warm reflection and depth to the space. This allows the mirrors to be the focal point rather than a TV on the main wall,' says Brad Ramsey. 'As a bonus, the reflection of the gorgeous chandeliers is shown in the mirrors, making the room feel so much larger.'
Ginger notes how an interesting finish on a mirror might bring more atmosphere to a space too: 'An acid-stained mirror is a great way to emphasize more drama if wanting a moody feel in your room.'
To emulate this antiqued effect at home, you may like to consider a color-washed mirror, available at Anthropologie in either a circular or square shape. Rest it on a mantel or mount three together on a wall for instant depth and interest.
4. At the head of your dining room table
A mirror this grand can certainly be a conversation starter, especially when placed at the head of a dining table. 'Another unexpected spot to hang a mirror is in a dining room, where it can reflect the glow of candles and create a cozy ambiance during dinner parties,' shares Erick Garcia.
Choose a large design that is as ornamental as you please to bring character and balance in a room that is particularly spacious.
Interior designer Joshua Smith has cleverly positioned this mirror to reflect the pendant lighting and other discerning features of this modern dining space. 'Mirrors rank at the top of the list in the designer's bag of tricks! They definitely create some magic in an interior space by enhancing and reflecting light. They can be used to create the illusion of a window or reflect a design element,' he says.
'A fail-proof option is to hang a mirror to bring in more light to a room, but always pay attention to what will be in the mirror's reflection. It should be something pretty, like a light fixture,' continues Joshua.
Named a Rising Star by House Beautiful and part of Traditional Home's New Trad Class of '23.
With projects on both coasts, Joshua Smith Inc, offers full-service residential interior design – and life-changing spaces. Joshua draws on decades of experience transforming functional spaces into inspiring environments that engage the senses and nourish the soul. By cultivating the connections between mind, body, spirit, and space, he helps his clients elevate their experience each day.
5. Where it can reflect biophilic moments
Reflecting light is one thing, but mirroring the greenery inside your home can bring a sense of the outdoors into your surroundings and might even promote good Feng Shui above a fireplace, for example.
Ginger Curtis encourages us to let mirrors capture and amplify nature: 'Use a mirror to enhance a nurturing biophilic moment by placing near indoor plants to infuse greenery into confined spaces. These unsuspecting spots ignite vibrancy and intimacy through clever reflection.'
6. On a patio
Much like a mirror can enhance space in a small or awkward hallway inside, a mirror can add design interest to your outdoor space, too.
'The exterior of the house is often overlooked as a place to hang mirrors, but they can be a beautiful way to reflect greenery and sunlight on a covered porch,' suggests Jamie Young, and we're sure you will agree, that this mirror-polished water wall by David Harber is quite magical, and it might make the perfect reflective surface for a patio.
Ginger Curtis highlights how you can create more of an indoor-outdoor feel with this kind of positioning: 'If you have a beautiful patio with a big glass wall or glass doors, putting a mirror on the opposite wall will help reflect the light and tie the indoors with the outdoors by reflecting your landscaping.'
Jamie, born and bred in California, loves to bring non-traditional yet approachable design into the home. Finding inspiration from her home, she elevates the joy and warmth of coastal living with modern yet comfortable design. But it was through travel, around the country and around the world, that Jamie found a harmony between her and her husband's sculptural aesthetics. Together they started Jamie Young Co. to bring their vision to life, and into the homes of others.
FAQs
Where else could you position mirrors at home?
It becomes increasingly clear that there are endless opportunities (and places) to add a mirror to your home. 'Mirrors serve as more than just reflective surfaces; they are artistic accents that transform spaces, elevate light, and create an illusion of depth,' says Ginger. 'As we look into the nuances of mirror placement, we unveil the unexpected realms where mirrors can weave magic, while understanding the logic behind our timeless mirror placements.'
Our experts kindly shared more suggestions and other memorable mirror installs.
Behind built-in shelves
Victoria Holly finds mirrors can make an exciting and elegant addition to shelving: 'I love including mirrors behind built-in shelves, either in a closet or in a glamorous room to help open up the space,' says Victoria. 'It's an unexpectedly elegant pop, contrasted with leaving the backs of the shelves in the same paint finish.'
Mirror mirror on the ceiling
Mirrors on a ceiling can make for a more dramatic aesthetic shares Victoria, especially if you choose a dark colored or antique finish.
Wall-to-wall down the hallway
But the most interesting place that Victoria installed a mirror was actually down a very narrow hallway in a bid to open it up and create space. 'We installed a custom long wall-to-wall mirror down a narrow hallway on the ceiling and it was absolutely stunning,' Victoria tells us. 'It really added drama to an otherwise narrow space and helped the space feel larger.'
On a blank kitchen wall
Ginger suggests the kitchen as a hotspot for mirrors: 'Our homes are ripe with hidden opportunities for mirror placement. Consider placing a mirror on an empty kitchen wall to amplify culinary creativity or a grand kitchen feature.'
Inside a non-functioning fireplace
Finally, rather than placing a mirror above a mantel like you might find in a living room, Jamie proposes a slightly different take, should your fireplace allow. 'If you have a large non-functional fireplace, placing a mirror inside can create the illusion of depth and make the room feel more spacious.'
Victoria Holly Interiors is a full-service interior design firm that specializes in creating beautiful and functional spaces for both residential and commercial clients. They pride themselves on their ability to deliver high-quality projects that meet the unique needs and preferences of their clients. Victoria Holly Interiors offers a wide range of professional services, including project management, interior design, construction assistance, and renovations
How do you decide on the location of a mirror?
In most cases, considering the purpose of your mirror will help determine where might be the best place for it. Especially if you are working with a particularly awkwardly shaped space where a mirror might provide a solution.
'Will it be used for functional purposes, such as applying makeup or checking your outfit, or is it purely decorative?' says Erick Garcia. 'Once you have determined the purpose, you can then assess the available wall space and natural lighting in the room to determine the most suitable location.
'In a small, awkwardly shaped room, you may want to consider a full-length mirror placed behind a door or in a corner to maximize space. In a larger room, a statement mirror can be placed above a fireplace or on a feature wall to create a focal point. Ultimately, the location of the mirror should enhance the overall aesthetic and functionality of the room.'
---
Placing mirrors in unexpected places will be for decorative interest, first and foremost. Function can nevertheless still be an intrinsic part of your decision, especially if there is a particularly awkward area that wants your attention. It's never too late to be more creative with your mirror placement, so don't be shy and take a leap of faith for a more interesting reflection.
Sign up to the Homes & Gardens newsletter
Decor Ideas. Project Inspiration. Expert Advice. Delivered to your inbox.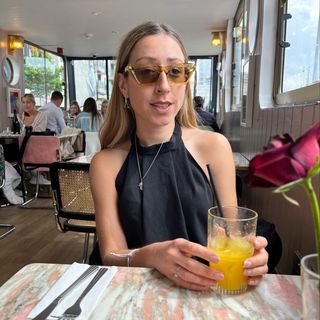 Camille is the former deputy editor of Real Homes where she covered a broad range of topics, including house tours, small space design, and gardens. She studied English language and Italian at the University of Manchester and during a year abroad studying linguistics and history of art in Bologna, Italy she started documenting her adventures and observations in a blog. Camille is always creating and spends her downtime painting, taking photos, traveling, and writing short stories.