My rapid-fire ways to reduce the clutter room by room
I'm H&G's Solved editor, and these are the small steps I take to reduce the clutter in each and every room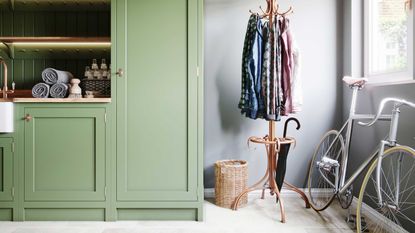 (Image credit: Olive & Barr)
Sign up to the Homes & Gardens newsletter
Decor Ideas. Project Inspiration. Expert Advice. Delivered to your inbox.
Thank you for signing up to Homes & Gardens. You will receive a verification email shortly.
There was a problem. Please refresh the page and try again.
Decluttering is not only physically hard work but it can be emotionally tiring too, because of all the memories brought up and decisions we have to make when combing through our possessions and working out what stays and what goes.
And actually, we often forget that a quick fix can go a long way in making our homes feel like Marie Kondo just visited. Below, I'm sharing my easy decluttering tips for each room of the home.
None of this takes long, so you can dip in and do some light decluttering that doesn't leave you feeling jetlagged. I have recommended some storage and home organizing products to help, but you can do most of these quick fixes without buying anything.
My rapid-fire ways to reduce the clutter
We are focusing on small steps here rather than trying to deal with everything. But if things are going well and you'd like to linger for longer in a particular room or dedicate more time fully sorting out your shelves, our decluttering checklist will give you more inspiration on items you can clear out without any decluttering regret.
1. The entryway
Just deal with the shoes. Shoes always seem to be everywhere and we need much more shoe storage than we first think whenever we move into a new home.
The best way to stop entryway clutter from boiling over is to just keep a few of your most worn pairs in a basket in the hallway and move the rest elsewhere. This doesn't have to be your closet if that's already tight on space – try an overdoor shoe organizer, like this one at Wayfair, in a different closet down the hall.
Otherwise, you could keep shoes contained in a bench seat (provided that it will fit comfortably in your hallway without compromising on the flow of the space). Try to edit down the number of shoes in the entryway to create a more orderly and welcoming feeling when you walk through the door.
To quickly address the mountain of coats and excess tote bags: relocate any coats and bags that aren't used regularly or are out of season, and consider getting rid of a few of the bags.
2. The living room
The living room becomes cluttered quicker than most because it performs so many different functions. We're also constantly passing through it and absent-mindedly leaving a trail of items in our wake, from delivery packaging that needs to be taken outside and recycled to coffee mugs and mail.
My suggestion is to try the five-minute cleaning challenge in the living room, taking a photo before and after a rapid, timed cleaning session. Focus on clearing surfaces, from the coffee table to seating and shelves. Your closed living room storage solutions (credenzas, armoires, and so on) are where you can hide messy clutter away, from kids' toys and games to cables.
If you would prefer to have a more structured plan to follow, the 12-12-12 decluttering method breaks decluttering down into things to get rid of, things to put in the trash and things to return to their proper home.
3. The kitchen
Sort out the mismatched Tupperware and plastic containers.
'If I had a dollar for every time I opened a client's drawer or cabinet to a slew of mismatched Tupperware containers!' says Caroline Solomon, a home organizing expert and content creator.
'One handy solution to keeping Tupperware and plastic containers in check is to invest in a lid organizer, at Amazon, which allows you to organize lids by height. I'm also a fan of popping lids in an over-the-cabinet rack, at Amazon, which allows you to breezily flip through all your lids from overhead.
'Before recycling mismatched containers, consider reusing those lone Tupperware bases in other places in your home. You can repurpose them as storage organizers in your junk drawer, pantry, or linen closet. I would also recommend storing excess plastic silverware in your car's glove compartment, for your next long car ride.'
To help you get your food containers sorted, we rounded up ten ways to organize Tupperware and plastic containers, from stacking to using shelf risers.
Holding a BA in Psychology from Harvard and having worked in the beauty editorial world, Caroline brings pragmatism and polish to home organizing. She has transformed many cluttered homes and enjoys creating compelling short-form videos on home organization, cleaning, and tidying.
4. Your workspace
Get a handle on your cables, because this will make all the difference. Unfortunately, this is hard to do without spending anything, unless you keep extra cords and chargers in a cute basket you already have tucked under the desk, for instance.
In my home office, I use cable clips, at Amazon, that stick to the side of the desk. When cables are at least held in place, they look much neater and won't slide around or get tangled as easily. You can also stick them to the back of your monitor, on your desk, or wherever it makes the most sense.
I also have a cable management box, available at Amazon and it's one of the best, most useful organizers I own. It sits next to my TV and router and conceals the wires so that the area is easier to vacuum and it stops my cords ruining the aesthetic in my living room.
5. The bedroom
Maximalists may not want to hear this, but in the bedroom, it's a good idea to take a moment to assess the visual noise levels. Consider if you have too much home decor on display because an abundance of books, mementos, picture frames, plants, and other decorative objects in the bedroom can make it hard to unwind because there's nowhere for the eye to rest.
A great, quick way to declutter your bedroom without spending hours on it is to pack some bedroom decor into a box to store away so that you can shop your home at a later date. Or maybe they can just find a new home in the living room or another space, provided that it looks intentional and not cluttered.
6. The bathroom
Move any backups and store them in their own designated spot. It makes sense to bulk buy toiletries we always use, but three bottles of mouthwash and three tubes of toothpaste can take up unnecessary space day to day. Now and then I edit down the contents of my bathroom vanity and put spare products in a basket in the hallway cupboard. They are still easy to access but not cluttering up the small space I have and making it hard to see what's in there.
If storage space in general is a squeeze, Caroline Solomon recommends a space-savvy solution. 'I'm a huge fan of these slim storage carts, at Amazon, for storing excess bathroom countertop clutter,' she shares. 'They can also be wedged into tiny, narrow spots so work in the smallest of bathrooms.
'In a pinch, you can use empty shoeboxes to corral excess clutter and store in the bathroom sink. Items like extra toiletries and hair tools work great in these storage solutions.'
FAQs
How can I declutter a little at a time?
Decluttering a little bit at a time is more realistic and doable than trying to make big changes in one weekend, so make really small targets like tidying up the sock drawer and leave it at that for the day. Stopping when you could still keep going with tidying will mean you feel motivated to do some more the following day. What helps me is remembering the idea of 'keeping the promise you have made to yourself' – there's always something we would rather be doing but getting on top of clutter makes us feel less stressed, helps us sleep better and means we're not constantly losing our keys/headphones/wallet.
---
A final tip is to view your home as someone visiting for the first time. This instantly highlights the doom piles, the things that don't belong, and the cluttered surfaces. Keep momentum by just doing one rapid-fire decluttering session in one space, keeping it to a short length of time, perhaps 20 minutes while calling a friend. Small, consistent bursts can help us keep momentum and avoid declutter overwhelm.
Sign up to the Homes & Gardens newsletter
Decor Ideas. Project Inspiration. Expert Advice. Delivered to your inbox.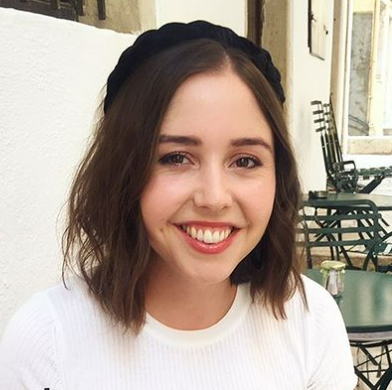 Millie Hurst is the Solved Section Editor at Homes & Gardens. She has six years of experience in digital journalism, having previously worked as Senior SEO Editor at News UK in London and New York. She then gained experience writing for women's magazines before joining Future PLC in January 2021. Millie has written for an array of homes brands including Livingetc and Real Homes and was formerly Senior Content Editor at Ideal Home before taking on the position of Section Editor with Homes & Gardens. She has written and edited countless features on home organization, decluttering and interior design and always hopes to inspire readers with new ways to enjoy their homes. She lives in Sheffield, South Yorkshire and loves to weave nature-inspired decor and nods to time spent in Italy into her own home.