What is an egg crate mattress topper? Experts explain the benefits and drawbacks
Egg crate mattress toppers are a popular choice for helping with back pain and sleep – we speak to the experts to find out the pros and cons of this mattress trend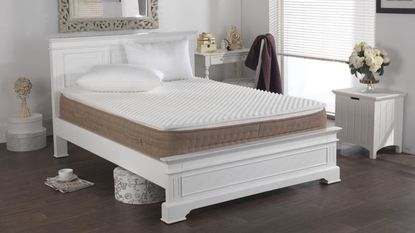 (Image credit: Lancashire textiles )
Sign up to the Homes & Gardens newsletter
Decor Ideas. Project Inspiration. Expert Advice. Delivered to your inbox.
Thank you for signing up to Homes & Gardens. You will receive a verification email shortly.
There was a problem. Please refresh the page and try again.
Mattress toppers are made with comfort in mind. If your current bed is too firm, or your mattress has seen better days and nights, then adding a mattress topper can transform your sleep surface. But if you find yourself waking up with back pain, then there is one type of mattress topper that is rising in popularity: the egg crate mattress topper.
Different from the standard memory foam topper you might see from mattress brands like Casper, Coop, or Nolah, an egg crate topper is made from foam to resemble well, an egg crate. These foam peaks actually have a lot of sleep benefits, including helping with pressure relief and keeping you cool at night.
Egg crate toppers are also much cheaper than other types of topper. But for hundreds of dollars less than the the best toppers, it's reasonable to doubt their durability and quality, and questions about what egg crate matters are made from and if they're best for your back.
As H&G's sleep editor, I'm keen to try one out for myself. Having tested some of the best mattress toppers on the market it would be insightful to see how they compare to memory foam, featherbed, or pillow-top types. To find out more about this sleep trend, I spoke to the experts to break down the pros and cons of egg crate mattress toppers.
What is an egg crate mattress topper?
An egg crate mattress topper gets its name from its unique design. As Karl Shevick, founder and CEO of Earthfoam explains, 'an egg crate mattress topper is a mattress topper cut with one side that resembles an egg crate.' It's typically made from polyurethane foam.
Karl Shevick is the Founder and CEO of Earthfoam, a sustainable mattress and sleep company. Earthfoam's goal is to offer an honest product that brings sustainability to the forefront without sacrificing function or form.
The benefits of sleeping on egg crate
Memory foam mattress toppers remain the most popular topper choice, but egg-crate mattress toppers are growing in popularity. This is due to the number of sleep benefits from laying on top of these egg-crate peaks, including increased blood flow airflow, and pressure relief:
Pressure relief: Egg crate mattresses have bumps, dips, and curves designed to contour the body, provide support and alleviate any pressure on muscles and joints. They're said to do a great job at providing back support, but if you're really struggling with back pain, I'd suggest investing in the best mattress for back pain for a better chance at ache-free sleep.
Breathable: Memory foam is known to trap heat, especially when it's in the form of a thick foam block. The grooves in the egg crate foam peaks allow for increased airflow, helping you stay cooler at night. Some may even come with a gel layer for the added benefit of a cold-to-the-touch surface.
More loft, less material: Karl explains that 'egg crate mattress toppers use less material to make, yet have an increased loft.' This makes them more effective at altering the surface of your bed, without adding too unnecessary height.
Price: Egg crate mattress toppers are relatively affordable compared to all other types. You can order one of these covered bed layers for under $100. This makes them the ideal quick-fix if you're needing a temporary solution before you buy a new mattress.
The cons
However, egg crate mattress toppers have their drawbacks. From not lasting as long to being made of non-sustainable materials, they shouldn't be considered as a long-term solution to uncomfortable sleep.
Less durable: Due to the peaks of foam, egg crate mattress toppers tend to lose their shape and therefore support much faster than denser foam toppers. After just a few months, it's likely there will be a permanent indentation of where you lay at night. Generally, egg crate mattress toppers will last up to 3 years, whereas memory foam or latex mattress toppers could last anywhere from 3-10 years.
Off-gassing from synthetic materials: Egg crate mattress toppers are made from synthetic fibers that may contain toxic chemicals. Because of this, they may initially emit a strong chemical odor once unboxed. While this can be unpleasant, the small will subside after a few hours, or a day at most. The use of non-eco-friendly materials also makes an egg crate mattress topper an unsustainable choice. If you're wanting to be more eco-conscious, it's not a great purchase to make (and maybe you should opt for an organic latex mattress topper instead, like the Plushbeds Natural Latex Topper.
The best egg crate mattress toppers
Lucid 2.5" Memory Foam Mattress Topper
This top-rated egg crate mattress topper from Lucid combines different types of foams and densities for overall better sleep. There's a plush layer of lavender-infused memory foam and two layers of thicker gel foam for contoured support and cooling. There is plenty of great customer reviews complimenting how well it helped with joint pain. This is the egg crate topper I'm wanting to test the most.
Best Price Mattress 3" Mattress Topper
This Amazon best-selling egg crate mattress topper from Best Price has impressive reviews. Delivered in a convenient lightweight box and easy to unroll and said to expend within 5 minutes, it's a simple and cheap egg crate mattress topper you can buy and take to college or even put on your guest bed. It has a lavender scent too, but it's not to everyone's taste.
Slumber Solutions 4" Gel Memory Foam Mattress Topper
This is one of the thickest mattress toppers you can buy, which means more height for your bed, and extra support. This Sleep Solutions topper is manufactured with CertiPUR-US Certified Foams too, which takes the worry out of sleeping on potentially toxic foams. Reviewers note how this also means there is very little off-gassing smell, often found in foam bedding.
FAQs
What is the difference between egg crate foam and memory foam?
The main different between egg crate foam and memory foam is the shape and design. Where egg crate features a top layer with peaks that resemble an egg crate, memory foam is in a solid, flat topper. Egg crate foam is made with side and back sleepers in mind as it provides additional support on the spine, hips and shoulders when lying down. Memory foam suits all sleep styles and the smooth surface will adapt and contour around your body. It will retain its original position after sleeping.
Are egg crate mattress toppers good for side sleepers?
The convoluted design of egg crate foam mattress toppers makes them especially suitable for side sleepers. This is because side sleepers need to keep their knees, hips, and shoulders aligned for the ultimate sleep position. It's easy for these areas to come out of line during sleep either by a leg overlapping the other or the shoulder rolling in and underneath the head. If the knees, hips, and shoulders are not aligned, it can lead to joint pain.
The peaks of the egg crate mold around the body and reduce any pressure on the joints to keep the spine comfortably in place. By spreading the pressure out, there is less push on the 'greater trochanter', aka the hip bone.
Which way do you put an egg crate on the bed?
An egg crate mattress topper can be used with either the peaks facing down or up, though generally keeping the egg crate surface on the top will allow the sleeper to experience the full effect of the design. This will help with back pain by reducing the pressure on the knees, hips, and shoulders, as well as working to keep you cool as the egg crate foam allows air to flow through the topper.
---
If you're suffering from back pain as you sleep, you should always speak to a doctor. If you back pain isn't caused by an injury or illness, the problem could be your mattress. If your sleep surface is too soft or too firm, a mattress topper will help you find the right balance.
Sign up to the Homes & Gardens newsletter
Decor Ideas. Project Inspiration. Expert Advice. Delivered to your inbox.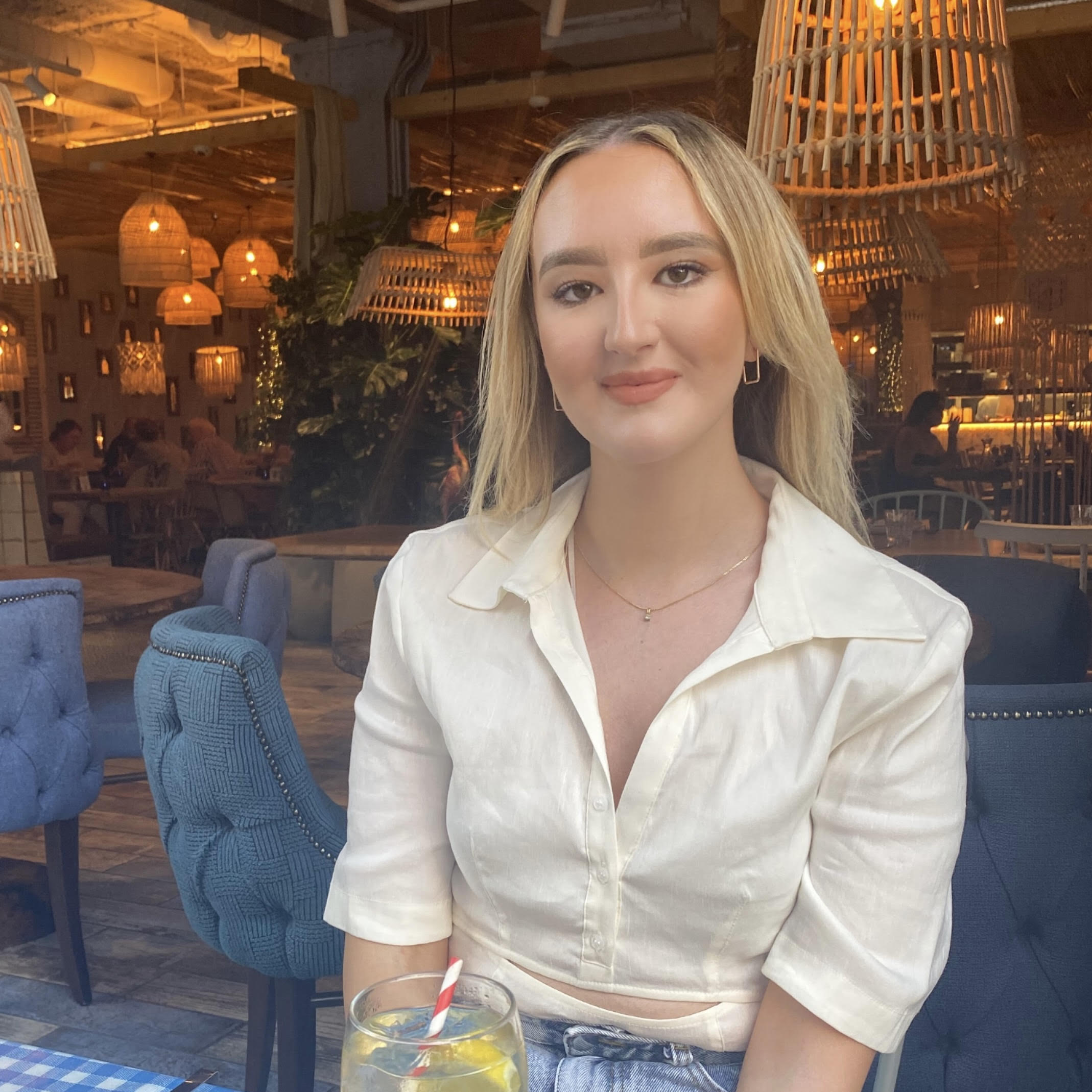 Louise is your eCommerce Editor and sleep specialist to help you wind down well. A connoisseur of the mattress world, Louise previously covered sleep and wellness (as well as the occasional organizational buy) at Real Homes, and has tried, tested, and reviewed some of the buys for your bedroom. With an MA in International Journalism and PR experience, Louise brings bags of bedding expertise and enjoys nothing more than helping readers find solutions and products that best suit their sleep needs.