Where to hang art in a small bedroom, according to designers
Interior designers give their advice on where to hang art in a small bedroom and offer top tips on choosing art for bedrooms where size is an issue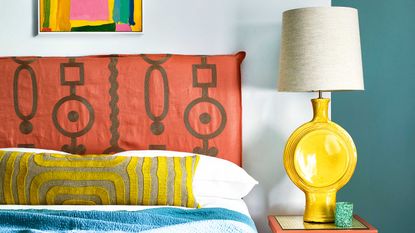 (Image credit: Future PLC)
Sign up to the Homes & Gardens newsletter
Decor Ideas. Project Inspiration. Expert Advice. Delivered to your inbox.
Thank you for signing up to Homes & Gardens. You will receive a verification email shortly.
There was a problem. Please refresh the page and try again.
Wall art can completely transform a space, but where to hang art in a small bedroom? Some bedrooms are so small that it can seem like there's no space to hang anything at all.
Or perhaps you have a large painting that you're worried will dominate the room too much if you hang it in the wrong place.
Exploring bedroom art ideas is about more than picking out the kind of art you like. It's also about figuring out what will work where in your bedroom. Larger bedrooms can be easier to hang art in because they just have more space for you to play with.
Where to hang art
However, that doesn't mean that smaller bedrooms can't look great with art in them. With the help of a few useful tips from professional interior designers, you'll be able to find the best positioning for art in even the tiniest of bedrooms.
1. Above the bed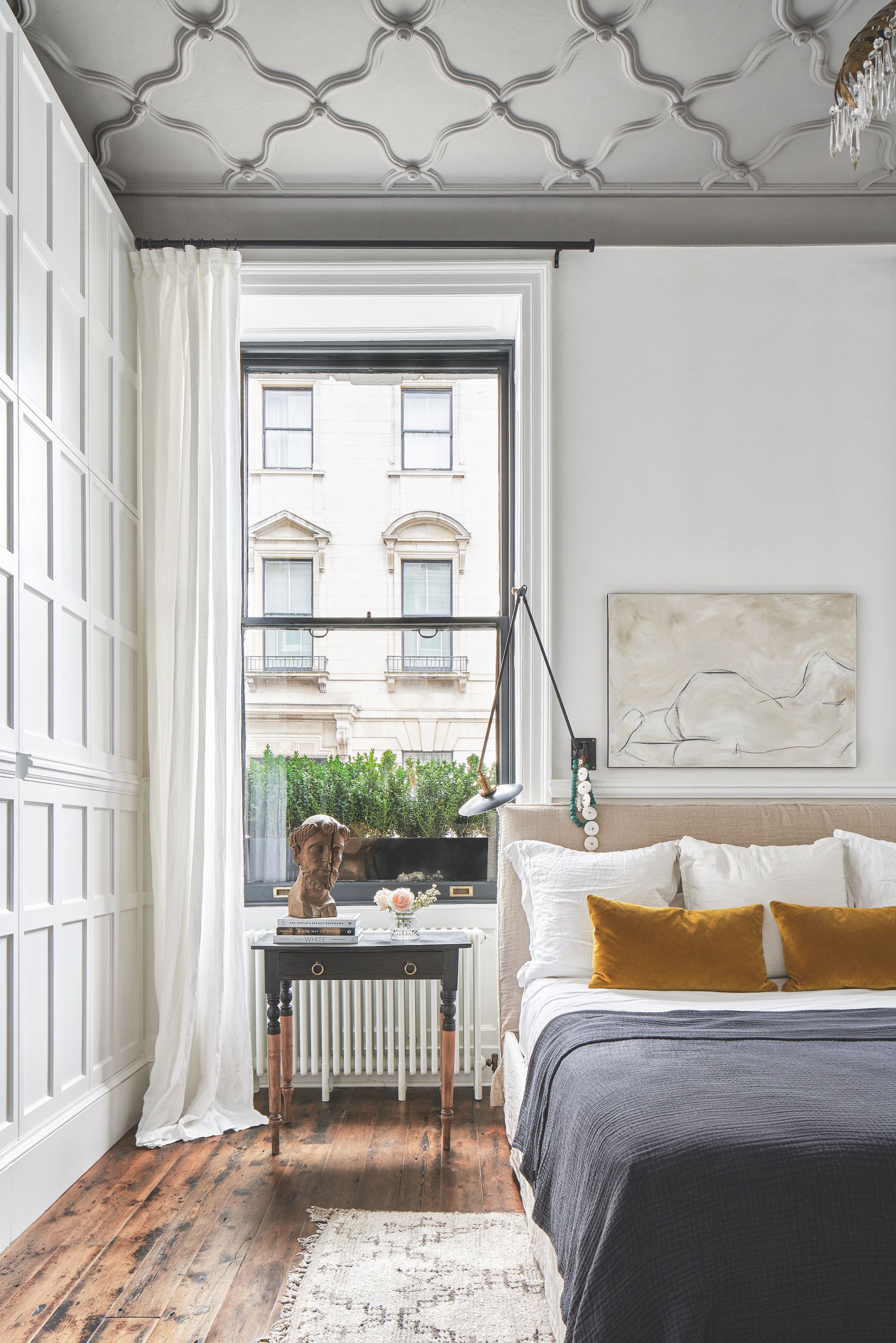 Experts agree: the best place to hang art in a small bedroom is above the bed. Mark Bearak, principal at dtls.ARCHITECTURE, especially recommends using 'pieces that are horizontal or elongated' because they can 'help accentuate the bed and its headboard.' Wall art hung above the bed 'balances the visual weight and can be both calming and engaging.'
Alex Bass, founder and CEO of Art Advisory & Interior Design Studio Salon 21, agrees, saying that hanging art above your bed 'creates a really nice symmetry when facing the bed.'
Hanging art above the bed is a universal design choice that works well for bedrooms of all sizes. You can go really bold with this classic positioning, too, because you won't have to look at the artwork at all times, so you don't need to worry as much about it preventing you from resting or falling asleep.
Alex Bass is an art curator and interior designer. She founded Salon 21 to fill a void in the social experiences available to her demographic interested in arts and culture and access to new talent.
2. On walls either side of the bed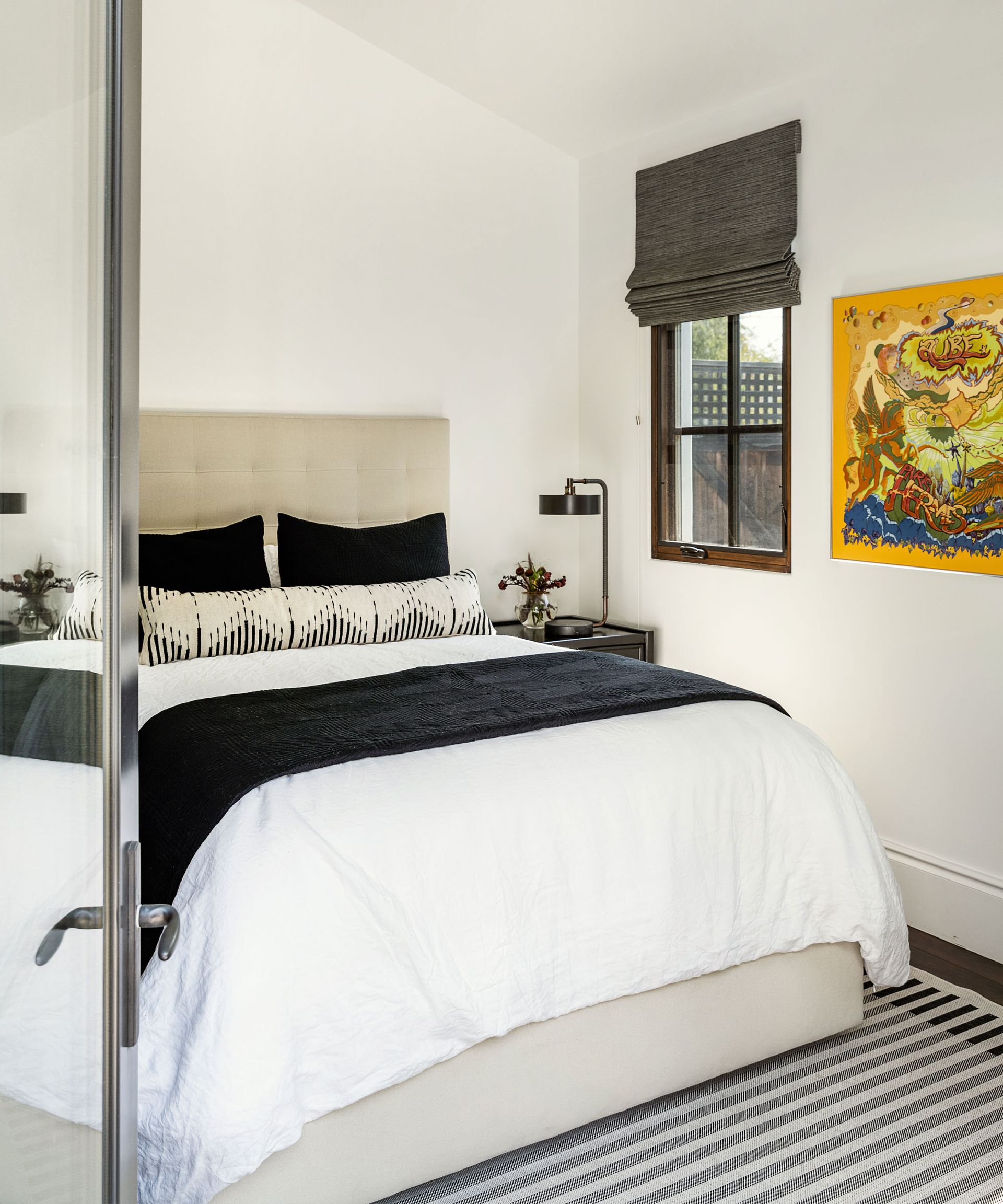 The walls to the side of your bed are also great candidates for creating a gallery wall or hanging just one piece. Blank spaces in a small bedroom can make it look even smaller, so filling up those walls isn't a bad idea. Just be mindful of hanging pieces that are too large next to windows.
Mark Bearak explains that 'smaller art pieces are recommended if the bedroom boasts a substantial amount of glass or windows', particularly in smaller spaces. As a rule, try to pick pieces that are the same size or smaller than the window, to avoid upsetting the proportions of the space. You should also be mindful of how your bedroom window opens. If you have a frame that opens inwards rather than a sash, you'll want to be careful to hang anything within the swing radius of the window, or you risk damaging the artwork.
Mark Bearak, a licensed architect specializing in residential architecture, is currently a Principal at dtls.ARCHITECTURE and an Adjunct Assistant Professor of Architecture at Columbia University in New York. Born in Chicago and enriched by experiences across North Carolina, Georgia, France, California, and New York, Mark brings a diverse and global perspective to his work.
3. Around the door frame
The bedroom door is a great natural focal point that you can adorn with art by placing the pieces all around it, or just on one side in the space between the door and the adjacent wall. This is a great space for a mini gallery wall, as well as one of the few spaces in your small bedroom where vertically framed wall art will look great.
You can even get away with hanging pieces that are all the same size for a graphic effect. If you like the look of a black and white bedroom, you can hang several pieces in black frames, at Wayfair, against white walls, which is a classic look that never goes out of fashion. The effect will be even more striking if your door bedroom doorframe is also painted black.
4. Opposite the bed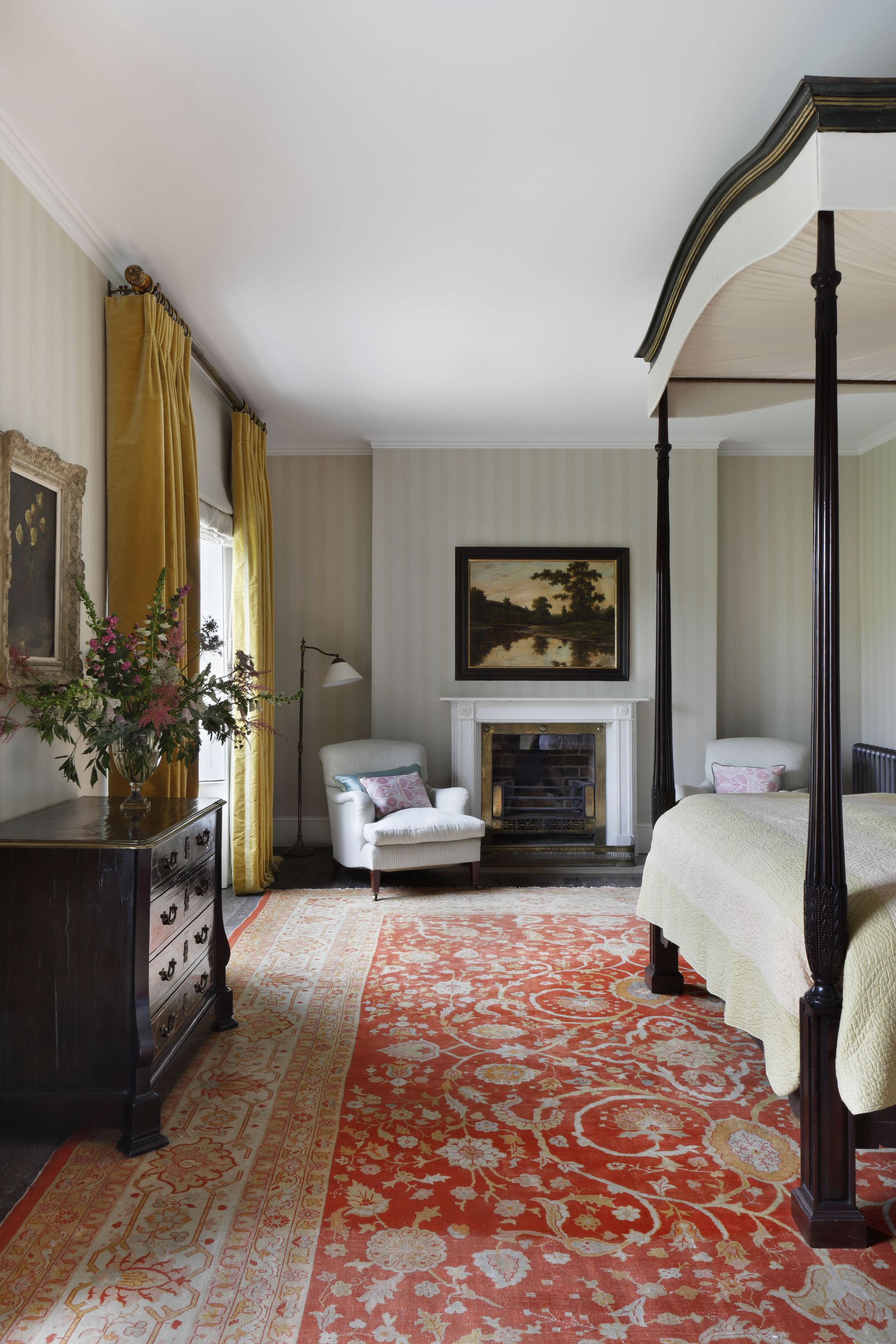 This is the position where you can really go big in size. It's the prime spot for statement wall art. Artem Kropovinsky, an interior design expert and founder of Arsight, gives a top tip for making the most of this positioning: 'ensure the piece matches the bed's size.' Then, 'position the art at an optimum height for viewing while reclined.'
Choose something you really love – but, be mindful of choosing a piece that's so bold that it will have an 'unsettling' effect, says Kropovinsky. This is the space where you sleep, after all.
This position may not be advisable if you have a TV in your bedroom, because a large-scale painting could be too distracting. However, you could still have something on the same wall as the TV if it is neutral-colored in shades that blend in with the rest of the bedroom decor.
5. Everywhere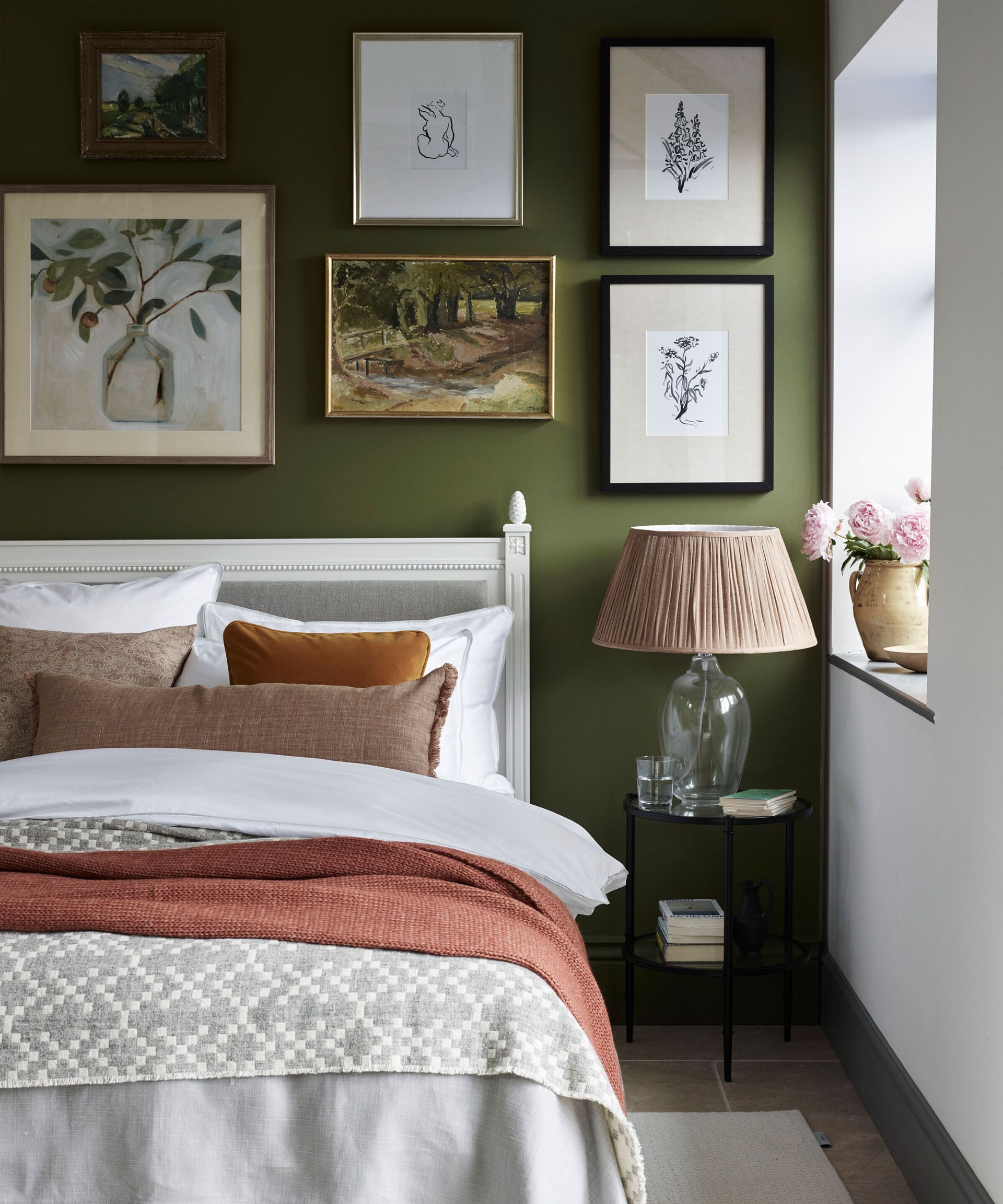 This can work especially well for truly tiny bedrooms, helping you create a jewel-box effect. 'Opt for smaller pieces to maintain the room's intimacy,' advises Artem Kropovinsky. To create a truly eclectic effect, choose pieces that slightly vary in size and dimension and have different frames, weaving in gold, vintage frames, at Anthropologie among more modern and minimalist designs, such as a slim, wooden frame. This will make your bedroom look bespoke and distinctive.
Top tip: Don't forget the space above the bedroom door; hanging art in this small section of wall will look even more unusual and whimsical than just utilizing the empty wall space in your small bedroom.
FAQs
What kind of art should go over a bed?
The rule is that there really are no rules; it should just please you. Ashley Kruger, interior designer at MoreySmith, advises: 'When choosing artwork to go in the bedroom, take inspiration from your own experiences. Pieces that remind you of traveling, your hobbies, or family and friends will help to create a happy and relaxing atmosphere.'
It's always a good idea to think about how your artwork will complement the rest of your bedroom. For this reason, Kruger advises that 'artwork shouldn't be the last item selected in a room, as it has such an impact on a space and can complement or contrast your existing pieces.' So, ideally, pick your wall art at the same time as designing your bedroom.
What can I use instead of wall art in a small bedroom?
If you want to try something a bit different (or just don't want to drill all those holes in walls), why not try an interesting bedroom wallpaper or mural? Ashley Kruger praises mural-style wallpaper as an excellent alternative to wall art, as it 'can have the same impact as artwork and can fill a room with hand-painted details and patterns.'
You can also go in a 3D direction: 'Remember that artwork can also be sculptural, and ornaments and ceramics on shelves can help to add further texture.' Other things you can put on a bedroom wall include mounted wall lighting and textured wood paneling.
---
Don't be afraid to experiment just because your bedroom is small. It's all about respecting the proportions of the room, which doesn't mean you have to keep the walls clear. Pick art (whatever that means for you) that speaks to your preferences, move it around a little to see what looks best where, and you will have a bedroom that itself looks like a work of art.
Sign up to the Homes & Gardens newsletter
Decor Ideas. Project Inspiration. Expert Advice. Delivered to your inbox.
Anna K. Cottrell is now a freelance writer, having previously been a Content Editor for Future's homes titles. She writes about interior design, property, and gardening. On H&G, she specialized in writing about property – buying, selling, renting – sustainability and eco issues.