Where to put a mirror in a small bedroom, according to designers
Interior designers give their professional advice on where to put a mirror in a small bedroom, and a couple of tips on where not to put one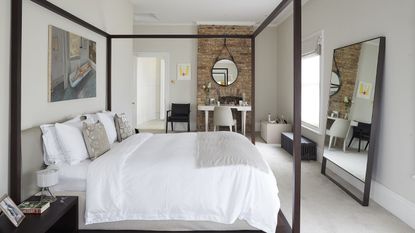 (Image credit: Luke White)
Sign up to the Homes & Gardens newsletter
Decor Ideas. Project Inspiration. Expert Advice. Delivered to your inbox.
Thank you for signing up to Homes & Gardens. You will receive a verification email shortly.
There was a problem. Please refresh the page and try again.
Clever mirror positioning can make a huge difference to the look and feel of a small bedroom. Mirrors are one of the best tools in an interior designer's arsenal for making small rooms appear bigger and brighter.
They can also double up as wall art, especially if they're unusually shaped and come with a beautiful ornate frame. However, it's not so much the mirror itself as where you place it that makes the biggest difference.
Exploring small bedroom mirror ideas should always begin with understanding where to put a mirror in a small bedroom – and where to avoid putting them.
Where to put a mirror in a small bedroom
Here's what professional interior designers have to say about correctly placing mirrors in bedrooms that are short on space.
1. Full-length in a corner
A full-length mirror in the corner of a small bedroom can do wonders for enhancing the size of the room and making the space look brighter. It will also really help with getting dressed in the mornings, especially if you don't already have a full-sized mirror. Alex Bass, Founder and CEO of Art Advisory & Interior Design Studio Salon 21 says: 'I always advocate for a full-length mirror in a bedroom for getting dressed and also to provide depth.'
Bedroom corners are often underused, so if you have one that's just empty, this will be your perfect spot for positioning a full-length mirror. You're also not going to walk into the mirror there.
2. On top of your bedroom vanity
It couldn't get more traditional than putting a mirror on top of your vanity, and there's a very good reason for this. Freestanding mirrors are a key element of many bedroom vanity ideas. A mirror is like an additional small window in your bedroom. It creates additional depth and dimension, reflecting any wall art or beautiful wallpaper you may have opposite. And, of course, a vanity mirror allows you to get ready in natural light.
Some vanities come with built-in mirrors, but you may achieve a more interesting effect with a freestanding mirror you get separately. These will have a greater variety of shapes and sizes, and if you're into antiques, you may be able to get a one-of-a-kind vanity mirror that will double up as bedroom art.
Ashley Kruger is an Interior Designer at StudioMorey. Originally from South Africa, her journey into the world of design was born out of a profound love for transforming spaces into warm, inviting, and truly homely environments. StudioMorey launched in 2022 and is MoreySmith's dedicated residential practice. Its focus is solely on the creation of inspiring homes for private clients, super-prime developers and boutique hotels.
3. Above a dresser
This is another traditional mirror placement Alex Bass recommends for smaller bedrooms: 'a vanity type of mirror looks great above a dresser and will also make the space feel larger', she says.
The good thing about this type of mirror placement is that it's slightly higher, so if your dresser is right opposite your bed you won't be staring into the mirror while lying down.
Flora Round Mirror (was $258)
This mirror is crafted from mango wood and finished with antique brass, giving it both a vintage and beachy look. The porthole-style roundness is a welcome change from standard rectangles and complements a coastal scheme.
Teagan Natural Wood Rectangular Mirror
The soft, rounded edges of this mirror establish a subtle yet elegant design detail, and the rustic, natural wood finish creates a timeless look that can seamlessly integrate into spaces of all styles.
Archer Brass Metal Framed Mirror
Adding a mirror like this is almost like having another window in the room. It's a great way to embellish your perceived space. The elegant arches make a great pairing with an entryway or mantel. The brass frame, because it taps into so many different style trends too.
4. Perpendicular to the bedroom window
Windows and mirrors make perfect companions. Positioning a mirror directly opposite a window can go a long way to opening up a smaller space. Ashley Kruger, Interior Designers at Studio Morey, explains that 'a mirror hung perpendicular to the window will reflect light and will make spaces look larger. It will also reflect the outdoors inside, helping to bring nature in.'
Placing a mirror this way is a great hack for bedrooms that don't have much wall art. You essentially are borrowing scenery from the outdoors, which instantly adds interest and texture, especially if the view from outside your bedroom window is of a nice tree. Of course, if you don't like the view from your bedroom window, you may need to reconsider this positioning. After all, you'll have to be looking at this view every day.
Alex Bass is an art curator and interior designer. She founded Salon 21 to fill a void in the social experiences available to her demographic interested in arts and culture and access to new talent.
5. Wherever feels right in your bedroom
All of these tips, useful as they are, should be taken with a pinch of salt. Trial and error remains the best way to find the best spot where to put a mirror in your bedroom. Ashley Kruger's view is that 'there is not necessarily a hard and fast rule for placing mirrors, as the bedroom itself will dictate your positioning.' The main advice is to test out 'several walls in the room before making your final decision, considering the reflection of light and how it complements your other furniture, artwork, and plants.'
The mirror itself matters too, especially its 'size and shape'. You want something prominent enough to make an impact but pick wisely, or the mirror will 'overwhelm the room', cautions Kruger.
FAQs
Where not to put a mirror in a small bedroom?
If there is one place where hanging a mirror isn't recommended it's above the bed. Both our experts named this position as their least favorite. Ashley Kruger points out that 'as the weight of the object can be a concern from a safety perspective' - a heavy mirror may indeed fall on top of you, unless you secure it with brackets. Hanging a heavy mirror above a bed is certainly possible, but you may wish to skip all the extra steps you'll need to perform to make sure it's secure.
Mirrors hung above beds aren't great from a design perspective, either. Alex Bass is emphatically against this mirror placement: 'I very much dislike mirrors above the bed. They aren't positioned well to provide the depth that a mirror should give a room and aren't functional there.'
The other mirror placement to be wary of is directly opposite the bed. Ashley Kruger thinks that putting a mirror right in front of the bed can 'create a feeling of unease.' Placing a mirror opposite the bed is firmly against Feng Shui mirror rules, especially if you share the bed with a partner. And even if you don't, staring at yourself first thing after waking up can be unnerving (hello, bed hair), so it's best to avoid this mirror positioning unless you already know you actively prefer it.
Should a mirror face a window in the bedroom?
'It really depends on the space,' says Alex Bass. It also truly depends on what it is the mirror is reflecting, which will be individual to where you live and what your bedroom window is facing.
Another thing to be mindful of is that, as Ashley Kruger explains, 'A mirror hung facing a window will backlight your reflection, which will limit your visibility.' So, if you need the bedroom to be functional – for example, you'll be using it to apply makeup or pick out your outfit for the day, it may be best not to position the mirror right opposite the window.
---
At the end of the day, though, where you put a mirror will still be down to individual preference. Interior design is all about creating a space that is both functional and pleasing to the owner, so if you like your mirror directly above the bed, or in front of the bed, just go for it.
Sign up to the Homes & Gardens newsletter
Decor Ideas. Project Inspiration. Expert Advice. Delivered to your inbox.
Anna K. Cottrell is now a freelance writer, having previously been a Content Editor for Future's homes titles. She writes about interior design, property, and gardening. On H&G, she specialized in writing about property – buying, selling, renting – sustainability and eco issues.