Small bedroom mirror ideas – 10 brightening, space-stretching solutions
These small bedroom mirror ideas will make a compact space feel bigger, lighter and better, instantly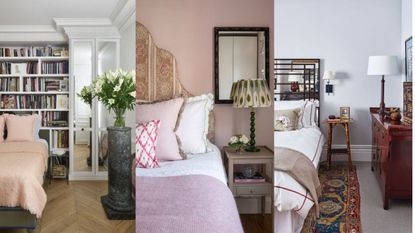 (Image credit: Humbert & Poyet/Francis Amiand / Kelling Designs / Future)
Sign up to the Homes & Gardens newsletter
Decor Ideas. Project Inspiration. Expert Advice. Delivered to your inbox.
Thank you for signing up to Homes & Gardens. You will receive a verification email shortly.
There was a problem. Please refresh the page and try again.
There's no doubt that small bedroom mirror ideas are amongst the top five elements you need to make your compact sleep space feel more generous, better lit, and, of course, functional.
And, beyond the glass, there are the effects the shape of the mirror, finishes and color of the frame, and its positioning can have on your decor, too.
Below, we talk to experts to ask for their takes on combining small bedroom ideas and decorating with mirrors.
Small bedroom mirror ideas
Find answers to your small bedroom mirror questions below: from bold inspiration for using bedroom mirrors within furniture to where mirrors should be placed in a bedroom for feng shui.
1. Boost a small bedroom mirror's power with lighting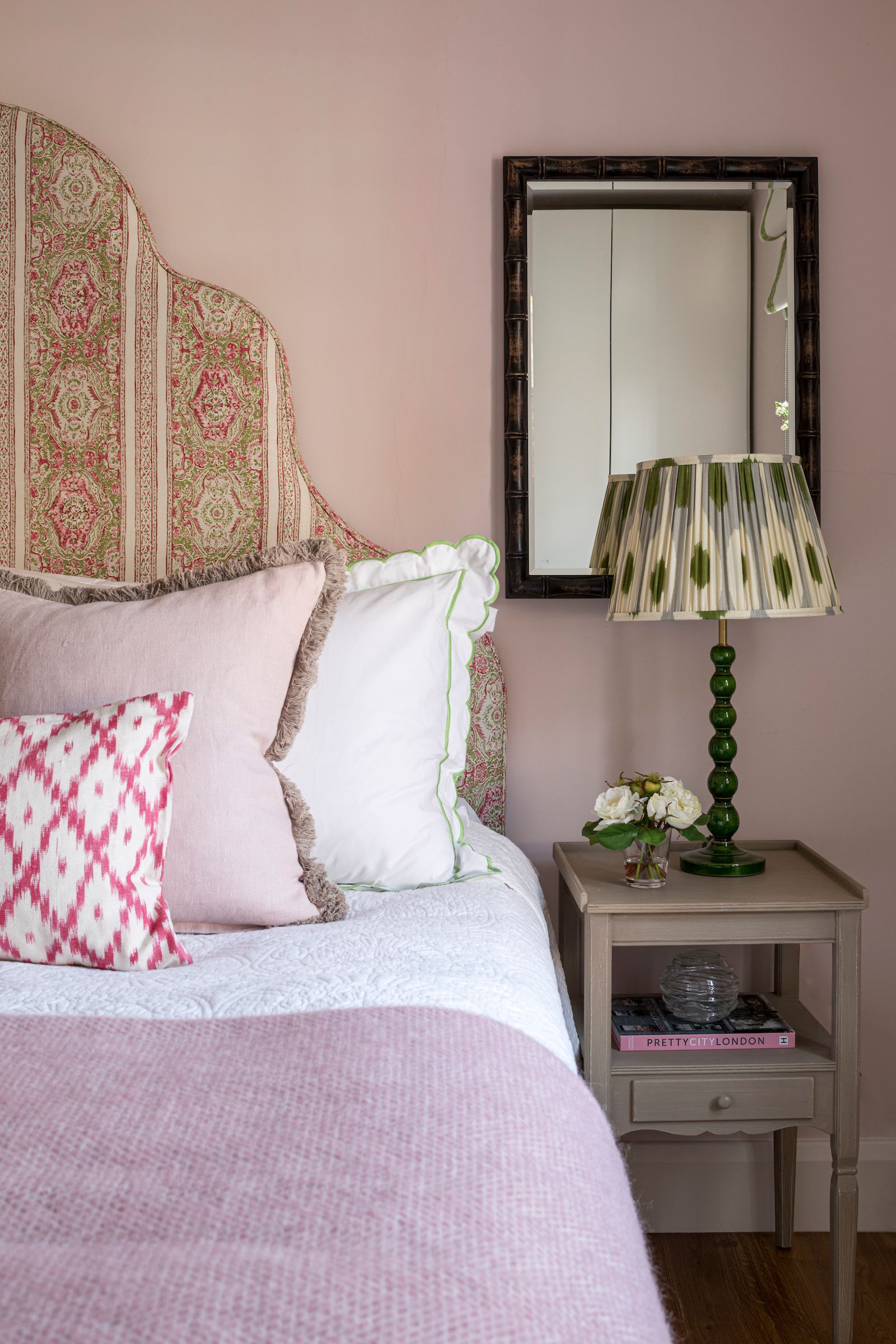 Small bedroom lighting ideas aren't always as impactful as they could be due to the lack of space. However, bedside lighting ideas can be usefully paired with small bedroom mirrors to make night time lighting twice as effective, and to make small bedrooms look bigger.
'Lighting at the bedside is essential if you like to read in bed, but will also add a warmer, softer wash of light to the room at night,' says Emma Deterding, founder and creative director of Kelling Designs.
'A pair of matching table lamps on either side of the bed are ideal for this. Finish these with some beautiful lampshades – neutral tones will keep the scheme fresh and light, whilst bolder, patterned shades will add interest and allow your personality to shine.
'Position matching mirrors behind each lamp to help create the illusion of space, whilst reflecting more light back into the room,' she concludes.
2. Match the mirror to your decor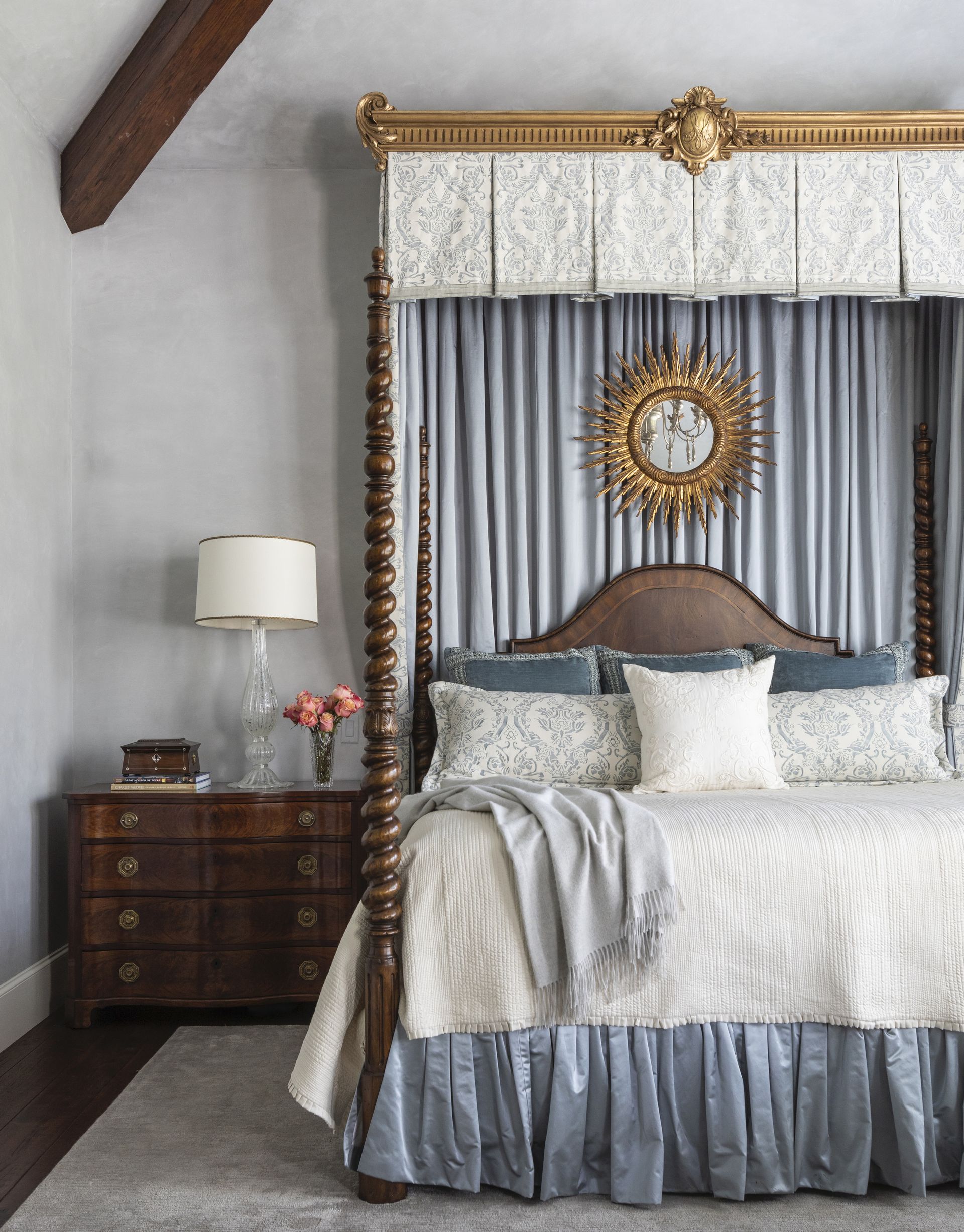 'This charming bedroom has ornate features – the high ceiling, the bed frame, antique furniture, the coronet – and choosing a mirror that reflects these interior design features makes sense.
'This decorative design works perfectly and the frame color complements the coronet – cohesion is key when working in a small space,' says Jennifer Ebert, digital editor, Homes & Gardens.
'Small room bed ideas are obviously going to be the most dominant feature. Here, the positioning of the mirror also makes the curtain behind the bed so much more of a purposeful focal point, too'
3. Brighten alcoves with mirrors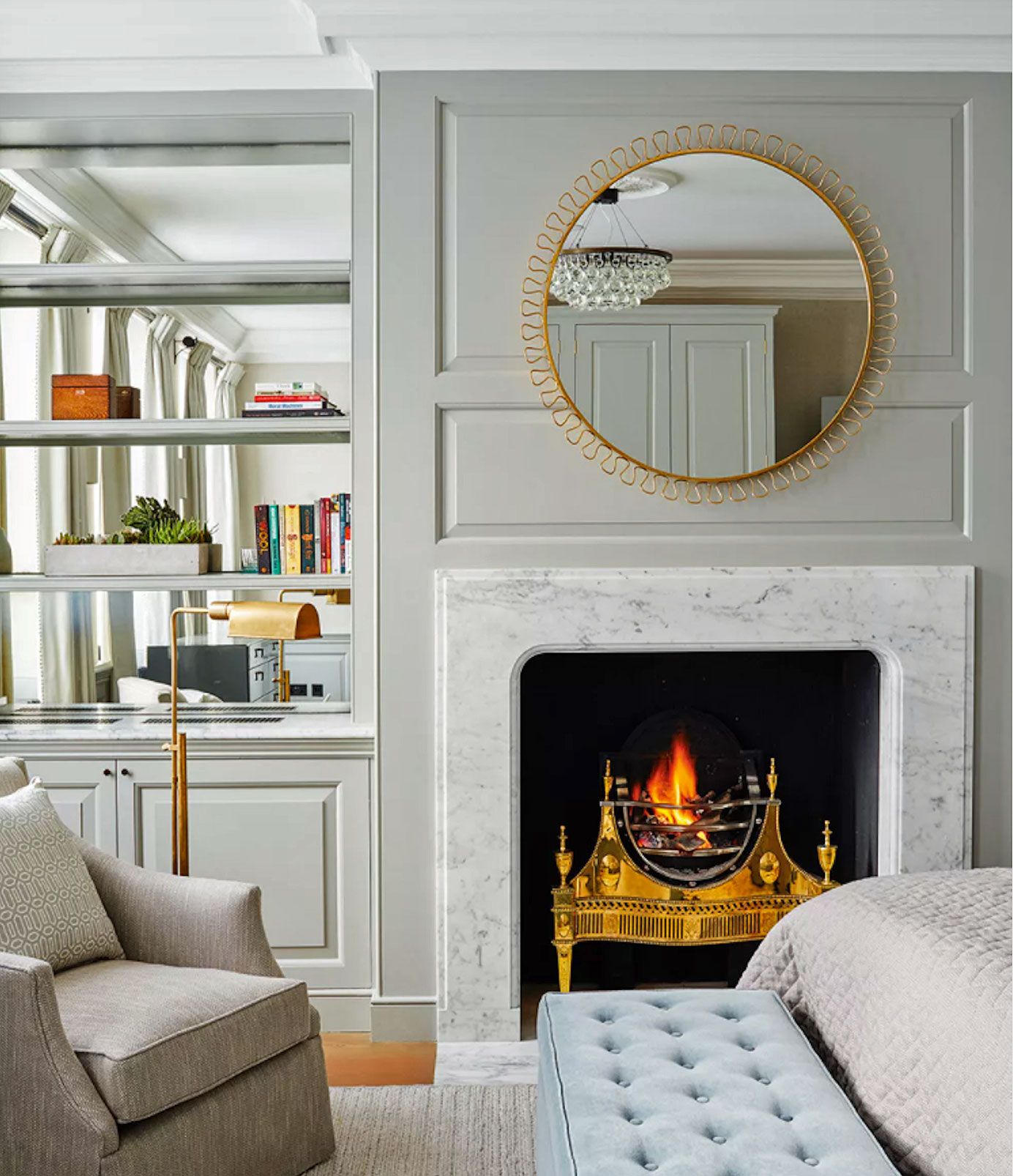 Small bedroom storage ideas can take precedence but there's no reason they can't be combined with mirrors, as in the space above. It also means a large mirror is not taking up floor space.
'We wouldn't over-do mirrors in a small bedroom as a means for trying to make them feel bigger, but we would ensure that the mirror has something to ground it. If there isn't enough floor space, fit a small shelf and mount a mirror above it,' says Nicole Salvesen co-founder of Salvesen Graham.
4. A mirrored headboard will transform your space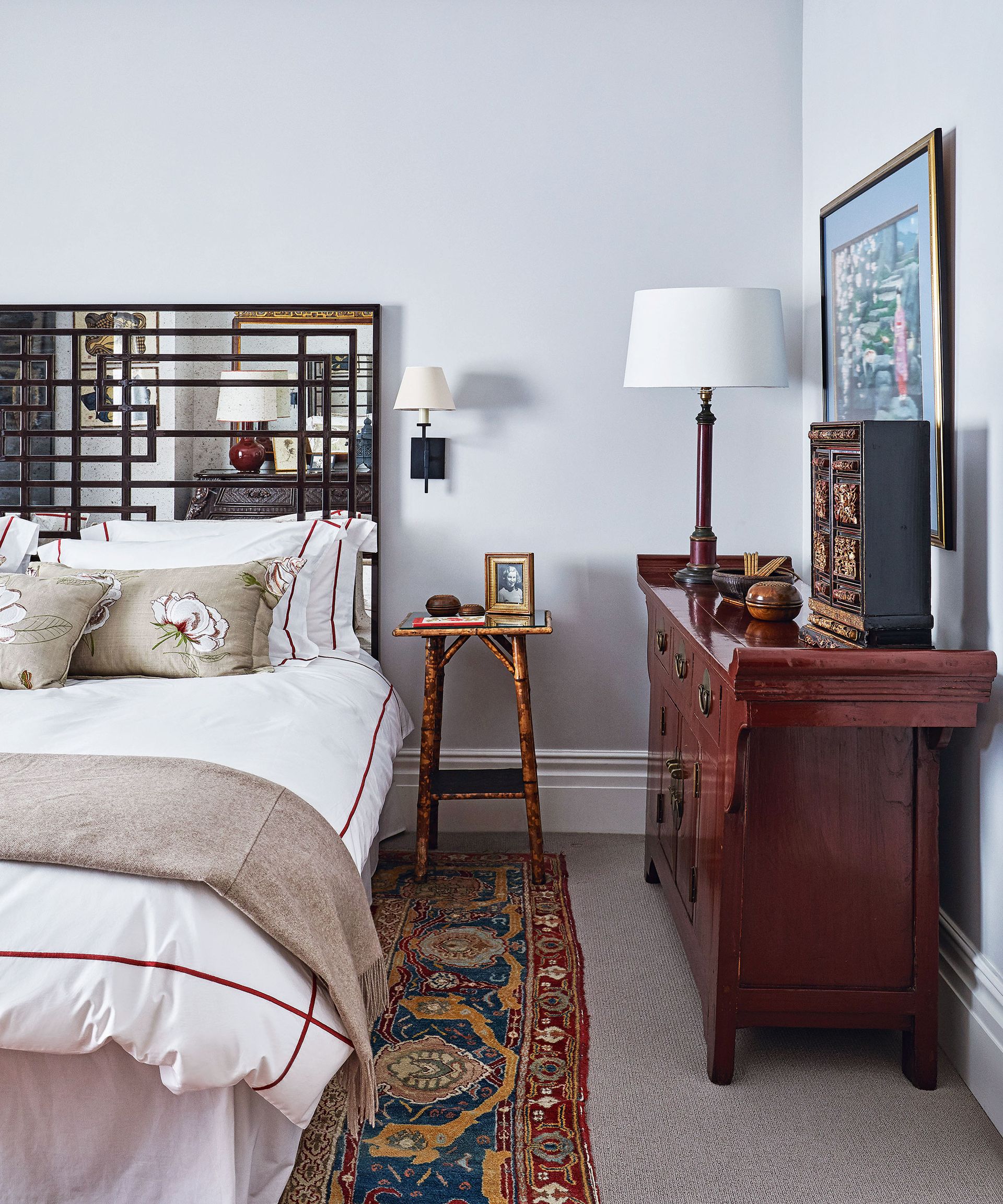 Where walls are often packed with necessary storage, headboard ideas can combine with mirrors to maximize space in a small bedroom, though we'd avoid a plain mirror in favor of a decorative framing approach similar to the one above.
'Create an eye-catching focal point (that will also distract from the size of the room) by using a decorative mirror as a headboard. It will of course, help make the room feel larger too,' says Melanie Griffiths, editor, Period Living.
5. Hang a mirror adjacent to a window to reflect light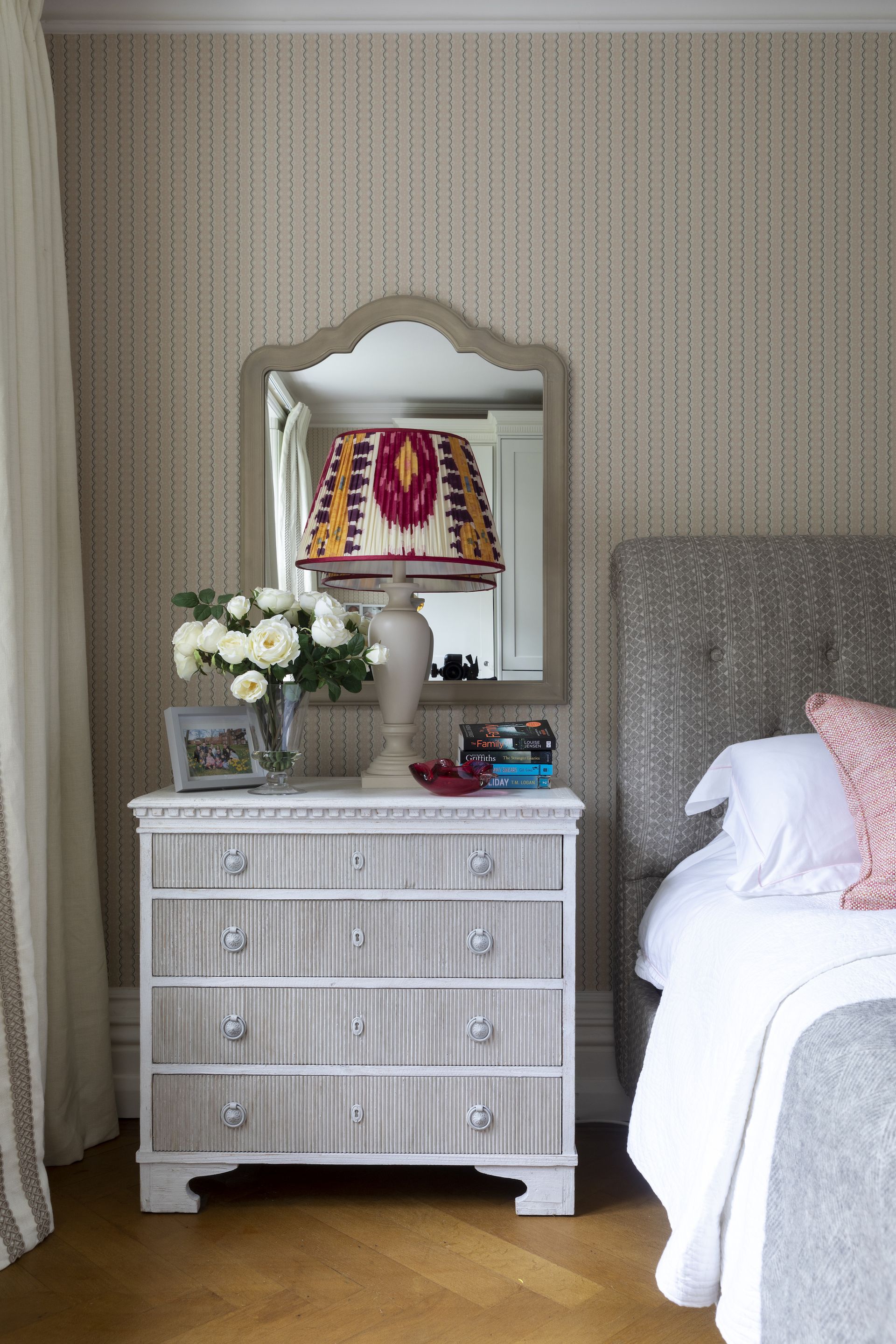 When you are arranging a small bedroom, plot out the opportunities for positioning mirrors: adjacent to a window is better than opposite for reflecting light back into the room, and is better for feng shui, too.
'Place your mirror near a window to enhance the amount of natural light that'll be redistributed. Positioned so, you'll also benefit from the reflections of the natural world beyond the window,' says George Miller, home designer at Neptune.
6. Install mirrors into closet doors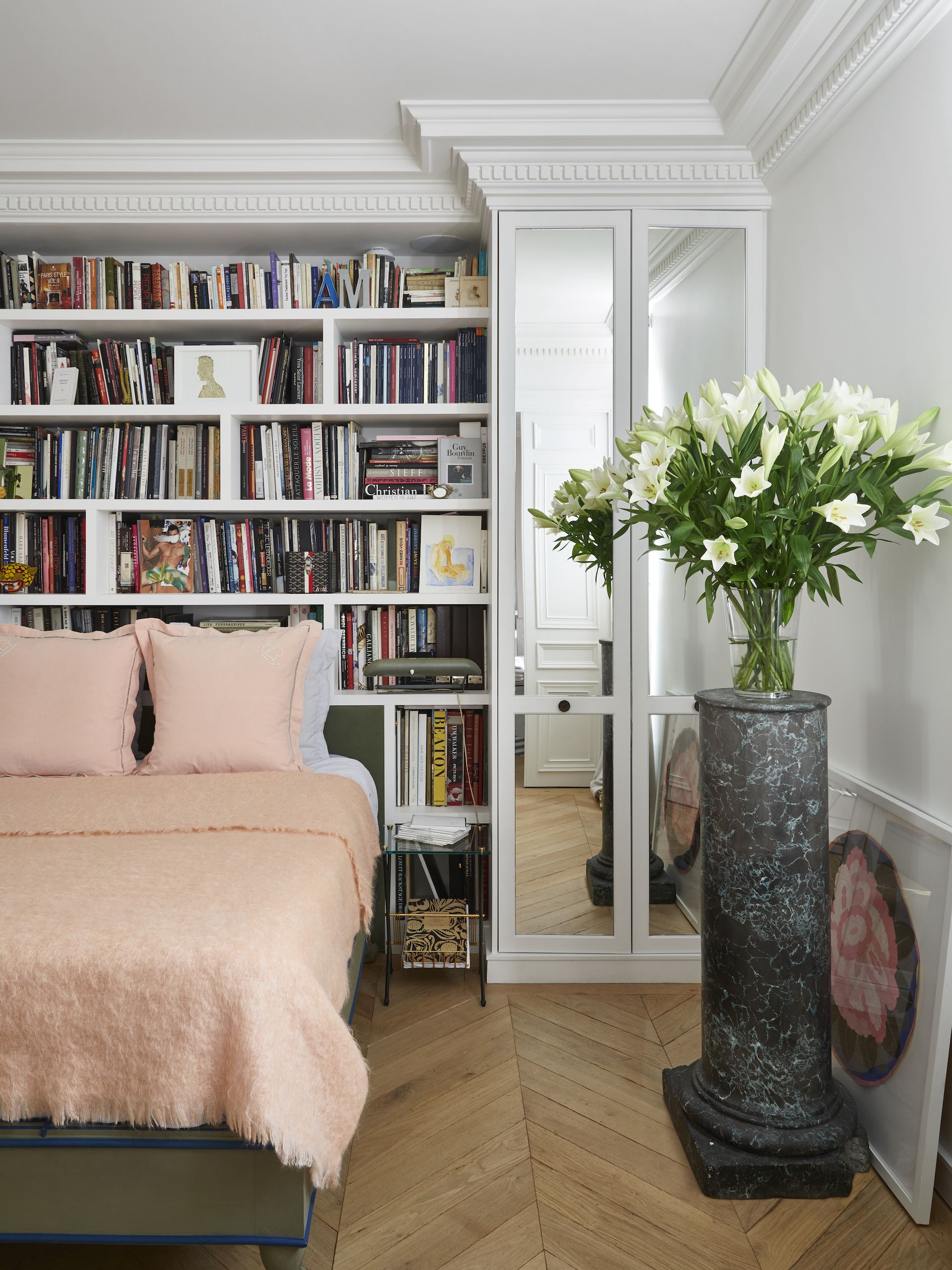 Small closet ideas really benefit from having mirrored doors, which can double up as both a looking glass and a way to make the room feel larger.
'This is an excellent interior design trick that has many benefits – it draws the eye up if the ceiling is low, it reflects more and will help to double the size of your small bedroom visually. And, you get a full sized mirror – what's not to love?' says Lucy Searle, global editor in chief, Homes & Gardens.
This approach is equally successful for every space, from small master bedrooms right through to small bedrooms for kids.
7. Wall-to-wall mirrors make a small bedroom dual purpose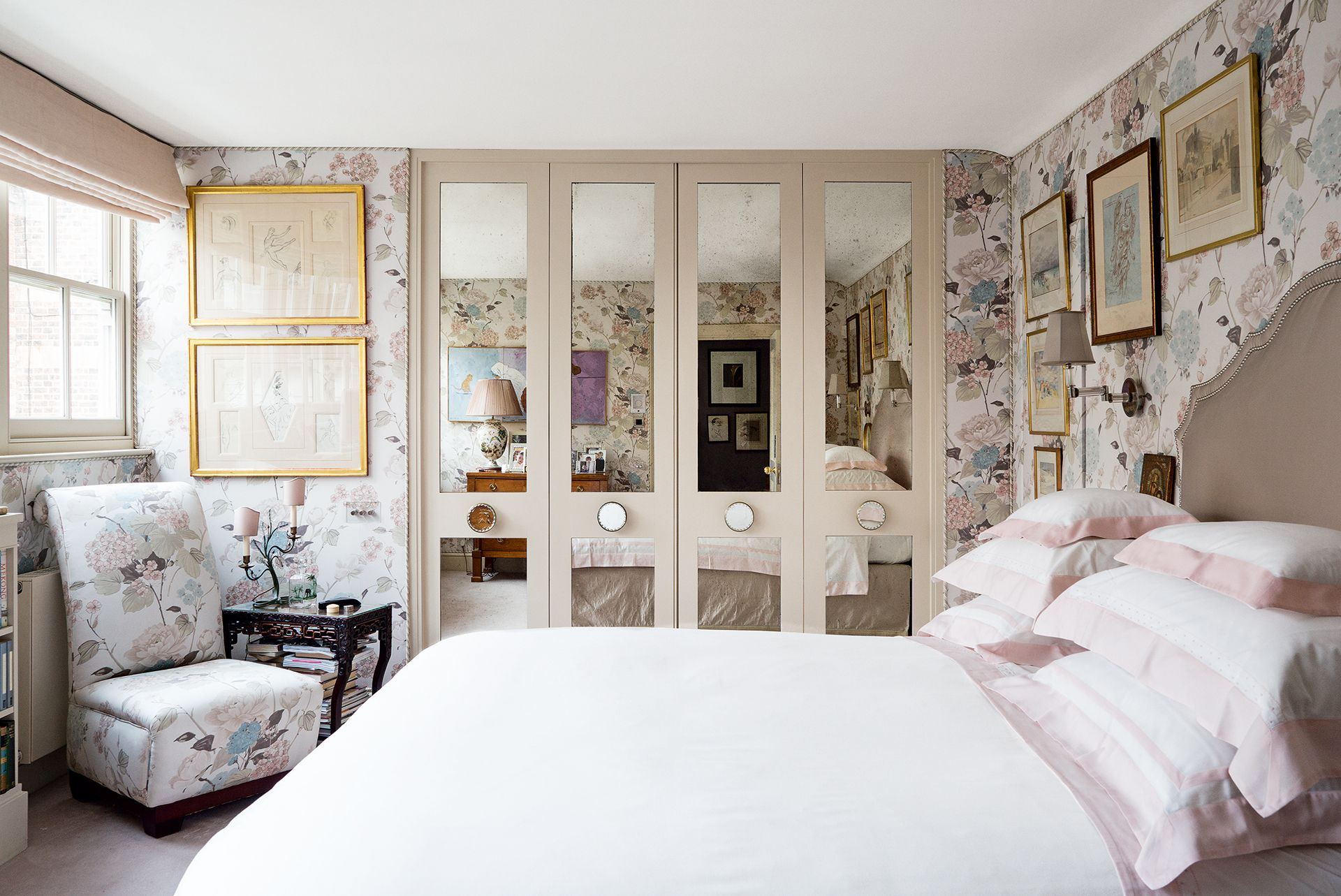 'Having wall-to-wall mirrors fitted will of course make your space feel larger and brighter,' says Jennifer Ebert, digital editor, Homes & Gardens. 'However, if you are looking to include dressing room ideas within a small guest room or box room so that it can have a combined purpose, mirrors can become an invaluable design feature, too.'
8. Choose mirrored furniture for glamor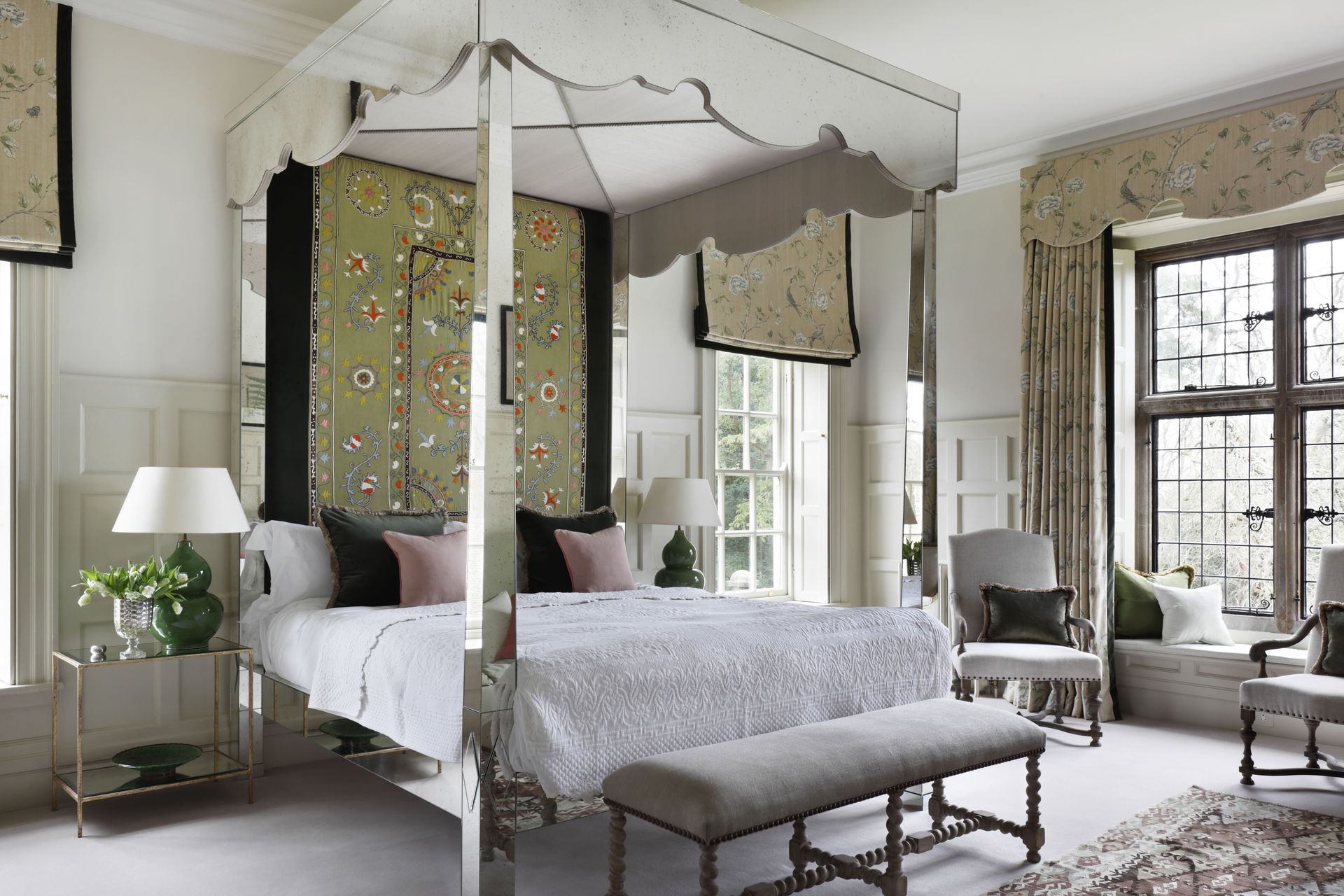 'Mirrored furniture can make a small bedroom seem larger because the visual bulk of the piece is instantly mitigated,' says Jennifer Ebert, digital editor, Homes & Gardens.
However, we would caution that you only include one or two elements of mirrored furniture into a space – whether on the bed, a pair of bedside tables or a dressing table – any more than two mirrored elements and the glamor will quickly be reduced to mere glitz.
9. Use a rectangular mirror in a dark nook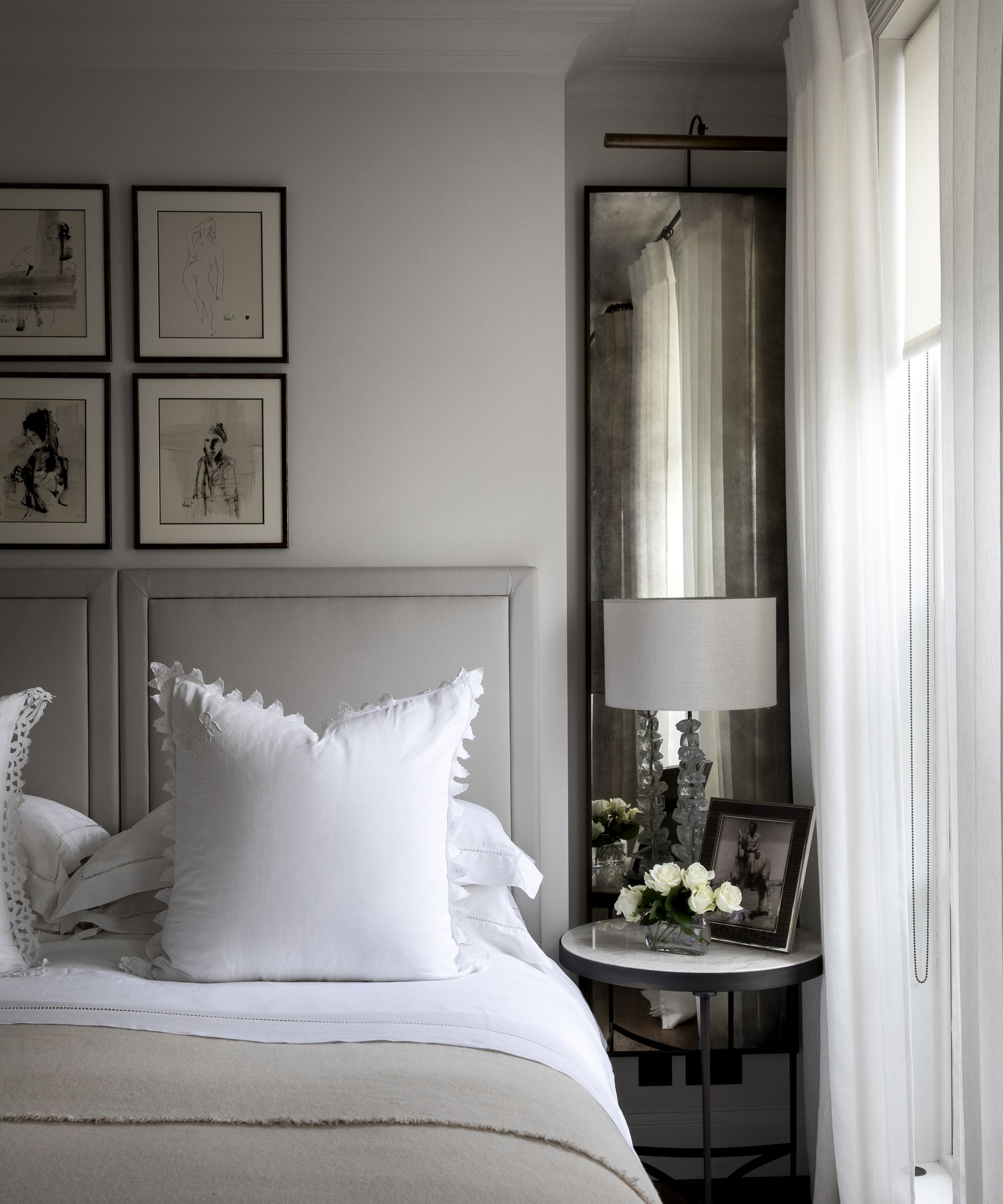 Every room has dark corners, but in small bedrooms, this can mean a loss of very valuable space visually. So, it is worth using lighting in combination with mirrors to brighten them and visually enlarge these areas.
'In varying shapes, sizes and finishes (of both the frame and glass), mirrors are endlessly versatile and particularly invaluable in small rooms or awkward nooks that require an impression of spaciousness,' says George Miller, home designer at Neptune.
10. Hang a trio of mirrors for decoration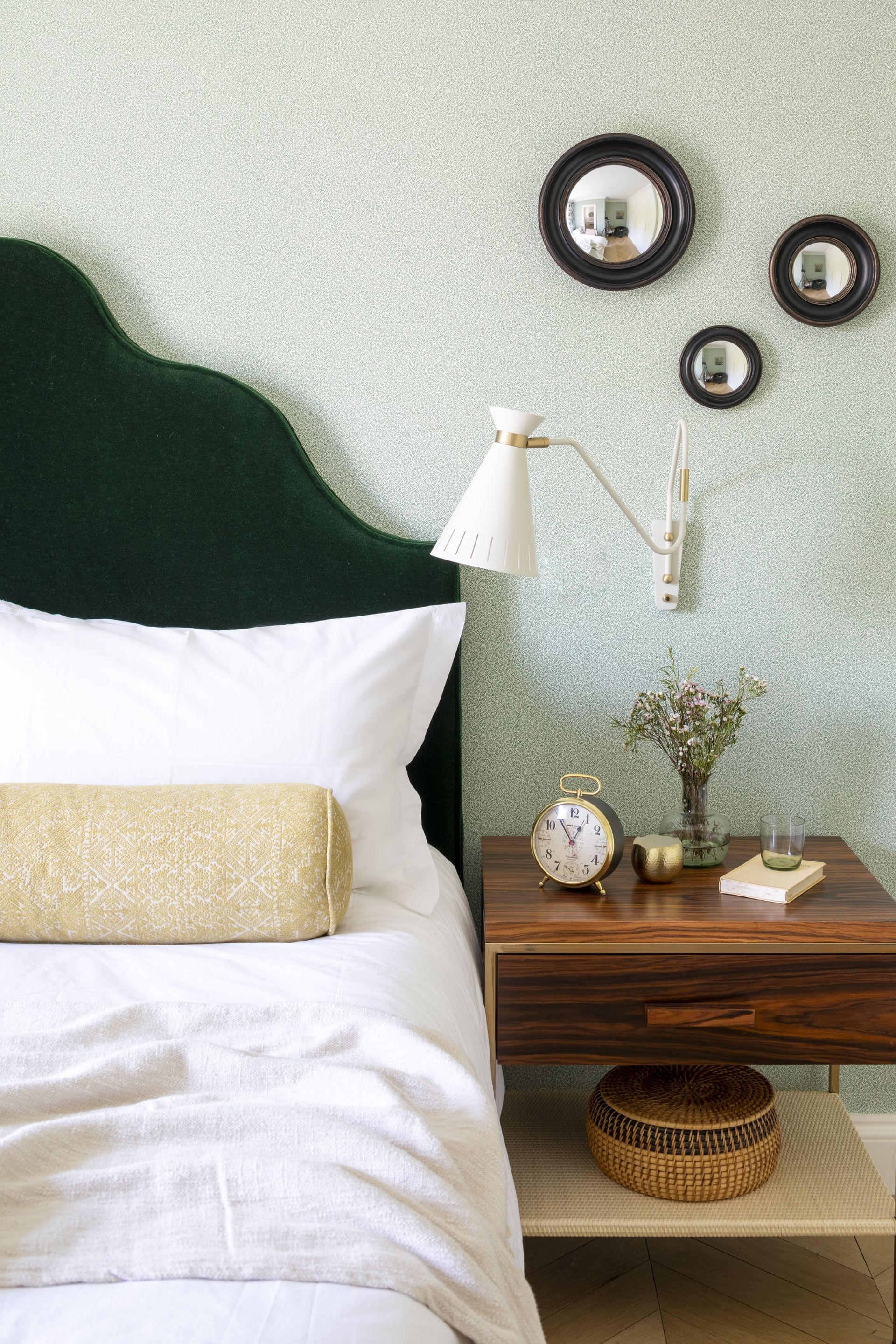 Treating mirrors like gallery wall ideas can create a decorative effect that goes beyond simply reflecting light and space. It can boost character, too.
'The small mirrors in this space have been used as a purely decorative element, rather than for practicality. The small convex mirror reflections create interesting depth and form as they bounce light around the space, whilst the dark wooden frames contrast with the pale green wallpaper and the curation of their placement echoes the undulating form of the headboard,' says Katie Lion, senior interior designer at Kitesgrove.
Where should a mirror be placed in a small bedroom?
The ideal place for a mirror to be placed in a small bedroom is on a wall that's adjacent to a window. That way, it will reflect as much light back into the room as possible. Ideally, it should reflect a good-looking view, too, so ensure to angle yours so that you can see, for example, artwork, rather than storage.
How do you make a small bedroom look bigger with mirror?
The best way to make a small bedroom look bigger with mirror is to use floor-to-ceiling mirror doors on closets. If these are easily visible from either the doorway to the room or from the bed, the entire room will feel instantly bigger.
Sign up to the Homes & Gardens newsletter
Decor Ideas. Project Inspiration. Expert Advice. Delivered to your inbox.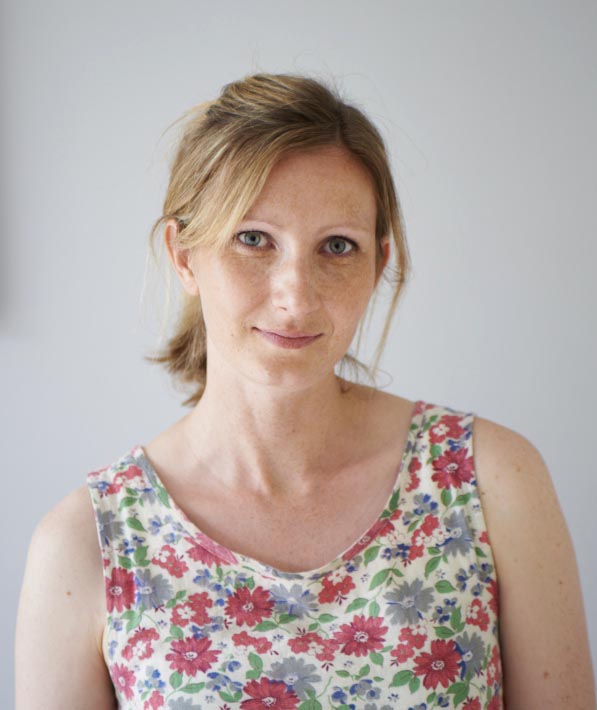 Sophie has been an interior stylist and journalist for over 20 years and has worked for many of the main interior magazines during that time, both in-house and as a freelancer. On the side, as well as being the News Editor for indie magazine, 91, she trained to be a florist in 2019 and launched The Prettiest Posy where she curates beautiful flowers for modern weddings and events. For H&G, she writes features about interior design – and is known for having an eye for a beautiful room.