How to light a grill – and keep it lit
Get the best results from your barbecue grill with our guide to easy lighting and maintaining the perfect temperatures to sizzle and sear your way through summer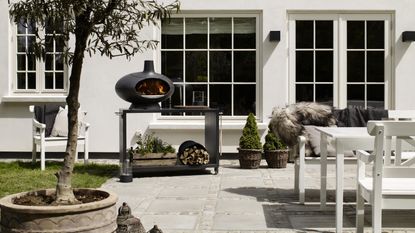 (Image credit: Morso)
When the sun's out there is no better time to eat al fresco and barbecued food is always top of the menu. If you're a little rusty on how to ignite charcoal or looking for tips on how to barbecue without burning, follow our hot tips to flame-cooking like a pro.
As the hardest to successfully light and control, our main focus is on charcoal fired grills, with or without lids. We've also got the lowdown on the best lighting materials, looking after those embers and what to do if things get a little too hot to handle…
How to prep your grill for lighting
Start by preparing both the barbecue itself, and its location. Clean out any old ash – an outdoor vacuum can help clear any air vents and minimise mess – and make sure the grill has been scrubbed, too. Clean vents aid oxygen circulation, which is necessary to keep those flames alive. Location-wise, choose an open area away from fences or other flammables but also assess wind direction to make sure your guests won't get smoked out while awaiting their food from the best grill in town.
Which charcoal is best for your grill?
When it comes to lighting a charcoal grill, there are various types of charcoal designed for barbecuing, from traditional lumpwood to modern briquettes. There are pros and cons to each, and it usually comes down to personal preference.
Lumpwood, made from carbonised hardwood, is generally considered a more traditional choice; the bigger the lumps, the longer the cooking time. Modern briquettes are made from compressed wood and offer the longest burning times, although they can be difficult to get started.
Price is usually a good indication of quality, but in either case, avoid charcoal that has been impregnated with chemical accelerants that can affect the taste of your food and look out for Forestry Commission-approved timber.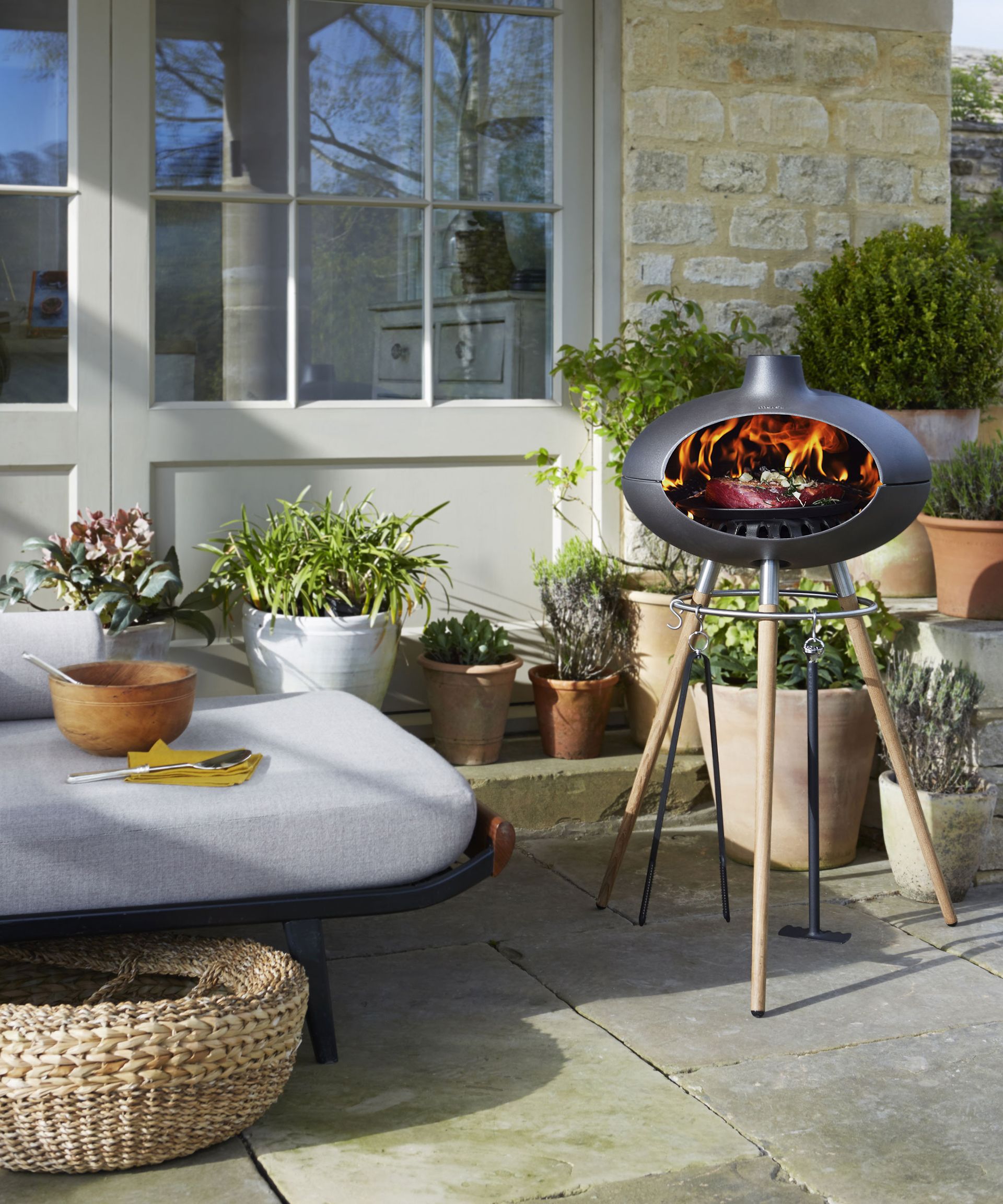 How to use a Chimney Starter to light a grill
These tubular metal tools really take the effort out of getting a barbecue going, without the need for noxious smelling lighting fluids. Just place a few sheets of scrunched up newspaper in the bottom, load up the charcoal and light. The chimney will act as a windbreak, allowing the coal to heat up quickly. Once they turn white, tip the coals into your grill and begin cooking. Chimney Starters are inexpensive and come in various sizes – the longer the guest list, the larger you'll need for your outdoor kitchen.
More easy ways to fire-up your grill
If you don't have a Chimney Starter, there are plenty of ways to get the flames roaring without resorting to chemical accelerants. The traditional stack method, similar to that used in a fireplace, typically starts with a layer of scrunched up newspaper, then wood kindling and finally your charcoal. Don't stack too densely or there won't be enough air flow to ignite. Egg cartons, wood shavings, wool and even tortilla chips are all good natural fire starters that won't taint the taste of burgers.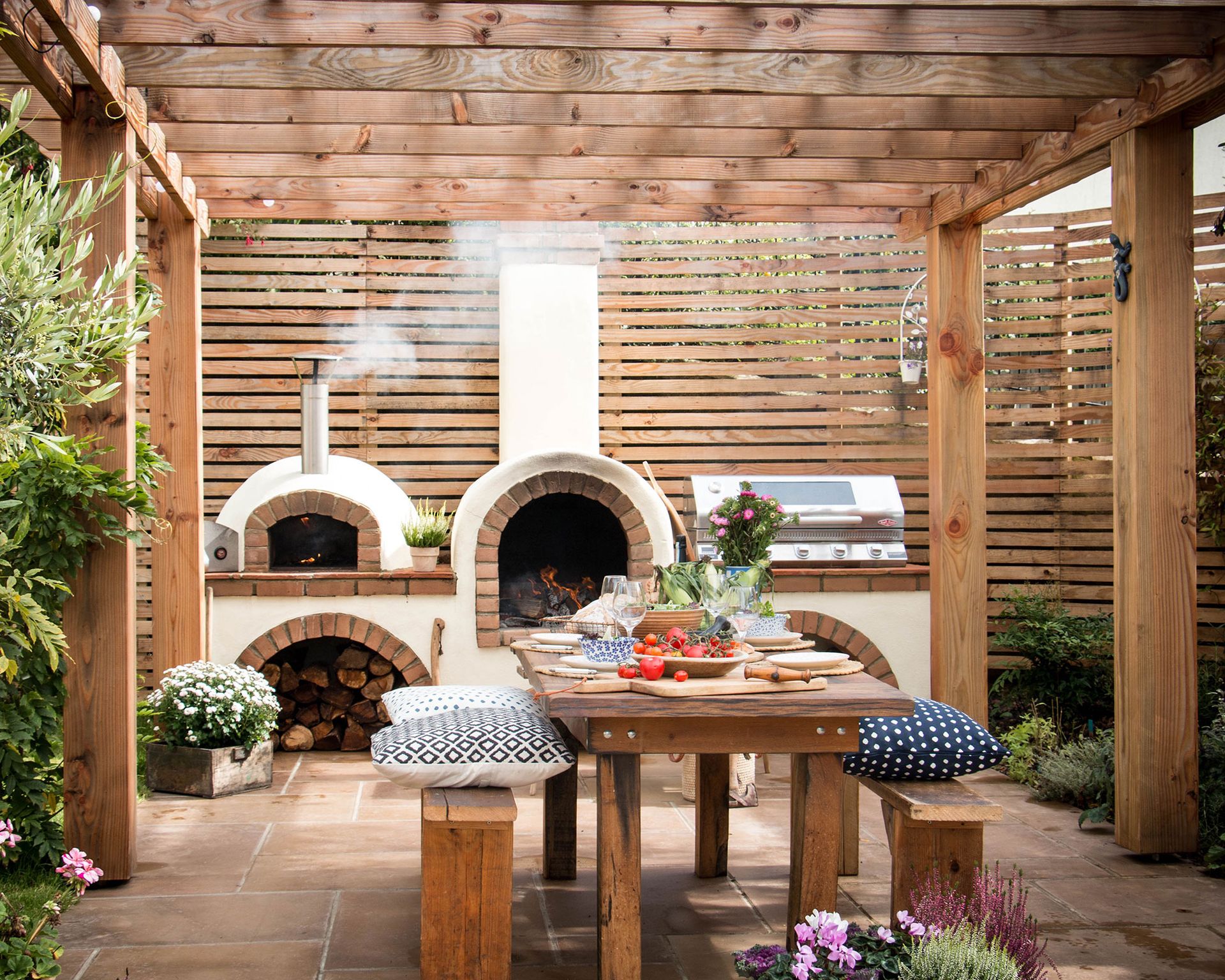 When is charcoal ready to cook on?
This is where patience pays off. It takes at least 30-40 minutes for the flames to die down and the charcoal to turn the grey-white ash color that indicates it's time to cook. Lack of smoke is also a good visual clue. For the ultimate control, invest in a barbecue grill thermometer and position the prong in the middle of the deepest bed of coals – around 226ºF (108ºC) is ideal.
How can I keep my grill hot?
Use the barbecue's air vents to control the heat. Shutting the vents down will reduce the heat and slow down cooking but make sure there's a small gap otherwise you'll put the fire out completely. Opening the vents right up will boost the heat and can bring flames back to life. Use prongs to clear space around the vents to ensure sufficient air flow. If you're cooking for crowds, you'll need to keep the heat going so do continue to add charcoal at regular intervals – every half hour should do it but if you see significant amounts of charcoal disintegrating, replenish sooner.
If your grill is big enough, it's worth leaving a section of the base clear of charcoal so there's space to keep food warm without burning it to a cinder. Speaking of which, if the flames do get a little over-zealous, it's likely due to fat and oil dripping off the food. Place a heatproof drip tray (a foil one will do) in the coals to catch them. Don't be tempted to cook on flames; lift the grid higher, or off completely, until they die down – using tongs to spread out the coals can help flames settle.
Can I use wood on my grill?
Charcoal lasts longer and burns hotter than wood so should be your main fuel source, but wood can bring plenty of flavor to the party.
American chef Judy Joo recommends easy-to-handle wood chips for adding smoky taste to vegetables, chicken, fish and burgers. 'Just remember to soak them in water for at least an hour first as you don't want them to burn too quickly – this also allows them to smoke for longer,' she says.
'Different woods suit different food types, for example hickory with pork, mesquite with beef and fruitwood chips with chicken and seafood. 'No woodchips to hand? Just throw some fresh herbs on your coals – especially hearty ones like rosemary branches. You'll get smoke and flavor,' adds Judy.
Lighting a gas or electric grill
Learning how to light a gas grill couldn't be simpler, just rotate the controller to open the gas flow and push to ignite. If you don't get instant flames, either the gas cylinder is empty, or the valve is shut. Electric grills are even easier, just plug in and turn on. For both types of grill, you'll reach cooking temperature faster if you keep the lid closed.
Sign up to the Homes & Gardens newsletter
Decor Ideas. Project Inspiration. Expert Advice. Delivered to your inbox.
Linda graduated from university with a First in Journalism, Film and Broadcasting. Her career began on a trade title for the kitchen and bathroom industry, and she has worked for Homes & Gardens, and sister-brands Livingetc, Country Homes & Interiors and Ideal Home, since 2006, covering interiors topics, though kitchens and bathrooms are her specialism.