See the light – plan your next renovation to perfection with this clever tool
Promotional feature with VELUX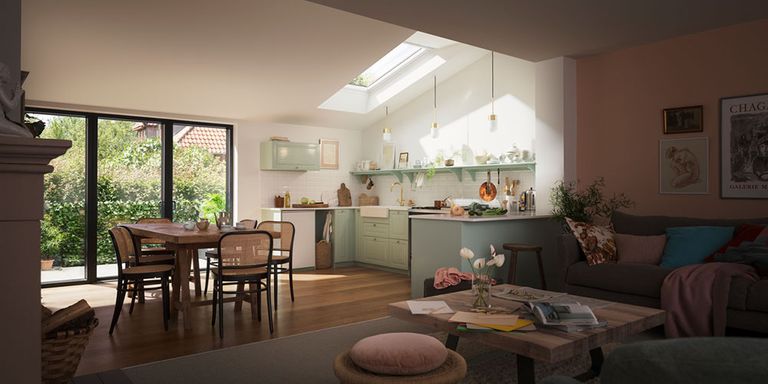 (Image credit: Velux)
What a difference the daylight makes. Walk into a room that's flooded with sunshine, and we can feel our mood lift instantly. Somehow, we feel more alert, more productive, more energised.
Perhaps now more than ever, we recognise the power of good natural light at home. It can trigger a winning idea in the next business brainstorm. Inspire art class with the kids. Or simply cheer us up.
But if you are planning an extension, a loft conversion or a remodel of an existing space, how can you be sure you'll get those light levels just right?
So many make the mistake of agreeing plans and taking on a renovation, without adequately addressing how much daylight is going to enter the room.
And while you might get lucky, the truth is that many people end up with a space that's dark and dim. Suddenly, that dreamy room you imagined spending all your time in becomes a light-starved let-down.
But there is a solution.
Brighten your outlook
The VELUX Daylight Calculator will give you every confidence that your renovation will be a success. VELUX is an expert in light, and its smart new tool will help you plan number and size of roof windows to be installed, to ensure your space is bathed in sunshine.
It's backed up by a skilled team of VELUX Project Advisors can take a look at your plans and help you plan placement of these roof windows. It's a service that's provided free of charge, so you truly have nothing to lose.
It only takes a click to try the VELUX Daylight Calculator but it could make all the difference. It's been created for anyone that has a renovation in mind, whether you're creating a master suite in the loft, or building out a living kitchen.
This attic conversion gives you a taste of how the calculator could influence your project.
A bedroom planned without the Daylight Calulator...
...and with the Daylight Calculator
Plan now, appreciate later
As a general rule, VELUX advises that that the glazed areas in your project represent 15-20% of the overall floor space in your room.
Combining roof glazing with vertical glazing can also make a huge difference to your space as it allows daylight to penetrate deeper into the room.
By planning daylight early, homeowners can ensure they end up with a bright and well-ventilated space. Because it's not only important that light fills your home, but also that you can breathe easy in a space with good airflow.
Your home should be thoroughly aired out at least three times a day – and typically after sleeping, cooking, showering, cleaning... or if drying clothes inside.
This will prevent the build up of grease and grime, moisture (which can lead to issues with damp) and allergens.
Discover more
Discover the VELUX Daylight Calculator and see how every room in your home could be made over with glazing.
It's never been easier to find the light and get it right.