11 items not to store in a bathroom cabinet, and what experts say to do instead
These things get damaged and cause clutter when kept in your bathroom, say cleaning and organizing professionals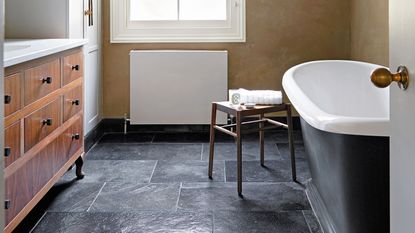 (Image credit: Future PLC)
Bathrooms rarely have as much built-in storage space as we need, and surfaces can quickly attract all kinds of clutter. Be it makeup, toiletries, or items that really don't belong in the bathroom but have been put down absent-mindedly.
We turned to cleaning and organizing experts to find out what not to store in a bathroom cabinet.
So if you're organizing your bathroom cabinet this weekend, or decluttering and organizing a bathroom vanity, we'd recommend finding a different home for the following items.
What not to store in a bathroom cabinet
Organizing a bathroom makes life so much easier because it means you know exactly where everything is and you can see it all clearly. A key issue when storing things in the bathroom is, of course, moisture, so consider picking up some inexpensive moisture-absorbing sachets, at Amazon (opens in new tab) to keep things safe and dry.
1. Makeup
'Makeup should not be stored in the bathroom as moisture and heat
can cause bacteria growth on makeup products. This can lead to breakouts and other skin issues,' comments Phi Dang from home services company Sidepost (opens in new tab). 'Instead, store makeup in a cool and dry place away from direct sunlight.'
If you don't have anywhere else for makeup and skincare to go, banish cluttered surfaces with some of the best bathroom organizers for a clean aesthetic.
(opens in new tab)
2 Tier Slide-Out Clear Organizer with Dividers
This cabinet organizer at Amazon is a best-seller with lots of positive reviews. It's easy to assemble and maximizes vertical height in cupboards, providing space to store toiletries.
(opens in new tab)
2 Tier Organizer with Baskets
These organizers come in 'carbon' or 'frost' tones and will free up lots of space in cluttered cabinets. They have thousands of positive reviews.
2. Cleaning products
To ensure the space stays clean and organized, it is best to not leave cleaning products in the bathroom between uses. Whether you store them in a bathroom cabinet or on the floor, bottles of cleaning spray create clutter and make the surfaces harder to clean, says Chris Alexakis from Cabinet Select (opens in new tab).
3. Bathrobes and towels
Although keeping bathrobes and towels in the bathroom is convenient, Steven Ip from Cleanzen Cleaning Services (opens in new tab) cautions against it, especially if you are using open cabinets or storage. 'They are prone to mold and mildew build-up,' he asserts.
'Hanging or keeping them near the toilet can expose them to bacteria and germs whenever you flush. Instead, store them in a drawer or extra storage in your bedroom,' he suggests. He also recommends drying towels in use under direct sunlight. If you can't avoid keeping towels in the bathroom, he says you should aim to replace them every week.
4. Laundry detergent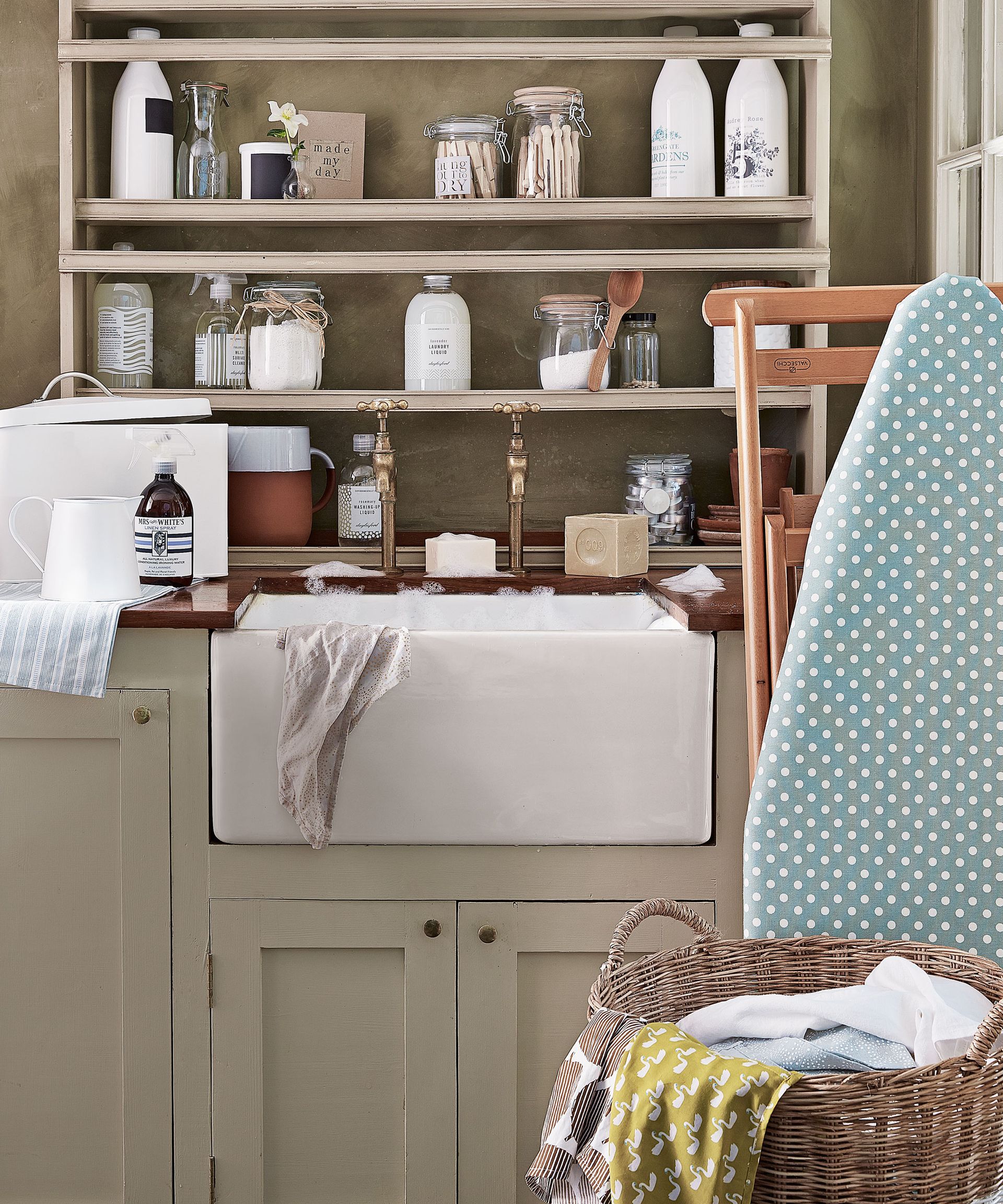 Chris Alexakis from Cabinet Select also says laundry detergent is best stored out of the bathroom. Keep it in a cabinet elsewhere or in laundry room storage if you're lucky enough to have one.
5. Extra toilet paper
Chris Alexakis says that we shouldn't store lots of extra toilet paper in the bathroom, simply because this will create clutter. A few extra rolls are fine but a huge basket takes up space and means the toilet paper's exposed to dust and germs.
6. Jewelry
'The humidity in the bathroom can cause the metal to tarnish, so it's best to store jewelry in a dry, cool place,' comments Hugo Guerrero, certified house cleaning technician at Mattressive (opens in new tab).
7. Medicines and vitamins
Chrissy Halton from Organize My House (opens in new tab) says that because of a bathroom's humidity and changing temperatures, medicines and vitamins are better kept in your bedroom. 'This is a great option if you have to take them in the morning or evening as you can take them before going to bed or after you get out of bed,' she says.
Vitamins and medicines may degrade when kept in your bathroom storage, so keep them somewhere cool, dry, and away from direct sunlight.
8. Books
'Books, magazines, and paper products should be avoided due to the moisture in the air, which can cause them to become damaged or discolored,' says Jason Farr, an interior designer and the founder of Aviara Pavers (opens in new tab).
9. Electronics
Electrical items that aren't waterproof should, of course, be kept away from moisture as they can be a fire hazard. Hair dryers and curling irons in the bathroom can also be damaged by moisture, so they might not last as long and need replacing soon when kept in a humid environment for too long.
10. Personal items
'Your bathroom is a relatively public space in your home that is likely
to have guests passing through,' comments Carlin Van Noppen, CEO and head interior designer at Fig Linens & Home (opens in new tab). 'Therefore, I would advise against keeping any personal items such as medication, etc. that you wouldn't want guests seeing in the bathroom.'
11. Teeth whiteners
'You should not store teeth whitening gels in a bathroom cabinet,' says Dr. Ambika Amini, a General Dentist at My Private Dentist (opens in new tab). 'To prolong their shelf life for up to two years, they are best kept in the fridge.'
Is it okay to store towels in the bathroom?
'I would not recommend storing towels in the bathroom. The moisture and
humidity of a bathroom can cause mold or mildew to form on towels that are left there for long periods of time,' says Kate Diaz, an interior designer and co-founder of Swanky Den (opens in new tab). 'I suggest finding a well-ventilated area outside of the bathroom where you can store clean towels and bathrobes away from any excess moisture.'
Chris Alexakis from Cabinet Select disagrees: 'It's best to keep them
neatly folded and stored in a bathroom drawer or cabinet. This will help keep the space neat and organized. It is also important to make sure you hang up damp towels after use so they do not create a musty odor in the bathroom. A warm towel rail gives your towels space to air out.
How do I prevent mold in my bathroom cabinet?
Emily Barron, a cleaning expert at Property Rescue (opens in new tab) says that regular cleaning and drying of the inside of the cabinet can prevent moisture buildup. Wipe the inside of the cabinet with a clean, dry cloth after use and prevent mold from growing.
You also need to ensure that the bathroom is adequately ventilated to allow for air circulation. You can open windows, use extractor fans, or install one of the best dehumidifiers. This will also help get rid of bathroom ceiling mold and black mold on walls or windowsills.
Where should toiletries be placed in a small bathroom?
Steven Ip from cleaning company Cleanzen says toiletries should be stored in places farthest from the toilet and with air circulation, which is somewhere in a cabinet or shelf that is high up but still reachable. If you have open storage, use containers or covers to protect it from mold, mildew and bacteria.
Millie Hurst is Section Editor at Homes & Gardens, overseeing the Solved section, which provides readers with practical advice for their homes. She has been in the world of digital journalism for six years, having previously worked as Senior SEO Editor at News UK both in London and New York. She joined the Future team two years ago, working across a range of homes brands. Millie formerly worked as Senior Content Editor at Ideal Home, taking care of evergreen articles that help and inspire people to make the most of their homes and outdoor spaces. Millie has a degree in French and Italian and lives in North London.