Amanda Seyfried's light-filled upstairs landing is authentically rustic and uncomplicated, say experts
Sophisticated farmhouse neutrals and warming wood entwine in the Mama Mia! stars less-showcased space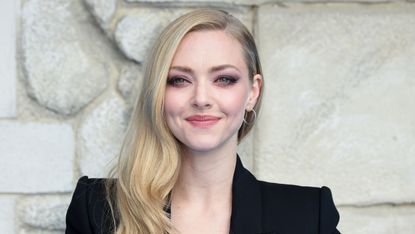 (Image credit: Getty Images / ANTHONY HARVEY / Contributor)
Entryway and hallway decorating ideas are always popular as it is the first area guests see when they arrive and provide a warm familiar welcome for when you come home. But, the upstairs landing may be another story. The awkward strip at the top of the stairwell is often neglected.
However, this notion is not the case in the stunning farmhouse retreat that belongs to actress Amanda Seyfried. The highly accomplished TV and movie star has ensured every inch of her upmarket country residence in rural upstate New York, has been carefully curated to evoke a farmhouse minimalist scheme and that includes her ultra-chic stairwell and landing.
Farmhouse minimalism is a trend story that combines the simple warm and homey elements of farmhouse living but strips back any fussy and unnecessary details to create a more refined and uncluttered environment that allows single and useful statements to become unassuming champions in the room.
Laura Burnett from Feather & Black says: 'Pinterest searches for 'farmhouse décor' have risen 63% over the past three months, highlighting the growing popularity of the style. The rise in interest has been attributed to the blend of a rustic style and contemporary beauty that farmhouses offer.'
To implement a full house refurbishment, Amanda called upon Sarah Zames, founder of Brooklyn-based architect and interior design house, General Assembly. The pair have already built a rapport refurbishing Amanda's other homes in Los Angeles and Manhattan.
It is clear from their other collaborations, such as Amanda Seyfried's farmhouse-inspired home in Manhattan, that sophisticated farmhouse minimalism is a trend close to the actor's heart.
Drawing on both traditional and contemporary elements, the award-winning architect and designer hasn't missed the opportunity to install her expertise to create a bright and airy quality that connects upstairs with down.
'I'm always thinking about the overall space and light,' Zames told Elle Décor 'and how materials and patterns will enhance them.'
Often dark and gloomy with a limited footprint, maximizing natural light on an upper-level stairwell and landing platform is key to enhancing its sense of space.
During the stone farmhouse refurbishment, the upstairs was gutted to expose rafters, and walls were pushed out to the eaves. This reconfiguration pays homage to the home's farmhouse heritage and inserts understated warm and homely sentiments.
The new ceiling creates interesting lines that draw the eye to the source of light: quaint and traditional sash windows.
Amanda's farmhouse chic landing offers clean-lined purity in simplest form. Sloped ceilings blend seamlessly into the walls by combining subtle variations of neutral tones on walls, woodwork, and ceilings to enhance the proportions of the space.
From pale oak to rich mahogany, the organic beauty of wood is a key component in most country homes and clearly, there is a focus on the natural material here.
'Wooden accents are wonderfully elegant and inviting, and it doesn't get any more luxurious than rustic weathered oak. With gentle neutrality, weathered oak is the perfect choice for unassuming sophistication,' says Laura Burnett.
This brings us nicely to the protagonist in the scene. Encompassing dark wood floors flow through the space and into bedrooms. This rich colored grain is what creates warmth and twins perfectly with the chunky connecting wooden staircase.
It's worth mentioning how the simplicity of the handrail with linear design and zero extravagance is just another subtle nod to understated elegance. It's the tone and materials used that are treasured here.
Farmhouse lighting tends to be paired -back and functional. In any other space, a single monochrome globe pendant might otherwise be lost, but Zames' has chosen carefully and the fixture offers a sophisticated viewpoint to draw the eye.
As a farmhouse minimalist Amanda Seyfried opts for eclectic and charming accessories and has no use for unnecessary clutter. Excessive gallery walls won't be found here, instead a single and petite portrait makes more of an atmospheric statement.
Sign up to the Homes & Gardens newsletter
Decor Ideas. Project Inspiration. Expert Advice. Delivered to your inbox.