Best climbing plants for the front of the house – 10 expert choices to enhance your front yard
Choose pretty climbing plants that will transform the front of your house into something extra special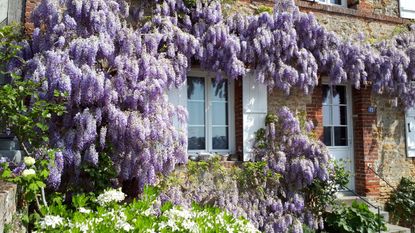 (Image credit: Getty Images / Luc Thibault)
Sign up to the Homes & Gardens newsletter
Decor Ideas. Project Inspiration. Expert Advice. Delivered to your inbox.
Thank you for signing up to Homes & Gardens. You will receive a verification email shortly.
There was a problem. Please refresh the page and try again.
If you're looking for ways to give the front of your house standout factor consider including the best climbing plants as a quick and easy way to enhance your design.
Framing your porch with cascading wisteria blooms, a pretty rambling rose or layers of clematis flowers is a look that's much sought-after when it comes to beautifying your front yard. Climbing plants are the go-to for this type of look, so if you would like to enhance the front of your house with flowers and foliage in this way the good news is that there are plenty to choose from.
There are one or two key points to take into consideration first. Check the height and spread of the mature plant you're considering to make sure it's right for the space, whether it likes a sunny or shady aspect, and what sort of soil it needs to thrive. You may also need to think about how best to support it and, of course, contain it should you choose a vigorous growing variety.
Take an overview of the front of your house too and consider how the flower color and foliage works with the rest of your exterior design and front yard landscaping ideas. Now take your pick from our expert suggestions for the best climbing plants for the front of the house.
10 climbing plants to enhance the front of your house
Climbers are a brilliant way to liven up porches and verandas, as well as dull front walls, and there are many different types to choose from. You can also combine them with the best front yard plants to create a well-thought out planting scheme that people will stop to admire.
1. Rambling rose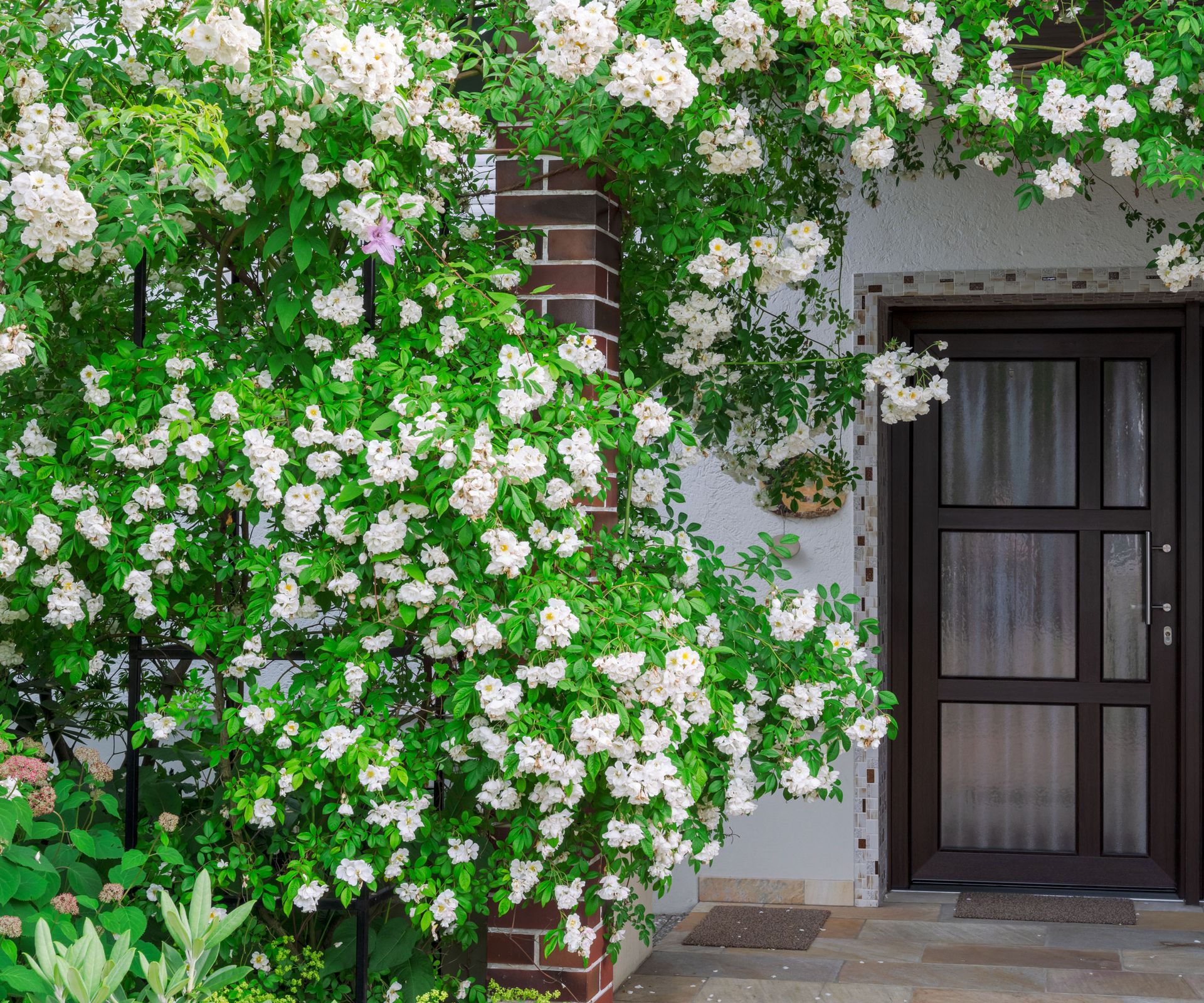 Rambling roses produce a profusion of small, charming roses that smother the stems for weeks. Appearing in late spring to early summer, sometimes a single stem can have as many as 20 flowers. This is the main difference between rambling and climbing roses. If you want one of the best climbing plants for the front of the house in terms of how many blooms you get a rambling rose should be top of your list.
'A climber grown on the wall of your house will often be the earliest garden rose to flower due to the additional warmth the wall provides,' say the experts at David Austin Roses. 'Another benefit of growing a rose on the wall of your house, or on a wall or fence near to your house, is that the beauty and fragrance of the rose's blooms can be enjoyed at close quarters.'
Many rambler varieties produce beautiful hips in fall and ramblers can be used as support for other climbers, such as many varieties of clematis.
Training climbing roses on a house wall is easy and the result is always beautiful. They also form a lovely backdrop for other planting such as flowerbeds or containers. Roses work whatever the landscaping style of your front yard, whether traditional or contemporary.
2. Clematis
There are some climbing plants that simply make you stand back and say wow, and clematis is one of them. With its enchanting flowers and impressive coverage, it's one of the best climbing plants for the front of the house. They are robust growers, and the combination of their standout blooms and lush foliage will quickly add an aesthetically pleasing backdrop to your front yard landscaping.
'Clematis are truly show-stopping at their flowering peak,' says horticulturalist Jac Semmler, author of Super Bloom, available here from Amazon. 'The open blooms shine out from the vine in all different kinds of wonder. As a climber, you can train and guide clematis so you'll be needing the best climbing plant support ideas too. Many clematis emerge in warmer months but there are also evergreen varieties that lend their foliage to the garden year-round.'
Whether you're looking for a variety with a delicate nature or a garden queen with massive blooms the size of plates you'll be sure to find one that adds a pleasing touch to the front of your house. It's easy to find out how to grow clematis too.
Jac Semmler is foremost an experimental gardener and plant lover. She tends to Super Bloom, a creative plant practice that brings dynamic living beauty and diversity to urban spaces, landscapes and creative projects. Jac is a qualified educator, respected horticulturalist and botanical guide, and often shares her ideas at festivals as well as on radio and podcasts.
3. Coral honeysuckle
'One of my favorite climbing plants to grow as a cover is coral honeysuckle (Lonicera sempervirens),' says Zac Gnadinger, founder of the Kentucky Native Plants Project. 'It fills in to create a lush covering, and its beautiful red flowers become a hummingbird magnet when it blooms in the early summer. If you're looking for an attractive climbing plant that attracts hummingbirds and supports native butterflies too, then coral honeysuckle is a fantastic choice.'
It will need something attached to the house wall as it begins to climb up but is fast-growing with great coverage and you'll soon see a profusion of coral blossoms with bright yellow stamens from spring through summer. Find out more about how to grow honeysuckle for the best results.
Coral honeysuckle is also a native plant, so it's not invasive in the same way as Japanese honeysuckle is. It's a relatively tame vine and won't become too aggressive, making it a great addition to your ideas for the best climbing plants for the front of the house.
Zac grew up in Oldham County, KY, and is passionate about the native plants that thrive in his home state. He first became aware of native plants in 2013 while attending Lindsey Wilson College. His biology professor, Dr Michael Bosela, was a mentor who played a huge role in developing his interest in native plants. After running a business in Colorado for nearly a decade Zac returned to his home state recently and launched the Kentucky Native Plants Project.
4. Hop vine
With their pretty dangling bracts, ornamental hop vines are a lovely way to enhance your entrance and are one of the best fast-growing climbing plants too if you're looking for quick coverage. Plus of course, they are known for their beer and tea-making properties, as well as medicinal uses.
They climb by wrapping and entwining themselves to grow upwards, binding themselves instead of sticking to a surface such as a wall. Low-maintenance and hardy throughout USDA growing zones 4-8, these vines can grow up to 20 feet tall in a full-sun location in well-drained soil.
'The hop vine easily joins the best climbing plants ensemble, with its lobed leaves adding texture and charm,' says plant expert Alex Tinsman, founder of How to Houseplant. 'As it stretches and climbs, it creates a verdant screen that provides privacy with a touch of rustic elegance.'
Choose varieties like 'Comet' available here from Nature Hills or 'Teamaker', also available here from Nature Hills. The lovely lime green foliage, layered flowers and bracts will add interest to your front yard. They are a useful landscaping plant as they can be used to screen a porch area or veranda railing, or simply grown against the wall of the house.
5. Hydrangea petiolaris
Petiolaris is the most common climbing hydrangea, with lots of large white lacecap flowers in early summer and lush dark green foliage. A hardy and easy-to-grow plant, petiolaris is a deciduous variety, which means it loses its leaves in winter.
Hardy and easy to grow, they are a great choice of climber for covering the wall of a house, particularly if your front yard is shady and north or east-facing. Give them plenty of room as they like to grow tall and spread out. Train the shoots initially with wires or trellis ideas, and soon your plant will take over and start self-clinging.
'There are a handful of plants we return to time and again for beautifully landscaping the front yards of residential properties,' says Juna Durrant of landscaping company Ventures Designs, which is based in southeast Michigan. 'Hydrangea is our go-to when the homeowner is looking for an entry garden with a dramatic flowering element. A well-cared-for hydrangea overflows with lush heads of blossoms.'
You'll soon get a passion for these gorgeous long-flowering plants so find out more about the best hydrangea varieties and double up on these blooms by planting them in front yard flower beds and borders too.
6. Bougainvillea
Bougainvillea is one of the best climbing plants for the front of the house, especially if you have a porch or veranda that's big enough for you to sit out, as you can train it up and over the balustrades to enjoy these gorgeous flowers up close.
'Rampant in the right conditions, bougainvillea are speedy to cover large areas making them a quick friend in the garden,' says Jac Semmler. 'The actual flower is a tiny white bloom tucked within the gloriously bright structure. The color of the bract can soften as the flower ages, providing a lovely gradation of colors. Bougainvillea flower on new growth, which explains why you see most of the flowers on the upper parts of the climber.'
Bougainvillea care is easy as these are trouble-free vines and will flower profusely even if you don't prune them (it's usual to prune bougainvilleas after the first main flowering in spring). However, they are hardy only in zone 9, and in cooler zones they will not survive the winter outdoors.
7. Pink jasmine
Pink jasmine, also known as pink jasmine vine and Jasminum polyanthum, is a popular landscaping plant that will scramble over the front of your house adding a light and lacy detail. This one is a real crowd-pleaser because of its strong, sweet scent and profusion of pretty blooms from late winter until spring, just when you need it most. In fact, there are so many flowers the foliage is often completely obscured by them.
Easy to find such as this pink jasmine here at Nature Hills, easy to care for and fast-growing, this twining vine can grow up to 25 feet if you let it. Grow against a south or west-facing front as it's one of the best plants to cover a wall because it loves sun, start it off with a grid trellis until it gets going, and it will blossom like crazy. It's particularly lovely when draped around windows to let the fragrance waft inside.
The glossy tropical dark-green foliage is gorgeous on its own too, and is evergreen in USDA zones 8-10. Find out how to grow jasmine and don't forget there are plenty of other varieties to grow too including winter jasmine.
8. 'Emerald Gold' wintercreeper
'The 'Emerald Gold' variety of Wintercreeper (Euonymus fortunei) is an easy care, colorful evergreen shrub that spreads nicely, but is so simple to keep in check,' say the team at plant nursery Nature Hills, based in Omaha, Nebraska. Reads like your wish list for a modern front yard landscape, doesn't it?
With bright green leaves liberally edged in gold, 'Emerald Gold' brightens your front yard with ease and is one of the best evergreen climbers you can choose. Use it to spotlight special architectural features and add curb appeal without overwhelming your house. Plant in full sun for the best color and give it room to spread.
As a design idea, the team at Nature Hills suggests you might place a single 'Emerald Gold' on either side of your front door. It will look great year-round and develop an attractive, deep blush color in fall. Plant this absolute beauty in full sun with rich, well-drained soil for the best results. You can find it here at Nature Hills.
9. Chocolate vine
One of the best fast-growing flowering vines, this vigorous and very pretty twining plant is covered with clusters of deep burgundy, scented flowers that have a spicy fragrance with just a hint of vanilla. It's the dark color (although there's also a white version called 'Alba' available) and scent that combines to give this plant its name. It can be trained against a semi-shady north-facing house wall if that's the aspect of your front yard.
Also known as Akebia quinata, these easy climbers can grow up to 30 feet tall, which makes them a good choice for covering areas of exposed walls on the front of large houses. It will need a sturdy structure to support it as it climbs. Make sure it grows only where you want it by pruning it frequently. Think about cutting it right back to ground level in winter. Chocolate vine is considered invasive in some states so check out the situation in your area before planting.
As with all climbers, take into consideration the mature size when planning how to include it in your front yard landscaping plans.
10. Wisteria
Of all the climbing plants, beautiful wisteria certainly knows how to add some wow factor to your entrance. So if you're looking for a statement climber for the front of your house opt for these elegant cascading blooms and you won't regret finding out how to grow wisteria.
'The majestic Wisteria makes its grand entrance, cascading its pendulous clusters of blossoms in breathtaking fashion,' says Alex Tinsman. 'It comes in hues of purple, pink, or white, and its fragrant blooms drape down like a delicate curtain, bestowing a sense of elegance and tranquility.'
American wisteria produces lilac-blue flowers in spring that are even more beautiful than the more familiar Asian variety, which the USDA considers invasive for its tendency to crowd out native plants. It's extremely resilient and fast-growing, so prune it at least once a year and make sure it's only growing where you want it.
---
Our expert choices should help inspire you in your search for the best climbing plants to beautify your exterior. Why not combine it by finding the best shrubs for the front of the house at the same time to transform your front garden ideas and set the scene for your home so it's better than ever before?
Sign up to the Homes & Gardens newsletter
Decor Ideas. Project Inspiration. Expert Advice. Delivered to your inbox.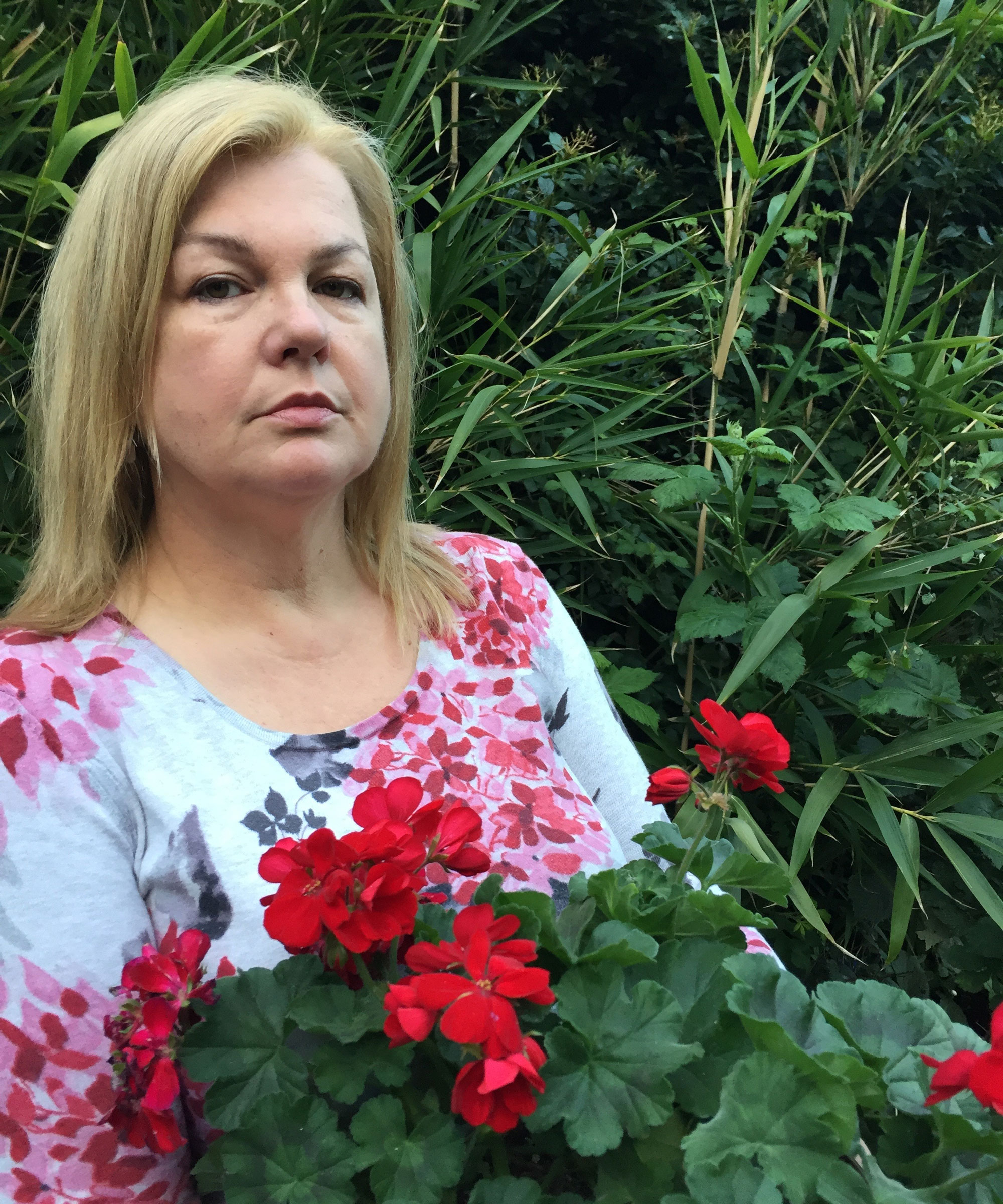 Lifestyle journalist Sarah Wilson has been writing about gardens since 2015. As well as homesandgardens.com she's written for Gardeningetc.com, Livingetc.com, Easy Gardens and Modern Gardens magazines. Her first job on glossy magazines was at Elle, during which time a visit to the legendary La Colombe d'Or in St-Paul-de-Vence led to an interest in all things gardening. Later as lifestyle editor at Country Homes & Interiors magazine the real pull was the run of captivating country gardens that were featured.