Best front yard plants – 16 charming plants and shrubs for easy impact
Discover the best front yard plants for plots of all sizes and transform the entrance to your home with ideas for year-round appeal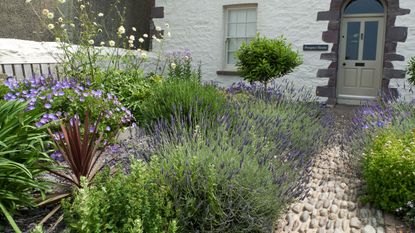 (Image credit: Kathy DeWitt / Alamy)
Sign up to the Homes & Gardens newsletter
Decor Ideas. Project Inspiration. Expert Advice. Delivered to your inbox.
Thank you for signing up to Homes & Gardens. You will receive a verification email shortly.
There was a problem. Please refresh the page and try again.
The best front yard plants not only enrich your own habitat but can also elevate entire neighborhoods. Gardening is contagious, so if you live in a street of houses where the front yards offer only bicycles or parking spaces, this is your cue to take action. Lift a slab or two, plant a few shrubs and floral specimens, and you never know – you may soon inspire others to follow suit. And since plants attract insect and bird life, formerly barren streets will quickly burst into life and increase everyone's well-being.
The secret to thriving front yard flower bed ideas lies in planning before paving and planting. For cars, mark out their entry, parking and exit. Keep hedges and trees on the boundary and create beds around the edge. Note the direction of your front yard, too. Those facing south and west catch more sun, and walls can play host to wisteria. Fronts facing north or east will be cooler and the light shade better for honeysuckle. Extra shade might be cast by trees and buildings. You can even introduce fragrance zones in warm sheltered spots for tobacco plants and herbs.
Observe the character of neighboring houses, gardens and yards for inspiration. If in doubt, classic works best. Mix and match a few easy-going front yard plant varieties to give structure all year round.
16 best front yard plants for compact spaces
Selecting plants as suitable front yard ideas is primarily informed by space. In tiny areas, focus on three core types of plant. Notable trios for a small front garden include: Allium 'Purple Sensation', Stipa tenuissima and English lavender; shrubby Rosa glauca, silvery artichokes and hardy geraniums; or a deep red rose with pink Geranium psilostemon and an underplanting of golden marjoram. Get started with these 16 stunners.
1. Choisya ternata AGM
Hardiness: USDA 8b/9a
Height: 6ft
Good for: Structural shrubs, white flowers
This is one of the best front yard plants for structure, and also one of the best flowering shrubs you can grow. Some Mexican orange blossoms have golden leaves and deeply indented leaves, but the basic species is hard to beat. Shiny, deep green evergreen foliage is a lovely foil for fragrant, starry white flowers, produced every spring. Plant in a sheltered spot away from cold winds and if necessary prune after flowering.
2. Taxus baccata 'Fastigiata Aureomarginata' AGM
Hardiness: USDA 1-6a
Height: 8ft
Good for: Small gardens, moderate shade
As well as being a solid choice if you want the best front yard hedges for privacy, yew is a star plant in its own right. 'Fastigiata Aureomarginata' is an Irish yew with gold-edged leaves. This compact, narrowly upright conifer will grow comparatively slowly to provide a living column with year-round presence. Yews are ideal for classic front yard ideas as they are long-lived, tolerant of urban pollution, respond well to pruning and grow in most well-drained soils, in sun or light to moderate shade.
3. Teucrium chamaedrys
Hardiness: USDA 6b/7a
Height: 18in
Good for: Walls and paving, low hedges
Known as the wall germander, Teucrium chamaedrys is one of the best front yard plants you can grow if you want a small evergreen. It bears neat, dark-green leaves and scented purple flowers, opening from early summer. This pretty shrub is one of the finest front garden wall ideas in our selection. It enjoys growing from cracks in walls and paving and will live happily for many years in sunny, well-drained spots. Prune in spring if necessary and take semi-ripe cuttings in summer.
4. Astrantia major 'Hadspen Blood'
Hardiness: USDA 1-6a
Height: 18in
Good for: Sun or partial shade
Astrantia major 'Hadspen Blood' is one of the most colorful front yard plant varieties in our selection. The deep red flowers of this dramatic masterwort are ideal for a front yard cottage garden or traditional theme. Masterworts are easy to grow if they have fertile, humus-rich moist soil under their roots and do well in improved clay. Deadheaded, these classic perennials bloom through summer.
5. Alchemilla mollis AGM
Hardiness: USDA 1-6a
Height: 18in
Good for: Ground cover, edging pathways
It is easy to take the stalwart lady's mantle (Alchemilla mollis) for granted – but well-grown, this herbaceous perennial is stunning. Raindrops glisten like pearls on its softly hairy, scalloped leaves. In summer, these are joined by a froth of tiny greenish-yellow flowers. This is one of the best ground cover plants you can grow and also ideal for edging pathways in most soils. This durable, drought-tolerant plant will return year after year.
6. Geranium psilostemon AGM
Hardiness: USDA 1-6a
Height: 4ft
Good for: Gold or green color themes
Any hardy geranium varieties (aka cranesbill) would suit a front yard, especially the long-flowering blue 'Rozanne' or its sport 'Azure Rush'. Still, the Armenian cranesbill has a certain presence and is one of the best front yard plants for color. Blessed with a long display of bright magenta flowers, Geranium psilostemon AGM contrasts well with gold and lime green foliage and flowers. Red leaf tints are a lovely fall surprise.
7. Ajuga reptans 'Caitlin's Giant' AGM
Hardiness: USDA 1-6a
Height: 8in
Good for: Ground cover in sun or shade
Best described as a semi-evergreen, this bugle is one of the best front yard plants for purple-blue florals. It is also one of the best fast growing groundcover plants you can grow, sending out creeping stems of large bronze leaves. 'Caitlin's Giant' looks best in late spring and early summer, when vertical spikes of flowers emerge from darker calyces. Plant in any moist soil in sun or shade.
8. Gillenia trifoliata AGM
Hardiness: USDA 1-6a
Height: 3ft
Good for: Light shade, white flowers
This pretty rhizomatous perennial from North America is known as Bowman's root. Planted in light shade and moist, well-drained soil, Gillenia trifoliata settles well alongside other front yard plant varieties, sending up red stems with lobed leaves. It's a lovely choice if you're after inspiring white garden ideas, as from late spring into summer, you'll see masses of starry white flowers opening from red calyces. Plants are drought tolerant once established.
9. Polystichum polyblepharum AGM
Hardiness: USDA 1-6a
Height: 32in
Good for: Easy foliage, dry shade
For anyone interested in low-maintenance front yard ideas, Polystichum polyblepharum is ideal. The botanical name of this fern translates as 'many-eyelashed' but it is also known as Japanese lace or tassel fern. New spring fronds are covered in golden hairs and, when unfurling, resemble the tentacles of an octopus. Fully opened, they are shuttlecock-shaped. These are some of the best front yard plants for shady spots. Once established, like the soft shield fern, they will withstand dry shade.
10. Acer palmatum var. dissectum 'Crimson Queen'
Hardiness: USDA 6b/7a
Height: 6ft
Good for: Red color themes, containers
The Acer palmatum var. dissectum group of Japanese maples are amongst the best front yard plants for container growing. Lovers of assorted vibrant varieties of Japanese maples will adore the zingy colors of 'Crimson Queen'. Ensure they stay moist at their roots and keep them in semi-shade so they don't overheat during summer. They make a low, dome-like shape of branches clad with finely cut deep red leaves, which turn brighter red in the fall. As front yard ideas go, this is one of the most vivacious.
11. Pittosporum tenuifolium 'Golf Ball'
Hardiness: USDA 8b/9a
Height: 30in
Good for: Box alternatives, containers
Ideally suited to container growing, Pittosporum tenuifolium 'Golf Ball' is one of the best evergreen shrubs for the front yard. This evergreen makes a naturally rounded shape. In milder regions, it is a great alternative to a box ball, where this classic has been afflicted by moth or blight. As with other pittosporums, dark maroon flowers open in spring, emitting a sweet honey perfume. Clipping is possible, but not always necessary.
12. Cistus x purpureus AGM
Hardiness: USDA 8b/9a
Height: 3ft
Good for: Drought tolerance, pink color themes
Drought tolerant and easy-going, the rock roses are Mediterranean plants asking only for full sun. This one opens pink flowers handsomely splashed with maroon in midsummer. Although the flowering season is not long, the evergreen plants make a rounded mound of foliage. Avoid cutting into old wood, but shape plants by pruning in spring. If you are after pretty container gardening ideas, Cistus x purpureus is amongst the most charming front yard plant varieties you can grow.
13. Ugni molinae
Hardiness: USDA 8b/9a
Height: 3ft
Good for: Four-season interest, fruit
In our selection of front yard ideas for stunning plants, the Chilean guava (Ugni molinae) is one of a few that seem to prefer life in a pot to being out in the ground. It is great for placing near a front yard walkway and is easy to move into a sheltered position for winter. This neat evergreen myrtle is amongst the best front yard plants for fragrance, producing pinkish-white flowers. It then sets fruits resembling red blueberries, with a sweet and spicy flavour.
14. Akebia quinata 'White Chocolate' AGM
Hardiness: USDA 6b/7a
Height: 15ft
Good for: Fragrance, flowering climber
Akebia quinata 'White Chocolate' is one of the best climbing plants you can grow, as well as one of the best front yard plants for unusual blooms. This semi-evergreen climber clings onto its older leaves well into the new year, before a rash of bright green new leaves develop. White and purple spring flowers, warmed by the sun, release an intoxicating spicy chocolate perfume. This is potentially very large, so train plants and prune after flowering to retain control.
15. Argyrocytisus battandieri AGM
Hardiness: USDA 7b/8a
Height: 10ft
Good for: Yellow color themes
One of the best wall plants, and one of the best shrubs for the front of the house, Argyrocytisus battandieri is a delightful choice for its uplifting tones. The trick with front yard plant varieties for a wall is to choose those that look interesting when not in bloom. For a south or west facing wall, shrubby Moroccan or pineapple broom bears softly hairy silvery foliage. Against this foil, the fragrant candles of sunny yellow flowers show well in summer. Plant in well-draining soil and prune after flowering.
16. Garrya elliptica 'James Roof' AGM
Hardiness: USDA 8b/9a
Height: 10ft
Good for: Walls, fences, vertical interest
Garrya elliptica 'James Roof' is hands-down one of the best front yard plants for creating dynamic vertical garden interest. In sun or light shade, the classy silk tassel bush will clothe a wall or fence with stems of wavy-edged evergreen leaves. These are joined from winter to spring with a display of long silvery grey-green catkins. Plants enjoy well-drained soil and appreciate careful siting so they are not blasted by cold winds.
FAQs
What are the best ways to improve a front yard quickly?
Even a modest space can be transformed relatively quickly with careful plant selection and ground preparation, or the biggest containers you can source. Large wooden half-barrels can hold a Japanese maple or Japanese angelica tree (Aralia elata 'Variegata'). If you fancy a bit of front yard landscaping, then raised beds, paving and gravel quickly add texture. However, check local regulations: rules are in place to ensure permeable surfaces and prevent flooding.
If your front yard has a wall, there is often a strip of dry, well-drained soil along it that can serve a climber. In a sunny spot, good front yard ideas include passionflower (Passiflora caerulea), winter iris (Iris unguicularis) and Nerine bowdenii.
---
For front yard plant varieties that are easy to maintain, stick to small trees, shrubs and herbaceous perennials that don't have to be replaced regularly. Mulch with weed-free municipal compost, composted bark or stone chippings to conserve water and thwart weeds. Utilize vertical wall space and, if concerned about maintenance, avoid self-clinging climbers and put up some trellis instead. Train lax wall shrubs such as climbing roses or Japanese quince. Finally, don't forget a front hedge to provide privacy and reduce road noise and dust, with the potential for sitting out.
Sign up to the Homes & Gardens newsletter
Decor Ideas. Project Inspiration. Expert Advice. Delivered to your inbox.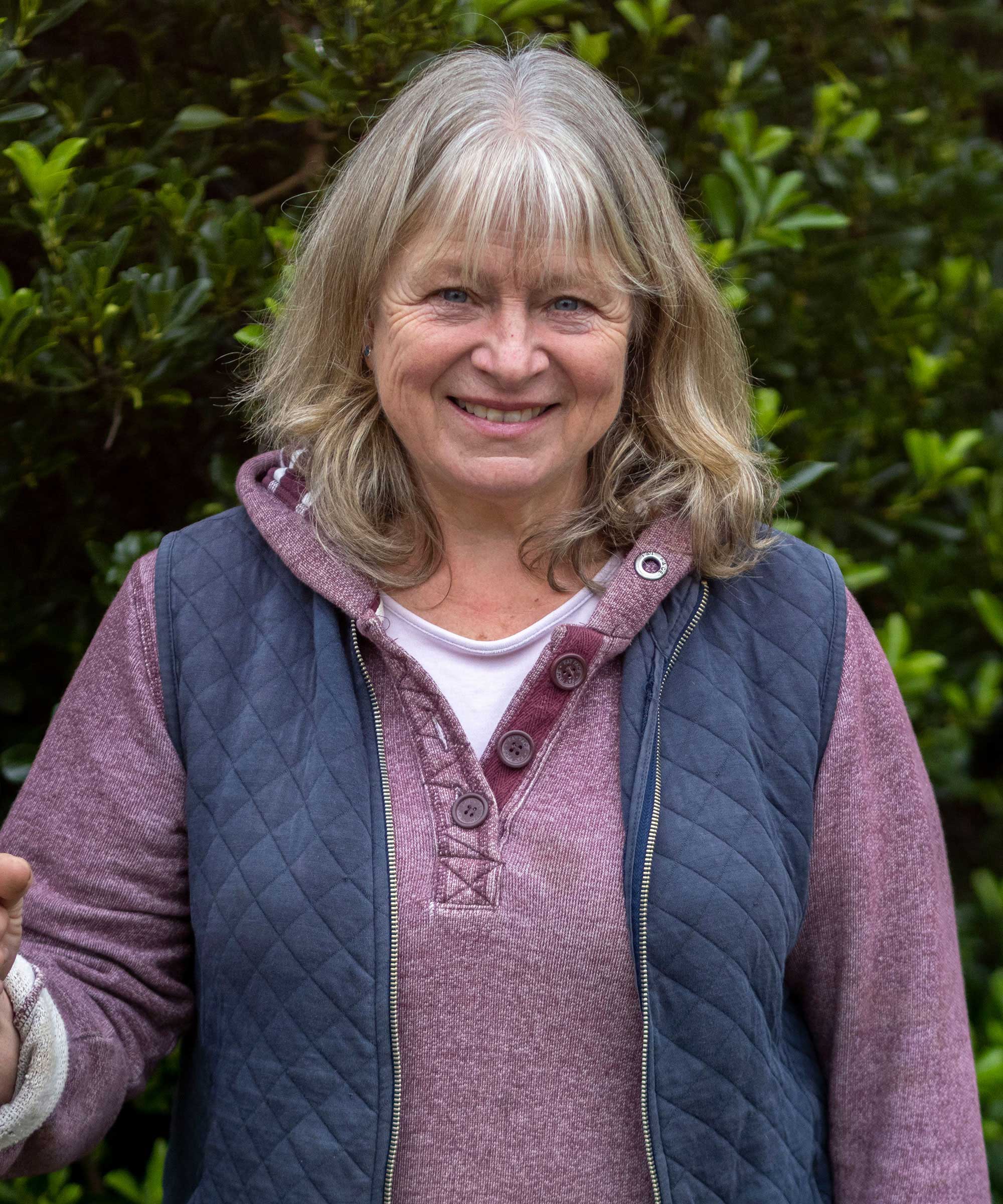 Having trained at Kew Gardens in London and worked in parks department nurseries and as Glasshouse Supervisor at RHS Wisley, Anne has been a freelance horticulturist since 1986. Anne writes for Amateur Gardening and has been a regular panelist on BBC Radio 4's Gardeners' Question Time for 27 years. A large plot full of wildlife habitats, edible and ornamental plants is Anne's workshop and inspiration.