Best front yard hedges for privacy – 10 leafy choices to screen your home from the street
Up your sense of security with these practical and pretty planting picks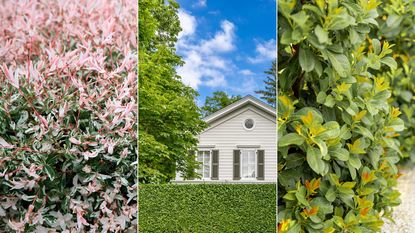 (Image credit: (From left to right) Martin Hughes-Jones / Alamy Stock Photo – Gavin Zeigler / Alamy Stock Photo – RossHelen editorial / Alamy Stock Photo)
Sign up to the Homes & Gardens newsletter
Decor Ideas. Project Inspiration. Expert Advice. Delivered to your inbox.
Thank you for signing up to Homes & Gardens. You will receive a verification email shortly.
There was a problem. Please refresh the page and try again.
Planted at the front of your plot, a hedge can create a clear boundary between your space and the outside world. By acting as a natural screen, it instantly ups the sense of security and prevents prying eyes from passers-by. Plus, it's often a prettier option than a wall (and more wildlife-friendly).
There are various hedging plants you can choose to incorporate into your front yard landscaping. But, for year-round privacy and curb appeal, without the need for excessive maintenance, some are better than others. We asked the experts to share their top recommendations.
10 hedges to screen your front yard from view
Consider planting these privacy hedges in your front yard for a beautiful, botanical screen.
1. Cherry laurel
Best for: Low maintenance
Type: Evergreen shrub
Height: 10-18ft
Spread: 5-7ft
Hardiness: USDA 5-10
Glossy-leaved, evergreen laurel (Prunus laurocerasus) is a top choice for a fast front yard hedge. It's known for its hardiness and is virtually maintenance-free, and it will quickly grow to form a dense screen.
If left unpruned, it produces white flowers that attract bees, which then turn into berries that attract birds. It's resistant to deer as well as drought once established, and is unfussy about soil type. This shrub can also be grown in the shade.
You can shop Prunus laurocerasus from Fast Growing Trees.
2. Yew podocarpus
Best for: Attracting birds
Type: Evergreen conifer
Height: 12-20ft
Spread: 6-8ft
Hardiness: USDA 7-11
Podocarpus macrophyllus is often referred to as yew podocarpus or Japanese yew, and can be brought from Fast Growing Trees. However, although its long, leathery leaves are similar, it's not from the yew (Taxus) genus. It hails from China and Japan but it's not considered an invasive plant.
'It is an incredibly versatile evergreen shrub, happily taking to various forms when annually pruned,' says arborist Ned Cromack. 'It can be grown as a tree, as topiary, or even in a container display when planted in a large pot, and also makes a dense and attractive hedge in a front yard. It forms blue cones which then turn into berries that attract birds,' he adds.
It's not a fast-growing shrub, but it's worth the wait. One of the major benefits of Podocarpus macrophyllus is its fuss-free maintenance. It's deer-resistant, and pests and diseases generally don't pose a problem. It's also moderately drought tolerant once it's established.
Plant it in full to partial sun in soil with good drainage for best results.
Ned is a qualified arborist and the Founder of The Bristol Tree Medic. Starting his career in one of the UK's leading tree nurseries in 2010, he went on to spend over a decade as a tree climber across the UK, Europe, New Zealand and Australia. For him, arboriculture has always been more of a fascination than a job, and an industry that never ceases to inspire.
3. Western red cedar
Best for: Scented foliage
Type: Evergreen conifer
Height: Up to 150ft, depending on variety
Spread: Up to 65ft, depending on variety
Hardiness: USDA 5-8
The western red cedar, or Thuja plicata, is a tough, coniferous evergreen. It has year-round sprays of glossy green leaves that release a pineapple-like scent when crushed.
'Its dense foliage makes it a good windbreak for a front yard,' says Ned. 'It's effective at absorbing pollution, too, making it a great hedging plant for homes near busy roads. It responds well to pruning.'
There are a few varieties available, each with different growing rates and eventual heights. Thuja plicata 'Atrovirens' is particularly popular for hedging, often used as an easier-to-manage alternative to leyland cypress (see below). Thuja plicata x standishii 'Green Giant' (available from Fast Growing Trees) is another well-loved option, reaching tall heights quickly.
4. Boxwood
Best for: Formal landscaping
Type: Evergreen shrub
Height: 1-20ft, depending on variety
Spread: 2-20ft depending on variety
Hardiness: USDA 5-9
Boxwood is a slow-grower. This means it won't be suitable if you want a quick, tall privacy screen – unless you splash out on mature plants. But, for a formal look, it can't be beaten.
'With its dense foliage and neat appearance, it adds an elegant touch to the landscape,' says Gene Caballero, a landscaping expert. 'Regular pruning is essential to keep boxwood in shape.'
Most varieties do best in spots with partial shade and well-drained soil. Watch out for box blight, a common fungal disease that results in bare patches.
In terms of varieties, try 'Green Mountain' boxwood, from Nature Hills, which can grow to 5ft. The slightly smaller 'Wintergreen', from Fast Growing Trees, is also popular. For more height, go for the classic American boxwood, also from Fast Growing Trees, which reaches 10-12ft.
Gene Caballero is the Co-Founder of GreenPal which has been described as Uber for lawn care. With over 25 years of experience in the landscaping industry, he has developed a deep expertise in all aspects of general landscaping. From designing and creating outdoor spaces to maintaining and enhancing existing landscapes, his knowledge spans a wide range of landscaping techniques and practices.
5. American holly
Best for: Red berries
Type: Evergreen shrub
Height: 15-30ft
Spread: 10-20ft
Hardiness: USDA 5-9
'American holly is a visually appealing evergreen shrub that can be shaped into a dense hedge,' says Gene.
'Its glossy green leaves and vibrant red berries add beauty to the landscape while offering privacy. However, keep in mind that male and female plants are required for berry production.' Meanwhile, the spiky leaves are good for deterring intruders.
It has a medium growth rate and is disease- and pest-resistant. Plant it in slightly acidic, well-drained soil, in full or partial shade. American holly shrubs are available to buy from Nature Hills.
6. Leyland cypress
Best for: Fast growth
Type: Evergreen conifer
Height: 60-70ft
Spread: 15-20ft
Hardiness: USDA 6-10
'In my experience, leyland cypress is a top choice for creating a privacy hedge,' says Gene. 'With its fast growth rate and dense foliage, it can quickly form a solid barrier.' However, regular pruning is necessary to maintain its shape, he adds.
This fast-growing shrub is perfect for large front yards. Provide the plants with full sun and plenty of water.
You can shop leyland cypress plants, otherwise known as Cuprocyparis leylandii, from Nature Hills.
7. Bamboo
Best for: Tropical gardens
Type: Ornamental shrub
Height: 15-39ft, depending on variety
Spread: 25ft+, depending on variety
Hardiness: USDA 5-11, depending on variety
'For those seeking a more exotic and unique option, bamboo hedges offer both privacy and a distinctive aesthetic appeal,' says Becky Decker of Gardeninghood.com. 'With its fast growth rate, bamboo can quickly create a dense screen, perfect for blocking out unwanted views.'
However, it's important to take precautions to stop bamboo from spreading, such as choosing clumping bamboo varieties, as Becky notes. 'Regular pruning is also necessary to maintain its desired shape,' she adds.
Some varieties are hardier than others, such as 'Little Red Head' clumping bamboo, available from Nature Hills, which can tolerate growing zones 5-9.
8. Privet
Best for: Glossy leaves
Type: Semi-evergreen shrub (depending on region and variety)
Height: 4-15ft
Spread: 4-10ft
Hardiness: USDA 3-8
'Privet is a versatile hedging plant available in different species, such as Chinese privet and Japanese privet,' says Gene. 'It grows quickly and can be pruned to form a dense hedge, but regular maintenance is necessary to prevent overgrowth.'
'Its glossy, dark green leaves create a lush and vibrant backdrop for your front yard,' adds Becky Decker. She also highlights their adaptability, as they can grow in a wide range of climates and soil conditions.
Plant privet (also called ligustrum) in full sun and remember to water the plants during long periods of drought, especially when they're young. Note that some varieties of privet are considered invasive in some regions, so double-check before you add them to your plot.
9. Tri-color dappled willow
Best for: Colorful foliage
Type: Deciduous shrub
Height: 8-10ft
Spread: 8-10ft
Hardiness: USDA 5-9
If you're after a more colorful look for your front yard, try this beautiful, compact willow, also known as Salix integra 'Hakuro-nishiki'. It loses its leaves in winter, but in spring, the new foliage dazzles with its green, white, and pink hues.
Water these plants regularly to keep them happy (especially during the first few years of growth), and apply a slow-release fertilizer once a year in early spring. They like plenty of sunshine and should be pruned in late winter, before they put on new growth.
Salix integra 'Hakuro-nishiki' is available to buy at Fast Growing Trees.
10. Yew
Best for: Shaded front yards
Type: Evergreen conifer
Height: 4-65ft, depending on variety
Spread: 4-65ft, depending on variety
Hardiness: USDA 4-8
A classic go-to for their evergreen growth, yews can be grown as trees or planted closely together and clipped into a smart and dense hedge.
The female plants produce red berries that attract birds. Yews are easy to grow, flourishing in both sun and deep shade, but avoid planting them in waterlogged soil. Note that they are toxic, so remember to wear gloves when giving them their annual prune.
The Hicksii yew, available from Fast Growing Trees, is a popular variety, growing to 8-12ft tall in a columnar habit.
FAQs
Can I plant a mixed hedge in my front yard?
If you can't decide on one hedging plant, it's possible to plant a few varieties together. However, 'to grow a mixed hedge that can be kept neatly trimmed you need to choose plants that respond to pruning and can all be pruned at the same time,' says gardening expert John Negus. You'll also need to ensure that they can all thrive in the same sort of environment in terms of sunlight and soil type.

Mixing together deciduous and evergreen plants in the same hedge may be less suitable if you're going for a formal look, John adds.
John has been a garden journalist for over 50 years and regularly answers readers' questions in Amateur Gardening magazine. He has also written four books and has delivered many talks over the years on horticulture.
Do I need a permit to plant a front yard hedge?
Usually, you don't need a permit to plant a hedge, provided it is within your property lines, does not block traffic visibility, and is maintained regularly. Other stipulations can occur depending on your region, though, so always check with your local municipality if you have any doubts.
---
Growing a privacy hedge has multiple benefits. But, as well as needing a bit of patience while they grow, bear in mind that plants need the right environment to thrive, so always check their requirements before adding them to your yard.
As well as this, remember that even the most fuss-free ones may need a spot of TLC from time to time – whether that's watering on dry days or giving them a quick prune to tidy their appearance and remove dead limbs. If you're not sure that you can commit to this, there are lots of beautiful fence options you could choose instead.
Sign up to the Homes & Gardens newsletter
Decor Ideas. Project Inspiration. Expert Advice. Delivered to your inbox.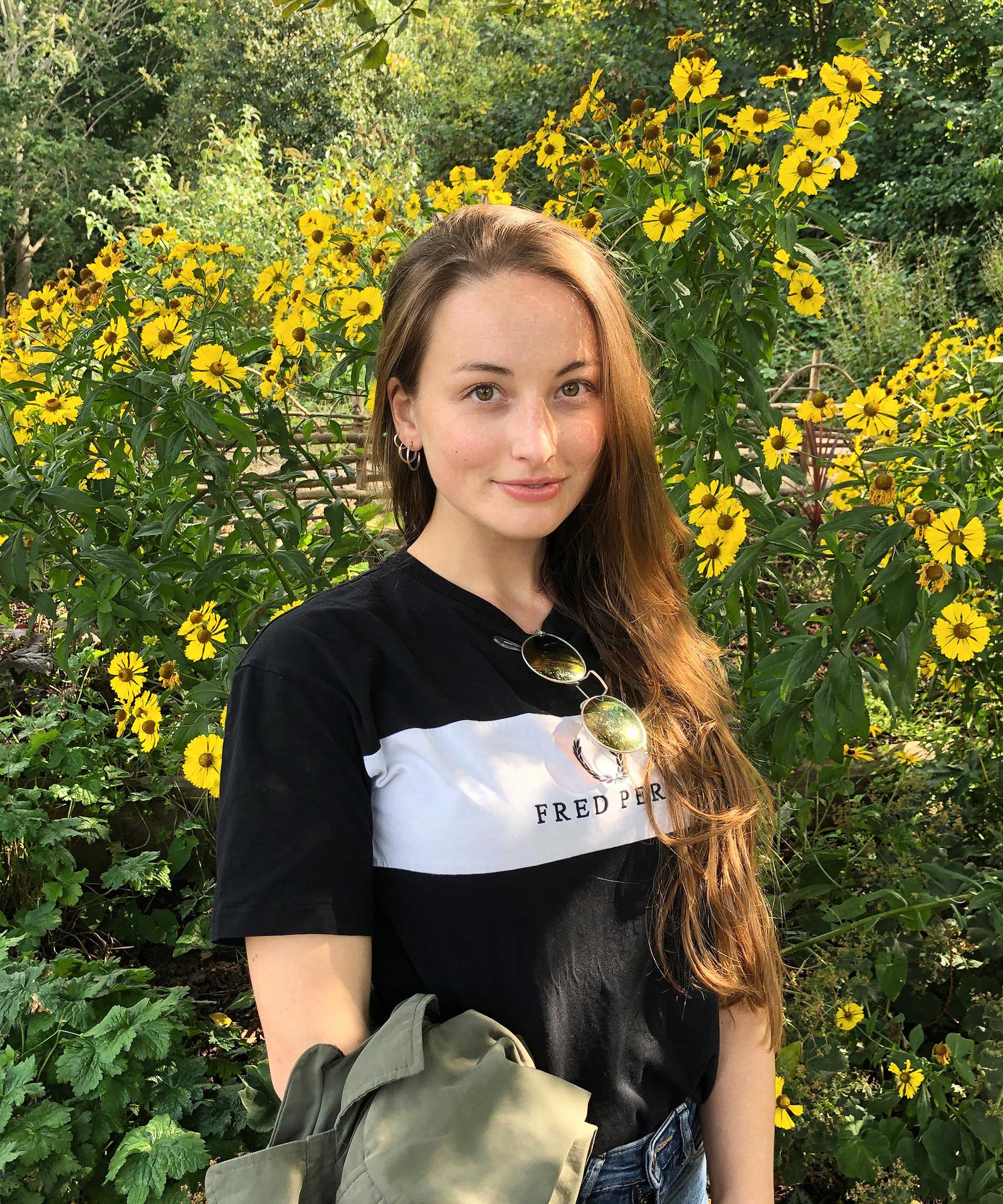 The garden was always a big part of Holly's life growing up, as was the surrounding New Forest where she lived. Her appreciation for the great outdoors has only grown since then; over the years, she's been an allotment keeper, a professional gardener, and a botanical illustrator. Having worked for Gardeningetc.com for two years, Holly now writes about plants and outdoor living for Homes & Gardens.