Low-maintenance front yard ideas – 11 fuss-free ways to create a stylish welcome
From gorgeous planting picks to statement pathways, these looks will increase your home's curb appeal without much upkeep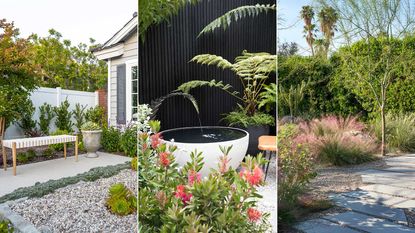 (Image credit: (From left to right) Living Gardens Landscape Design / Brett Hilton Photography – Jacky Hobbs – Surfacedesign / Millicent Harvey)
Sign up to the Homes & Gardens newsletter
Decor Ideas. Project Inspiration. Expert Advice. Delivered to your inbox.
Thank you for signing up to Homes & Gardens. You will receive a verification email shortly.
There was a problem. Please refresh the page and try again.
Front yards create that all-important first impression, which means they need to look their best. However, most of us don't have the time (nor the inclination) to spend hours and hours on maintenance – especially when there's a backyard to care for, too.
Thankfully, there are lots of stylish front yard design solutions which will stay looking pristine with very little effort required. From statement pathways to smart planting choices, these looks provide plenty of inspiration for your own plot.
Make it easy to look after your front yard with these ideas
Upgrade your front yard with these looks – there's something to suit all styles and budgets.
1. Create a tapestry of fuss-free plants
It's true that some plants demand a lot of TLC. But with the right choices, it's still possible to fill your front yard with greenery, without the fuss of daily maintenance.
It's important to choose varieties of plants that suit your climate. 'Plant hardiness zones play a major factor in appropriate planting, as well as planting site microclimates including sun, shade, soil, slope and soil moisture,' says Kevin Casey, a landscaping expert from SSC Services for Education.
'Native plants are useful, if possible, and "adapted" plants offer an alternative option,' he adds. 'Use something that has proven successful in your geographic area and utilize the local nurseries who can help with selecting plants that need minimum care.'
Drought-tolerant plants are often the way to go, and there are lots of beautiful varieties available. Ornamental grasses are one of the best options for their contemporary yet soft appearance and soothing movement in the breeze. As demonstrated in this setup above, they look great when punctuated with succulents and splashes of purple nepeta ('Walker's Low', from Nature Hills, is a well-loved variety).
'Consider how the mature sizes of plants will affect the overall area, and don't plant something that will need regular pruning to maintain the desired size,' Kevin adds.
Kevin earned a Bachelor's degree in Ornamental Horticulture from the University of Georgia and has over 31 years of experience in the green industry, having worked as a garden center manager and commercial landscape manager. For the last 26 years, he has supported educational facilities, with the nine most recent years spent at SSC. Kevin also holds a Pesticide Applicators License in multiple states and is a Certified Turfgrass Professional as well as a Certified Playground Safety Inspector.
2. Replace turf with gravel
'Incorporating gravel or stone in your landscaping can help reduce the amount of grass, which requires regular mowing,' says Bryan Clayton, a landscaping expert at GreenPal. 'This not only brings a different texture and color to your landscape but also reduces maintenance effort.'
This no-grass front yard idea also ups security for your home as it crunches underfoot – alerting you should someone enter your property. Plus, it's good for drainage, reducing puddles on your plot when it rains.
Combine it with sleek paving and potted plants for a pleasing contrast. We like the water feature as a focal point in this space, too, complete with a nearby bench for taking in the view.
Bryan is the CEO and Co-founder of GreenPal, an online marketplace connecting homeowners with local lawn care professionals. Bryan's entrepreneurial journey started in landscaping; he founded Peach Tree Inc., one of the largest landscaping companies in the state of Tennessee, growing it to over $10 million a year in annual revenue before it was acquired by Lusa Holdings in 2013.
3. Use trees as focal points in your front yard
A drought-tolerant tree or two can elevate a front yard without demanding much attention, especially once established. Blossoming trees are especially worth their keep, bringing a splash of color to an outdoor space.
Just remember to check the eventual size before you plant to ensure you have enough room – not doing so is a common front yard landscaping mistake. There are leafy varieties to suit all sizes of front yards – including trees that can be grown in a container.
4. Choose easy-care materials for your front yard path
'With very little maintenance, pavers will look as good thirty years from now as they do at installation,' says Joe Kauffman, Director of Operations at System Pavers.
There are endless styles to choose from when it comes to paved front yards. But one look that stands out for us is this stepping stone layout, using wide-format pavers, which creates a stylish feature as well as a practical pathway.
'Depending on the space, it may make sense to completely hardscape a front yard with stairs, walkways, lighting elements, and sitting areas,' Joe adds. 'Hardscape design and elements are an easy way to "set it and forget it" when it comes to creating a front yard space to enjoy for years with minimal upkeep.'
Joe leads System Pavers' visionary designers and expert installation teams that leverage end-to-end proprietary technology to design and build outdoor living elements. These include hardscapes, turf, outdoor kitchens, BBQ islands, water features, fire features, patios, driveways and more.
5. Make maintenance easy with irrigation systems
Lawns aren't always the best choice if you're looking to create a fuss-free scheme. But, if you don't want to sacrifice a stretch of green in your front yard, a sprinkler will help you keep it looking its best. Remember, too, to choose a type of turf that suits your climate, especially if you want to tend to a lawn in hot, dry weather.
Other plants can also benefit from a watering system, such as this irrigation system from Flantor, available on Amazon. 'A drip irrigation system provides slow, steady watering directly to the roots, reducing water wastage and ensuring your plants remain healthy with minimal effort,' says Bryan. You can even use them to water hanging baskets on a front porch.
6. Choose low-maintenance lighting options
Front yard lighting is important for both practical and aesthetic reasons – it ups security, guides you safely to your front door once night falls, and gives your home a welcoming glow.
And, for an easy (and eco-friendly) solution, you could opt for solar lights. These don't require any plugging in and are virtually maintenance-free – simply pop them in the ground and the sun will do the work for you.
7. Create an easy-care container display
Containers are super versatile as you can switch up the plants whenever you fancy. And, although they do require watering, there are ways to make them easier to care for.
Fill them with tough plants, such as Mediterranean herbs, that won't mind if you skip a day or so of watering. Such a display would be a beautiful, fragrant welcome if positioned to the side of a front door. Alternatively, consider succulents, which are very easy to look after and add a sculptural touch with their architectural leaves.
You can also invest in self-watering pots, or, as mentioned above, hook them up to an irrigation system.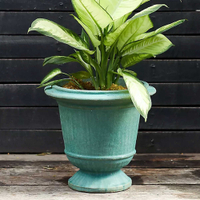 Aeros 17" Urn | $248 from Anthropologie
In both green and white colorways, these glazed stoneware planters will add instant elegance to your front yard. Try positioning one on either side of your door.
8. Turn your front yard into a xeriscape
Xeriscaping is proving increasingly popular amongst landscapers and homeowners. It's all about creating outdoor spaces that don't require much water, and the results are easy to look after and certainly chic.
We love this front yard walkway of terrazzo pavers, interspersed with fine gravel and pretty planting. Adding slow-growing evergreen shrubs to the mix means there will be greenery all year (and less mess to clear up).
Add front yard rock garden elements, too, for naturalistic charm. Just one or two boulders will add an attractive accent that will draw the eye.
9. Keep it simple yet striking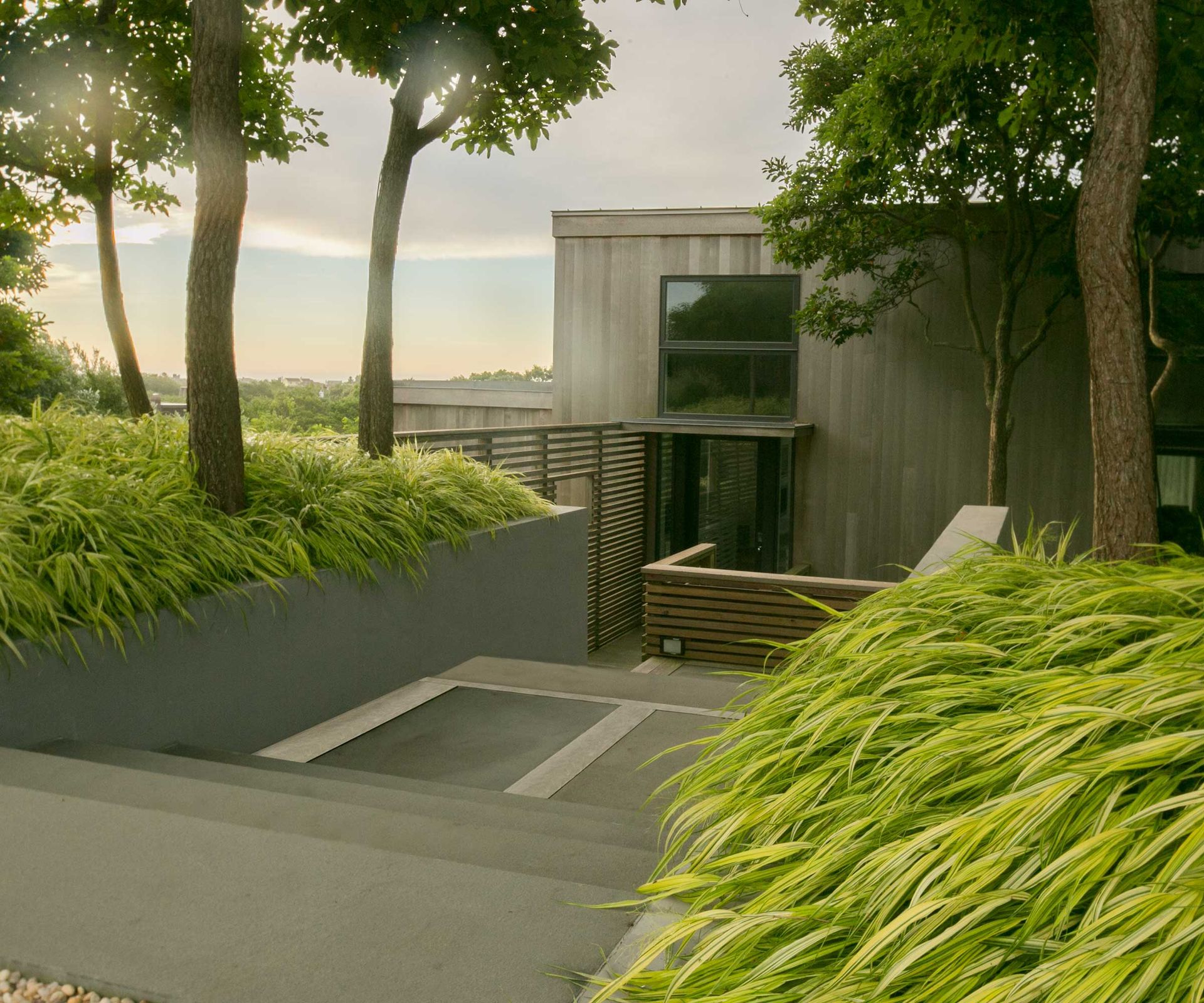 Sometimes, simplicity is key, especially if you're going for an easy-care scheme that looks effortlessly chic. For instance, opting for just one or two types of plant and using them en masse makes a dramatic effect and can cut down on maintenance time.
In this project shown above, an understory of Hakonechloa macra 'Aureola' is used in place of a typical lawn, and complements a stand of mature trees, explains Justin Quinn, Partner at James Doyle Design Associates. It also stabilizes a steep slope, reducing potential soil erosion, he adds.
10. Add sensory appeal with a water feature
Water features aren't reserved for backyards. They are just as effective out front, making a stunning and sensory first impression, and providing a focal point that doesn't require much work.
Choose a design that complements the colors and materials across the rest of the space. This simple water bowl is perfect for a contemporary yard – and we love how the fern-shaped fountain detail echoes the container planting nearby.
Adding water to your front yard is also good for wildlife. 'Fluttering butterflies, low humming bees, and chirpy birds add a sense of vibrancy and animated spirit to the garden like no other sculpture or man-made decor element can,' says Principal Architect Rituparna Simlai of Studio Arth. 'Install a bird bath to provide a water source for local birds and butterflies, enticing them to visit and adding a charming touch to your garden.'
Rituparna is the Founder of Studio Arth, an award-winning landscape architecture firm based in Coconut Grove, Miami. With a Master's degree in Landscape Architecture from Harvard University, Rituparna has collaborated with renowned firms such as AECOM, Cannon Designs, Integral Designs and Raymond Jungles on diverse projects spanning residential design, urban master planning, and infrastructure.
11. Use ground cover plants in your front yard
'For a nature-inspired yard, consider adding ground cover plants like clover and creeping thyme,' suggests Mallory Micetich, a home care expert at Angi. 'These low-maintenance plants can make your yard look magical while benefiting your local ecosystem,' she adds – they're great plants for attracting pollinators.
What's more, ground cover plants can help suppress weeds, meaning less work is required to keep a space looking its best. Try planting them amongst gravel, in between pavers, or in front yard flower beds around low-maintenance shrubs for a pretty look.
---
Creating a low-maintenance front yard is relatively easy to achieve, once you know how to start. And there's no reason you can't use your chosen easy-care plants and materials to create a low-maintenance backyard, too – which will also create a pleasing sense of cohesion between the two zones.
Sign up to the Homes & Gardens newsletter
Decor Ideas. Project Inspiration. Expert Advice. Delivered to your inbox.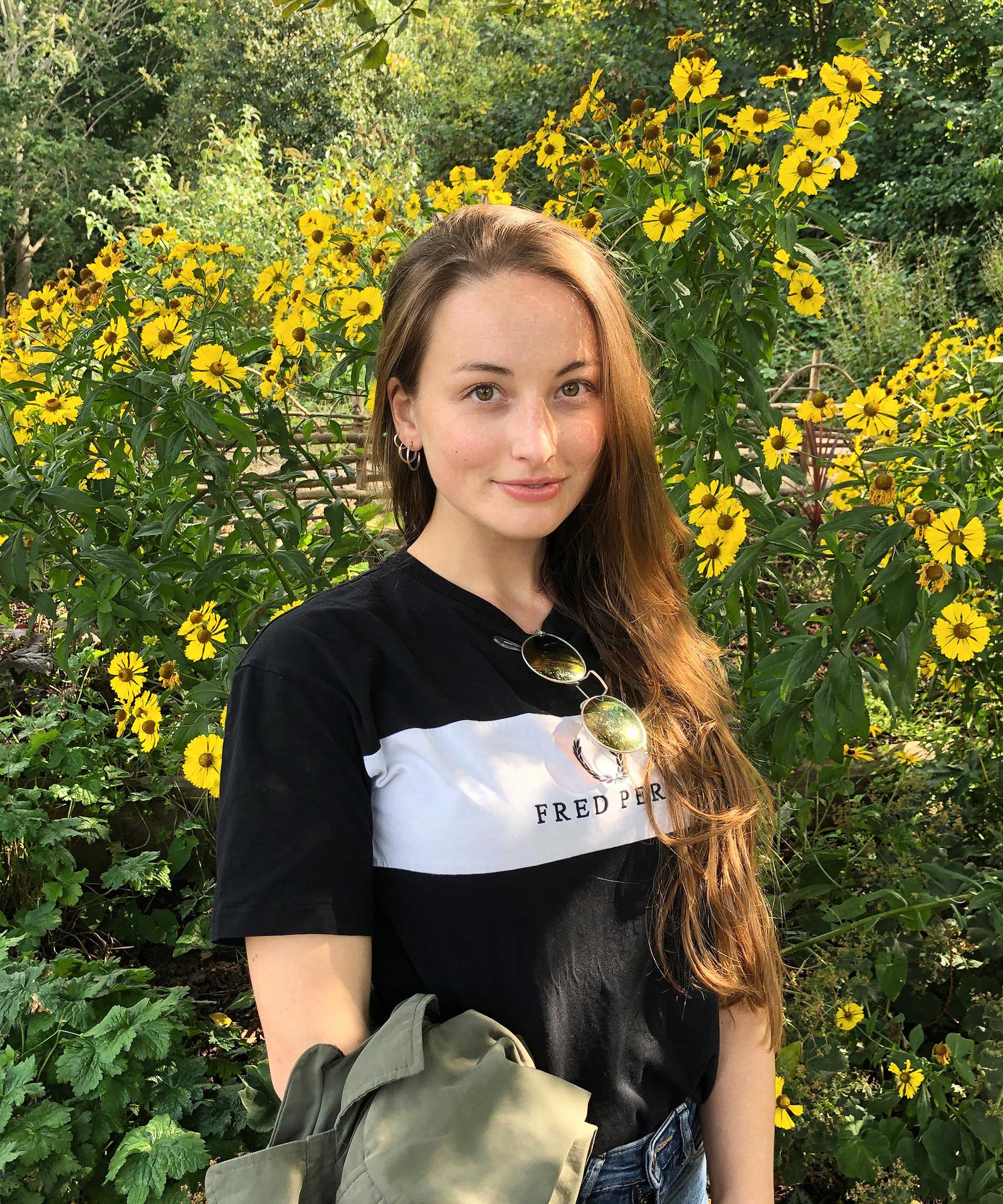 The garden was always a big part of Holly's life growing up, as was the surrounding New Forest where she lived. Her appreciation for the great outdoors has only grown since then; over the years, she's been an allotment keeper, a professional gardener, and a botanical illustrator. Having worked for Gardeningetc.com for two years, Holly now writes about plants and outdoor living for Homes & Gardens.