No-grass front yard ideas – 10 ways to say goodbye to that dry patch of lawn
Getting rid of turf in your front yard can open up a world of interesting design and planting possibilities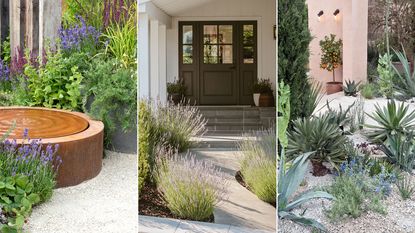 (Image credit: Jacky Hobbs/Yardzen/Jacky Hobbs)
Sign up to the Homes & Gardens newsletter
Decor Ideas. Project Inspiration. Expert Advice. Delivered to your inbox.
Thank you for signing up to Homes & Gardens. You will receive a verification email shortly.
There was a problem. Please refresh the page and try again.
Many of us are now looking for the latest no-grass front yard ideas as we're wanting more environmentally friendly options instead. There's never been a better time to replace turf with plants that flower at different times of year for overlapping bloom seasons and combining this with a mix of interesting hardscaping.
We love the idea of an expanse of green lawn but the truth is it's a hard look to achieve in these times of drought. If you want a lush green front yard, lawn (parched or otherwise) isn't the only option. Once you've got as far as deciding to dig up the turf consider alternative ideas like replacing your lawn with drought-resistant planting or rewilding with native local plants.
It's a good idea to make the best use of the space too by including an area to sit, as well as focal points like water features and interesting containers. Using a mix of designs like this as part of your front yard landscaping ideas will allow you to create a space that truly reflects your vision.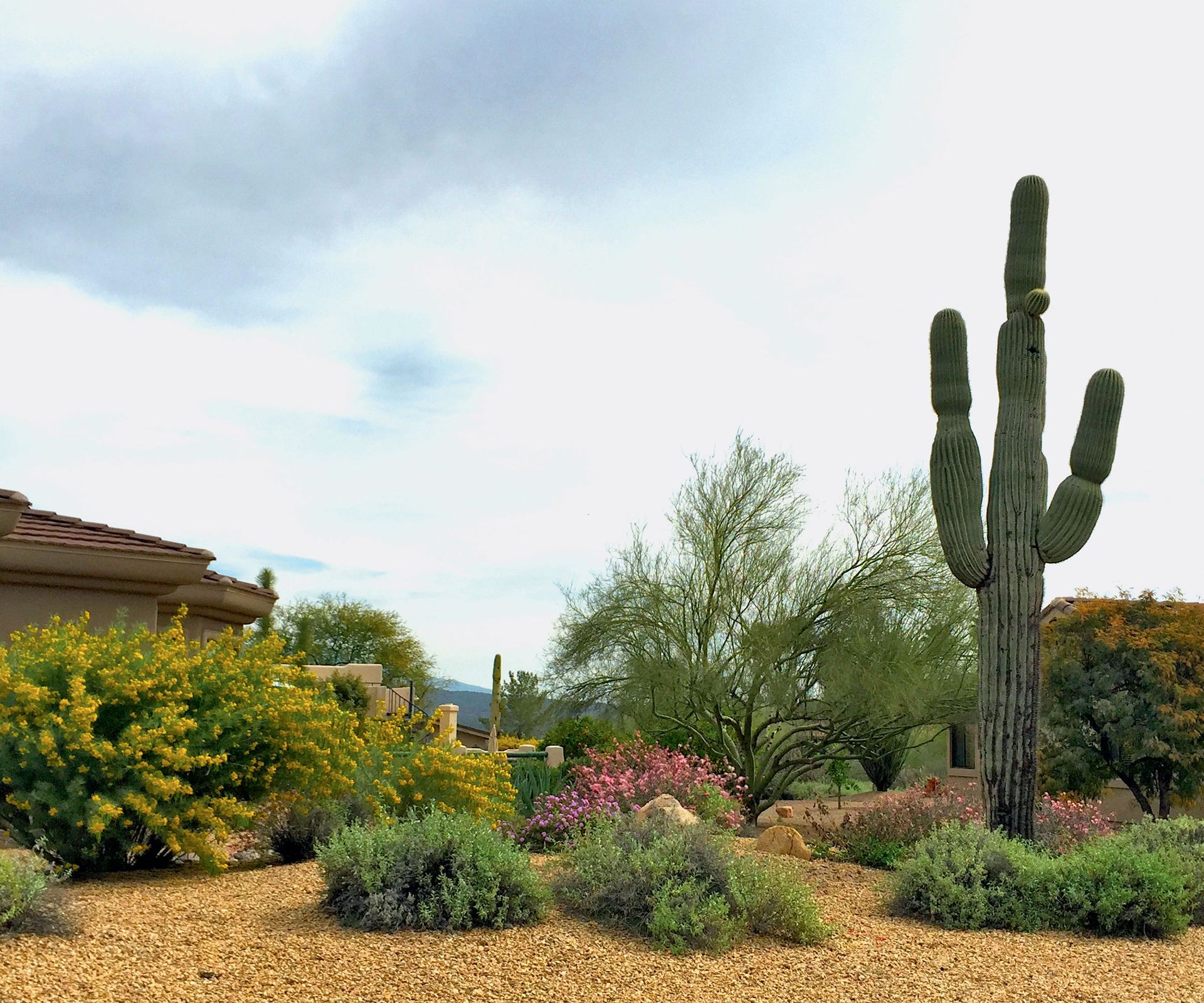 10 ways to go grass-free in your front yard
There are one or two practicalities to factor in before you start on your no-grass front yard. First decide if you're going completely grass free from the get-go as part of a front yard reno or if you prefer a gradual reduction of turf to work with an existing design.
It's also a good idea to look at drought tolerant landscaping ideas now, as this is the next logical stage after getting rid of water-guzzling lawns and needy plants. Next select hardscaping materials that suit your style, budget, and the overall aesthetics of your property.
The final consideration is how to add personality to your design with curb appeal ideas to give it standout.
1. Swap a lawn for paving to create a tailored look
When it comes to front garden ideas, giving your space a look that's tailored to suit both the exterior of your property and your personal style is the ideal. The aim is to create a balanced design with a mix of hardscaping, planting pockets and interesting spot-lit features.
This stunning front yard in Santa Ana, California, ticks all these boxes, in addition to having a stylish outdoor seating area to make the most of the space. What gives this look real standout is the interlocking pavers on the front yard walkway leading up to the porch. Using hardscaping materials like this lets you create a one-off look.
'You might decide to mix-and-match solid walkways with patterned edges, or you could opt for a pattern all the way through,' says Shane Stevens, VP of operations at System Pavers. 'Available in a range of colors, shapes and hues, pavers are a versatile choice that can effortlessly enhance your front yard landscape.'
If you want the look of lawn without the hassle, this design shows how artificial turf can look as good as the real thing. Finishing touches include recessed front yard lighting, underwater lights to illuminate the water feature, and uplighters to enhance the small ornamental trees.
Shane Stevens is the Vice President of Operations for System Pavers. He has more than 25 years' experience in outdoor living, design and construction. Stevens is a United States Marine Corps veteran and a Lake Forest, California resident.
2. Design an attractive front yard planting scheme
The planting also needs to step up in a front yard without a lawn, acting as a strong green foil to the hard landscaping, and helping to delineate and soften the exterior of your property so it all pulls together.
'There are many benefits to removing grass from your yard,' says Amy Hovis, principal at Eden Design in Austin, Texas. 'Grass lawns are expensive to keep up. They require a lot of regular maintenance, water, and fertilizers, and provide zero habitat value. Replacing your lawn with a variety of plants will invite nature back in. Try planting cacti and succulents in sunny areas of the front yard instead of grass.'
For a drought-resistant design, once the turf is removed replace it with a weed-free porous sub-base, then top with gravel and drought tolerant planting such as ornamental grasses and succulents. This results in a more climate-sensitive, low-impact approach to the garden too.
Additionally, a lawn-free front yard is ideal if you're looking for a low-maintenance design, especially when combined with the right planting. A well-planned space reduces the time spent weeding and watering in a traditional lawned front yard.
3. Add an eye-catching detail like a water feature
Enhance the tranquility of your front yard by adding an interesting design element such as a water feature. They particularly help soften the aesthetics of modern front yard designs.
'Options include fountains, ponds, or cascading waterfalls,' says Jacky Chou, principal and director of architecture and design company Archute. 'But remember to choose a design that complements the style of your home and creates a soothing ambiance.'
Add to the look with a strategically placed sculpture or other unique focal point to add personality and that special something to your space. Sculptures can range from abstract pieces to traditional statues, depending on your desired aesthetic.
A similar approach can work just as well in a no-grass backyard too.
4. Replace a green lawn with statement planters
Large feature pots are a great way of introducing all-important foliage and flowers into an otherwise constructed space such as a lawn-free front yard. They tend to demand attention and can be used to add an eye-catching focal point.
'Pots can be clustered together for instant impact,' says horticulturalist Jenny Rose Carey, author of The Ultimate Flower Gardener's Guide available at Amazon. 'They can be changed out and rearranged to bring seasonal interest. You can have a flower garden in pots anywhere there is enough sun: on your porch, windowsill, by your door or any sunny paved area. Or you might use container gardening ideas as a focal point either side of a path.'
Keep things simple and choose one stylish plant for your front yard such as some drought-tolerant plants for pots. We love the look of aeoniums, with their rosettes of glossy, waxy leaves and distinctive outline, and in summer they can be grown in the front yard in a sunny position. They store water in their leaves so you won't need to be watering your plants in containers much either.
Horticulturalist Jenny Rose Carey is author of The Ultimate Flower Gardener's Guide, and former senior director at the Pennsylvania Horticultural Society's Meadowbrook Farm.
5. Maximize growing space with deeper flower beds
If you love flowers and plants, and want to grow more, consider replacing the lawn in your front yard with deeper flower beds to allow extra space. Adding a garden path through the flower-filled planting lets you enjoy the color and scent up close too.
'Grass lawns are thirsty and use three times more water annually than a swimming pool and up to ten times more water than a landscape filled with native and desert-adapted plants,' says horticulturalist and AZ Plant Lady Noelle Johnson, author of Dry Climate Gardening, available from Amazon.
It doesn't have to be an expensive option making front yard flower beds deeper either, with the best ground cover plants an excellent visual substitute for a thirsty lawn when planted en masse. 'Many arid-adapted choices are available, from those with lush green foliage, colorful bloomers, and even low-growing succulents suitable for use as ground cover,' says Noelle. Shorter ornamental grasses are also an excellent choice, while the taller ones (over three feet) can be used to substitute for shrubs.
Noelle is a horticulturist, landscape consultant, and garden writer who lives in the Phoenix, Arizona, metro area. Popularly known as the 'AZ Plant Lady,' her passion for over 20 years has been to inspire and teach people to create, grow, and maintain beautiful gardens that thrive in a hot, dry climate.
6. Introduce textured hardscaping elements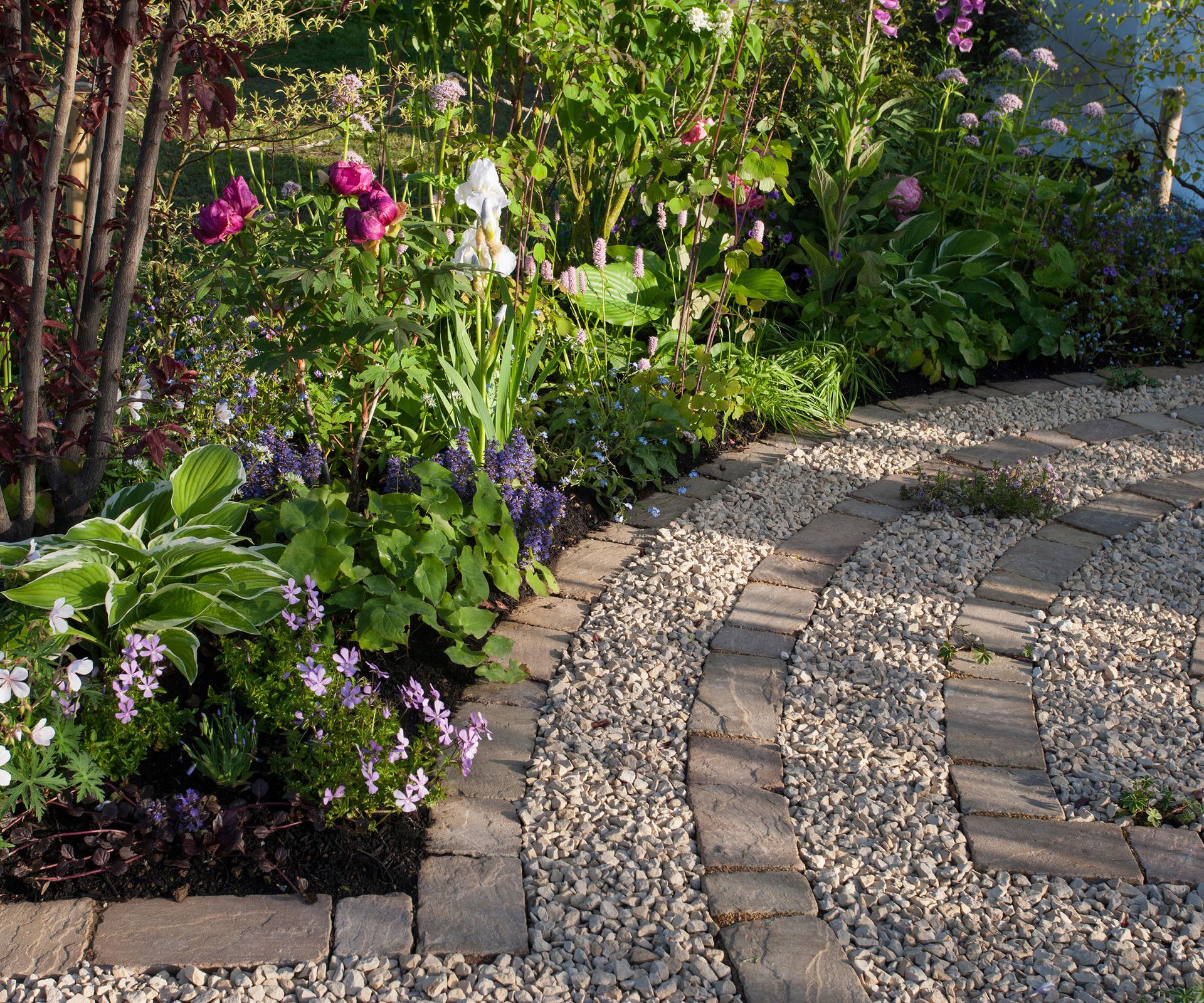 In a front yard without a lawn, as well as plants the spotlight is on the hard landscaping. But this doesn't mean it has to be uniform and dull. Add a gravel accent or try landscaping ideas with rocks to ensure that the space is 'disrupted' to prevent it becoming a large homogenous area of pavers or slabs.
'Create a charming, low-maintenance front yard by replacing some areas of grass with gravel,' says Jacky Chou. 'Use different sizes and colors of gravel to add texture and visual interest. Consider incorporating stepping stones or a meandering pathway for accessibility and aesthetic appeal.'
One of the easiest ways to add texture to your yard is by creating pebble gardens. For this, you can use a mix of stones, rocks, and gravel, which all work well as part of no-grass front yard ideas. Use landscape fabric underneath to prevent weed growth and ensure a smart finish. Not only are pebble gardens low maintenance, but you'll be giving your yard a zen-like Japanese garden aesthetic too.
7. Try xeriscaping your front yard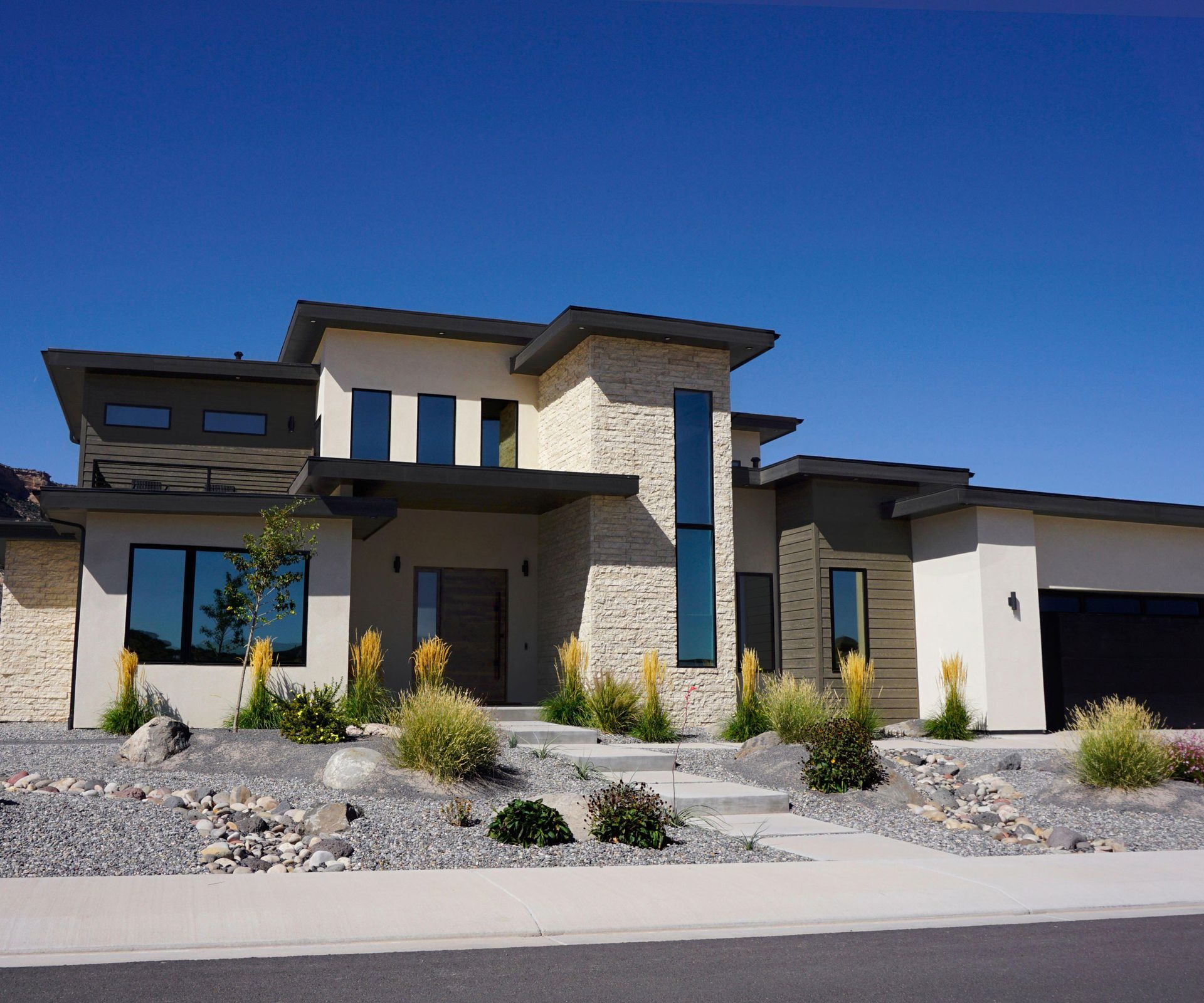 When dealing with environments impacted by drought, consider xeriscaping your front yard. This landscaping technique uses designs and practices that focus on water conservation. This is done by strategically selecting plants that thrive in dry environments like succulents and cacti as well as native and drought-tolerant perennials, shrubs, and trees.
'Xeriscaping extends well beyond simply planting drought-tolerant plants,' says Amy Enfield, senior horticulturist at Scotts Miracle-Gro. 'By emphasizing right plant in the right location, improving your native soil, practicing proper watering techniques, and using different types of mulch, xeriscaped landscapes can be green, colorful, and water-friendly.'
Amy also has this top tip for no-grass front yards. 'When selecting areas in your yard to convert from lawn to landscape, focus on the areas that trigger a case of "lawn anxiety" because they're the ones that are tricky to maintain.'
8. Add a standout tree
Introduce a small ornamental tree or two to your no-grass front yard for shade, privacy, and visual appeal. Consider native front yard trees that suit your local climate and soil conditions. Meanwhile ornamental trees like Japanese maple and flowering cherry provide stunning focal points and seasonal interest. And if you're keen to give your redesign an established look as soon as possible pick a fast-growing tree.
'One of the small trees I love for landscaping is the weeping Japanese maple,' says Alex Kantor, owner of Perfect Plants Nursery in Monticello, Florida. 'It has show-stopping foliage and a mature height of about 6-10ft to add a stunning feature in any front yard landscape design.' The weeping Japanese maple 'Viridis' tree is available from Fast Growing Trees.
Alex is also a big fan of the Yoshino cherry tree (also available from Fast Growing Trees). 'With its unique small light pink to white flowers with their sweet scent, oriental branch pattern and leaves that change colors throughout the seasons it's a great choice as part of your no-grass front yard.'
Alex has worked in the horticultural industry for over 20 years and grew up on the farm. He is an expert on landscape trees, shrubs, and indoor plants. He is passionate about growing and helping others learn the trade. You'll see him driving around the farm with his sidekick, Brittany spaniel Cricket, in tow.
9. Make best use of the new space with a front yard deck
Create an inviting space in your front yard by incorporating a seating area with decorative elements like potted plants to make it feel like a retreat. A former lawned area can be reworked into a practical, stylish and spacious decked terrace or front porch for relaxation, further enhanced by including some of the best shrubs for the front of the house and other surrounding planting.
'Any space, regardless of how big or small it is, still calls for the same practical elements to evaluate its full potential,' says Michelle Hendricks, category marketing manager at Deckorators. 'Ask yourself how the space should function to meet your expectations. Take the time to think about how you want your renovation to look, and also how you want it to work with your lifestyle. Be creative and brainstorm the ways you can make the most out of your no-grass front yard.'
Always consider what direction the sun is coming from, and what time of day you want to use the space too. Added front yard privacy and shade solutions will help keep the morning sun out of your eyes while you enjoy your coffee.
10. Include color to add pretty detail
The trend in garden design is for smart front yards in a neutral palette and the temptation is to stick with this. But little pops of bright color here and there will really lift your no-grass front yard and add personality to your design.
You can change the mood of your your front yard by using color. This can range from a calming effect created by a harmonious selection of soft shades, such as muted greys, purples and blues, to vibrant and energetic spaces filled with rich reds, bright oranges and punchy lime greens.
The joy is you can switch your garden color scheme to suit your mood and it's an easy way to refresh your front yard regularly. You'll soon forget you ever had a lawn.
---
One of the smartest investments homeowners can make is in their home's first impression and this is where picking the right no-grass front yard idea to suit your space is key. Putting money and attention into the front of the house helps set the tone for your home.
'We always advise homeowners to understand the nuances of their home's style before making changes,' says Deckorators' Michelle Hendricks. 'Identify what elements you want to repeat to create a sense of cohesiveness and impact.'
Sign up to the Homes & Gardens newsletter
Decor Ideas. Project Inspiration. Expert Advice. Delivered to your inbox.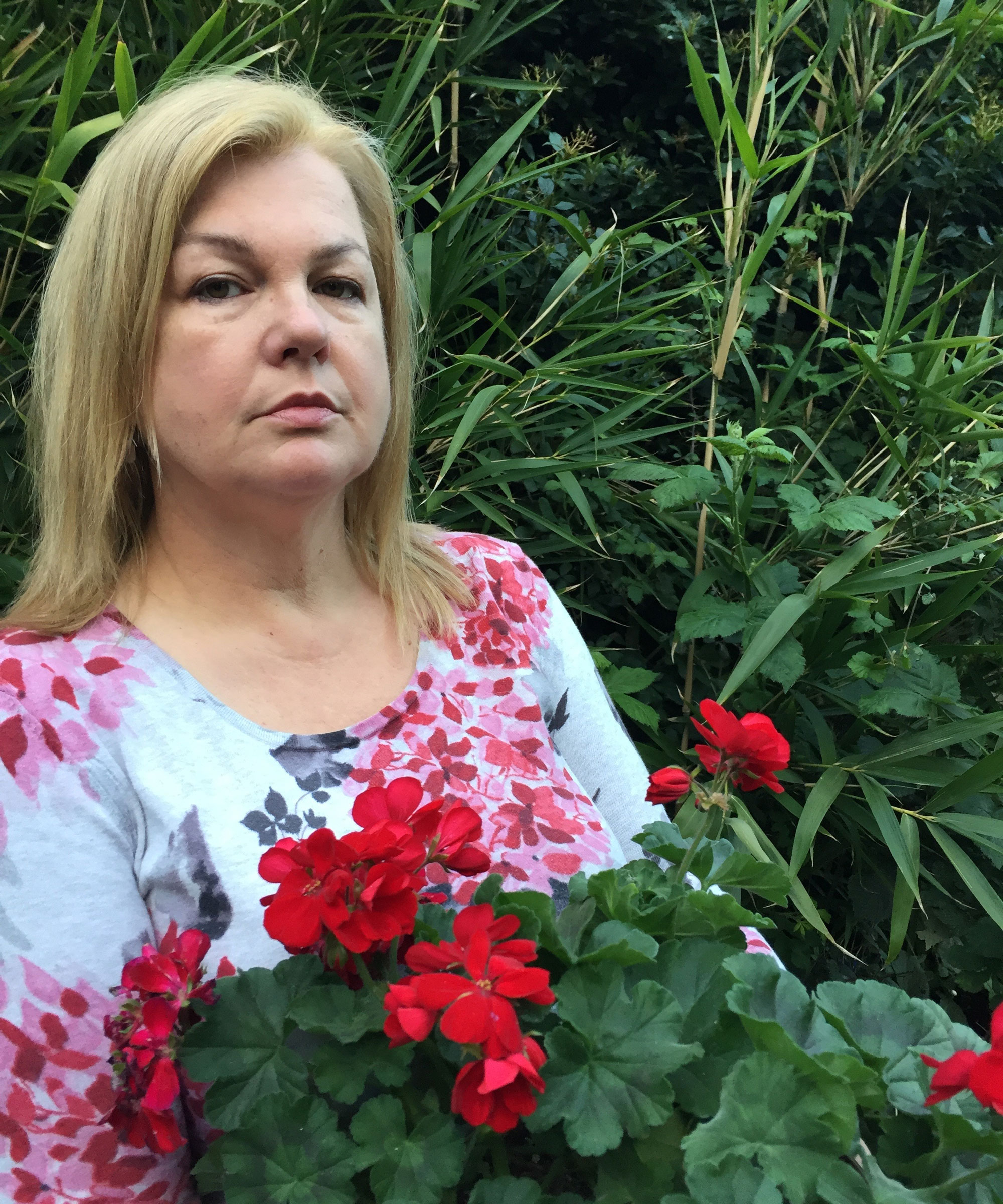 Lifestyle journalist Sarah Wilson has been writing about gardens since 2015. As well as homesandgardens.com she's written for Gardeningetc.com, Livingetc.com, Easy Gardens and Modern Gardens magazines. Her first job on glossy magazines was at Elle, during which time a visit to the legendary La Colombe d'Or in St-Paul-de-Vence led to an interest in all things gardening. Later as lifestyle editor at Country Homes & Interiors magazine the real pull was the run of captivating country gardens that were featured.