Drought-tolerant plants for pots – 10 easy-care choices for stunning summer containers
Create a gorgeous patio display that won't need constant watering in the heat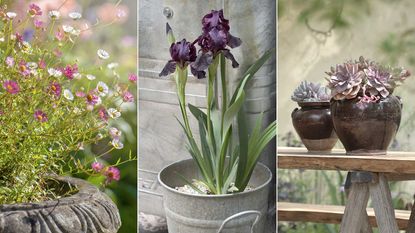 (Image credit: (From left to right) – Jacky Parker Photography / Moment / Getty Images – Jacky Hobbs – Jacky Hobbs)
Sign up to the Homes & Gardens newsletter
Decor Ideas. Project Inspiration. Expert Advice. Delivered to your inbox.
Thank you for signing up to Homes & Gardens. You will receive a verification email shortly.
There was a problem. Please refresh the page and try again.
Drought-tolerant container plants are the way to go for an easy-care patio display this summer. And happily, there are plenty of tough perennials to choose from.
It's important to note that most drought-tolerant plants – particularly those in pots – will need regular watering as they establish for a strong start. But, once they're settled in their new home, they'll maintain their beauty despite drier periods.
Less time wielding a watering can means more time relaxing in your outdoor space. Plus, you'll worry less about your container garden if you're planning a vacation or two, or if a hosepipe ban comes into action. What's more, reducing your outdoor water usage is often more eco-friendly. It's a win on all accounts – and these top planting options make it easy to get started.
10 drought-tolerant container plants that will brighten your backyard
These undemanding choices are valuable backyard additions for drier climates – as well as gardeners who don't have tons of time for watering plants in containers.
1. Succulents
Tony O'Neill, a gardening expert, explains that succulents store water in their fleshy leaves and stems, making them excellent choices for outdoor containers. There is a wide range available in a spectrum of hues, from glaucous to glossy almost-black (try Sempervivum 'Black' or Aeonium 'Zwartkop' for the latter). Their architectural form makes them well-suited to modern garden schemes.
Under the right growing conditions, many offer flowers, too. Echeveria elegans (available at Nature Hills) shoots up arching stems of pink flowers in summer, for instance, while Sedum kamtschaticum produces small, yellow blooms and makes a great filler plant for larger pots.
Succulents require infrequent watering and thrive in well-draining soil, says Tony. 'Place them in sunny spots for optimal growth.' Allow the soil to dry out between waterings, he adds. Otherwise, you can risk waterlogging the soil which can lead to root rot.
Tony O'Neill is an accomplished gardening expert, author, and educator. With a passion for simplifying gardening practices, he has inspired a wide audience through his popular YouTube channel and website SimplifyGardening.com. Tony's expertise empowers individuals to cultivate thriving gardens and connect with nature.
2. Mexican fleabane
A favorite for cottage garden styles, Erigeron karvinskianus produces masses of tiny, white, daisy-like blooms with a tint of pink. It looks just as lovely tumbling down the side of a container as it does on a stone wall or planted in the gaps between backyard paving.
This clump-forming perennial likes plenty of sun and well-drained soil. If you're oceanside, it's tough enough to suit most coastal gardens. Try planting it around the perimeter of a mixed-flower container to soften the edge, or let it take the spotlight by planting it by itself.
3. Bearded irises
Bearded irises make a striking focal point when planted in a garden border, but they are also a good choice for large pots in full sun. They need soil that's well-draining, and once established, watering is only necessary during long periods without rain. Like succulents, avoid overwatering: irises can easily succumb to root rot if the soil is waterlogged.
There are many options available with a dazzling array of hues, including the bold yellow-and-purple re-blooming 'Blatant' and the soft-blue 'Sea Double'. Deadhead irises during summer to keep them looking neat.
4. Lavender
Easy-care, sun-loving lavender will give your backyard a Mediterranean feel with its silvery foliage, purple flowers, and relaxing scent. It's also good for making your outdoor space more wildlife-friendly, as it's brilliant for attracting bees and butterflies.
It's perfect for edging pathways, but also works well in pots to elevate a summer patio. Wherever it is in your yard, keep in mind that overwatering is a common lavender-growing mistake. Instead, allow the soil to dry out first, then water your lavender plants deeply.
There are various varieties of lavender available at Burpee.
5. Yucca
'Yucca is a striking architectural plant that thrives in outdoor containers,' says Tony. 'It has sword-like leaves and produces tall flower spikes.' Hardy in zones 6 through 10 and preferring drier conditions, it needs infrequent yet deep watering and plenty of sunshine. The bell-shaped blooms will help attract hummingbirds to your yard, as well as pollinating insects.
Choose a large, heavy pot so that it has plenty of room to grow and is less likely to topple over. This variegated yucca from Nature Hills is particularly stunning.
6. Rosemary
Another fragrant plant and one of the best drought-tolerant herbs, rosemary is an ideal addition to a paved backyard or deck. Not only does it provide evergreen interest with its aromatic leaves, but in summer, it also offers masses of blue flowers that bees adore. And, of course, it's useful in the kitchen for adding a boost of flavor.
Rosemary is suited to hardiness zones 8-11, prefers a sunny position, and like most drought-tolerant plants, dislikes waterlogged soil. Try 'Tuscan Blue' rosemary from Nature Hills which has a neat growing habit with a maximum spread of 2-3ft (it can be pruned to suit smaller containers).
7. Echinacea
Give your container display a prairie-style edge with echinacea – a drought-tolerant, late-summer bloomer that's also known as coneflower.
There are compact varieties that are well-suited to smaller patio pots, such as 'PowWow White' echinacea, from Nature Hills, which has pretty white flowers for weeks on end. Other more colorful options include the show-stopping 'Warm Summer' echinacea from Burpee.
Not only are they undemanding when it comes to watering, but these perennials are also winter hardy, and generally pest-and-disease resistant. They're perfect for a beginner or time-poor gardener.
8. Yarrow
A pretty cutting garden flower with feathery foliage, yarrow sparkles in summer with its clusters of small, often-colorful flowers. A herbaceous and unfussy perennial, plant it in a pot that gets plenty of sun and it will attract plenty of pollinators to your yard.
Only needing water during extended droughts, it looks lovely alongside echinacea for a relaxed display. 'Strawberry Seduction' from Nature Hills is an attractive choice with its red blooms with yellow centers.
9. Pelargoniums
There are lots of pelargoniums to pick from, including many with scented leaves. Their flowers are held in clusters and range from bright pink and red to deep purple and white. As they're heat- and drought-resistant, they are perfect summer plants for decorating an outdoor seating area.
'Water deeply when the top inch of soil is dry, allowing excess water to drain away,' advises Tony. 'Regular deadheading and occasional fertilization promote continuous blooming.'
John Negus, a gardening expert, explains that they originate from South Africa and need to be brought undercover to a frost-free place in winter to survive in cooler climates. You can propagate these plants from shoot-tip cuttings.
John has been a garden journalist for over 50 years and regularly answers readers' questions in Amateur Gardening magazine. He has also written four books and has delivered many talks over the years on horticulture.
10. Ornamental grasses
Many ornamental grasses are good drought-tolerant plants. Anemanthele lessoniana is one that John Negus recommends.
Also known as the evergreen New Zealand wind grass or pheasant's tail, it forms a large clump of slender leaves that start off green but become streaked with more fiery hues as the plant ages through the year, he says. In summer, it produces light flowerheads, and by winter, the fronds can turn red. 'This grass is best planted in full sun in organically rich soil,' John adds. It looks beautiful in pots.
For a cooler color palette, try Festuca glauca available from Nature Hills – a compact, blue-hued grass. Alternatively, Diana Cox of TheGardeningTalk.com recommends purple fountain grass. 'This stunning plant can withstand infrequent watering once it establishes roots and thrives in sandy, well-draining soil mixes,' she says. 'Pruning back faded flower stalks encourages fresh growth.'
Diana Cox is the proud founder of TheGardeningTalk.com and has over a decade of gardening experience. Through her blog, she aims to inspire and motivate fellow gardeners by sharing practical techniques that are grounded in both personal experience and thorough research.
What are the best drought-tolerant shrubs to plant in pots?
If you're looking to fill your patio pots with structural, low-maintenance shrubs, garden expert John Negus has plenty of suggestions. For silvery foliage, he recommends Artemisia 'Powis Castle', Santolina chamaecyparissus, and Convolvulus cneorum. Potentilla fruticosa 'Pink Beauty' has pretty summer flowers, while Ceratostigma willmottianum and Caryopteris 'Kew Blue' offer bright blue blossoms from summer into fall.

'All grow to around 3ft,' he adds. 'If they become too large, prune them after flowering. If they bloom in the fall, tackle them in spring.'
What drought-tolerant container plants are suited to shade?
For shadier spots on your patio or deck, try planting winter-flowering hellebores, or hostas or heuchera for their interesting foliage and summer flowers. All will tolerate less attention from the watering can and make perfect container plants.
---
Even if you're sticking to drought-tolerant plants, bear in mind that they will still need a spot of watering from time to time, especially in summer. Tony advises mulching the soil surface which can help to conserve moisture (and it will also help suppress weeds).
Remember that while some plants need lots of sun, others prefer things cooler where possible, so always check when positioning your pots to ensure that they thrive. Some other maintenance tasks may be called for, too, from winterizing to slug control.
And, if you want to go a step further and make the rest of your yard less reliant on water, xeriscaping could be the way forward – a landscaping technique that's proving increasingly popular.
Sign up to the Homes & Gardens newsletter
Decor Ideas. Project Inspiration. Expert Advice. Delivered to your inbox.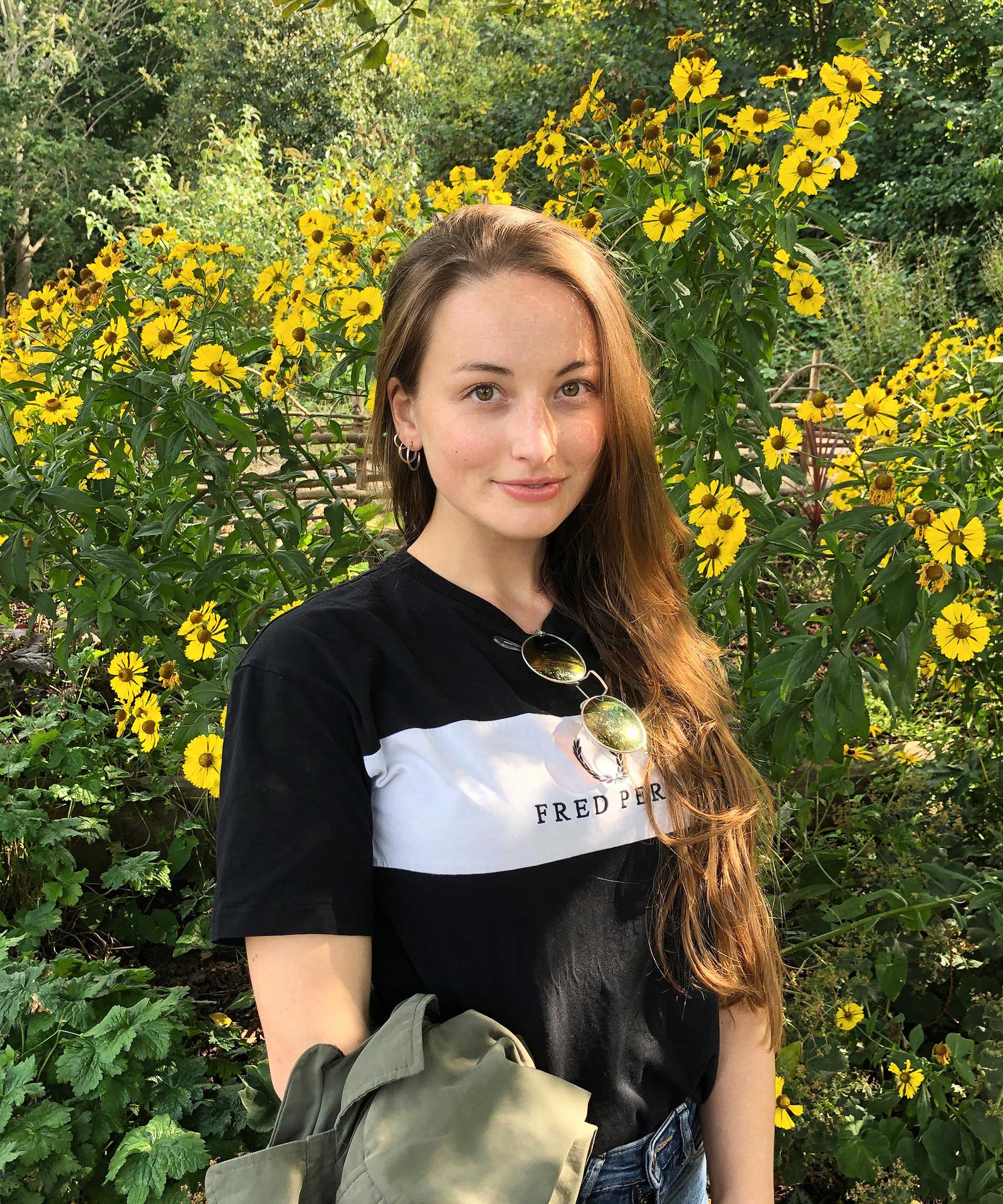 The garden was always a big part of Holly's life growing up, as was the surrounding New Forest where she lived. Her appreciation for the great outdoors has only grown since then; over the years, she's been an allotment keeper, a professional gardener, and a botanical illustrator. Having worked for Gardeningetc.com for two years, Holly now writes about plants and outdoor living for Homes & Gardens.