The best drought-tolerant herbs – 8 tasty plants that are easy to care for in hot, dry weather
Many of the best aromatic, culinary, and medicinal herbs can thrive in dry conditions thanks to their Mediterranean heritage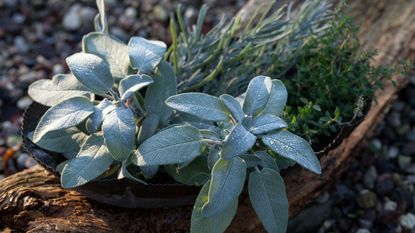 (Image credit: Alamy/blickwinkel )
Sign up to the Homes & Gardens newsletter
Decor Ideas. Project Inspiration. Expert Advice. Delivered to your inbox.
Thank you for signing up to Homes & Gardens. You will receive a verification email shortly.
There was a problem. Please refresh the page and try again.
Herbs offer a fantastic combination of beautiful foliage and scent that is capable of filling the backyard air. Many of the most popular herbs are also of Mediterranean origin and that makes them very drought tolerant and easy to maintain.
The fact that herbs can be some of the best drought-tolerant shrubs only adds to their mystique. With their intoxicating aroma and leaves perfect for using in cooking, baking, cosmetics, or for their medicinal properties, they offer so much to the gardener.
We take a look at some of the best drought-tolerant herbs to consider for your backyard. It may surprise you to discover quite how many of the hugely popular herbs can survive very dry periods when they are fully established.
8 drought-tolerant herbs for your yard
There is a great selection of herbs that can be used as part of drought-tolerant planting ideas, perfect for if you are starting a herb garden or kitchen garden.
All of the herbs can survive dry periods once they are established, however, when judging when to water plants, you must remember that just because they are known as drought-tolerant herbs it does not mean they can survive without water straight away.
Not watering properly is a herb gardening mistake and all herb plants will need regular watering for their first season in the ground. That will help them put down a strong root system and that will make them drought tolerant for years going forward.
1. Rosemary
Rosemary is a fantastic culinary herb that is a great Mediterranean plant and can thrive in dry conditions. The evergreen shrub loves well-draining soil and does not like sitting in wet ground, which makes it an ideal choice for any drought-tolerant landscaping ideas.
There are two different types of rosemary, upright and trailing types of rosemary, and both are perfect for a drought-tolerant garden. It is a hardy plant down to 14˚F and, providing it is well looked after, you can harvest rosemary for 12 months of the year. It is important to prune rosemary each year to stop the plant going woody and keep it super-productive.
Buy rosemary seeds and plants from Burpee.
2. Lavender
People may wonder, is lavender drought tolerant? The answer is yes, it is a drought-tolerant plant that is very versatile whether grown in the ground or you grow lavender in pots.
Native to the Mediterranean and Middle East, lavender is used to free-draining soil and little summer rainfall. Spanish lavender is the most drought tolerant of all the types, however it will need protection from the cold if you want to winterize lavender. You want to plant lavender in the sunniest place in the yard and give it free-draining soil. Be careful with watering, as overwatering is a common lavender growing mistake.
Buy lavender plants from Nature Hills.
3. Lovage
Lovage is an under-appreciated herbaceous perennial perfect for any herb garden ideas. It produces tasty celery-like leaves that are commonly used in soups, stews, or salads.
Lovage has a long taproot that can search deep for any moisture in the soil. Despite putting out tall foliage that can hit almost five feet, it can still withstand dry conditions. It is all thanks to that taproot, which helps make lovage a drought-tolerant herb and perfect for any xeriscaping ideas. Lovage can be harvested repeatedly throughout the summer and it will quickly grow back to be cut again.
Buy lovage plants from Burpee.
4. Marjoram
Marjoram is another Mediterranean herb which is hardy once established. Marjoram is closely related to oregano, and the two herbs are commonly confused for each other, but marjoram is milder in flavor.
It is a very low-growing plant, reaching only around two inches high, and a low-maintenance herb to add to the garden.
Commonly grown as an annual, but able to survive winters in US hardiness zones 9-10, it also puts out purple and white flowers in the summer. The herb wants a sunny location and well-drained soil. To propagate new herb plants, marjoram can be easily lifted and divided.
Buy sweet marjoram from Burpee.
5. Chives
Both onion chives and garlic chives are drought tolerant once they are established. These perennial herbs are commonly part of kitchen garden ideas, due to their subtle taste and also their attractive pom-pom blooms.
Chives are closely related to onions and are good options for perennial onions in the vegetable garden. They want to be planted in full sun and, once established, just need to be watered occasionally when the soil fully dries out.
Harvest chives by snipping leaves as and when required throughout the summer. Chives are another plant that can be divided successfully and should be split every few years to keep a healthy clump.
Buy chive plants from Nature Hills.
6. Thyme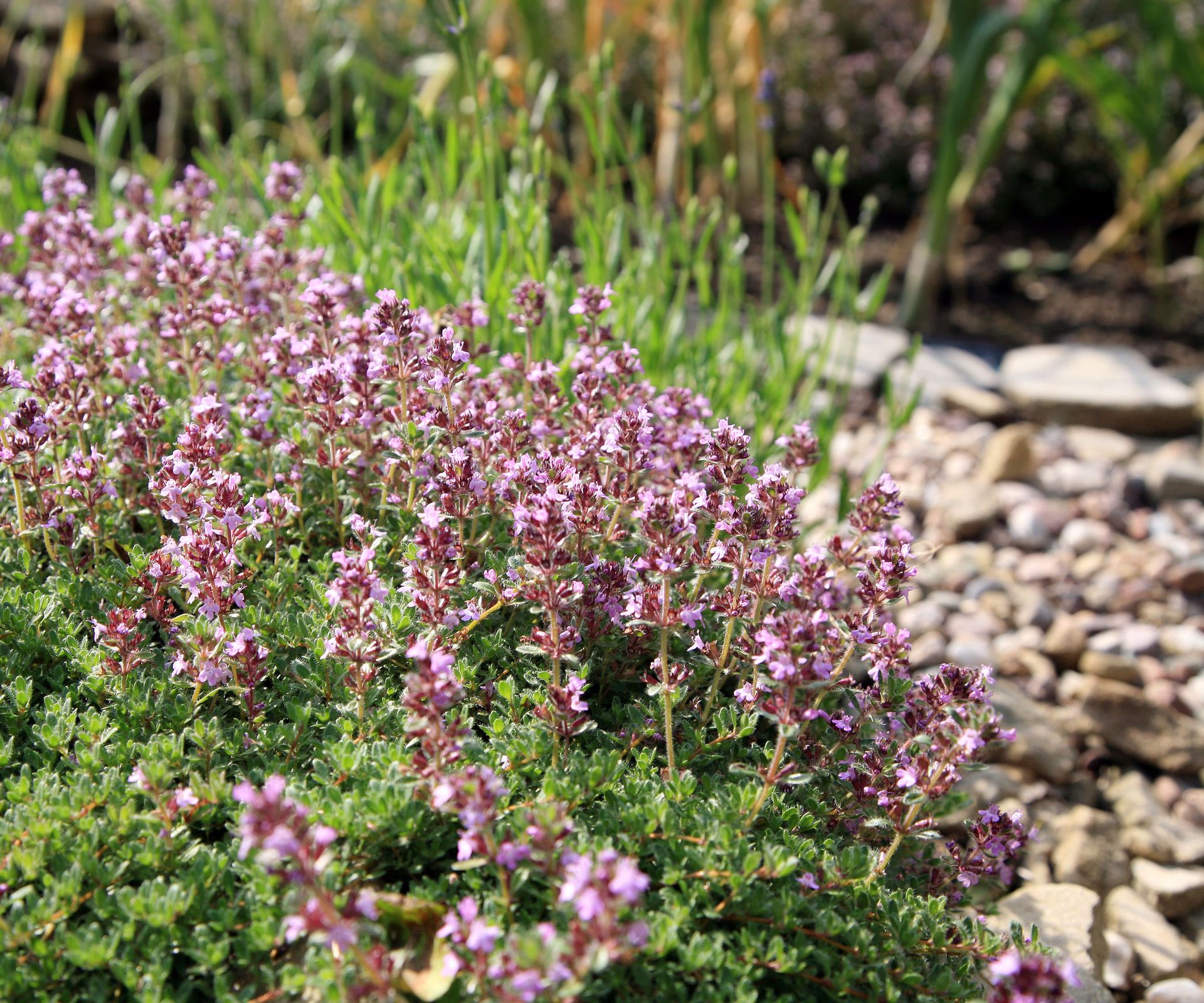 Thyme is another herb that likes to grow in full sun and well-drained soil. Once thyme is established, it requires very little watering and very little maintenance at all. It can do with a regular trim to keep it in shape and looking neat.
Growing thyme has other benefits as well, for example is it a smell that ants hate and can keep pests away from the home by growing it near buildings.
Buy thyme plants and seeds from Burpee.
7. Oregano
Oregano is another one of the long list of Mediterranean herbs that grows well in full sun and is very drought tolerant. A perennial herb that needs to be kept compact to stop it getting too woody, it does have very low water requirements and can happily grow in pots or in the ground.
Its ability to survive dry periods makes it a fantastic option for growing in gravel gardens, dry gardens, and for Mediterranean garden ideas. It is also a great plant for attracting bees into a garden and other beneficial insects.
Do not get oregano confused with marjoram, oregano is spicier and more commonly used dried in recipes.
Buy oregano plants and seeds from Burpee.
8. Sage
Sage is an ever-popular herb that comes in many forms and most are very drought tolerant, including the common sage that is the typical herb used for many culinary purposes.
This Mediterranean herb again likes a sunny spot and very free draining soil. As an evergreen and hardy herb it can carry on year-on-year with minimal fuss. Grow it in full sun or partial shade, but always make sure to give it good drainage.
Sage can thrive growing in the ground or in pots and cut it back every spring to keep the plant in shape and give yourself a great crop of fresh young leaves throughout the season.
Buy sage plants and seeds from Burpee.
---
If you are looking for inspirational ideas for herb gardens and live in one of the drier US hardiness zones, then there is a wealth of plants you can consider for your space. No matter what you want from your herb plants, whether it is for their medicinal properties or for culinary purposes, there is a good selection that, once established in your yard, can provide you with wonderful fresh herbs for years to come.
Sign up to the Homes & Gardens newsletter
Decor Ideas. Project Inspiration. Expert Advice. Delivered to your inbox.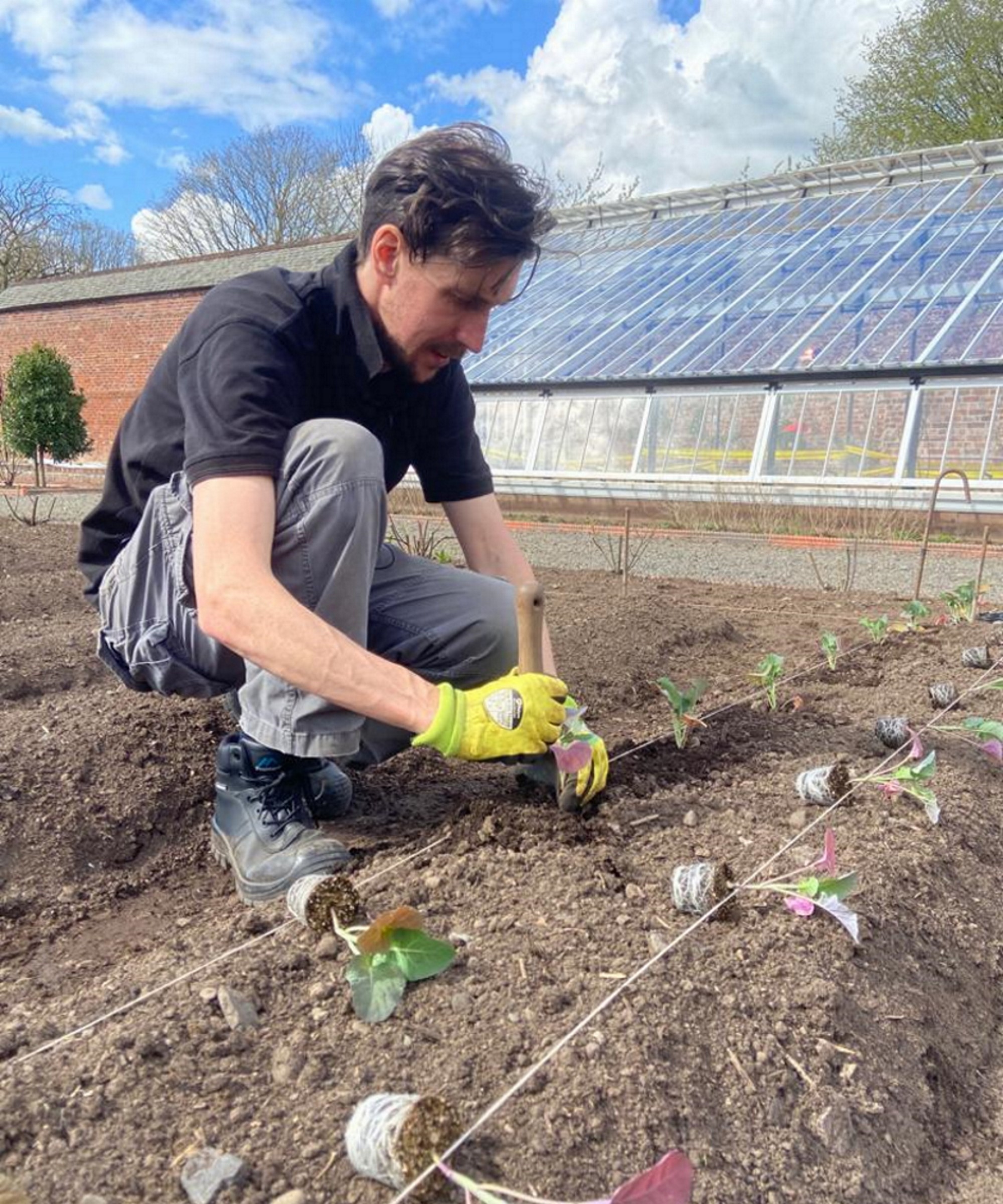 Drew's passion for gardening started with growing vegetables and salad in raised beds in a small urban terrace garden. He has gone on to work as a professional gardener in historic gardens across the UK and also specialise as a kitchen gardener growing vegetables, fruit, herbs, and cut flowers. That passion for growing extends to being an allotmenteer, garden blogger, and producing how-to gardening guides for websites.