Front yard rock landscaping ideas – 10 eye-catching ways to introduce stones and boulders to your space
These ideas for landscaping your front yard with rocks will enhance your design and boost the curb appeal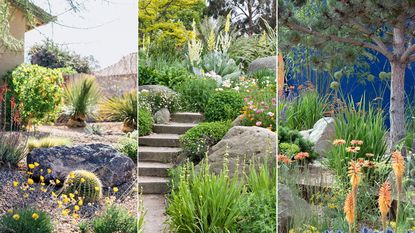 (Image credit: Grace Stufkosky/Noelle Johnson Landscape Consulting; Alamy Stock Photo; Jacky Hobbs/Future)
Sign up to the Homes & Gardens newsletter
Decor Ideas. Project Inspiration. Expert Advice. Delivered to your inbox.
Thank you for signing up to Homes & Gardens. You will receive a verification email shortly.
There was a problem. Please refresh the page and try again.
Front yard rock landscaping ideas should always segue harmoniously with the architecture of your home, as well as the local surroundings and climate. Whether you prefer a contemporary or traditional front yard design, rocks can add a very bold and individual look to your endeavours.
They are an organic, sustainable choice that works for a range of landscaping styles, and will help to integrate your front yard with the surroundings for a seamless look. If you want to go modern, opt for angular rocks in pale colors for a minimal approach or bolder look-at-me tones like red or black as part of a more standout design. Traditional designs can benefit from the use of rocks covered in weathered moss or lichen to add a timeless element.
Rocks are also a key component in many other front yard landscaping ideas, from dry gardens, drought tolerant and desert schemes to Japanese and Mediterranean-style front spaces. It's also a great idea to combine rocks with gravel if you're digging up your front yard lawn and looking for easy low-maintenance replacement ideas.
10 front yard rock landscaping ideas that make a statement
If you're looking for a quick way to transform your front yard, try landscaping with rocks. They are one of the most versatile and affordable options around. There's a great choice of decorative rocks and boulders out there to choose from and lots of creative ways to use them.
We asked a few of our favorite landscaping experts to come up with some front yard rock landscaping ideas to kickstart your choices.
1. Include rocks in a drought-tolerant design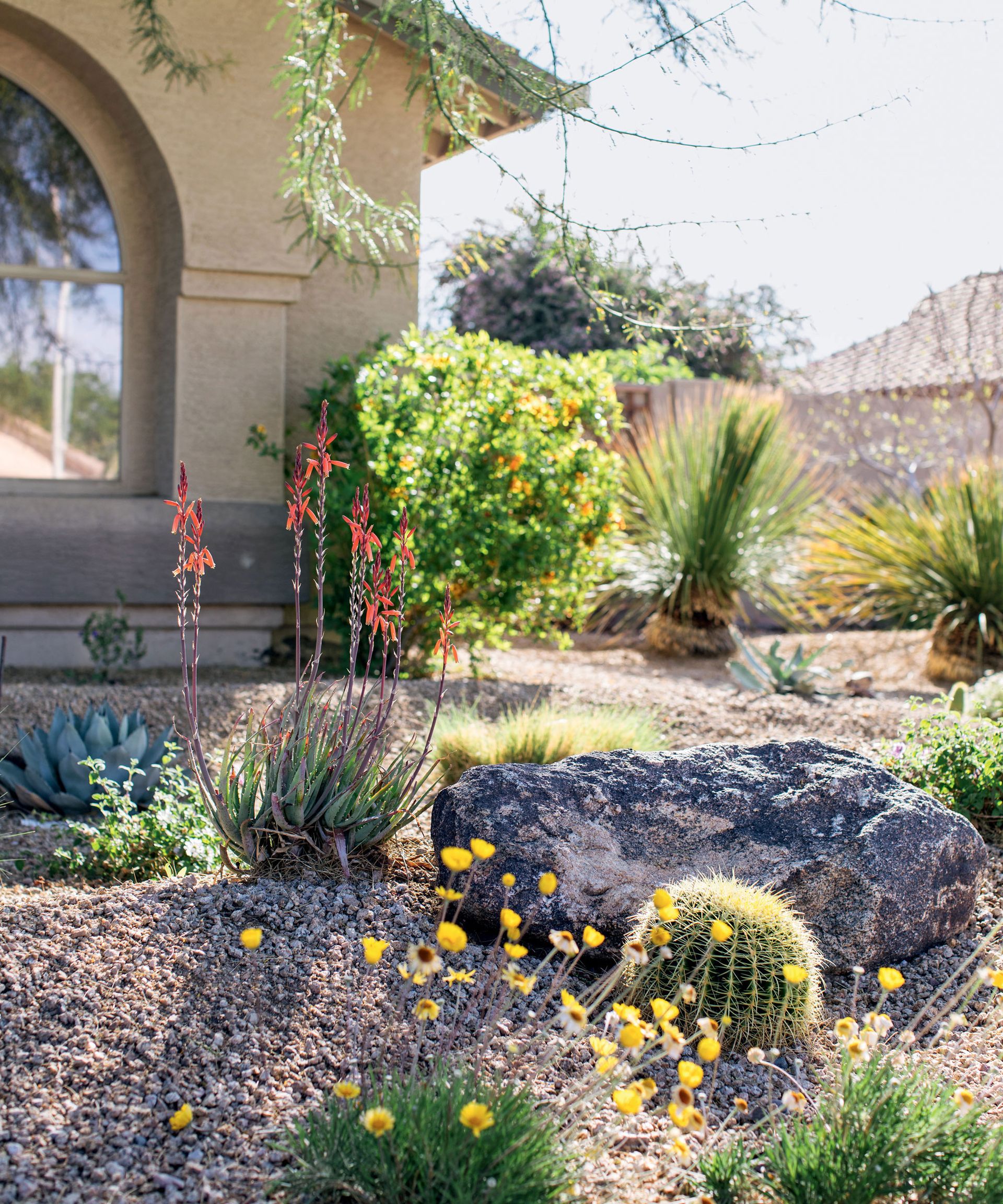 Strategically placed larger-sized landscape rocks can give your front yard the standout factor, and add drama to your planting. They lend themselves particularly to dry gardens, desert gardens and other drought-tolerant landscaping ideas, particularly when partnered with native plants that are adapted to the local climate.
'Plants that bloom at different times of year fill my front landscape, so there is always something guaranteed to be blooming in my garden,' says horticulturalist Noelle Johnson, author of Dry Climate Gardening, available from Amazon. 'I love color and, like many people, gravitate naturally toward it.'
Noelle includes landscape rocks in her front yard design to anchor the planting and has this expert tip to share. 'Big rocks can be hard to maneuver and place, and may require a crane or other heavy equipment to move them,' she says. 'For small to medium-scale gardens, group two smaller rocks together instead of one large one to create the appearance of a bigger stone. They are easier to move and have the same design impact.'
Noelle is a horticulturist, landscape consultant, and garden writer who lives in the Phoenix, Arizona, metro area. Popularly known as the 'AZ Plant Lady,' her passion for over 20 years has been to inspire and teach people to create, grow, and maintain beautiful gardens that thrive in a hot, dry climate.
2. Use river rocks in front yard landscaping
'River rocks, also known as river stones or pebbles, are smooth, round stones that come in various sizes and colors,' says Jacky Chou, principal and director at architecture firm Archute. 'They are versatile and can be used for front yard walkways, edging, or as decorative elements. They add a natural and serene feel to any design.'
In modern and contemporary designs like this one in California, the focus is on clean lines, simplicity, and minimalist aesthetics. 'Smooth, large river rocks add a sleek and polished look to pathways or as decorative accents, creating a modern and refined appearance,' says Jacky. 'Polished pebbles provide a contemporary touch when used in landscaping beds or as ground cover.'
Natural unpolished multi-colored river rocks like the ones used in this front yard can be found online, such as these unpolished stone pebbles on Amazon.
Jacky Chou is the owner and operator of several online businesses including the architecture and design company Archute. He is heavily involved in the home and design space, and Archute has taken the hard work out of 3D visualisation for multiple projects
3. Make an entrance with large boulders
Boulders spread through the landscape add welcome height and texture to a front yard design. If you live in an arid climate they are a popular element if you want to plan a dry garden and will link through with the surrounding natural landscape. They can also be used to make a dramatic entrance to your property, particularly if there are steps up to your front porch and they can be incorporated in the planting design.
'Boulders serve as a great visual anchor for plants and front yard shrubs,' says Noelle Johnson. 'Pair a boulder next to a plant, and it looks better due to the mixture of heights and differences in texture. They are a great way to add height or be placed alongside raised areas.'
When choosing boulders for your front yard, the size of the each one should be in scale with the size of your space, adds Noelle. 'If you have a smaller front garden, for example, select a boulder that is perhaps 2 feet in width and 16 inches tall. Larger landscapes will need larger rocks. To create a more natural appearance, once you have your boulder in the desired position, bury the bottom one-third.'
4. Design a Mediterranean-inspired place to sit
Use landscaping rocks to add a unique, sculptural element to a front yard seating area that's a good looking alternative hangout to the traditional porch set-up or front yard deck. If you love the look of Mediterranean gardens the good news is that they work well in your front yard too.
Designed to look naturalistic and unstructured, sun-baked Mediterranean-style landscaping needs to have plenty of rocks in amongst the lavender, herbs and succulents to feel authentic, and it's an easy look to create in your front yard.
Warm, natural-colored rocks of different sizes set in beds of smaller pebbles or gravel works best for this look as it replicates the natural Mediterranean landscape. Using rocks instead of mulch also helps conserve water in drought-tolerant planting schemes, so it's a very sustainable way of landscaping.
5. Work up a rock garden look
For a low-maintenance front yard space, why not try some rock garden ideas? A combination of rocks with succulents and ornamental grasses makes a pleasing design that's easy to do and not fussy in terms of after care either.
'Rock gardens offer an opportunity to create visually captivating landscapes,' says Alex Tinsman, founder of How To Houseplant. 'Strategically placed rocks of various sizes and shapes help you design a stunning rock garden. Experiment with the combination of rocks and plants to achieve a harmonious balance.'
Smaller rocks used as ground cover or mulch help to pull together the design, while larger rocks can act as focal points or boundary markers in a front yard flower bed. Vary the color and texture of materials to introduce contrast. Don't forget to allow enough space between the rocks for plants to grow, and if you have one or more front yard trees in your design, make sure you take these into account when thinking about your rock placement.
6. Introduce some calming zen to your front yard
Set the tone for the rest of your house by making your front yard an organized and balanced space that is both calming and welcoming. Introduce Japanese garden ideas like a stepping stone path up to the porch, a raked patch of gravel, an elegant Japanese maple (acer) variety or two to frame your entrance, and of course those all important landscaping rocks.
A fundamental element in Japanese gardens, rocks are rarely used alone. Instead they are usually found in repeat patterns, each rock placed in a particular way that's a key determining principle in the overall design. The balance of space between things (known as 'ma') is just as important as the objects themselves in the overall scheme.
7. Use rocks for an interesting finishing touch
Small can be beautiful if your front yard space is limited. You can still include rocks as part of your design but on a smaller scale. We love this idea of creating a stylish first impression with a display of pebbles and small rocks arranged around a modern container garden.
'Strategically placed focal points in your front yard add personality and visual interest,' says Jacky Chou. 'Incorporating a mix of designs allows you to create a front yard that reflects your personal style.'
8. Design a customized front wall
Incorporating rocks into your front garden wall ideas, such as for retaining walls or decorative garden walls, is a stylish way to add texture, durability, and visual interest to your outdoor space. If you're looking for a distinctive design for a front yard wall that feels a little different from the pack, this is the idea for you.
'Choose a dry-stacked stone wall design using irregularly shaped rocks, fitting them tightly together without mortar for a natural and organic look that will add a soothing and harmonious element to your front yard landscape. It's a functional and visually appealing solution,' says Jacky Chou.
The finishing touch? Add textural plants for a garden wall that will be happy to grow in crevices and cascade over to soften the edges.
9. Try front yard xeriscaping with rocks
If you're interested in no-grass front yard ideas, rocks can play a big part in your redesign alongside drought-tolerant planting. If you want a low-maintenance design, consider xeriscaping as it's much less time consuming and takes less effort to maintain than traditional front yards.
When choosing what type and color of rock to use go with your instinct. 'The color of the rock you use in your front yard is a matter of personal preference,' says Noelle Johnson. 'I recommend using stone in beige or light tan shades. While darker colors, such as deep browns, are attractive, they get hotter than rock in lighter shades.
Noelle also has the following tip. If you live in a neighborhood with a homeowners' association, check to see if they have requirements for the size and color of landscape rock you can use to avoid making a costly mistake.
10. Integrate a standout rock sculpture
If you love yard art ideas it's worth considering installing a rock sculpture in your front yard to add something really special to the aesthetic appeal of your overall design. You can also think about enhancing it at night with front yard lighting.
When you're coming up with a shortlist for your ideas, aim for a harmonious integration of rocks with other hardscape materials such as paving stones for paths and porch steps so everything pulls together to work as a whole.
Think about the surrounding softscape too, and make sure planting also complements the overall look.
---
When it comes to the best place to find landscaping rocks, look for local stone suppliers, quarries, or landscaping supply stores in your area. 'They can provide a wide selection of rocks and advise you on the best options for your specific project,' says Jacky Chou. Visiting these suppliers allows you to see the rocks in person before purchasing.'
Online marketplaces and landscaping websites often offer a variety of rocks that can be delivered to your location. Choose a reputable seller and review customer ratings and reviews before making a purchase to ensure your rocks will really add to the curb appeal of your front yard
Sign up to the Homes & Gardens newsletter
Decor Ideas. Project Inspiration. Expert Advice. Delivered to your inbox.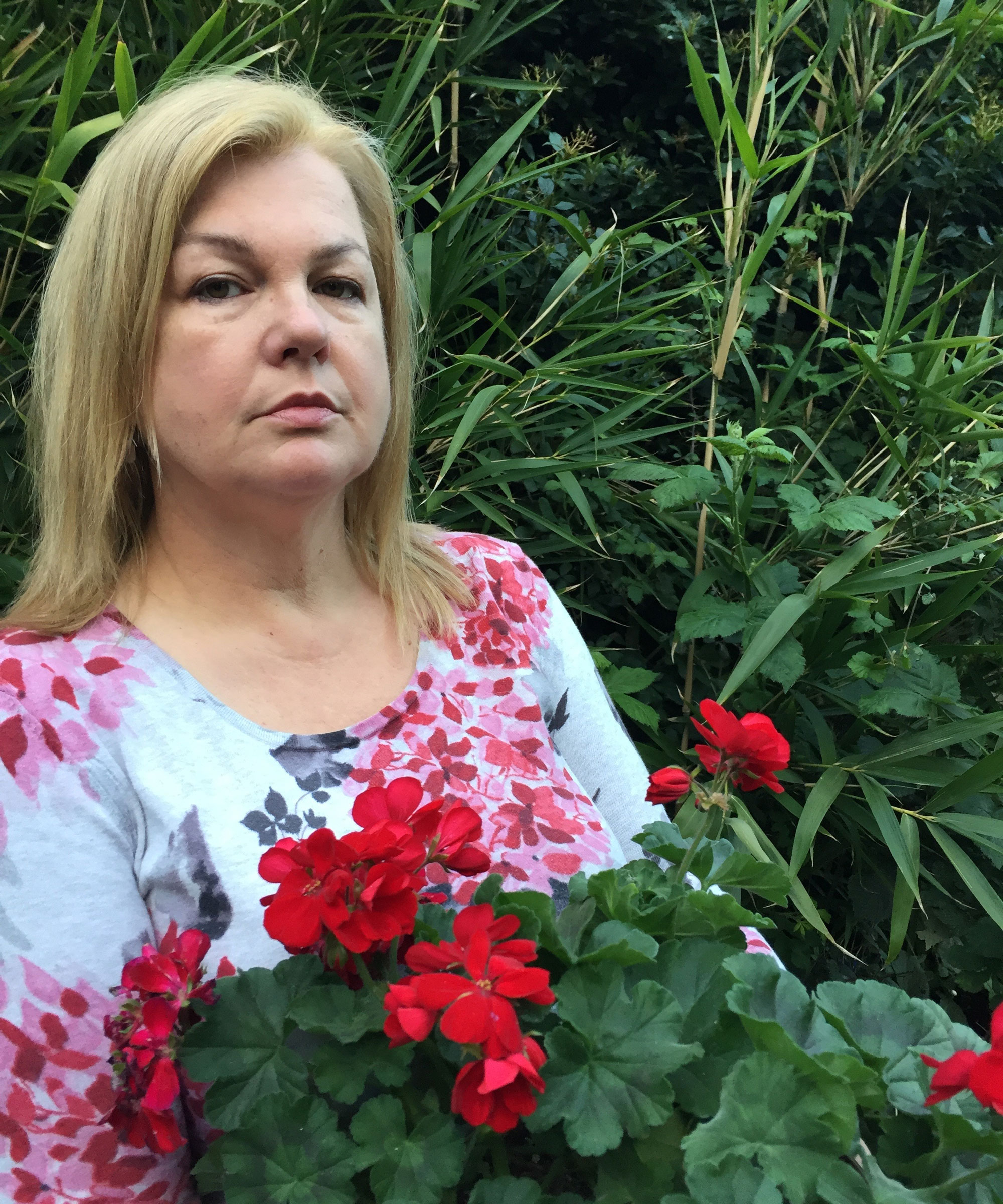 Lifestyle journalist Sarah Wilson has been writing about gardens since 2015. As well as homesandgardens.com she's written for Gardeningetc.com, Livingetc.com, Easy Gardens and Modern Gardens magazines. Her first job on glossy magazines was at Elle, during which time a visit to the legendary La Colombe d'Or in St-Paul-de-Vence led to an interest in all things gardening. Later as lifestyle editor at Country Homes & Interiors magazine the real pull was the run of captivating country gardens that were featured.