Front yard paving ideas – 10 expert suggestions to elevate your design with a professional-looking touch
Take your exterior look up a level with front yard paving ideas that add a beautiful design element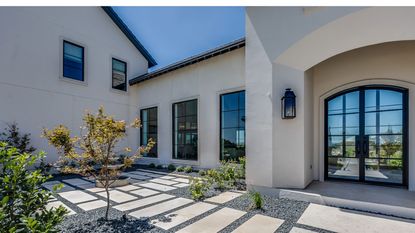 (Image credit: PC Photography/Getty Images)
Sign up to the Homes & Gardens newsletter
Decor Ideas. Project Inspiration. Expert Advice. Delivered to your inbox.
Thank you for signing up to Homes & Gardens. You will receive a verification email shortly.
There was a problem. Please refresh the page and try again.
First impressions are important, so front yard paving ideas deserve to be top of the agenda. Whether you're thinking of remodeling from scratch or simply sprucing up the look, the paving design you decide on will really set the scene for your home and help to enhance its curb appeal too.
Perhaps you're looking for inspiration as you're thinking of going lawn-free or getting rid of concrete in favor of a more sustainable form of hardscaping mixed with planting. Either way, from ideas for paths and porches to permeable paving and reclaimed materials, our expert advice has it covered.
Here, we showcase the most exciting trends to make first impressions count as part of your front yard landscaping ideas.
10 inspirational front yard paving ideas
The best front yard paving ideas help to create an engaging look that will showcase your home as well as add to its curb appeal.
'Selecting the right elements for front yard paving and hardscaping will significantly enhance the overall aesthetic of your home,' says James Mayfield, a HAZMAT engineer based in Southern California, and CEO of Mayfield Environmental Engineering. 'It's vital to remember that first impressions are key. This means selecting appropriate materials for your front yard paving ideas.'
With so much to choose from, find out what our experts suggest as inspiration to avoid making costly front yard landscaping mistakes.
1. Choose permeable paving as an eco option
When choosing materials for hardscaped surfaces in your front yard, put permeable paving options right at the top of your list as one of the most sustainable ideas. If you choose a porous option it allows easy topping up of groundwater. Meanwhile, non-porous materials such as concrete and asphalt can contribute to stormwater runoff and erosion while adding to the heat island effect in urban areas.
When considering front yard paving ideas, certain materials stand out as exceptional choices for their sustainable properties, especially if you're looking for a material that combines well with drought-tolerant landscaping ideas. 'Permeable pavers are made from recycled concrete or natural stone,' says Brooks Turner, co-owner of Central Texas-based CTX Land Clearing and Forestry Mulching. 'These allow rainwater to penetrate through the surface rather than pooling or running off into storm drains. Additionally, they prevent soil erosion and help recharge groundwater resources, which is a great ecological benefit.'
If you're looking for a low-maintenance solution without compromising on style or sustainability aspects, there is now a good range of stylish permeable pavers available to choose from that are a good eco-friendly option.
2. Opt for good-looking natural stone
When it comes to front yard paving ideas, opinions on the best hardscaping materials vary depending on personal preference. Natural stone pavers are always a good choice for front yard walkway ideas because of their durability and strength, as well as being a classic and long-lasting material that works well with most front yard designs.
They can be placed tightly together for a smooth, contemporary look, or installed with space in between where natural elements like grass and creeping plants can grow through to give a more rustic appearance.
'Although I have found numerous options that not only enhance the overall aesthetic appeal of a front yard but also ensure low maintenance, there is one material that always stands out as an excellent choice and that's natural stone,' says Ryan Vaughn, co-owner of San Diego Stamped Concrete & Staining. 'Its timeless beauty adds elegance to any front yard design while requiring minimal upkeep.'
'Nothing beats the beauty and complexity of a natural stone walkway,' agrees landscape expert Juna Durrant, of landscape design and build company Ventures Designs, based in SE Michigan. 'Bluestone is one of our favorites, with its rich variation in tone. That being said, it is also one of the most expensive materials to use.' For a more accessible price point, Juna recommends using manufactured pavers and slabs instead.
3. Use local materials wherever possible
'Another commendable option for front yard paving ideas is using locally sourced flagstones as they require minimal maintenance once installed properly,' says Brooks Turner. 'They exude a rustic charm while blending seamlessly with the surrounding environment.' They also enhance your front yard flower bed ideas like in this design.
Although natural flagstones can be an expensive paving option, locally sourced ones are more affordable and also more environmentally friendly, as they travel a shorter distance to reach your yard than non-local stones.
Natural flagstones are available in a variety of colors and textures in materials like limestone, sandstone, and granite. Always check with local experts at landscape supply yards for their input and recommendations for the particular front yard paving project you have in mind.
4. Try reclaimed brick pavers
Selecting the right elements for front yard paving and hardscaping will significantly enhance the overall aesthetic of your home. Reclaimed bricks will add charm to a design if you're looking for customized front yard paving ideas.
They can be used for a one-off look for paths and porches, as well as driveways. Choose from a variety of earth-tone colors and work out a pattern that best suits the style of your property and the rest of your front yard. Reclaimed bricks are a natural fit for front yard cottage garden ideas too.
'A client of mine utilized reclaimed brick pavers for their front yard,' says James Mayfield. 'It added a captivating charm that gave the property an instant historical feel. Such unique style opportunities can be found in the selection of robust materials that endure over time.'
5. Include gravel to break up paved areas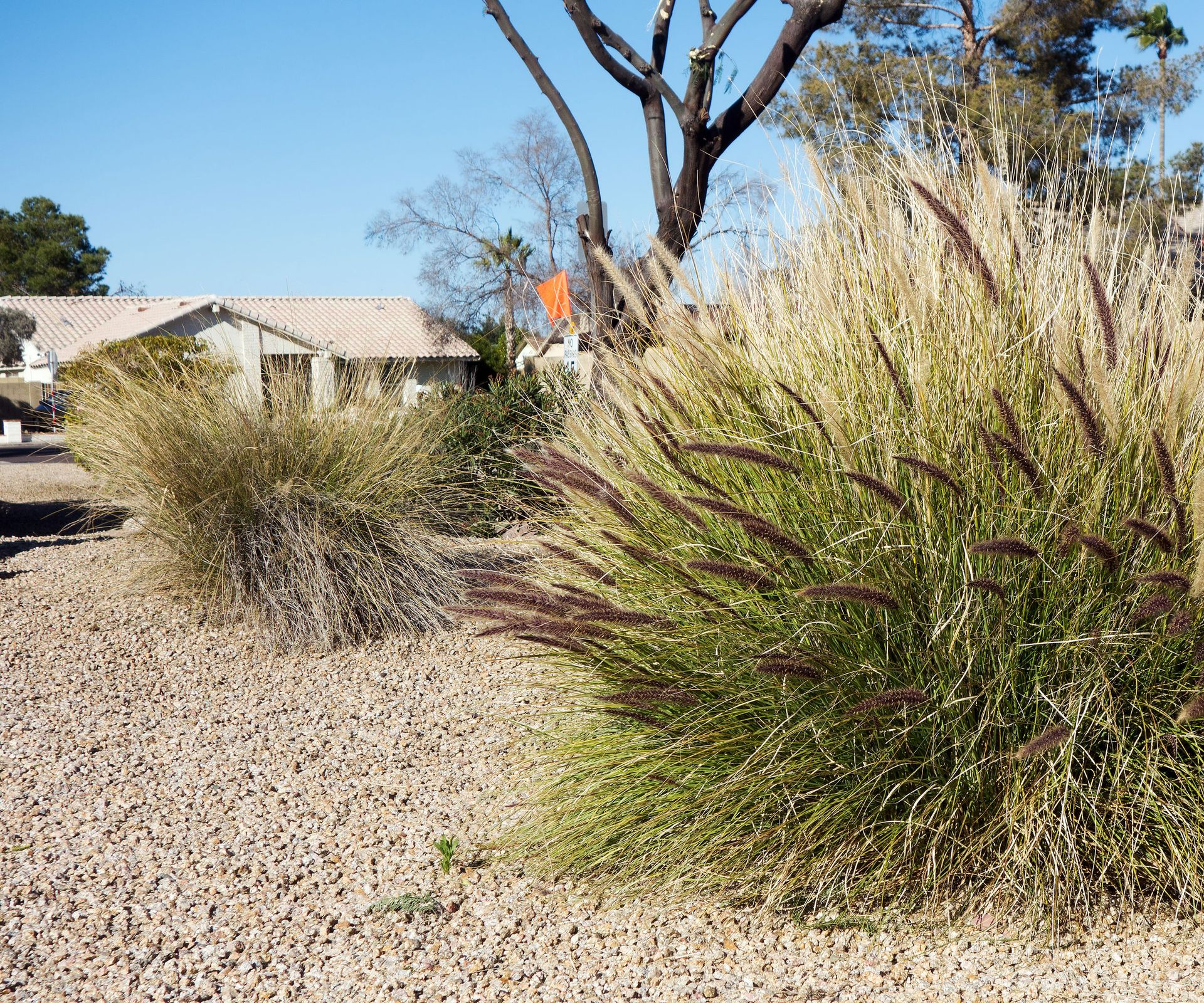 Gravel is such a versatile material to use as part of your front yard paving ideas. Use gravel to break up and soften larger areas of paving or paths. It can then be planted into with low-growing plants to enhance the look.
Gravel garden ideas work really well in both contemporary settings and cottage-style ideas. As hard landscaping materials go it's generally the most budget-friendly option too, with local pea gravel very affordable. Another plus is that it's available in a wide range of colors and sizes.
'My best advice for paving ideas in your front yard is to match the paving material to the style of your home and garden,' says Amy Fedele, a garden designer based in Northeast Pennsylvania and founder of Pretty Purple Door. 'If you have a naturalistic landscape, use materials that are more "lumpy and bumpy" like gravel.'
If you're interested in drought-tolerant planting ideas gravel is a natural, eco-conscious choice for front yard design, as it reduces water runoff and promotes better water infiltration.
6. Link out to the surrounding landscape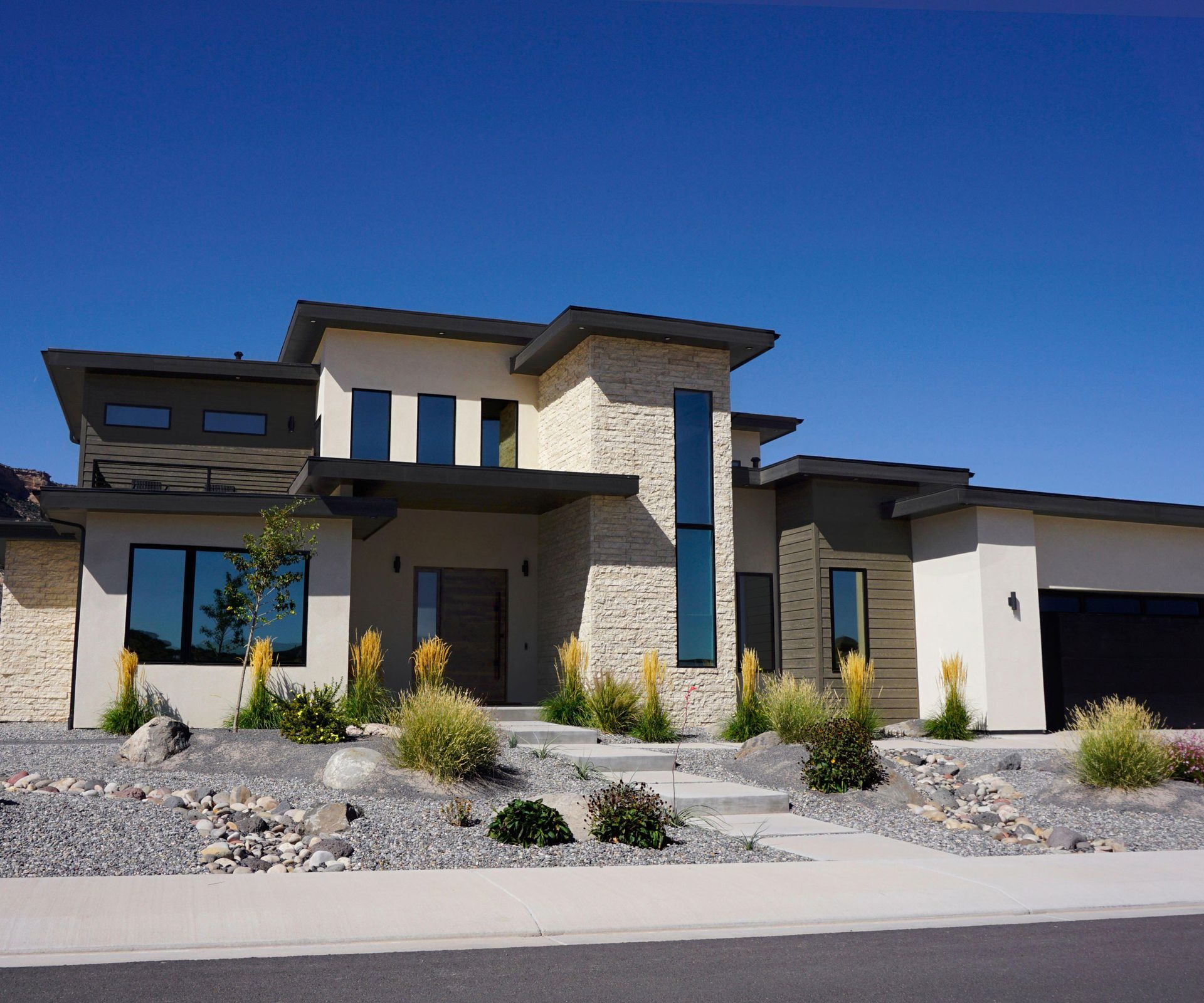 Take a look around your neighborhood and see what paving styles dominate, as well as factoring in the local landscape. Make this your starting point. Your front yard paving ideas should be a good fit with your surroundings, linking out to the natural world around you to make a seamless connection.
If no-grass front yard ideas are big news where you live this opens up a world of possibilities as it frees up more space to get inventive with front yard paving by mixing up your materials.
7. Pair pavers with natural decorative stones
Create contrast in your front yard by using sleek pavers in a cool neutral color like cream or buff paired with a darker textured landscaping material like decorative crushed landscaping stones from Amazon, as shown in this scene. This helps soften hard surfaces and introduces visual interest, the contrast in textures making a softer transition between hardscape and landscape.
Scattered pockets of natural planting add an organic look. Try sun-loving creepers such as ajuga, thyme, or stonecrop, combined with drought-tolerant perennials like ornamental grass or succulents. Choose one of the best trees for front yards to add an architectural detail that beautifully anchors your front yard paving design.
8. Make a statement with timeless block paving
Block paving ideas have been trending recently and it's easy to see why. They are understated, elegant and timeless, a go-to for front yard paving ideas from both an aesthetic and functional perspective.
Visually appealing block paving adds a sleek finish to your exterior. Choosing an interesting design with different colored blocks or creating patterns when laying them out results in a beautifully soft effect with subtle shade differences. Block paving is good for adding detail to a scheme without shouting 'look at me'.
Another plus point is that block paving is easy to look after. An occasional cleaning with soap and water is all that's required. Individual blocks can be eased out and replaced if they become worn or damaged, so you can keep everything looking smart.
9. Make the path a focal point
If you're looking for inspiration for front yard paths, first think about whether you want a clean modern look or a more traditional style of path. Take into account the bigger picture too, so your choice of path design hangs together with everything else for a cohesive look.
The path up to the door is the key defining moment for front yard paving ideas as it tends to be the most used area. We love this idea of a charming rustic cobblestone path in honeyed tones with plants spilling over to soften the edges and a canopy of trees above to throw dappled light onto the cobbles.
Get inspiration with the best front door plants if you want to add pretty blooms like in this design that will transform the entrance to your home.
10. Take pavers right up to the door for a uniform look
The porch steps and any terraced elements directly outside your home are key elements in the design of the front yard space so it's important to make sure they make a real style statement.
It's also a key space for hanging out, so the paving design needs to be functional too. 'The front porch sets the tone of the home's exterior,' says Yardzen CEO Allison Messner. 'The front of a home adds additional square footage for gathering too and can be styled up to match the season. It's the place to showcase your style by reimagining the entry to your home.'
For a smart and contemporary look consider using the same hardscaping material throughout your front yard, taking it right up to the door as part of your front porch ideas. These cool slate-gray pavers on the porch and steps paired with a dark charcoal front door color make an immediate impact.
Allison Messner is on a mission to help people live better lives outside. She is co-founder and CEO of Yardzen, a leading online landscape design and build platform. In 2021, Allison launched the American Rewilding Project, an initiative to offset climate change in every Yardzen design through the use of habitat-supporting plants, water conservation and sustainable materials.
---
By using our expert advice to select the right combination of hardscaping materials for your front yard, it's easy to achieve a beautiful and low-maintenance outdoor space. Balance aesthetics with functionality, and always prioritize sustainable and eco-friendly options. Once you've achieved the desired look maybe it's time to refresh your paved backyard ideas too.
Sign up to the Homes & Gardens newsletter
Decor Ideas. Project Inspiration. Expert Advice. Delivered to your inbox.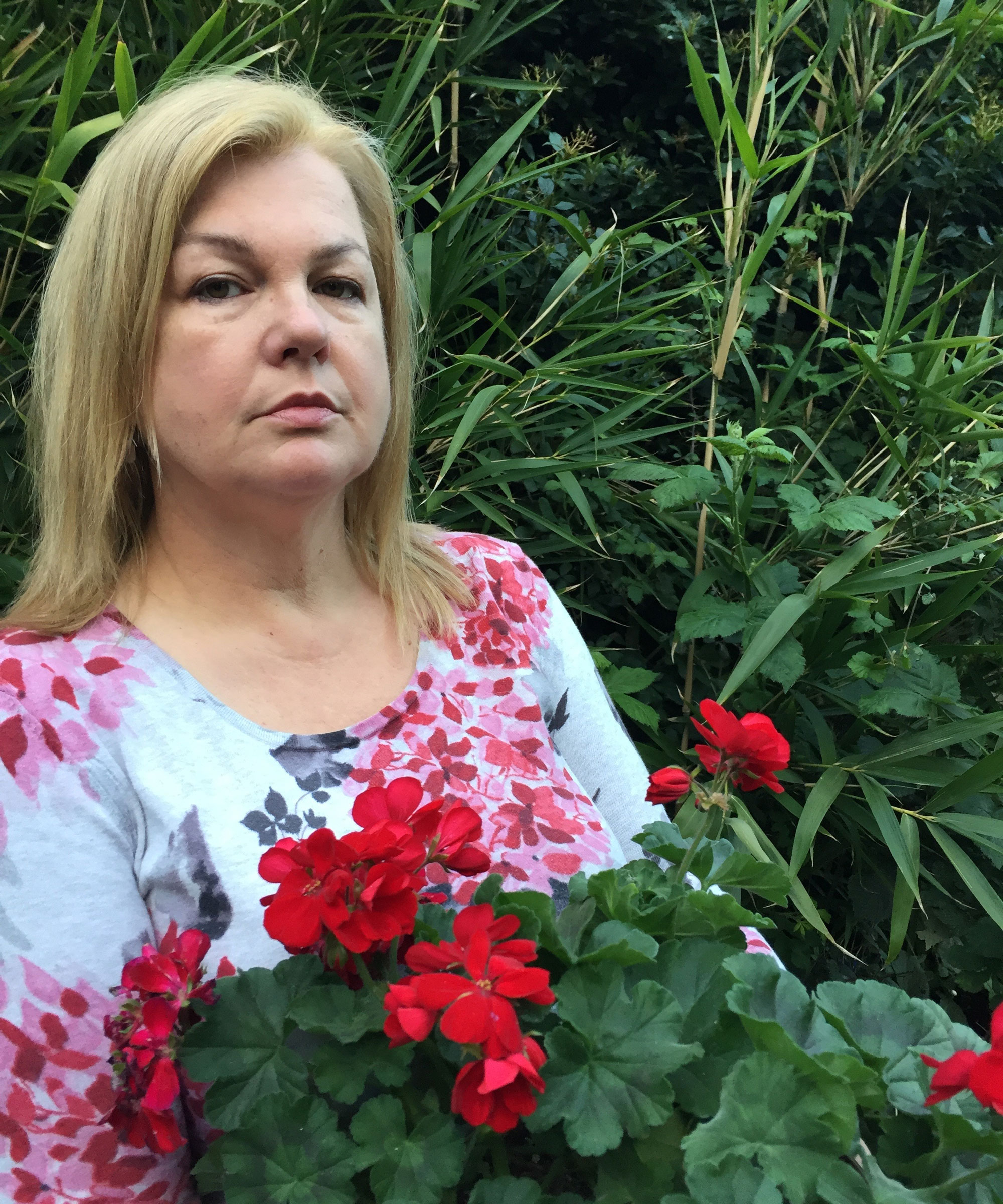 Lifestyle journalist Sarah Wilson has been writing about gardens since 2015. As well as homesandgardens.com she's written for Gardeningetc.com, Livingetc.com, Easy Gardens and Modern Gardens magazines. Her first job on glossy magazines was at Elle, during which time a visit to the legendary La Colombe d'Or in St-Paul-de-Vence led to an interest in all things gardening. Later as lifestyle editor at Country Homes & Interiors magazine the real pull was the run of captivating country gardens that were featured.