Front yard landscaping mistakes – 5 easily-made errors that reduce a home's curb appeal
Offer a warm welcome by steering clear of these common issues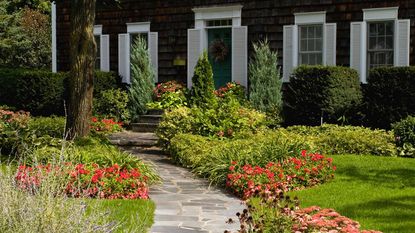 (Image credit: Design Pics Inc / Alamy Stock Photo)
Sign up to the Homes & Gardens newsletter
Decor Ideas. Project Inspiration. Expert Advice. Delivered to your inbox.
Thank you for signing up to Homes & Gardens. You will receive a verification email shortly.
There was a problem. Please refresh the page and try again.
Planning the front of a plot is easily overlooked, with backyard design often taking precedence. True, a front yard is less likely to function as an outdoor living space, but it's still important to get it right.
A well-designed front yard is essential for setting an inviting tone and upping your home's style points when seen from the street. It's also crucial from a practical point of view – it needs to function as an entrance, and not take up excessive amounts of time to maintain. So, planning these areas needs careful consideration, with the common front yard landscaping errors kept in mind.
5 errors to avoid when planning your front yard
The experts explain what to look out for to get the best results and enhance your home's curb appeal.
1. Choosing plants that are too big for the space
Textural plants make a pleasing contrast against paved driveways and paths, while adding personality and color to a space. A row of boundary trees, tall hedges or shrubs can also create front yard privacy and interrupt views of the road as you look out from your home, as Landscape Architect Nilufer Danis points out.
However, one of the most common front yard landscaping mistakes is neglecting to consider the future growth of plants, says gardening expert Tony O'Neill. 'This can lead to overcrowding and damage to property in the long run.'
James Mayfield, the CEO of Mayfield Environmental Engineering which provides landscaping services, particularly warns against planting front yard trees too close to your home. 'It's like letting a baby elephant in your living room – cute now, disastrous later. Once I had to step in when a client's beloved oak tree began threatening their home's foundation. Opting for smaller, feature trees or shrubs can provide the desired aesthetic without the risk of structural damage.'
Tony advises checking each plant's growth habits and drafting a scaled layout of your yard before planting. On this note, arborist Ned Cromack adds that often the 'mature sizes' given when plants are bought should be taken 'with a pinch of salt'. 'They can often get much bigger than advertised, especially after ten years or so of growth,' he says. 'There are smaller tree options out there – just remember to do your research to be sure that what you're planting is suitable for your space, even after many years.'
Nilufer Danis is an international award-winning Chartered Landscape Architect and Garden Designer with almost two decades of experience in the industry. Originally from Turkey, she moved to the UK in 2000 after completing her BS in Landscape Architecture, and went on to achieve an MA at the University of Greenwich and gain her Landscape Institute Chartership.
Ned is a qualified arborist and the Founder of The Bristol Tree Medic. Starting his career in one of the UK's leading tree nurseries in 2010, he went on to spend over a decade as a tree climber across the UK, Europe, New Zealand and Australia. For him, arboriculture has always been more of a fascination than a job, and an industry that never ceases to inspire.
2. Neglecting a front yard lawn
Many homeowners opt for a stretch of green grass at the front of their property, but it's important to note that these require ongoing lawn care to look good.
'Avoid cutting the grass too short, as it can lead to brown spots and weak root systems,' says gardening expert Diana Cox. 'Instead, maintain a mowing height of 2-3 inches and water deeply once a week.'
'A common front yard landscaping mistake I see is not paying attention to or adjusting one's sprinkler heads,' reveals Jeremy Yamaguchi, the CEO of Lawn Love. 'Sometimes they will end up pointing in the wrong direction, which can lead to dry spots or flooded spots in your lawn.
'You want to make sure that your sprinkler heads are all adjusted properly so that your entire lawn gets just the right amount of water it needs.' The last thing you want is for your front yard – what every passer-by sees – to have dry, dead patches of grass, he adds.
3. Making it too high-maintenance
Speaking of maintenance, it may be better to avoid a lawn in your front yard altogether. Instead, opt for easy-care hardscaping and fuss-free drought-tolerant plants in your front yard flower beds.
'Plants that are not suitable for your environment will require excessive care and may still fail to thrive,' says Tony. 'You can save time, effort, and resources by choosing native or locally-adapted plants that are naturally equipped to prosper in your local conditions.'
'Be careful with certain front yard hedging plants,' adds Ned. 'You really need to stay on top of some varieties in terms of maintenance to ensure they stay looking good and their size is kept under control. You'll need to either do this yourself or hire professionals, which can be costly. Leyland cypress hedges are a classic example.'
'A yard teeming with high-maintenance plants can become more of a chore than a joy if you're short on time or don't particularly enjoy gardening,' warns realtor Ryan Fitzgerald. 'Take it from me who once attempted to maintain a Japanese Zen garden while juggling property sales – it's quite the challenge!
'On the note of property sales, it's worth considering how landscaping can influence a home's market appeal,' he adds. 'While a tastefully designed yard can boost a property's value, an overly complicated design could potentially deter buyers due to the anticipated maintenance requirements.'
Ryan Fitzgerald is an experienced realtor and the Owner of Homes Raleigh. He was named a '30 under 30 Realtor®' by Realtor Magazine and is a regular contributor on Forbes and US News. His real estate expertise extends to interior and landscaping decoration and improvement, including front yards.
4. Not planning your paving properly
'Low-quality and unattractive block paving has been used a lot in front gardens,' says Nilufer Danis. Instead, she suggests using a permeable surface such as decorative gravel with stabilization, or cellular concrete paving which incorporates turf. 'They will provide a softer and more natural look.'
Nilufer also points out that permeable surfaces create a natural drainage system which can help to prevent flooding.
When planning driveways and paved walkways for your front yard, be aware of any roots belonging to existing trees or hedges, says Ned. 'People often cut straight through them during the installation, which can damage the plants.'
Finally, you'll need to ensure that these elements are wide enough for their intended use – an important garden path design rule.
5. Overlooking lighting
Lighting is important for security, functionality, and aesthetic purposes, says Nilufer. And forgetting to include it isn't just a backyard design mistake – it applies to the front of your home, too.
Sensor lights on your porch will inform you when you have a visitor, while ground lights, especially in a driveway, will help with parking, she says. 'Lastly, you can enhance the view of the garden at night.' Carefully-angled spotlights positioned beneath trees and in pots can be particularly effective at creating drama.
Front yard lighting is all about balance, though, adds James. 'Overdoing it can turn your cozy garden into a miniature Las Vegas.'
---
Making mistakes with your front yard landscaping can result in unnecessary costs and disappointment, so it's always worth spending plenty of time getting the design right. And when it comes to putting your plan into action, do consider hiring a well-rated professional to take care of areas you're not sure about – that way, you can rest assured that your new front yard will be built to last.
Sign up to the Homes & Gardens newsletter
Decor Ideas. Project Inspiration. Expert Advice. Delivered to your inbox.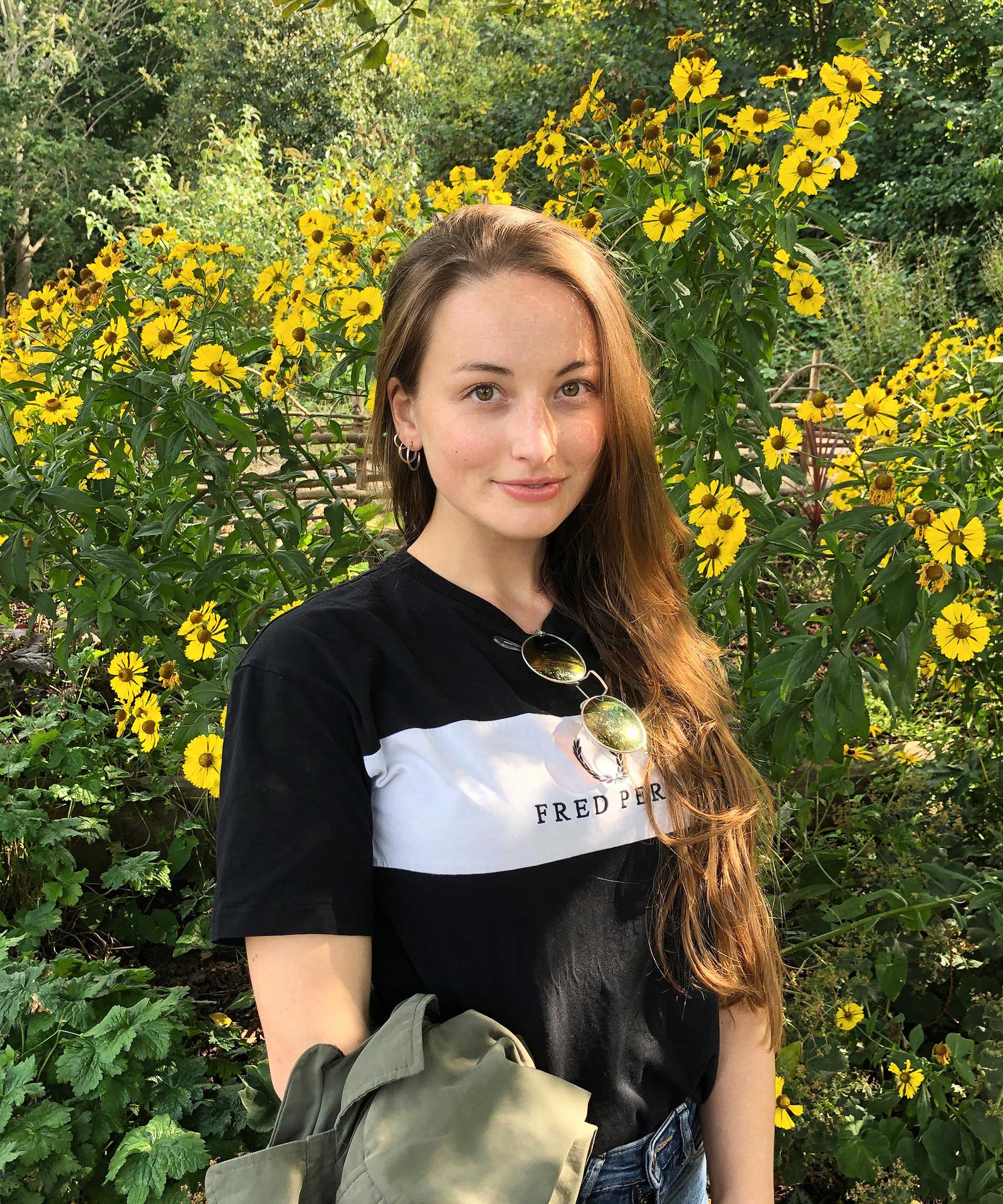 The garden was always a big part of Holly's life growing up, as was the surrounding New Forest where she lived. Her appreciation for the great outdoors has only grown since then; over the years, she's been an allotment keeper, a professional gardener, and a botanical illustrator. Having worked for Gardeningetc.com for two years, Holly now writes about plants and outdoor living for Homes & Gardens.