Climbing plant support ideas – give plants something to ramble over and they will reach new heights
Once your climbing plants have a structure for all their growing endeavours, you'll soon be rewarded with a stylish focal point in your garden too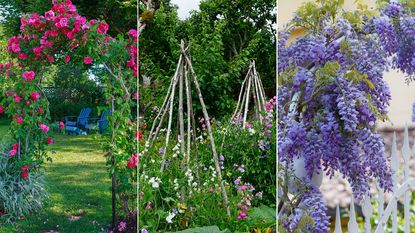 (Image credit: Alamy Stock Photo; Alamy Stock Photo; Getty Images)
Sign up to the Homes & Gardens newsletter
Decor Ideas. Project Inspiration. Expert Advice. Delivered to your inbox.
Thank you for signing up to Homes & Gardens. You will receive a verification email shortly.
There was a problem. Please refresh the page and try again.
Ensuring your climbing plants have the support they need will allow your vines to become a real focal point in the garden, dressing bare walls and fences, traversing trellises, and transforming arches and arbors. Plants like climbing roses, clematis, honeysuckle and wisteria are all the better for a strong framework to ramble over. They will all thrive with a little support.
You can use structures to train plants to climb a certain way, such as shape them around an entrance or over an arch. Meanwhile obelisks will add a sculptural element that really lifts a humdrum border, while an ornamental fruit cage is both practical and beautiful to look at. There's a practical element too, as sturdy supports can help to protect your plants from being flattened by the wind.
There's a huge variety of supports for climbing plants to choose from, so it's relatively easy to find a design that will suit your space. One of the main considerations is that to provide effective support, you need to match the support to the ultimate size of the plant when it reaches maturity.
8 good looking climbing plant support ideas
The structure you choose for your garden can be beautiful while also supporting and guiding the plant in the direction you'd like it to grow. It's essential to get the right structure in place, especially if you're looking at fast growing climbing plants to cover a fence or other unsightly structure.
'Climbers and rambling plants are eager to climb,' says horticulturalist Jac Semmler, author of the book Super Bloom, available at Amazon. 'Start as soon as you can to guide the direction. You can make decisions on what needs to stay and go, gently tying the stems to the support to guide them in the direction you want.'
Our expert recommendations will help you find out which climbing plant support ideas are likely to work best for you.
Jac Semmler is foremost an experimental gardener and plant lover. She tends to Super Bloom, a creative plant practice that brings dynamic living beauty and diversity to urban spaces, landscapes and creative projects. Jac is a qualified educator, respected horticulturalist and botanical guide, and often shares her ideas at festivals as well as on radio and podcasts.
1. Grow climbing plants over a romantic arbor
If you love roses (and who doesn't) and are looking for rose garden ideas, consider adding an arbor to your yard to create an intimate seating area. It will make a great support for any climbing flowers (clematis and wisteria work too) but will look particularly lovely with roses scrambling over it, their lush blossoms and heady fragrance helping to enhance the space. Tie in the rose at 8 inch intervals, attaching stems to the pillars.
'Picture this, a few years back, I thought of planting some climbing roses near an arbor in my garden,' says sustainability expert Sonia Madaan. 'Over the seasons, they gracefully sprawled over the arbor, turning it into a breathtaking rose canopy. It's a sensory delight, trust me!'
As well as offering a support to plants, an arbor adds visual appeal to your yard. In addition to framing a seating area, some are used as a focal point or to add definition to an entrance while others are purely decorative.
2. Choose an obelisk to punctuate planting
These freestanding structures are very useful if you want to grow tall crops but don't have any walls to help support them. Guiding the delicate wavy tendrils of sweet peas or clematis, an obelisk positioned mid-border adds a delightful punctuation mark to your planting.
They also add height and visual interest to container garden ideas. You can sit them on top of patio pots to offer spiral or flared support for climbing patio plants.
Choose a shapely rustic wooden or woven willow obelisk style to fit with naturalistic cottage garden ideas, or use one as a framework in the vegetable patch for growing peas or beans.
If you prefer something more contemporary looking, choose a modern sculptural metal design like this Apsoonsell garden obelisk trellis from Amazon and use a pair of them symmetrically.
3. Give plants something to grip on a wall
'When training a climbing or rambling plant up a wall you can either use ties or more permanent hooks, or rings in the wall to attach the stems,' says Jac Semmler. 'Once you have the support and structure in place it's a simple process of attaching and guiding the climber or rambler to the support.'
Jac suggests using wide ties, strips of cloth and loose string for your climbing plant supports. 'When young vigorous seedlings like sweet peas emerge, start to guide them immediately up the support and they will soon cling on and travel up themselves.'
If you're growing fruit trees in espaliered, cordon or fan shapes, one of the neatest ways to support them is to drill into the wall and insert vine eyes or nails so that you can create a framework of horizontal wires at 8 inch intervals.
This technique also works for growing espalier trees on fences. 'There are quite a few homes in my Southern Californian neighborhood that have espaliered fruit trees,' says Marie Taylor, founder of This Dear Casa. 'I started to research the trellis technique known as Belgian lattice, a diamond grid type pattern I wanted to try out. It's so easy to do.'
4. Integrate some versatile trellis into your yard
There are so many pretty trellis ideas to choose from for your climbing plant support. You can mount a trellis against walls or fences, integrate it into standalone structures like pergolas, or use it freestanding in garden beds. It provides a vertical element that encourages plants to reach new heights, and is also useful in an area such as a small patio or terrace, as it's a good way of making the most of vertical space and enhancing privacy.
'Picture a lattice-like structure that elegantly showcases the sprawling vines and delicate tendrils of your climbing plants,' says Jacky Chou, principal and director at architecture firm Archute. 'Trellises come in various shapes, sizes, and materials, allowing you to find the perfect match for your garden style. Whether you opt for a classic wooden trellis, a sleek metal design, or a whimsical DIY project using recycled materials, trellises offer an excellent support system for a wide range of climbers.'
It's easy to attach trellis to a wall or fence to increase the height as plants outgrow their space. It's also a quick fix for tall climbers in a container garden as you can opt for a planter box with trellis, or simply attach a piece of trellis to a couple of sturdy canes pushed firmly into the pot. Plus there are plenty of vegetable garden trellis ideas to max up your crops.
When it comes to plant selection, trellises work wonderfully for vine-type climbers such as clematis, jasmine, honeysuckle, and sweet peas, says Jacky. 'These plants can gracefully weave their way through the trellis, transforming it into a living tapestry of color and scent. The trellis provides ample space for the vines to grow and ensures that the plants receive adequate sunlight and air circulation.'
If you like the look of a metal trellis, this set of two Best Choice iron arched trellis designs from Walmart would make a decorative addition to a wall or fence, while this DuraTrel Wellington vinyl trellis (also from Walmart) would create a more contemporary look.
Jacky Chou is the owner and operator of several online businesses including the architecture and design company Archute. He is heavily involved in the home and design space, and Archute has taken the hard work out of 3D visualisation for multiple projects.
5. Stake plants to support them
Flowers can quickly become top heavy if blooms are plentiful and heavy, such as roses and wisteria. The flowers can end up shattering, or stems and branches can snap and easily be pushed over in the wind, spoiling blooms.
Offer support by inserting stakes discreetly behind the flower stem, as close as possible to the base of the plant, and secure with a tie. Collect a good selection of stakes of varying sizes to offer the right level of support for different plants.
'Tripods made from three stakes or more can create interesting shapes in the garden as well as supporting plants,' says Jac Semmler. She also recommends trying a home made flower support ring, by placing five thin stakes closely around the centre of the plant, then looping string around the top of the stakes to form a circle or triangle over the flowers. In time, the plant will grow up through this. It's an easy way of creating a support for growing flowers.
Alternatively try these plant support rings from Amazon, which are green so blend in easily with your planting.
6. Keep your support simple with twine and netting
Climbers such as peas, beans and sweet peas will all be happy curling their way up a simple piece of twine, which can be attached to a support at the top, such as a nail in a wall. The other end can be simply tied around a cane at the base of the plant, just under the first set of leaves. Always make sure the support you choose is strong enough to bear the weight of the plant, especially if it's a cropping one.
Garden mesh or netting are other easy climbing plant support ideas that can also be used. Simply stretch between two canes or fence posts, making sure it is thick enough to take the weight of the plants.
7. Pretty up a pergola or gazebo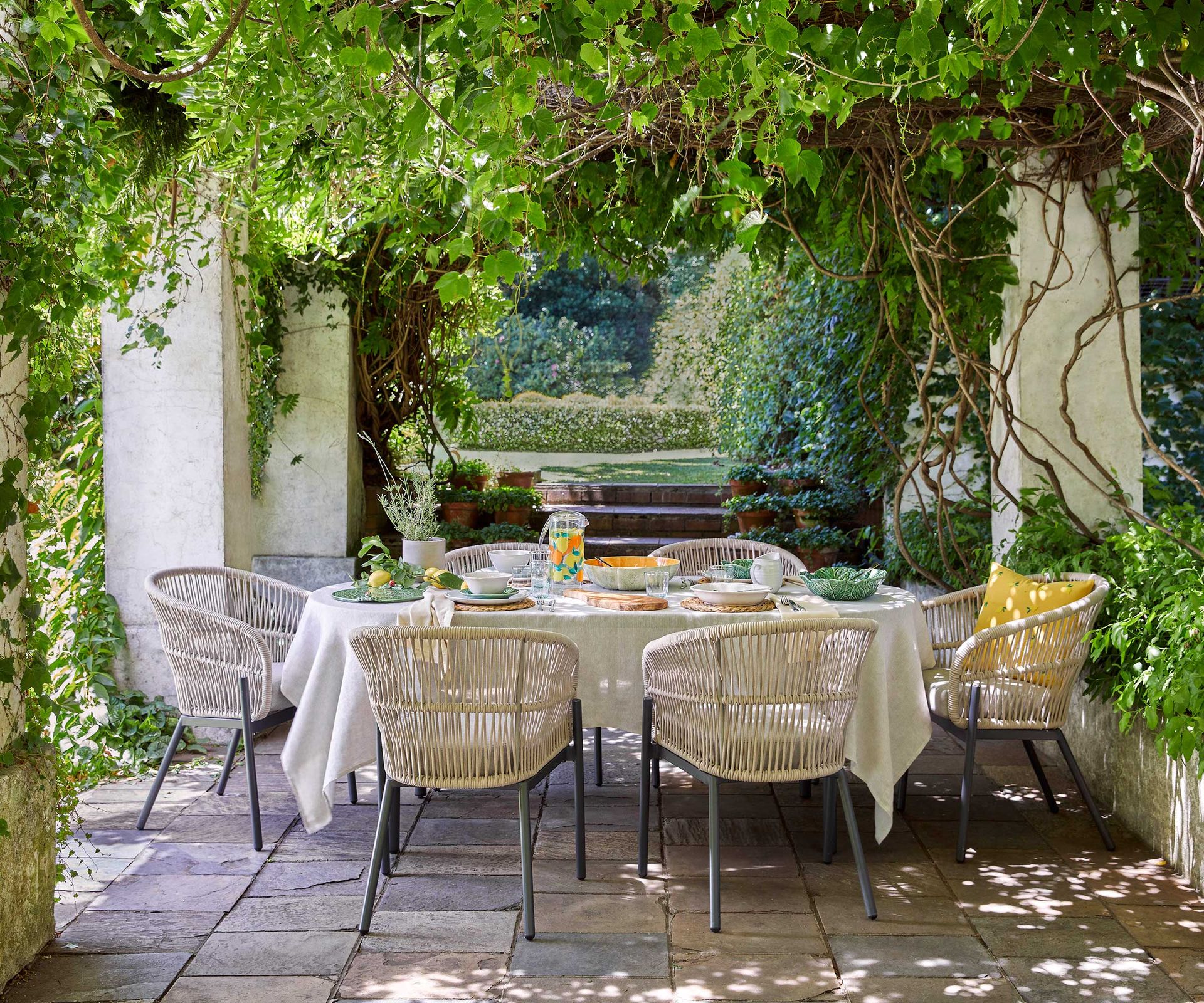 Garden structures like pergolas and gazebos look so much better when combined with climbing plants. They provide the perfect framework for plants to scramble over, creating a focal point as part of your backyard landscaping.
Pergolas and gazebos are ideal for showing off flowering climbers in particular. If covering an outdoor seating area they can enhance your experience by scenting the air if you choose perfumed flower varieties such as roses, jasmine or honeysuckle.
8. Design a functional flowery arch
Create a natural looking archway that complements your garden style and allows climbers to showcase their beauty as they intertwine overhead.
'Imagine a picturesque garden entrance adorned with an arch, beckoning you to step into a realm of botanical wonders,' says Jacky Chou. 'Arches are not only a functional support structure but also a stunning focal point in garden design. They add a touch of romance and elegance to any landscape, inviting climbers to gracefully ascend and create a captivating canopy overhead.'
Use arches to frame garden pathways or garden transitions to create a sense of mystery. They can be made from materials like wood, metal, or even living plants like willow branches. Arches work well with climbing roses, wisteria, grapevines, and climbing hydrangeas. These climbers not only add vertical interest but also provide stunning blooms and foliage that drape over the arch, creating a dreamy atmosphere.
'In one of my garden designs, I incorporated a metal arch adorned with cascading pink roses,' says Jacky. 'As the summer sun filtered through the arch, it created a mesmerizing play of light and shadow. The scent of roses enveloped the air, inviting visitors to pass under the arch and immerse themselves in a fragrant paradise.'
---
Finally, remember to look at other possibilities that can work as support for your climbing plants and make use of what you've already got in your yard. If you would like to make a year-round feature many of the best evergreen climbers will be happy to scramble their way up a balustrade, along deck railings, or the metal railings of a balcony, creating a beautiful feature that's easy to do.
Sign up to the Homes & Gardens newsletter
Decor Ideas. Project Inspiration. Expert Advice. Delivered to your inbox.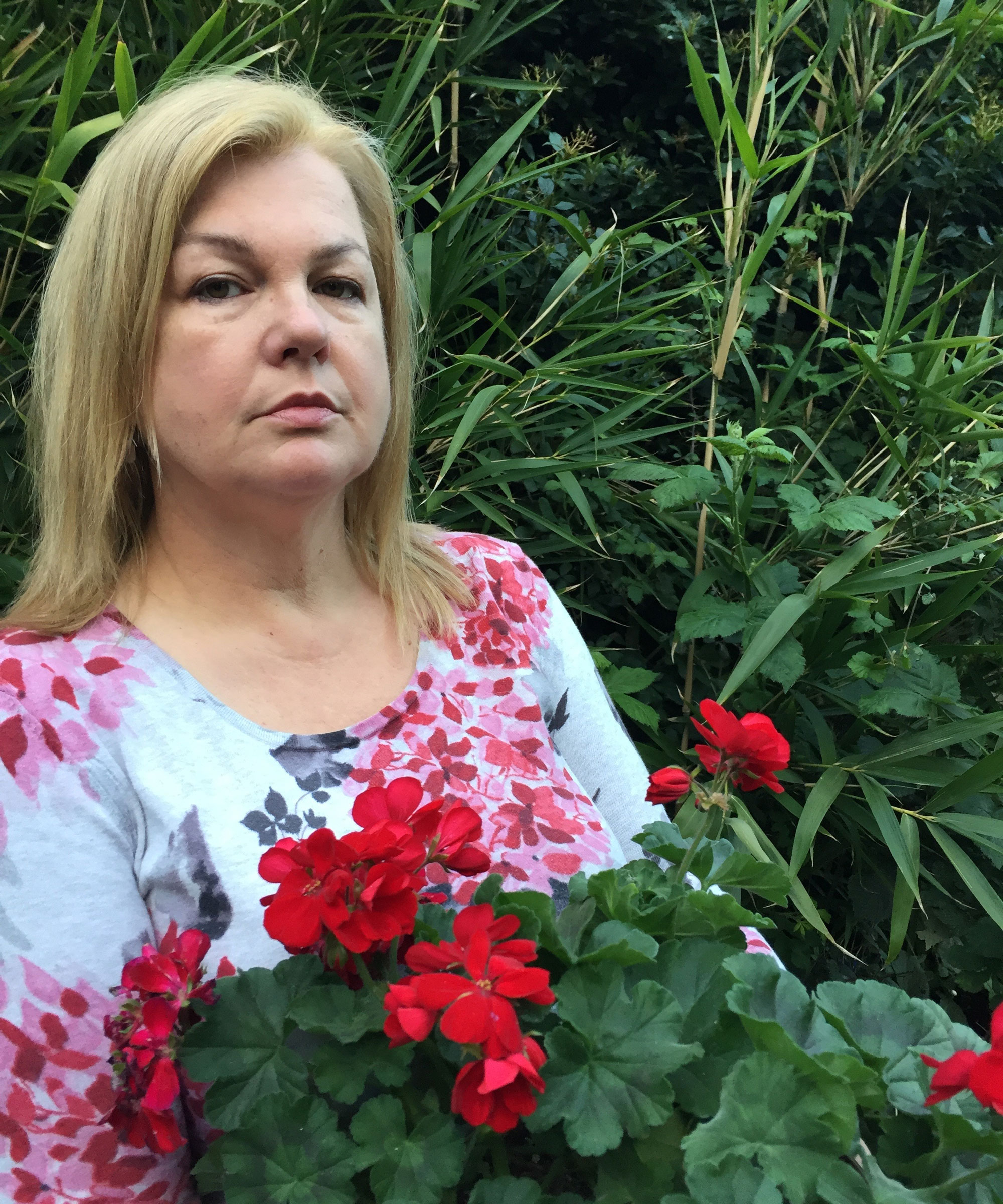 Lifestyle journalist Sarah Wilson has been writing about gardens since 2015. As well as homesandgardens.com she's written for Gardeningetc.com, Livingetc.com, Easy Gardens and Modern Gardens magazines. Her first job on glossy magazines was at Elle, during which time a visit to the legendary La Colombe d'Or in St-Paul-de-Vence led to an interest in all things gardening. Later as lifestyle editor at Country Homes & Interiors magazine the real pull was the run of captivating country gardens that were featured.