8 of the best low-maintenance trees to make a backyard look expensive
Every backyard landscape needs a beautiful tree to act as a majestic focal point. Find out how to add a designer look to your space with these easy choices suggested by tree experts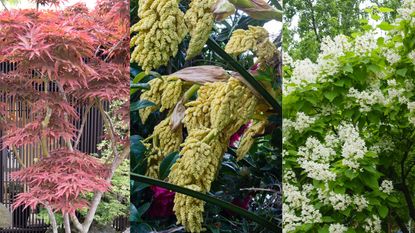 (Image credit: Jacky Hobbs/Future; John Richmond/Alamy; Apugach/Getty)
If you live in an urban or suburban space you might think you don't have room to add a tree to your backyard but the good news is there are plenty of beautiful trees to choose from that will slot beautifully in to your backyard landscaping ideas while being low-maintenance choices too.
For many backyard designs a tree is a key accent, adding a touch of beauty that nothing else can quite match. Planting a backyard tree of whatever size is also a brilliant way to have a positive effect on the environment. Trees absorb carbon dioxide, filter pollutants, help manage water run-off, help cool the garden and provide a home for an incredible range of wildlife. They are also a gift to future generations, as well as adding an relaxing ambiance to your backyard space.
Now discover the delights in store by choosing from our expert round-up of the best low-maintenance trees to make a backyard look expensive.
8 of the best and most beautiful trees to elevate your backyard design
If you're looking for tree planting inspiration as part of your backyard ideas, you'll want to choose a tree that looks good too and that's where we can help. We've got all the bases covered from flowering trees, fruit trees and evergreens, to varieties that offer vibrant leaf color in fall or a tropical touch if you live in a warmer climate.
1. Catalpa (Indian bean tree)
Hardiness: USDA Zones 5-9
Height: up to 60ft
Every backyard needs a lovely flowering tree and the catalpa bignonioides (also known as Indian bean tree) is one of our favorite ornamentals. We like it especially for its clusters of sweetly scented conical flowers and dramatic heart-shaped leaves. It's a beautiful spreading, deciduous variety that over time forms a spectacular tree.
Native to the south eastern part of the US, the catalpa likes a sunny sheltered spot that offers protection from strong winds. Although it can grow very tall, if you prune it hard in spring you can keep it contained if space is limited in your backyard. Pinching out the stem tips of a young plant can promote branching and avoids the need for more severe pruning later on.
Catalpa is a great choice too if you want fast growing flowering trees in your backyard. The 'Nana' variety is one of the most popular forms due to its dome-shaped tree crown that will make an elegant addition to your garden, and this variety can also be kept as a potted plant.
2. Fig
Hardiness: USDA Zones 7-12
Height: up to 30ft, but dwarf varieties are available too
With their abundance of leafy foliage, choose one of the best fig trees and it will make a striking addition to your small backyard landscaping ideas. Try growing this good-looking tree as a fan against a sunny wall if you're interested in trees to espalier or alternatively as a freestanding tree. They are well-suited to container planting too.
If you choose a fast-growing variety you will get fruit in the first year, and this is why it makes it onto our definitive guide to the best fruit trees too. 'The 'Little Miss Figgy' variety is an excellent ornamental and fruit-bearing landscape plant for anyone looking to squeeze a fig tree into a small outdoor space,' says tree expert Fern Berg. 'With a dwarf compact habit, it's smaller (it grows 4–8 feet high) and more cold hardy than comparable figs, yet bears large and prolific fruits in spring and fall.'
Other great fig varieties to choose from include 'Black Mission' and 'Brown Turkey' which can also crop twice a year. Or for those in cooler climates the cold-hardy 'Celeste' or 'Chicago Hardy' are good options. Figs produce best when planted in full sun and well-draining soil.
Fern is the founder of Tree Vitalize and has planted and currently cares for over 100 different native and exotic fruit, nut, and ornamental trees. She also cultivates an extensive vegetable garden, several flower gardens and cares for an ever-growing happy family of indoor plants. Fern has a special interest in biodynamic farming, food production, and closed loop agriculture.
3. Acer palmatum (Japanese Maple)
Hardiness: USDA Zones 5-9
Height: 2-25ft
'Imagine a picturesque Japanese maple tree, its vibrant crimson leaves catching the gentle rays of the setting sun,' says landscape designer Ward Dilmore. 'This tree's beauty lies not just in its appearance but in the stories it can tell. Placing it near a seating area can create a captivating space for relaxation and reflection. I recall a project where we planted a Japanese maple near a pond, and its reflection in the water added a surreal, almost zen-like quality to the garden.'
Grown for its stunning red and purple fall foliage as it's one of the best trees for autumn color, this easy care beauty is one of the most graceful trees you can include as part of your ideas for best low-maintenance trees to make a backyard look expensive. Another plus is that many varieties of Japanese maples will fit easily in to even the smallest back yard.
Ward Dilmore is a landscape designer and founder of Petrus Landscape, in the Bay Area, San Francisco. With an unconventional blend of horticulture expertise and international relations background, Ward brings innovation and sustainable creativity to redefining outdoor spaces. His commitment to merging beauty with eco-conscious practices marks him as a dynamic artist in the industry, carving a path of bold, fresh perspectives in the world of landscaping.
4. Olive
Hardiness: USDA Zones 7-10
Height: 15-30ft
'Olive trees carry the mystique of the Mediterranean,' says Ward Dilmore. 'I designed a backyard where we planted an olive tree as the center piece. Its silver leaves shimmered in the sunlight, casting dappled shade on a rustic dining area below. It felt like a slice of Tuscany in the heart of a suburban landscape.'
With their silvery-pale green leaves, twisting gnarled trunks and compact size, olive trees make an interesting addition to your backyard landscaping design and are super low maintenance too. They're a worthy contender if you're considering drought-tolerant tree planting or the best trees for small gardens too.
Olive trees need a warm climate and most grow only in planting zones 8 through 10. Certain varieties, however, grow in zone 7, such as the 'Mission', which is more cold tolerant but will still need a protected location such as a west or south facing wall. The good news is that as your tree ages, it will become more cold tolerant.
You can also grow olive trees such as the 'Arbequina' variety in a large pot on a sheltered patio. This type thrives in a contained space, and has the upright habit and compact growth so desired for smaller spaces.
5. Cypress
Hardiness: USDA Zones 7-10
Height: 10-50ft
For urban and suburban backyards that are overlooked, cypress (Chamaecyparis) trees offer an exclusive feel by screening views. If you're looking for evergreen trees to add a year round luxe feel to your backyard, cypress is also a winner. It will add an elegant vertical note to your landscape design with its columnar form, and it's low-maintenance too as there is no need to clip it.
'Tall cypress trees are like the guardians of your outdoor sanctuary,' says Ward Dilmore. 'Their towering height provides natural privacy. In one project, we used cypress trees to create a living fence, shielding the yard from prying eyes and street noise. It transformed the space into an intimate retreat, and the swaying branches brought a sense of tranquility.'
If you are concerned about height, choose a dwarf Italian variety like C. sempervirens 'Tiny Tower', which has that expensive looking distinctive dark blue-green foliage and grows up to 30 feet tall.
6. Crabapple
Hardiness: USDA Zones 4-8
Height: 15-18ft
Perfectly compact crabapple trees are one of the best trees for small gardens. They light up spring landscapes with their clouds of fragrant blossom. As well as this they add color and interest to the garden all year round, with jewel-like fruits and foliage in rich colors in fall and sculptural interest in winter. They're also a great choice if you want an easy low-maintenance tree that performs quickly.
'We're often asked to recommend small (under 25 feet), low-maintenance trees that provide landscape interest for three or four seasons,' say the research team comprised of Erik A. Draper, James A. Chatfield, and Kenneth D. Cochran, who are based at Ohio State University's Agricultural Research and Development Center. 'Our advice is always unanimous: crabapples!
'Among the showiest of spring bloomers, crabapples are also wonderful foliage plants in summer and fall, and they provide beautiful fruit displays late in the season. Furthermore, they come in a range of sizes and forms, many of which create interesting silhouettes in the winter landscape.'
There are many varieties to choose from, but one of the best crabapple trees for colorful flowers, showy fruit, and fall foliage is 'Adirondack'. Invaluable in small spaces thanks to its narrow, upright habit, it has deep, rose-pink buds that open to clusters of pure white flowers followed by impressive pinkish-red fruits from late August through mid-December.
You can find the 'Adirondack' crabapple here at Nature Hills plant nursery, who say it will flower and fruit far longer than other crabapples and is highly disease resistant.
7. Strawberry tree (Arbutus unedo)
Hardiness: USDA Zones 4-9
Height: 12-35ft
If you're looking for a tough evergreen ornamental tree with pretty flowers, berries and bark, the lovely strawberry tree delivers on all fronts. As well as offering seasonal interest year-round, design-wise it can help with privacy screening if your backyard is overlooked, and copes well in urban areas. The twisting branches add an interesting design aesthetic too.
In terms of overall requirements the strawberry tree isn't picky. Plant it in early fall before the first frost or in spring once there is no risk of frost. Choose a sunny or partially shaded site and well-drained soil. Once established, the strawberry tree is also a great choice if you're looking for drought-tolerant trees for your backyard.
One thing to note is that the strawberry tree prefers acidic soil, so amend your soil as necessary. It may also need protection from severe weather conditions, especially when its young.
If you're looking for a cultivar with a mature size of around 8-12 feet choose the 'Compacta' variety. Want to go even smaller? 'Oktoberfest' is a dwarf variety that is ideal for containers.
8. Chusan palm (Trachycarpus fortunei)
Hardiness: USDA Zones 7-11
Height: 10-40ft
If you like the idea of adding tropical appeal to your garden but don't live in a balmy climate like Florida this is a great choice - even if you live as far north as Washington. The Chusan palm (also known as the windmill palm) is a striking cold-hardy tree that produces attractive clusters of pale yellow blossom, fountains of frond-like foliage that are green year round, and a fibrous desert-island style trunk.
The list of attributes for this gorgeous palm tree is lengthy. It requires no maintenance, and is shade tolerant, growing well in either sun or dappled shade. Design-wise it will add a luxurious resort vibe to your backyard. It's compact and can be planted in a container too.
All it requires is well-drained fertile soil and shelter from strong or cold winds. Feed your Chusan palm with a slow-release fertilizer designed for palm trees once in spring before new growth emerges, then again in late summer. They grow slowly, gaining less than a foot each year, so are easy to keep compact if space is an issue.
What tree needs least care?
In addition to the trees we've already chosen, there are one or two others that are worthy of mention if you're considering a tree that needs little care when it comes to pruning, watering and feeding.
Ornamental flowering cherry trees are prized for their stunning spring blossom. They are a compact option as well as being low maintenance.
The showstopper crape myrtle tree is another easy variety that delivers year-round interest with gorgeous flowers in white, purple or violet in summer, followed by yellow, gold and orange foliage in fall.
---
Hopefully you are now brimming with inspiration for that perfect tree to elevate your backyard aesthetic. Don't miss our guide to the best low-maintenance trees to make a front yard look expensive too, and give your front yard a matching boost.
Sign up to the Homes & Gardens newsletter
Decor Ideas. Project Inspiration. Expert Advice. Delivered to your inbox.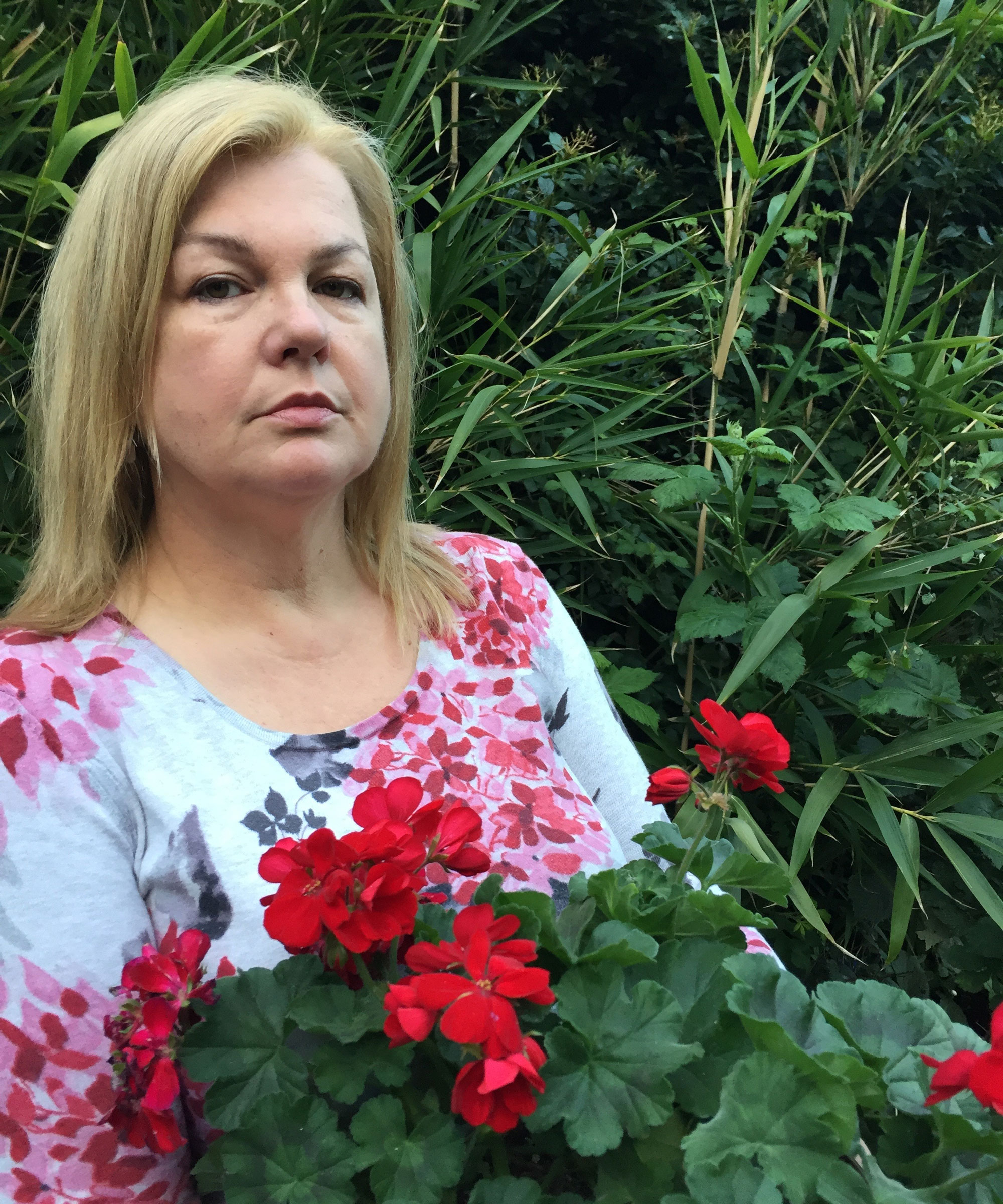 Lifestyle journalist Sarah Wilson has been writing about flowers, plants, and garden design and trends since 2015. Having already studied introductory garden and landscape design as well as a course in floristry she is currently adding to her list of qualifications with an RHS Level 2 course in the Principles of Plant Growth and Development. In addition to homesandgardens.com and livingetc.com she's written for gardeningetc.com, Modern Gardens and Country Homes & Interiors magazines.