Best plants for Japanese gardens – 10 elegant choices for this soothing backyard style
From beautiful trees and textural ground-cover plants to flowers that offer fragrance and fabulous color – these picks are perfectly suited to Japanese-inspired plots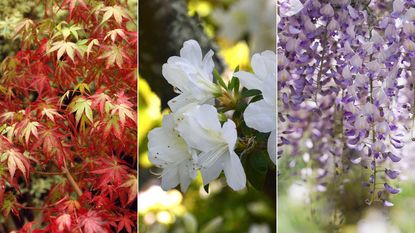 (Image credit: (From left to right) Avalon.red / Alamy Stock Photo – Antonio Siwiak / Alamy Stock Photo – Clare Gainey / Alamy Stock Photo)
When it comes to creating a calming outdoor space to escape the hustle and bustle of modern life, a Japanese-inspired scheme is perfect. And, to really capture that atmosphere of tranquility and a celebration of nature, the plants you choose are key, alongside features such as raked gravel, stepping stones, and stone lanterns.
Compared to western gardens, the color palette in Japanese gardens is restrained, with an emphasis on foliage rather than flowers – a celebration of green in all its varying shades. Trees and shrubs are used more than herbaceous perennials. Ornamental cherries, acers and rhododendrons are all classic plants for Japanese gardens, adding height, structure and seasonal interest with colorful foliage or flowers. These plants all have cultivars that don't get too big, which means you can still get the look even if you have a small space.
Underneath tall plants, an understorey of shade-loving woodland plants is used, including dwarf evergreen azaleas, the slender needles of pines, and the grassy foliage of Hakonechloa macra. Bare soil is rarely visible in a Japanese garden, as mosses thrive in the damp climate and these are encouraged to creep between the cracks and crevices of stone paths. Flowers are used sparingly as seasonal highlights and rather than flamboyant doubles they tend to be simple single blooms for a more naturalistic feel.
When she's not spending time tending to her own plants, you'll typically find Louise writing about them. As well as writing for national newspapers and magazines in the UK, she has also written two books, including The Cut Flower Patch, available on Amazon.
10 perfect plants for Japanese-inspired plots
Weave these into your planting scheme for beautiful results.
1. Acer palmatum 'Beni-otake'
Height: 8-13ft
Spread: 8-13ft
Good for: Spring foliage color
Elegant acers are a must-have for Japanese gardens, and this variety is a particularly good choice for small spaces.
The canopy, which matures to a rounded shape, consists of lobed leaves divided into long, strappy leaflets. These are a striking scarlet in spring, before turning crimson in the fall.
2. Iris ensata 'Rose Queen'
The Japanese water iris has been featured in their art throughout the centuries. It thrives in moist, acid soil or in the margins of a backyard pond or stream.
This cultivar has exquisite pink flowers with splashes of gold that unfurl from purple buds. Plant it in full or part shade for best results.
3. Pinus mugo 'Mops'
Height: 30in
Spread: 30in
Good for: Evergreen structure
The dwarf mountain pine is a slow-growing, evergreen conifer that will form a bushy plant with a rounded habit. The thick branches are covered with mid-green, slender needles.
Use it to punctuate planting like you would with topiary. It thrives in a sunny, well-drained spot.
4. Enkianthus campanulatus
Height: 15ft
Spread: 15ft
Best for: Delicate flowers
Prized for its fall color in fiery oranges and reds, this deciduous flowering shrub also features summer clusters of bell-shaped, cream blooms with pink veining.
It will add height and structure to a border where it'll develop the best leaf color if planted in sun, on acid soil.
5. Acer palmatum 'Katsura'
Height: 13ft
Spread: 20-26ft
Good for: Color-changing leaves
This is a particularly colorful variety of Japanese maple, with leaves divided into five to seven leaflets that unfurl in spring a vibrant orange, mellowing to golden yellow with orange leaf edges.
In summer, the foliage takes on a yellowy-green hue before the fall, when the leaves turn bright orange.
6. Rhododendron 'Snow Hill'
These and azaleas are key plants for Japanese gardens. This is a bushy, evergreen shrub with a spreading habit and large, white flowers with a greenish-yellow center.
Plant it in dappled shade in moist, acidic soil or raised beds in ericaceous compost.
7. Prunus incisa 'The Bride'
Height: 13ft
Spread: 13ft
Good for: Beautiful blossom
Many ornamental cherries grow much too large for the average garden, but this cultivar forms a compact, rounded canopy.
A profusion of white, single blossoms with reddish pink stamens erupt from pale pink buds in mid-spring, and the foliage turns red and orange in the fall.
You can shop varieties of flowering cherry trees from Fast Growing Trees.
8. Wisteria floribunda 'Domino'
Height: 26ft
Spread: 26ft
Good for: Climbing up a wall or backyard structure
This deciduous climber with twining stems has dangling clusters of pale lilac and violet-colored, fragrant flowers in late spring. These are followed by velvety, gray-blue seed pods.
Plant this wisteria in full sun or part shade, and train it against a house wall or over a sturdy pergola for a stunning feature.
There are other varieties of wisteria available at Nature Hills.
9. Primula japonica 'Miller's Crimson'
Height: 18in
Spread: 18in
Good for: A pop of vibrant color
For punchy color, grow this primula. It forms rosettes of crinkly, apple-green leaves at the base and sturdy stems topped with candelabra-like whorls of crimson flowers with black centers in early summer.
It needs moist, acid-to-neutral soil and is ideal for a bog garden.
10. Hakonechloa macra
Height: 20in
Spread: 20in
Good for: Textural ground cover
The Japanese forest grass is a lovely understorey perennial with arching, bright green grassy foliage that develops red tints in the fall.
Plant this ornamental grass en masse under trees or shrubs where the shaggy, tumbling mounds of leaves make stylish ground cover. It prefers moist but well-drained soil and is happy in sun or shade. You can find different varieties of Japanese forest grass at Nature Hills.
FAQs
What is the most important plant to indicate Japanese style?
Japanese maples – Acer palmatum – are quintessential Japanese garden plants with their elegant structures and graceful canopies of slender branches and delicate leaves that produce a colorful display of fall colors. There are numerous cultivars to choose from with plenty that are suitable for small gardens and even container growing.
---
Remember, with this style of garden, less is often more – so stick to a few varieties of plants and repeat them across your scheme for a sense of cohesion and rhythm. The larger trees and shrubs can then be used as singular specimens to subtly draw the eye – you may even want to try a spot of cloud pruning on the evergreen types.
Sign up to the Homes & Gardens newsletter
Decor Ideas. Project Inspiration. Expert Advice. Delivered to your inbox.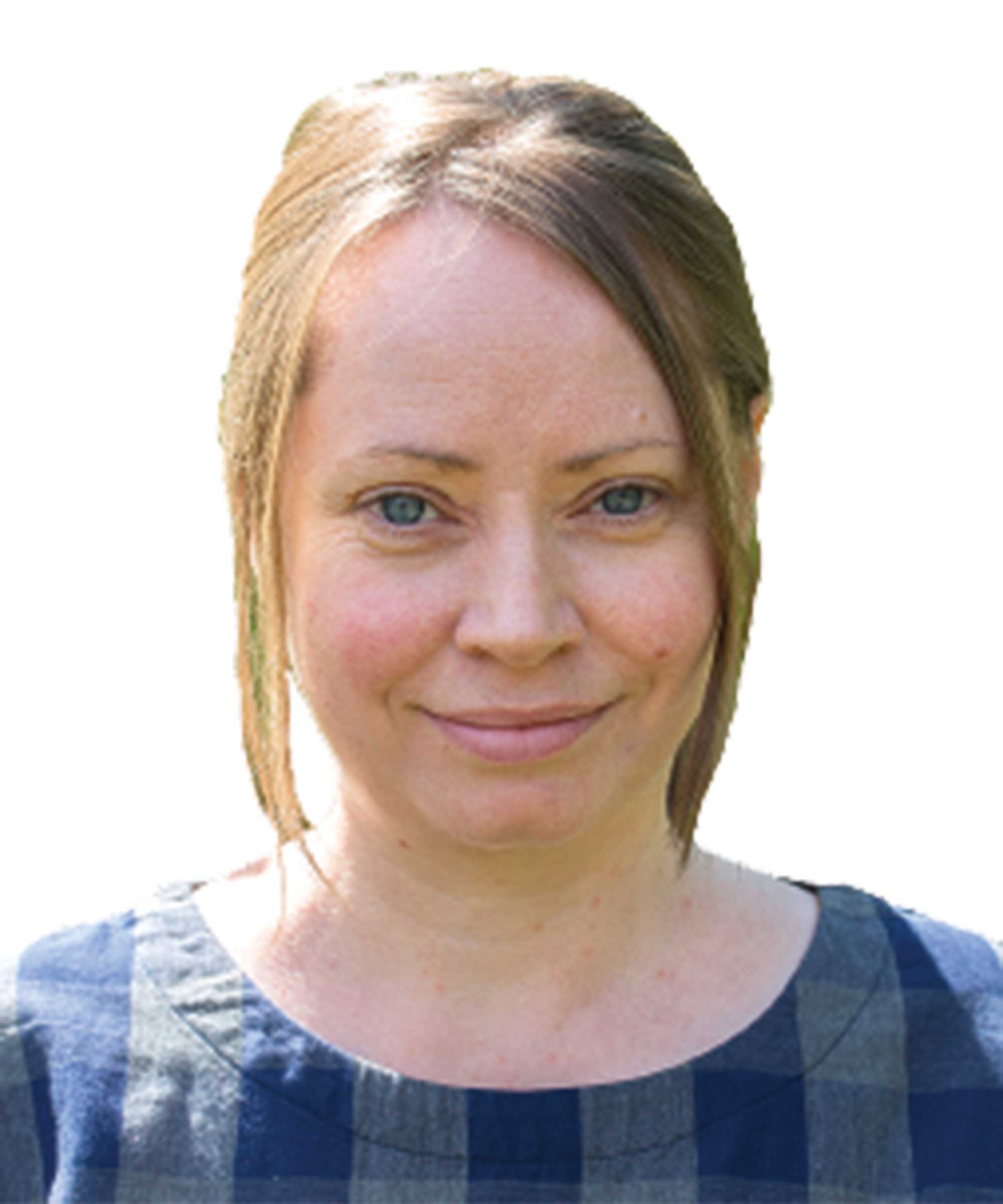 Louise Curley is an allotment-grower and gardener, and when she's not flexing her green fingers, she's writing about plants. She has written for multiple publications, including national newspapers and magazines. She has also written two books, with the first, The Cut Flower Patch, being awarded The Garden Media Guild's 'Best Practical Gardening Book of 2014'.