10 best varieties of narcissi bulbs to plant now – garden experts share their top picks
Learn which of these daffodil favorites are worth ordering right away for uplifting springtime color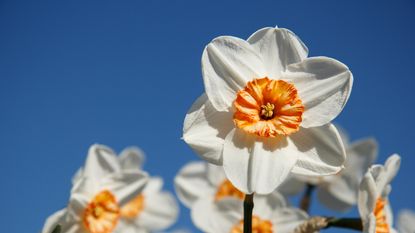 (Image credit: Alamy/Aigars Reinholds)
No spring yard is complete without these cheery blooms, but with thousands of cultivars to choose from, deciding on the best varieties of narcissi bulbs to plant can be baffling. Do not fear though, simply follow our list - which includes many standout flowers recommended by bulb experts and garden designers - and you can get planting, knowing the results will be gloriously uplifting.
For many, narcissi or daffodils are the first true sign of spring. Best planted as dry bulbs in the fall, they share their sunny charm in various flower shapes, colors and sizes – after all they are amongst the best miniature bulbs you can grow. Flowering collectively from late January through to May, with just a little careful planning it's possible to enjoy their colorful display for months on end.
It's not just their dazzling looks that make these flowers so popular, but their easy-going nature and versatility, too. Naturalize tall, airy species in a bulb lawn for a relaxed, semi wild look, or weave clumps through borders for intense color. You could also group together in pots and planters for maximum impact.
10 best varieties of narcissi bulbs to plant now
You can liven up your springtime yard by planting glorious narcissi right now. There are endless varieties to tempt you, in uplifting hues from palest lemon through to sprightly orange. Delicate white narcissi have a firm following, and there are many to choose from including 'Thalia' and 'Mount Hood'. Many of these blooms also have a delicious fragrance, adding to their charm and value as a cut flower.
1 Narcissi Tête-à-Tête
Height: 8 inches
Flowering: March/April
With up to three punchy, star-like blooms bursting from each bud, this dwarf narcissus is always a welcome. No wonder it is one of the most popular varieties available. An heirloom variety dating from 1949, they are lightly scented and will effortlessly come back year after year.
'This tiny wonder will be the first daffodil to bloom in spring, even if there is snow,' says horticultural expert Peggy Anne Montgomery. 'The pure yellow flowers are quite long lasting and like all narcissus or daffodils, they are amazingly easy to grow. The only thing they won't tolerate - like most flower bulbs - is wet soil. They are truly perennial and multiply year after year. '
Show them off in window boxes - perhaps paired with variegated English ivy and blue grape hyacinths - and use them as low-level planting in pots either side of the front entrance for a cheery welcome. Plant the bulbs 6 inches deep and divide established clumps every few years for healthy blooms.
You can start your collection with this selection of tête-à-tête bulbs from Amazon.
Peggy Anne Montgomery is a horticultural professional with more than 30 years of US and international experience in garden marketing and communications. An account executive for the Garden Media Group, she currently represents Dutch Royal Anthos, a trade organization for Dutch bulb growers and exporters in the US and Canada.
2 Narcissi King Alfred
Height: 16 inches
Flowering: March/April
Picture a springtime scene of nodding daffodils and it will be likely you are thinking of this classic variety. 'Known for their reliability and sturdy stems, this classic daffodil variety is one of the most popular and widely recognized,' says landscape designer, Ward Dilmore. 'It features large, bright yellow blooms with a prominent orange-yellow trumpet-shaped center.'
Easy to get hold of, be sure to plant plenty and you will be rewarded in spring with an ample number of blooms to admire both outside and in, after all they make perfect cut flowers. These large headed flowers look particularly impressive when planted in generous drifts or naturalized in the lawn. They are also a great go-to when looking for spring planter ideas.
As with most flower bulbs, these beauties do not enjoy having wet feet, so always grow in well-drained soil and plant at a depth of around 4 inches.
3 Narcissi Jetfire
Height: 8 inches
Flowering: March/April
At home in a sunny or partially shady spot, this tiny jewel of a narcissi makes an impact that belies its size.
'Jetfire is a miniature daffodil with bright yellow petals and a vivid orange-red trumpet,' says Ward Dilmore. 'Its vibrant color combination and early blooming make it a cheerful addition to the garden.'
Another feature that makes this variety so eye-catching is the swept back corona of golden petals. Giving this spring gem a carefree and informal personality, this variety is perfect for gravel and rock gardens. Happy growing in a partly shaded spot, use these short-stemmed narcissi for bringing a spot of color under deciduous trees, shrubs and roses. They also make a delicate and intriguing cut flower.
4 Narcissi Mount Hood
Height: 6 inches
Flowering: February/March
Big, bold and above all stylish – it's no surprise that this heirloom variety is multi award-winning. Reliably flowering it's heart out in early spring, it needs little encouragement or attention to return year after year.
Horticultural expert Peggy Anne Montgomery explains: 'For decades, Mount Hood has reigned supreme among the white daffodils.' It is a favorite of bulb growers, florists and garden designers for its long lasting, sizeable flowers and straight, sturdy stems. It is one of the most adaptable narcissus thriving in lawns, borders, pots and for forcing under glass, and the ideal candidate when planning a cut flower garden.
What's more Mount Hood shares the same outstanding disease resistance other varieties enjoy. Peggy Anne continues: 'All narcissi have outstanding disease resistance and are rarely or never bothered by pests or diseases. They are naturally deer, rabbit, squirrel, and vole resistant too.'
5 Narcissi Paper White
Height: 14 inches
Flowering: January/February
Different to most daffodils, this highly perfumed narcissus bears several tiny flowers on each stem, so when grouped together just a few bulbs can produce a mass of spectacular blooms. With long white petals surrounding a precisely detailed tiny trumpet with golden centre, the impression is of elegant simplicity making this variety ideal for those who prefer a serene, classic look rather than a yard that's blazing with color.
Often producing masses of long, strappy green foliage, these bulbs make a head turning spectacle in any bed or container. Not known for being particularly long lived outside, these very early flowering daffodils are brilliant for forcing indoors for Christmas.
Fill decorative urns and bowls with these bulbs, top with moss and leave somewhere cool and dark until new shoots appear, before bringing them back into the light. They also make thoughtful gifts, filling a room with their sweet, musky scent.
6 Narcissi Pheasant's Eye
Height: 14 inches
Flowering: April/May
Known as the 'Poet's Narcissi', this one of the oldest varieties around and famed not just for its distinctive open white flower and multi-ringed centre but for its exquisite fragrance. Cultivated in southern Europe for use in the perfume industry, the scent is a mix of hyacinth and jasmine, making it a memorable feature of any springtime yard.
Plant and bulb expert Megan Foster explains: 'The wild and timeless (ancient, actually) Poet's Narcissi is beloved for extra-large blooms which produce a powerful fragrance known for attracting pollinators. White petals, punctuated by a small red-rimmed, yellow cup with green eyes make it a memorable cut flower too.'
When planting bulbs in fall be sure to include groups of these under deciduous trees and shrubs. Plant at a depth that is three times the height of the bulb in well-drained soil.
Packs of 12 pheasant's eye bulbs are available to order from Nature Hills.
Megan Foster is the category manager overseeing perennials and bulbs for AmericanMeadows.com since 2019. With a keen eye for color and passion for pollinators she curates pre-planned gardens for the brand. Her instinct for what gardeners want also drives the spring and fall bulb assortments. She gardens in zone 5 in Vermont.
7 Narcissi Inca
Height: 12 inches
Flowering: February/March
An early flowering narcissus, originally hybridized in the US in 1979, this is a great bulb choice if you are looking for a daffodil that is a little different. 'One of our favorite dwarf varieties is the Inca daffodil,' says Jon Studer of Holland Bulb Farms. 'It only reaches up to 12in tall but the unique bloom makes this a really interesting daffodil variety, featuring a white and green trumpet with pale yellow petals.'
He adds: 'That this is one of the varieties that can tolerate warmer climates, hardy up to zone 9.'
Early to bloom, this chic and dainty flower is a valuable source of nectar, making it hugely popular with hungry bees and garden pollinators. Be sure to incorporate a few bulbs into your yard when planning wildlife garden ideas, perhaps nestling them in amongst a log pile, stumpery or under deciduous woodland.
8 Narcissi Jonquil
Height: 8-12 inches
Flowering: February/March
With their cheery blooms and delicious scent, this heirloom variety is hugely popular in both borders, pots and for carpeting lawns and light woodland.
'Jonquils are universally adored for their pure, sweet fragrance, often reminiscent of bubblegum, says bulb expert Chris Wiesinger. 'These golden blooms grace late February and early March, brightening late winter gardens when little else flourishes. These perennials effortlessly naturalize, carpeting vast areas with their charm.'
Blooming earlier than most other garden flowers, these open narcissus with short trumpets are a magnet for bees and butterflies, eagerly hunting for nectar which is in scarce supply so early in the year. Choose to grow them as part of a garden for pollinators and not only will you boost your yard's green credentials but naturally help protect other susceptible plants from pest problems.
Chris continues: 'Versatile in both gardens and as cut flowers or container decorations, they're known affectionately as jonquil sweeties. This name aptly captures their fragrance, form, adaptability, and the joy they bring to our lives and gardens.'
Chris Wiesinger founded The Southern Bulb Company in 2004 along with several friends in an attempt to recapture that which was once lost to the Southern gardener: bulbs that thrive in warm climates. Chris began collecting bulbs when he was young. He used his bulb passion for a college project at Texas A&M which then grew into a lifestyle and business. Chris sought out heirloom and rare flower bulbs like the red spider lily and is author of the The Bulb Hunter which details his life as a bulb collector and farmer.
9 Narcissi Delnashaugh
Height: 18 inches
Flowering: April/May
A narcissus with all the blowsy charm of a peony or old-fashioned rose. These bi-coloured double beauties are a dream for filling spring pots and planters close to the house with delicate colour and fragrance. Happy grown in full sun or part shade they make a big impact planted in clumps or meandering through a mixed border.
'I really love Delnashaugh double daffodil – it's just exquisite,' says Megan Foster. 'A very soft, gentle double with alternating layers where the sharp cream white contrasts with the gently ombre peach double inner petals. The overall effect is a very charming balance.'
The full flower heads are well supported on sturdy, straight stems making them ideal for cutting and gracing a vase. Do be sure to leave them in cold water overnight, before adding to a container as the sticky sap can affect other cut flowers and foliage.
10 Narcissi Campernelle
Height: 12-14 inches
Flowering: Late February/Early March
An heirloom daffodil widely found across Texas and southeastern US, this is a sweetly scented variety with elegant long petals that have a slight twist. A cross between the classic 'Lent Lily' and cheery 'Jonquil', they bring a bright flash of gold to the dreariest of early spring yards.
'Gardeners cherish the Campernelle daffodil for its exquisite fragrance and radiant golden blooms. Clusters of small, dark yellow trumpets resemble a vein of gold, enriching the late February landscape,' says Chris Wiesinger.
'These low-maintenance beauties thrive with just sunlight and naturally fading foliage in spring. Remarkably, they resist pests, even deterring deer, donkeys, horses, and pocket gophers,' he adds.
FAQs
Why plant narcissus bulbs in fall?
'Narcissus are the quintessential spring flowers signaling the new season's arrival with their cheery colors and delightful fragrances,' advises plant and bulb expert Peggy Anne Montgomery.
'They are also among the most rewarding to grow. The single-flowering varieties provide a critical, early-season food source for pollinators. They range from just a few inches tall to about 2 feet. Some varieties bloom in early spring, mid-spring, and late spring, so you could have daffodils blooming for six weeks in spring. The fragrant blooms make excellent cut flowers.'
Are all narcissi yellow?
'Breeding work on this beloved bulb has been going on for hundreds of years, and they come in a wide variety of sizes, shapes, and colors, almost too numerous to mention,' says horticultural expert Peggy Anne Montgomery. 'While most narcissi are yellow, they also bloom in white, cream, orange, and even pink.'
---
Could there be anything better than heralding springtime with vast carpets of narcissus? If these varieties have inspired you to get bulb ordering, why not have a look at the best varieties of allium bulbs to plant right now too.
Sign up to the Homes & Gardens newsletter
Decor Ideas. Project Inspiration. Expert Advice. Delivered to your inbox.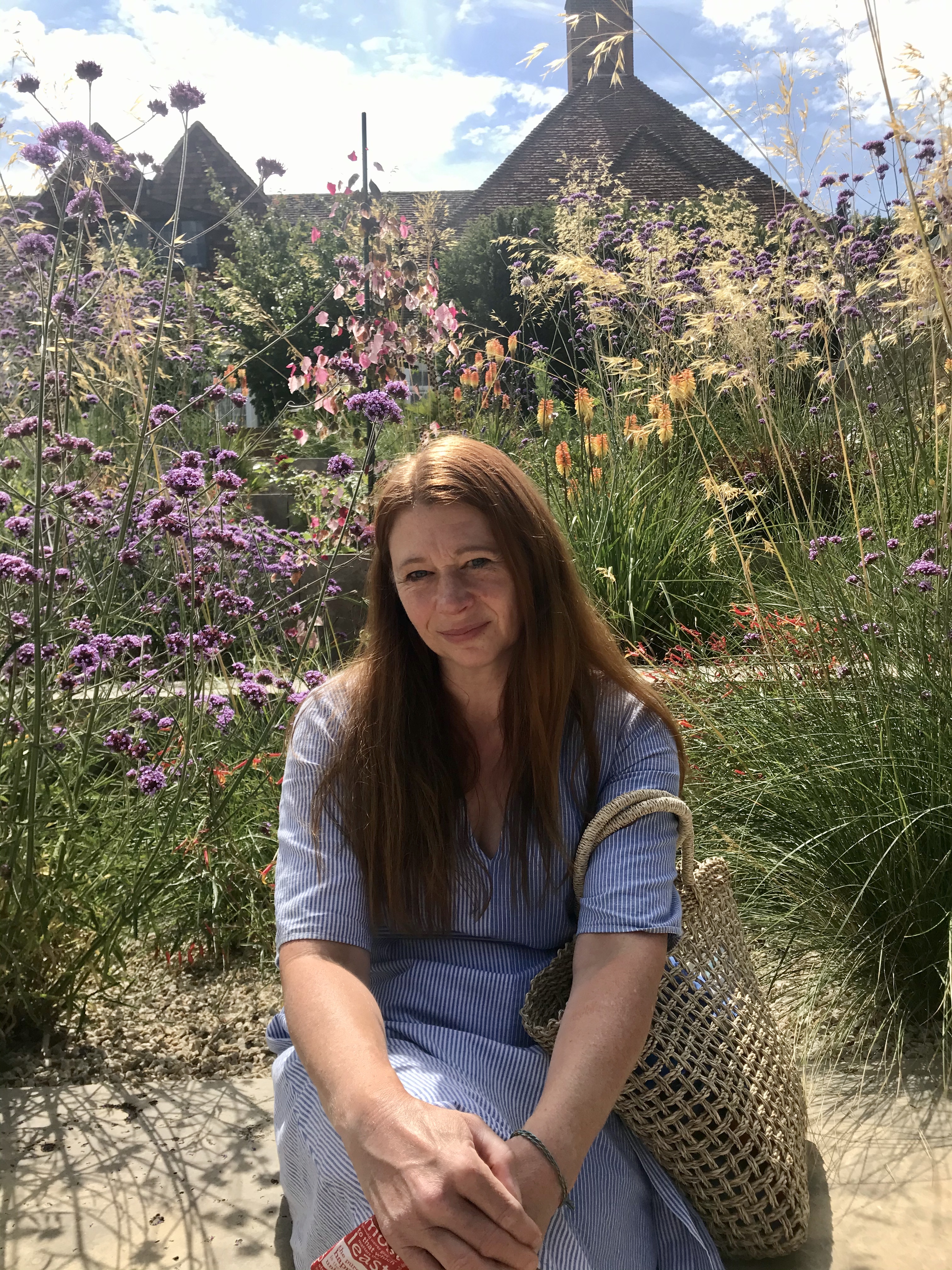 Jill Morgan has spent the last 20 years writing for Interior and Gardening magazines both in print and online. Titles she has been lucky enough to work on include House Beautiful, The English
Home, Ideal Home, Modern Gardens and Gardeningetc.com. Although much of her career has involved commissioning and writing about reader homes and home improvement projects, her
everlasting passion is for gardens and outdoor living, which is what she writes about for Homes & Gardens.