10 best varieties of allium bulbs to plant now – for showstopping spring flowers
Leading plant experts name their favorite alliums for bringing springtime color and drama to your yard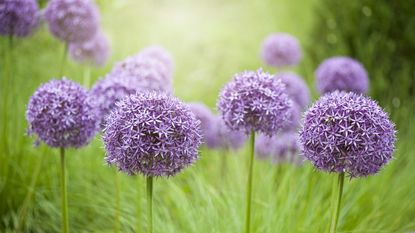 (Image credit: Getty Images/Jacky Parker Photography)
Knowing which allium bulbs to plant can be tricky, as there are just so many tempting and wildly different flowering types to choose from. With gorgeous blooms ranging from the tiny and exquisitely delicate to those majestic floral globes measuring 10 inches in diameter, they can bring colour, shape and height to rockeries, borders, pots and window planters from mid spring through to early summer. Thinking about when to plant alliums? Well, the time is now.
Plant expert Katie Sunderlage of Holland Bulb Farms explains, 'Allium varieties can reach anywhere from 12in tall up to 4ft in height. They are very versatile and can grow in a wide range of climates, most varieties are hardy in zones 3-8.'
One of the best spring bulbs you can grow, these enchanting beauties have few demands. Just give them a free draining spot in the sun and they will reward you - and valuable pollinators – with showy, nectar-rich flowers. What's more, these then fade to spectacular seedheads, adding fascinating texture and form to your yard or lawn that will last well into winter.
Not sure which varieties to try out first? Well, the good news is that not only do allium bulbs last for up to four years, allowing you to continually increase and refine your collection, but that leading bulb experts are here to share their favorites, guaranteeing you a spectacular spring display.
10 best varieties of allium bulbs to plant now
If you're planning a spring yard that will dazzle and delight, then alliums deserve a top spot on your planting list. Perfect for bringing architectural chic to a border, vibrant color to a key planter or as a Insta-worthy addition to your cutting garden flowers, here are the varieties no yard should be without.
1. Allium Schubertii
Height: 20in
Position: Full sun
Flowering: June/July
A starburst in flower form, these large flowerheads are made up of tiny pink-purple blooms on mini stems of varying length. Dynamic and more open in shape than other globe alliums, they are the true fireworks of any pot or planter.
Sometimes referred to as 'tumbleweed onion', avoid overcrowding and plant these impressive bulbs 6 inches deep, 15 inches apart in well-drained soil. The large strap-like leaves often die back before flowering boosting this bloom's dramatic appeal even further.
'Underused and possessing the most dramatic flower, up to 18in wide', says horticultural professional and bulb expert Peggy Anne Montgomery. These sculptural beauties fade to form spectacular seedheads which last long into the winter or can be cut, dried and displayed indoors.
'Like all alliums, their natural resistance to pests and diseases ensures a hassle-free experience,' she continues, 'allowing you to enjoy their beauty without constant attention.'
Allium Schubertii bulbs are available to buy at Nature Hills.
2. Allium Drumstick
Height: 30in
Position: Full sun
Flowering: July/August
Also known as Allium sphaerocephalon and 'round-headed leek', these oval shaped blooms are the chameleons of the allium world. Perched on top of wiry stems, watch as the tiny flowers change, top down, from green to burgundy before gracefully fading to palest parchment. Ideal for planting en-masse, weave them through a perennial border or plant in drifts through prairie-style grasses.
Loved by pollinators for their nectar rich blooms, they also attract hummingbirds, making them ideal for any naturalistic planting design.
3. Allium Moly
Height: 10in
Position: Full sun/part shade
Flowering: May/June
Shorter than most alliums, 'golden garlic' is quick to grow and sends out brilliant yellow, star-shaped flowers in early summer. 'A great cut flower too,' says Peggy Anne Montgomery. 'This little beauty will multiply to give you a bigger flower show every year.'
While it loves a place at the front of beds and borders, this variety will happily thrive in part shade, beneath shrubs or in areas of light woodland, making it useful for injecting color and interest to these difficult areas. Thanks to its relaxed clump-forming habit, this allium is also perfect for drought tolerant planting adding vibrancy and form.
Plant these bulbs 4-5 inches deep, 2.5 inches apart in well-drained soil.
Peggy Anne Montgomery is a horticultural professional with more than 30 years of US and international experience in garden marketing and communications. An account executive for the Garden Media Group, she currently represents Dutch Royal Anthos, a trade organization for Dutch bulb growers and exporters in the US and Canada.
4. Allium Red Giant
Height: 12in
Position: Full sun/part shade
Flowering: Mid-May onwards
These soccer-ball sized blooms look stunning lining a path or sitting proudly in an oversized planter. With clusters of tiny flowers in head-turning shades of reddish purple, they are an extraordinary sight set against their distinctive broad, low-growing leaves.
Relatively short at just 12 inches tall with flowers that can measure up to 6 inches across, these top-heavy flowers are ideal for planting at the front of a border, nestled in a rockery, or showcased in a pot or planter. They also look stunning lined up along a path or entrance way.
These alliums are also rich in nectar and pollen, making them ideal for attracting butterflies and other useful pollinators to your yard.
5. Allium Purple Sensation
Height: 36in
Position: Full sun
Flowering: May/June
Perhaps the most popular allium of all, this one is the ultimate all-rounder. Sitting on top of regimentally straight stems, the near perfect globe flowers of the deepest purple make a dazzling sight. Place them at the back of a traditional mixed border or weave artfully through long grass or prairie style beds, brimming with ornamental grasses and airy perennials.
Brilliant for cutting and displaying indoors, these blooms also fade to reveal sculptural and intricate seedheads. These add instant texture and form if left outside or dried and used for festive wreaths and decorations.
'As a huge fan of Piet Oudolf's work, I'm always looking for opportunities to pair allium spheres and large fluffy grasses,' says Cullen Boudreaux from American Meadows. 'The contrast in color, shape and texture creates a show-stopping effect. The 4in globe-shaped, super-saturated purple blooms provide instant contrast against almost anything.'
You can pick up a pack of 12 Allium purple sensation bulbs at Nature Hills.
Cullen Boudreaux has two decades of experience as a Creative Director and currently serves as Director of Brand Expression for AmericanMeadows.com. She caught the gardening bug in 2011 when she began nurturing (and blogging) about her tiny garden in downtown Atlanta. In the years since she has become an advocate for the ways gardening improves our lives, our communities, and our planet.
6. Allium cristophii
Height: 23in
Position: Full sun
Flowering: June to July
Also known as 'Star of Persia', this allium is instantly recognised for its spherical flowerheads with pink-purple, star-shaped petals. More open than other varieties it has a wonderful light, airy feel that makes it perfect for dry Mediterranean gardens and gravel gardens.
These huge blooms measure up to 8 inches and have a slightly metallic sheen to them, which only emphasises their sculptural appearance. Ideal for drying and displaying in the home, the fascinating seedheads hold their shape well and if left in the border, look spectacular tinged with frost. They also flower later than other varieties, making them useful for extending the allium show well into summer.
7. Allium Mount Everest
Height: 3-4ft
Position: Full sun
Flowering: May/June
There's something rather classy about white alliums. Taking on an ethereal and stately feel, especially in early morning or evening, they make a spectacular addition to any herbaceous border. Pair them with other silver-tinged, architectural plants such as cardoons, acanthus or artemisia alongside smaller dark alliums such as 'Drumstick' and 'Red Mohican'.
'If large white flowers are preferred, 'Mount Everest' is an excellent choice,' says landscape designer, Ward Gilmore. 'This allium variety produces large, white, globe-shaped flower heads on tall stems, reaching heights of 3 to 4 feet. The white flowers create a stunning contrast in the garden, especially when planted alongside other colorful perennials.'
Plant these bulbs 6 inches deep and 6 inches apart, in well drained soil. Lift and divide overcrowded clumps in before or after flowering.
Allium 'Mount Everest' bulbs are available to buy at Nature Hills.
Ward Dilmore is a landscape designer and founder of Petrus Landscape in the Bay Area of San Francisco. With an unconventional blend of horticulture expertise and international relations background, Ward brings innovation and sustainable creativity to his designs. His commitment to merging beauty with eco-conscious practices marks him as a dynamic artist in the industry, carving a path of bold, fresh perspectives in the world of landscaping.
8. Allium Ping Pong
Height: 24in
Position: Full sun/part shade
Flowering: June to August
Shorter than allium 'Mount Everest', this variety has globe shaped flowerheads made up of tiny, rounded flowers, giving each an unusual knobbly appearance. When they first emerge, the unopened, tight blooms have a seductive pink tinge to them, reminiscent of a garlic seed head. It's only once they open fully, that they take on a more vivid, crisper look.
'The blooms are bright white and compact creating a likeness to a ping pong ball,' says plant expert, Katie Sunderlage. 'They are also one of the few varieties that will grow successfully in USDA hardiness zone 9,' she continues.
Plant these perennial bulbs 4-6inches deep and the same distance apart. Later flowering than most other alliums, they are ideal for planting in coastal, cottage and gravel gardens.
9. Allium giganteum
Height: 4ft
Position: Full sun
Flowering: June/July
Densely packed flowers with starry purple blooms all arranged in perfect spheres, these alliums cannot be missed. Perched atop of stems some 4 feet high they are amongst many garden designer's favorites for adding an architectural statement alongside paths or boundaries.
Katie Sunderlage says: 'By far our most popular variety, Allium giganteum has been a tried and true variety for years. This is one of the largest varieties available, offering height and texture to a spring and summer garden.'
10. Allium Blue
Height: 24in
Position: Full sun/part shade
Flowering: June
Also known as Allium azureum, this variety is a real head turner for humans as well as bees and butterflies. Possessing a gentle fragrance as well as spectacular good looks, they are well worth finding yard space for.
Dot them amongst perennials in a sunny border or flaunt them in a statement planter where they can be readily admired. Whichever you choose, be sure to incorporate plenty of free draining compost and plant at a depth three times the height of the bulb.
'There are not many true-blue flowering plants available, however, this allium is an exception', says Katie Sunderlage. 'This unique variety can reach up to 24in with 2-3in blooms and is known to flower for 3-4 weeks.'
Operations Manager at Holland Group, managing the customer service department and purchasing. Katie has been in the green industry since 2005 in the Greater Milwaukee area, earning her degree in Horticulture in 2008. She has been able to share her love for plants working in multiple garden centers, in sales positions and most recently in an online retail platform at Holland Group.
FAQs
Which allium flowers the longest?
No one allium variety blooms for longer than another. 'Each flowerhead is comprised of hundreds of individual blooms, so the show starts when the first start to bloom,' explains horticultural expert Peggy Anne Montgomery. 'In a week or so it's in full bloom and lasts for up to 3-4 weeks.'
The beauty of an allium doesn't fade with the petals, instead the remaining seedheads take on a skeletal elegance all of their own. They look particularly breathtaking when fringed with frost.
---
It's clear there are a multitude of spectacular allium varieties to choose from, which offer interest for many months of the year - from the moment they appear in bud to their dramatic seedheads in fall and winter. If you enjoy decorating with dried flowers, it could be well worth adding these elegant blooms to your cutting patch.
Sign up to the Homes & Gardens newsletter
Decor Ideas. Project Inspiration. Expert Advice. Delivered to your inbox.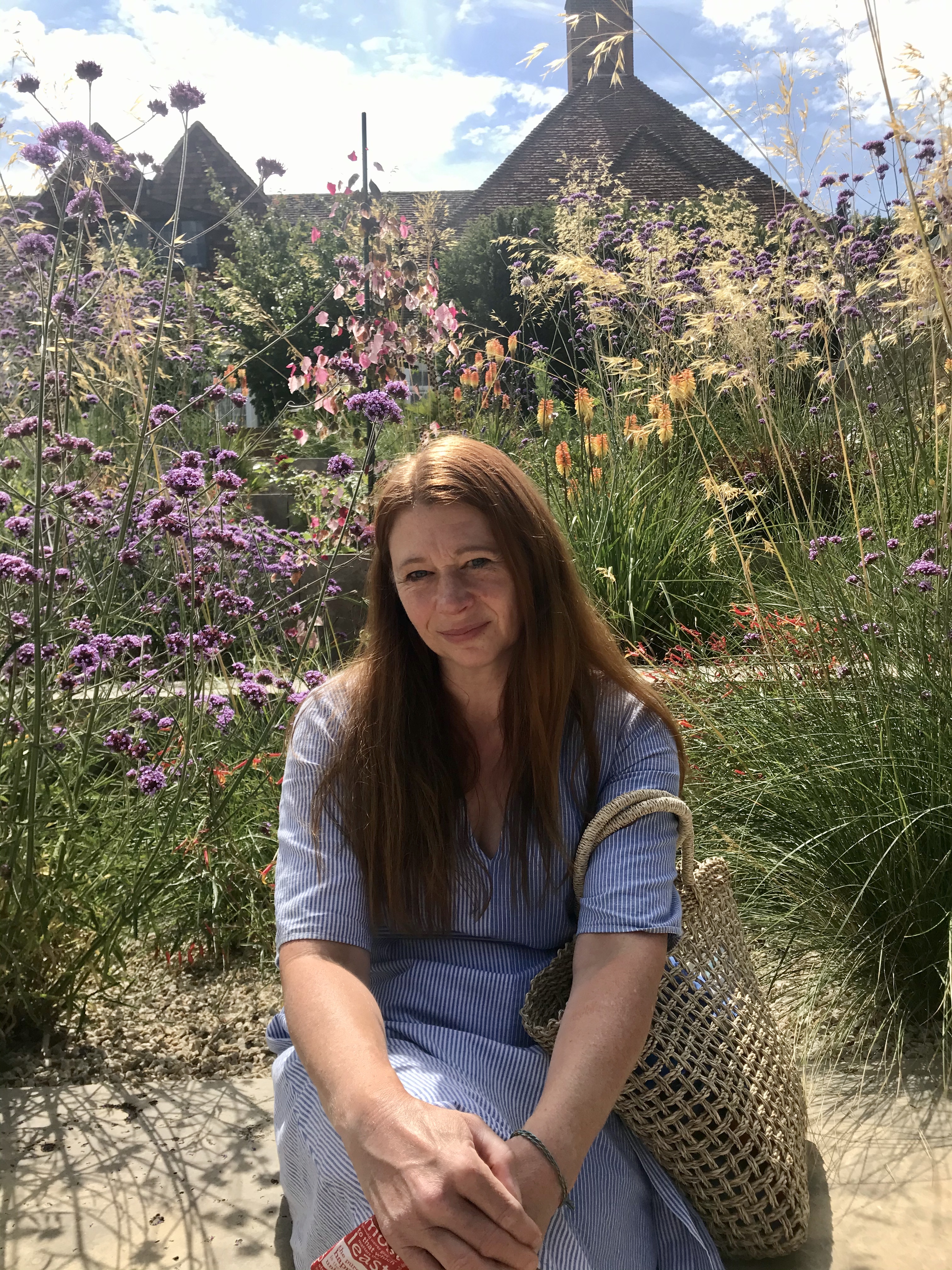 Jill Morgan has spent the last 20 years writing for Interior and Gardening magazines both in print and online. Titles she has been lucky enough to work on include House Beautiful, The English
Home, Ideal Home, Modern Gardens and Gardeningetc.com. Although much of her career has involved commissioning and writing about reader homes and home improvement projects, her
everlasting passion is for gardens and outdoor living, which is what she writes about for Homes & Gardens.