Perennial bulbs to plant in fall – 10 to pick to give you blooms from winter into summer
Early-to-mid fall is a great time to add a long list of bulbs to your garden that can give you color year-after-year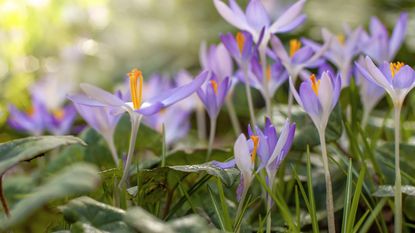 (Image credit: Getty Images/Jacky Parker Photography)
Sign up to the Homes & Gardens newsletter
Decor Ideas. Project Inspiration. Expert Advice. Delivered to your inbox.
Thank you for signing up to Homes & Gardens. You will receive a verification email shortly.
There was a problem. Please refresh the page and try again.
Perennial flowering bulbs are a great way to reliably have gorgeous blooms in your garden year-after-year. Lots of these bulbs can be planted in fall to give you flowers throughout spring and summer to enjoy.
Many of the most popular spring bulbs are perennial - though the likes of tulips and hyacinths are often treated as annuals - while there are also summer-flowering plants that can be planted in the fall and left to do their thing every year.
Planting bulbs in an easy and enjoyable way to add color and variety into a space and there is such a range out there. With good planning you can even have bulbs flowering in your garden from winter through to fall. We take a closer look at 10 fantastic perennial bulbs to plant in fall.
1. Allium
Planting time: October - November
Planting depth: 4-8 inches
Flowering time: May - July
Alliums are definitely worth considering as part of any plans to plant bulbs in fall. The time to plant allium bulbs is October and these stunning perennials can flower from the middle of May through to the end of June.
Alliums are hugely popular for their statuesque nature, capable of adding drama to flower beds and borders. They do come in a range of sizes, with shorter types available at around six inches in height to the tallest specimens capable of reaching over five feet. The flower heads themselves can reach over eight inches wide on the largest types and alliums come in shades of purple, pink, blue and white. Even the dried flower heads after the season is over can look really impressive in the border.
Alliums want to be planted in full sun and do not perform well on heavy soil or damp areas of the garden. The best soil type for alliums, whether they are growing in the ground or in containers, wants to be fertile and well-draining. Come the end of the season, just cut back the foliage and the spent flower head and the bulb will sit there dormant over winter ready to start growing again come next spring.
One of the most popular varieties is Alium 'Purple Sensation' and you can get these and many other alium bulbs from Dutch Grown.
2. Bluebell
Planting time: September - October
Planting depth: 4-6 inches
Flowering time: April - May
Bluebells are classic woodland plants that can thrive in shady areas of your backyard. They are typically seen planted in swathes to give a fantastic display of blue nodding blooms during the bluebells annual flowering period in April and May. Bluebells only grow to around one foot in height and can happily thrive in pots or containers. They are fantastic cottage garden plants and their flowers attract bees and butterflies.
Bluebells want moist and well-draining soil that is ideally mixed with lots of compost or leaf mold prior to planting. As woodland plants they do love dappled shade, so are ideal when thinking of plants for shade under trees. The spring bulbs may take a couple of years to reach their peak flowering and will self-sow and spread around the garden, though you can lift and divide clumps after they have finished flowering.
See Virginia bluebell bulbs at Nature Hills
3. Camassia
Planting time: September - December
Planting depth: 4-6 inches
Flowering time: April - June
Camassias put out spikes of star-shaped flowers in shades of blue, purple, or white in late spring and early summer. They come to the fore after many spring bulbs you plant in fall start to fade. Camassias are native to the US and have grown wild in the pacific northwest for centuries - their roots were once a staple food source. Hardy to US hardiness zones 4-8, camassias do want to be planted in full sun but are capable of thriving in heavy or moist soils that other bulbs may struggle in.
Camassias are popular bulbs for beds and borders as well as being used in areas of long grass or meadows. With varieties ranging from 12 inches to 3 feet in height, they can poke their blooms above grass or shorter plants and need little maintenance once planted. The plants will form clumps as they age, and you can divide plants if wanted, but they do not spread vigorously.
They are more than happy left in their spot to do their thing each year. It is key to always leave the plant to fully die back before cutting, as this ensures the bulb stores the most energy possible to grow again next year.
Shop camassia bulbs available at Burpee
4. Crocus
Planting time: September - November
Planting depth: 3-4 inches
Flowering time: February - March
Crocuses grow from corms rather than bulbs, but they are often classed as miniature bulbs to plant in fall and are grouped together with other spring bulbs. The crocus corms are barely an inch or two in diameter but contain the energy required to put out these delightful blooms. Crocuses come in a variety of colors that provide a bit of relief when they bloom in late winter and early spring - when often there is little color in the winter garden.
The time to plant crocus bulbs comes in fall, from September to November, as they do need a cold spell. Try to get the bulbs in the ground around 6-8 weeks before the first hard frost. Crocuses can be forced into an even earlier flowering, you can force bulbs by bringing them indoors after sprouting to bloom sooner.
Crocuses like well-draining soil and a sunny spot. They work well at the front of beds, though are often seen in grass or as part of spring planter ideas. They look great when planted in clusters and can be crammed in together when grown in pots or containers.
See the range of crocus bulbs available at Dutch Grown.
5. Crown imperial fritillary
Planting time: September - October
Planting depth: 1 foot
Flowering time: April - May
Crown imperial fritillaries are large statuesque plants that grow up to three feet tall with bell-shaped flowers in late spring and early summer. These large bulbs grow best in well-draining soil and like to sit on a bed of gravel to further improve the drainage. The bulbs need to be planted immediately upon arrival so that they don't dry out and the bulb should be planted on an angle so water cannot sit on top and cause rotting.
Put crown imperials in a sunny spot in the ground or in pots and it will put out a bumper stem and head, before going dormant and dying back. Simply cut back the spent stem to ground level and cover the bulbs with a good layer of mulching materials to overwinter.
Crown Imperials come in red and yellow forms, such as 'Imperial Red' and 'Imperial Yellow' which are both available at Dutch Grown.
6. Daffodil
Planting time: September - November
Planting depth: 4-6 inches
Flowering time: February - May
Daffodils are one of the most eagerly-awaited spring blooms and there are thought to be hundreds of different species and potentially thousands of cultivars. Their bright blooms are a sight to behold after the end of winter and there are types of daffodils to provide color all spring long.
There are early, mid, and late-season daffodils that can start flowering in February and run all the way through May. Ranging in height from a mere couple of inches to close to 18 inches, and coming in different colors and styles, it means there are daffodils for any backyard ideas.
The time to plant daffodil bulbs runs from September through to November and they want to be planted in full sun and moist yet well-draining soil. They will flower spectacularly year-after-year with little fuss. Simply deadhead flowers after blooming but leave the foliage to put energy back into the bulb before you cut back daffodils in summer.
See the range of daffodil bulbs available at Nature Hills
7. Grape hyacinth
Planting time: September - November
Planting depth: 3-4 inches
Flowering time: April - May
Grape hyacinth, also commonly called Muscari, are planted in fall for delightful mid-spring blooms that come in colors including blue, pink, yellow, or white. Only around 8 inches tall, muscari are very versatile bulbs that can work in a border, winter container, or popping through a lawn. There are lots of different varieties available that can be used to extend the season.
The plants can prosper in either sun or shade and are winter hardy in zones 4-9. Muscari are best planted in groups for full effect and, over time, they will naturalise to create a carpet of color. Muscari are capable of spreading quickly so, if you want to limit their spread, then cut back spent flowers to prevent re-seeding. Established clumps can be lifted and divided to be moved around the garden.
See the range of muscari bulbs available at Dutch Grown
8. Irises
Planting time: September - October
Planting depth: 6 inches
Flowering time: February - June
Irises can be confusing as they come in both bulb forms and rhizome types. Larger irises and bearded iris varieties grow from rhizomes, while smaller irises are grown from bulbs. These types of irises work well in rock gardens or borders.
The best time to plant iris bulbs is in early fall and these can provide very early blooms. There are hundreds of different types of irises that can bloom from mid-winter all the way through to early summer.
Irises want to grow in a sunny and sheltered position and are often planted in large numbers. Dwarf iris varieties, such as Iris reticulata, are particularly popular being grown under trees or in container gardens. You can see dwarf Iris reticulata bulbs available at Dutch Grown.
There is little maintenance required for these perennial plants. Deadheading irises is optional and irises are cut back at the end of the season once the foliage naturally dries off.
9. Lilies
Planting time: Late fall onwards
Planting depth: 8 inches
Flowering time: June - July
Lilies put on a fantastic summer display with their large and fragrant flowers. Often trumpet-shaped, these blooms come in a plethora of colors and sit on the top of tall stems. The most popular types to grow are Oriental and Asiatic lilies, which can both be planted in late fall, winter, or spring.
These perennial bulbs need deep holes of around eight inches, and the bulbs need at least five inches of soil on top of them. When you plant lily bulbs you plant them deep as it helps stabilize the tall-growing plant and means you may not have to stake your lilies. The plants like full sun and fertile, moist, and free-draining soil. If you do have heavy soil, then you can still grow lilies as they can happily prosper in containers.
Taller varieties of lilies may need staking and fertilizing, while deadheading is recommended to ensure a top display of flowers. Lilies are cold hardy in zones 4-9 so stems can be cut back for winter and the bulb will be fine throughout the colder months.
Shop lily bulbs at Nature Hills
10. Snowdrop
Planting time: October - November
Planting depth: 3-4 inches
Flowering time: January - April
Snowdrops are one of the first flowers to pop their heads above the ground in late winter and are associated to many people as the first signs of spring on the way. There are many different snowdrops to grow and they can flower from January all the way through to April. If you are after winter plants for pots and borders, then snowdrops should be near the top of the list.
There are lots of different types of snowdrops and you plant snowdrop bulbs in fall for them to flower in winter and spring. Bulbs are available in fall though can be tricky to establish, and it is especially important to avoid the bulbs drying out before planting them.
These winter flowers are woodland plants that like dappled shade under deciduous trees or shrubs, and are commonly planted in drifts that can clump together over time. Existing clumps of snowdrops can be lifted and divided just after flowering to be replanted around the garden.
See snowdrop varieties available at Dutch Grown
FAQs
Do you water bulbs after planting in fall?
If the soil is moist when you plant the bulbs, then there is no need to water them in after planting. If the ground is dry, then give the bulbs a good watering to moisten the soil and then they are not likely to need additional watering again during fall or winter. The bulbs will likely get lots of water over the coming months and would only need additional watering if the soil dries out.
---
If you are thinking about what to plant in September and October, then perennial bulbs must be seriously considered. The range of options available means there are plants for any backyard space and the time required for planting bulbs is well worth it when it means many years of blooms to come.
Sign up to the Homes & Gardens newsletter
Decor Ideas. Project Inspiration. Expert Advice. Delivered to your inbox.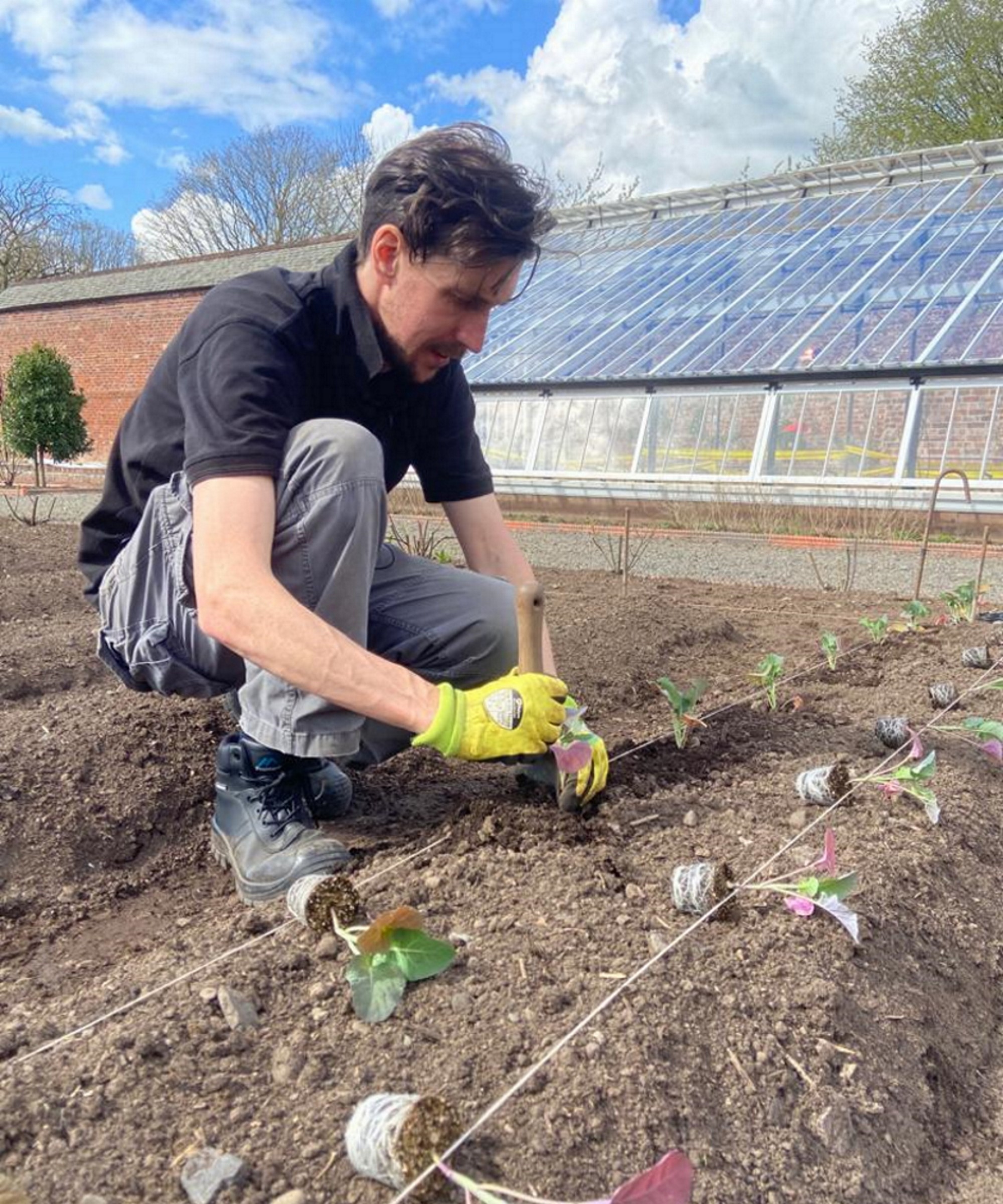 Drew's passion for gardening started with growing vegetables and salad in raised beds in a small urban terrace garden. He has gone on to work as a professional gardener in historic gardens across the UK and also specialise as a kitchen gardener growing vegetables, fruit, herbs, and cut flowers. That passion for growing extends to being an allotmenteer, garden blogger, and producing how-to gardening guides for websites.