Bearded iris varieties – make a statement with these 12 ruffled beauties
Discover a host of frilly blooms in a medley of shades with these pretty types of bearded iris for beds and borders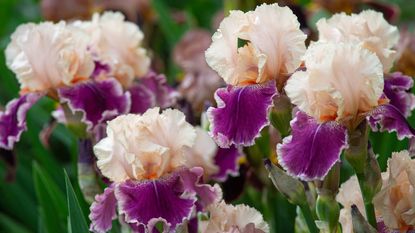 (Image credit: Olexandr Panchenko / Shutterstock)
Sign up to the Homes & Gardens newsletter
Decor Ideas. Project Inspiration. Expert Advice. Delivered to your inbox.
Thank you for signing up to Homes & Gardens. You will receive a verification email shortly.
There was a problem. Please refresh the page and try again.
When choosing from the wide range of bearded iris varieties out there, the breadth is staggering. Bearded irises, both tall and tiny, are amongst those plants for which a rainbow of colors really is a reality. Not only can you grow irises in every shade, but some also come with two or three rainbow hues in the same flower. From brightest lilacs, whites and cool blues through soft pastel pinks and rusty corals to deepest violets and almost-blacks, the choice can be bewildering. The concentrated bursts of early-mid summer flowering make for brilliant plant selections.
Because there are so many types of bearded iris, they are divided up into six groups, according to height and size of flowers. These start with tall bearded, reaching over 30in tall, down to standard dwarf bearded at 8-16in and miniature dwarf bearded at less than 8in. Bearded irises get their name from the fluffy orange or yellow hairs in the throat of the flower. Each flower has its own distinctive mix of colors, but all have three central upright petals known as standards, plus three petals that droop down or are held out sideways, called falls, with the 'beards' at the base of each fall.
Bearded irises are well suited to all sunny, well-drained spots and have exceptional hardiness, to USDA Z3. These hardy perennials are also now highly regarded for their fragrance, as more introductions accentuate their scent. Not to mention their upright, sword-like leaves, which look good with feathery or broad foliage, both before and after flowering.
12 bearded iris varieties for beds and borders
As the experts at Oregon's Schreiner's Iris Gardens are quick to point out, no other perennial offers such a wide range of color as the bearded iris. If you are looking for varieties with the most impressive ruffles, try 'Edith Wolford', 'Silverado' or 'Stepping Out' from our selection list below. For reblooming potential, go for 'Beverly Sills' or 'Flirting Again'. For vigor, select 'Flirting Again' or 'Stairway to Heaven'. And for intoxicating fragrance, 'Beverly Sills', 'Edith Wolford', 'Orange Harvest', 'Silverado' and ''Thornbird' are all sublime options.
If you want to plant iris bulbs or rhizomes, you can shop for several of the best bearded irises at a dedicated bearded iris retailer such as Schreiner's, as well as select mainstream gardening outlets outline:
1. Bearded Iris 'Ambroisie'
Type: Tall bearded iris
Height: 33in
Good for: Cut flowers
'Ambroisie' is one of the tallest bearded iris varieties you can grow. It is perfect for a cottage garden border and also a cut flower garden, as it offers a long vase life. It is one of the prettiest 'classic' types of bearded iris with lightly scented, raspberry pink standards. Furthermore, its falls have a touch of mulberry and are neatly frilled at the edges.
2. Bearded Iris 'Beverly Sills'
Type: Tall bearded iris
Height: 34in
Good for: Bronze/peach displays
Prolific, large and fragrant, 'Beverly Sills' (available at Burpee) is another of the best bearded irises if you are after a tall bloomer for your beds and borders. It has wonderfully ruffled coral pink standards and two-tone coral pink falls, complete with an orange beard. It is a good choice for drought-tolerant planting and offers a long flowering season. Will work especially well in front of bronze-leaved ninebark such as Diabolo ('Monlo').
3. Bearded Iris 'Edith Wolford'
Type: Tall bearded iris
Height: 40in
Good for: Pastel garden themes, silver foliage
For a striking color contrast, 'Edith Wolford' is one of the most dramatic bearded iris varieties. That said, it would work well in a classic themed border, flanking softer blooms in a rose garden, or framing a bed in a cottage garden. This tall bearded iris has large, frilly, fragrant flowers. It's a winning harmonious combination of lemony standards with hints of lavender, plus lavender falls with orange beards. It would work well in front of silver foliage.
4. Bearded Iris 'Eyebright'
Type: Standard dwarf bearded
Height: 12in
Good for: Fronts of borders
If you are after more compact (yet no less impactful) types of bearded iris, 'Eyebright' is a true spectacle. This award-winning standard dwarf variety would work especially well in a sunny courtyard or at the front of a low-maintenance garden border with heucheras. Both the incurved standards and the horizontal falls are buttercup yellow, while the falls have bold crimson whiskers and a golden orange beard.
5. Bearded Iris 'Flirting Again'
Type: Standard dwarf bearded
Height: 12in
Good for: Dramatic color themes
Another exquisite color combination distinguishes this standard dwarf bearded iris. 'Flirting Again' is one of the most intense and unexpected color matches in one upward-facing flower. For those after compact and dramatic varieties for cottage garden displays and informal arrangements, this award-winning bloomer is ideal for beds and borders. The standards are violet blue, while the red falls with their rusty overtones carry a white beard.
6. Bearded Iris 'Ghost Train'
Type: Tall bearded iris
Height: 36in
Good for: Bold border displays
For sheer intensity, 'Ghost Train' is one of the best bearded irises you can try if you are after something a little unusual. Dark and sultry flowers feature broad, deep purple standards and almost-black falls, all carried on tall, well-branched stems.
This striking iris is sure to stand out in a flower bed, whether you opt for a complementing palette or contrasting planting partners such as 'Orange Harvest'.
7. Bearded Iris 'Orange Harvest'
Type: Tall bearded iris
Height: 32in
Good for: Planting with poppies
Soft, rich and delicate, 'Orange Harvest' is impressively gentle in tone. This is one of several tall types of bearded iris that would look lovely in perennial borders.
It would also work well interplanted with scarlet Oriental poppies, thanks to its slightly ruffled blooms. Orange flowers open from red buds and the falls feature a flash of a fiery orange beard. Blooms are lightly scented, flowering from late spring into summer.
8. Bearded Iris 'Silverado'
Type: Tall bearded iris
Height: 38in
Good for: Cool floral themes
'Silverado' is one of the most translucent bearded iris varieties you can grow. Statuesque and elegant, this tall variety has pale lavender (almost ice blue) flowers which are heavily ruffled and scented, and feature yellow beards on the falls. Especially striking as part of a white garden theme, this frothy mid-season bloomer with its strong stems and cool hues will work in a variety of blue, white and silver plantings.
9. Bearded Iris 'Stairway to Heaven'
Type: Tall bearded iris
Height: 40in
Good for: Blue and white displays
Another mellow two-tone showstopper, 'Stairway to Heaven' works well in patio planting schemes, courtyards and cottage garden borders. Like all the best bearded irises, it has strong stems that carry large, elegantly ruffled blooms. Flowers have blue-tinted or creamy white standards and blue falls with a hint of lavender.
This early-mid season variety makes a good cut flower and looks lovely with blue and white columbines.
10. Bearded Iris 'Stepping Out'
Type: Tall bearded iris
Height: 40in
Good for: Dramatic displays
For those after intense and dramatic garden color schemes, 'Stepping Out' (available at Nature Hills) is one of the most vivid types of bearded iris you can grow.
This award-winning tall variety has large, ruffled, violet-blue standards, folded inwards and hazed in white. The ruffled falls are pure white and broadly edged in violet-blue, making a dashing contrast. With two-tone beards and four way branching, this mid-season breed is a real beauty.
11. Bearded Iris 'Thornbird'
Type: Tall bearded iris
Height: 38in
Good for: Subtle border themes
'Thornbird' is not only one of the best tall bearded iris varieties but it is one of the best perennials for adding height to the backs of borders, and one of the most versatile for mixed color schemes.
Flowers feature an unusual combination of creamy standards and darker falls with radiating purple veins with yellow accents. Along with its intriguing color, this drought-tolerant mid-season iris is also very sweetly scented.
12. Bearded Iris 'Titan's Glory'
Type: Tall bearded iris
Height: 38in
Good for: Wind-resistant planting
This tall bearded iris has strong, wind-resistant stems, making it ideal for adding height and drama to beds and borders. And if you love purple plants, you'll love the rich jewel-like tones of 'Titan's Glory'.
Its large, almost velvety violet flowers have ruffled standards, less strongly ruffled falls and vivid, deep blue beards.
Why does my bearded iris have no flowers?
According to the American Iris Society or AIS, irises are amongst the easiest of perennials to grow, and give an abundance of beauty with minimum care. However, while healthy plants are capable of flowering prolifically over a long season, they do rely on a few growing essentials. Crucially, most bearded iris varieties only flower well in full sun, which promotes the most prolific flowering. So if the site has become shaded, flowering will decline. If you sense trouble, cut back tree or shrub branches to improve the light, or move your irises to a sunny place.
Overcrowding can cause flowering to drop off as clumps get congested. The answer is lifting, diving, improving soil and replanting. Also, don't allow fallen leaves and other debris to gather amongst leaves. Bearded irises grow from fat, soil-level roots (rhizomes) which must be left exposed to the sun. Remove anything covering these rhizomes for full exposure to sunshine as they develop. While mulching is good for other perennials, you don't mulch bearded irises – again, this is so rhizomes are exposed to the sun. Feeding bearded irises after flowering also helps build the rhizomes for flowering the following year. A homemade plant fertilizer is ideal, or you can use your favorite general-purpose feed.
Why do bearded irises need replanting in summer?
The best bearded irises rely on replanting in order to produce vibrant blooms year after year. Being able to split irises and divide plants enables you to maintain health and guarantee longevity. However, you may wonder why you have to replant bearded irises in summer, and not in spring or autumn, as with other perennials. It's all to do with the roots. Bearded irises remain dormant in fall, winter and spring, but send out new roots in summer, usually from about a month after flowering.
When the rhizomes are dug up, it's inevitable that some roots are broken off. If this happens in spring, plants produce few new roots to support summer flowering and fail to settle quickly into their new sites. If you divide and replant in the fall, the rhizomes do not start to grow strongly until the following year. The trick is to dig them up and replant rhizomes as new roots are starting to grow. This way, they settle in quickly and build up strength to flower well the following year. Don't forget to lift, divide and replant plants every three-four years, a month after flowering.
Are all bearded irises varieties deer-resistant?
Most bearded iris varieties are not 100% deer resistant. However, they are amongst the most deer-resistant plants you can grow, according to the New Jersey Agricultural Experiment Station or NJAES at Rutgers University. Rutgers has researched deer resistance extensively, and after thorough investigation it has given bearded irises a rating of 'Rarely Damaged'. This is the most resistant of the four categories and applies to most types of bearded iris. So while bearded irises may be browsed when there is nothing else for deer to eat, this rarely happens.
---
If you are planning a cut flower garden and are cutting bearded irises, the good news is that there are ways to make your blooms last longer in a vase. First, cut your iris stems early in the day, when the buds are just opening. Hold each stem under water, then cut again at an angle about an inch from the base. Be sure to add flower food to the water, too.
Give the stems the deepest water possible, but remove any leaves that will be standing in water. Regardless of which bearded iris varieties you choose, snip off faded flowers as they start to deteriorate and then buds should continue to open. Change the water every day or two.
Sign up to the Homes & Gardens newsletter
Decor Ideas. Project Inspiration. Expert Advice. Delivered to your inbox.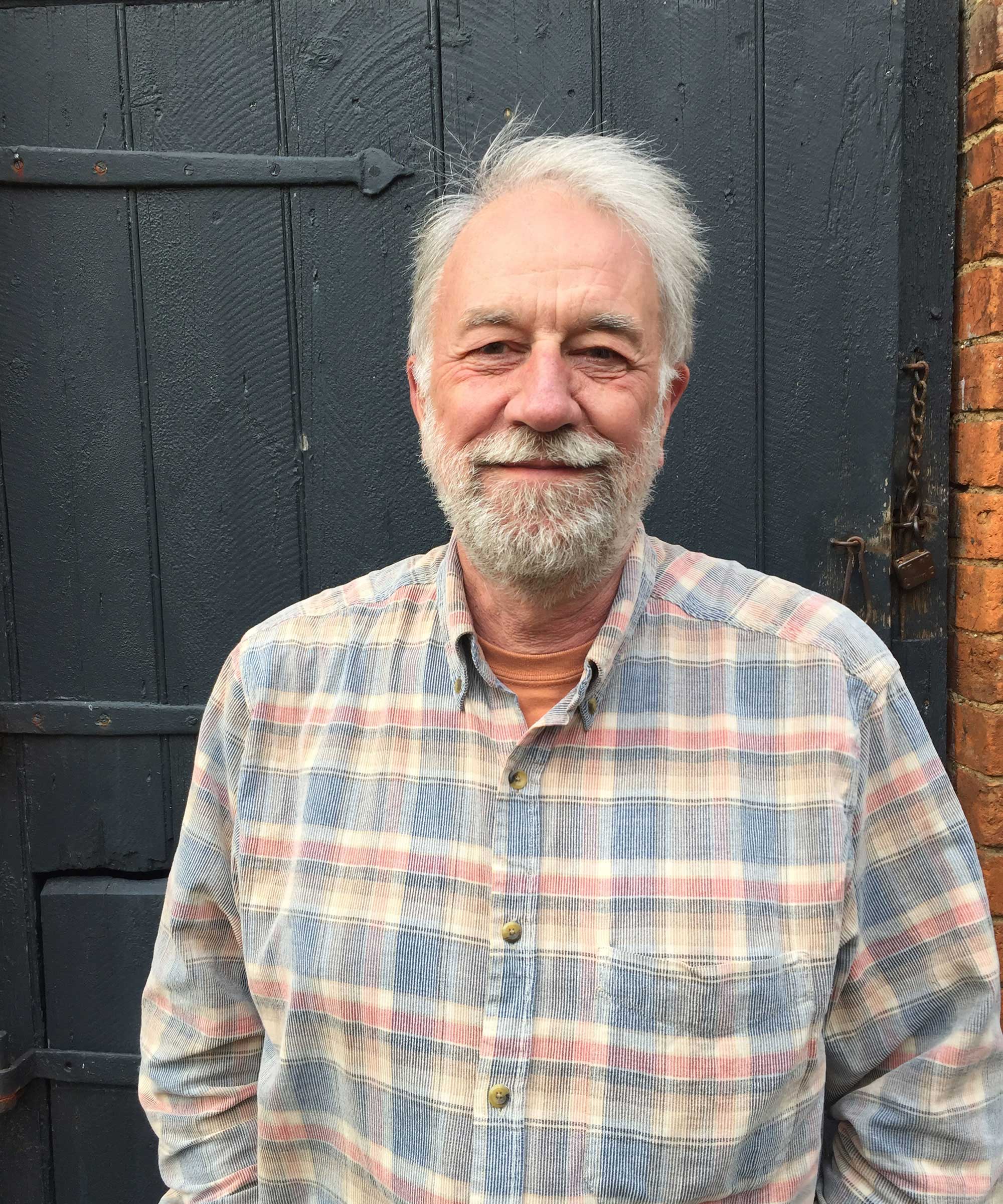 Graham Rice is a garden writer who has won awards for his work online, and in books and magazines, on both sides of the Atlantic. He is a member of a number of Royal Horticultural Society committees and the recipient of the 2021 Garden Media Guild Lifetime Achievement Award. He gardened in Pennsylvania for 20 years, but has recently returned to his native England.