Spring flowers for pots – 10 pretty options for seasonal containers
Bring your spring pots to life with these colorful planting choices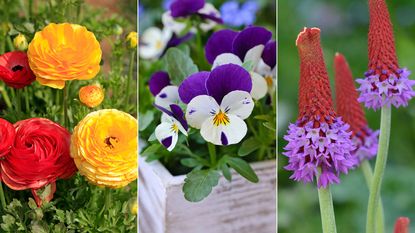 (Image credit: Alamy)
You can have a lot of fun with spring containers as there are so many plants to choose from to take your displays right through the season to the first breath of summer. Combine your favourite bulbs with perennials and biennials to create a mini-woodland or spring meadow in a container. Use classic terracotta pots in varying sizes, or recycled boxes and tins mixed together for a vintage style. And go for bright, jewel like mixed color schemes, or all one color.
Do the same homework as you would do planting borders, matching your soil and light levels to what the plants will thrive in. Many early spring-flowering plants can be shy of strong sunlight, or will not last as long, so use these bright and colorful plants to decorate and light up shadier steps, corners and pathways.
Ideally, it's great to plan ahead with fall-planted spring bulbs such as tulips and daffodils growing up through wallflowers or forget-me-nots. However, you can still plant up a spring pot once the season is under way as many garden centers will be selling all these plants ready grown and perfect for adding to or refreshing seasonal containers.
An expert gardener, Camilla has designed planting schemes for gardens large and small in the UK, as well as working on TV gardening shows for the BBC. She has also written an extensive range of features on plants and how to grow them, and is a regular contributor to Amateur Gardening magazine. She loves how effective colorful spring pots are for introducing splashes of interest to a patio, deck or front porch.
10 eye-catching spring flowers for pots
Vibrant spring planter ideas are an easy way to lift your backyard, with a few well designed pots bringing color and interest to a patio, deck or even a front porch.
Include these spring flowers for pots in your designs and you'll get to enjoy pretty blooms throughout the season.
1. Erysimum/wallflowers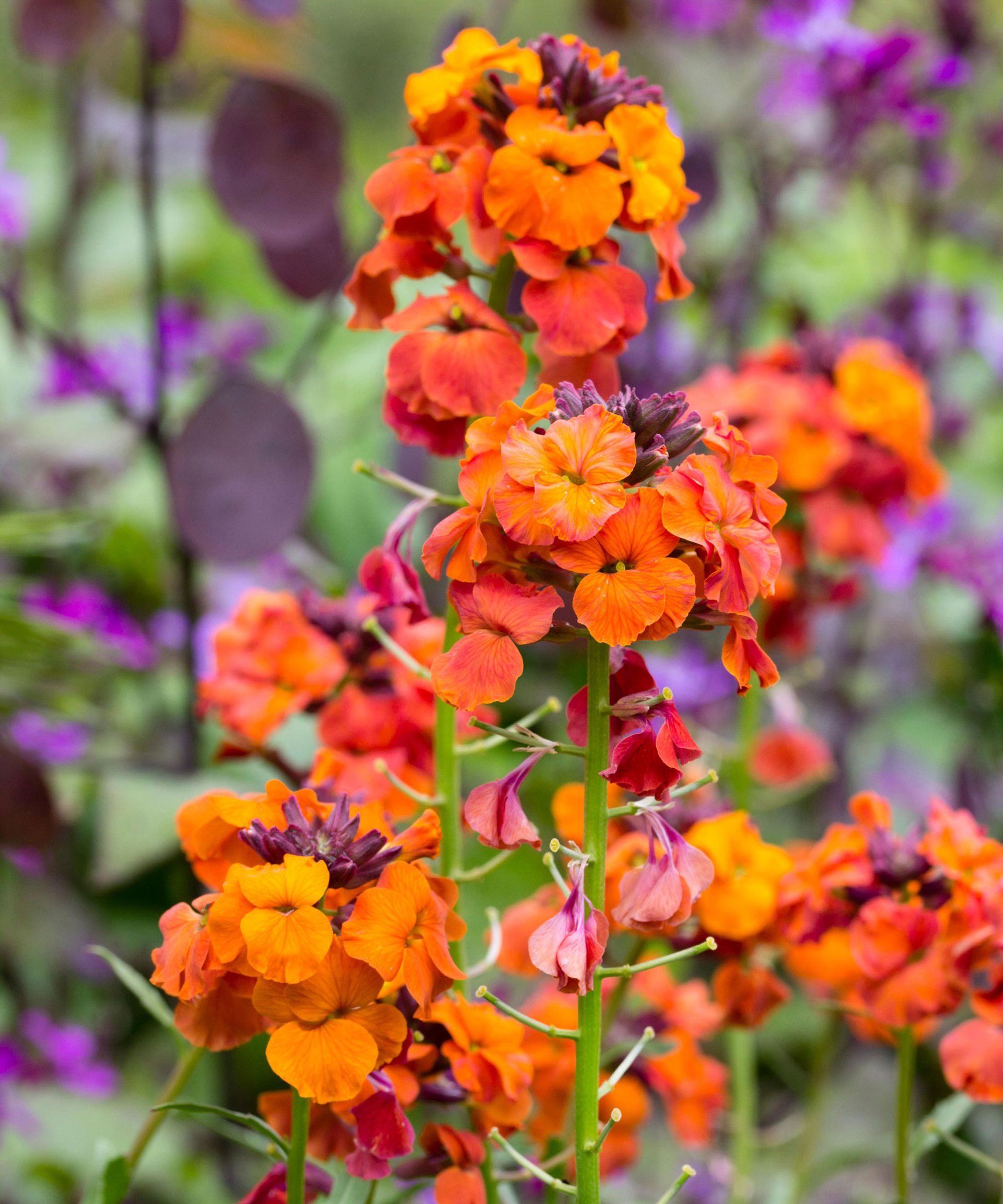 Best for: Combining with tulips in larger containers
Height: 16in
Spread: 14in
Hardiness: USDA 6-9
The humble wallflower is a lot more glamorous than its name suggests. With brightly colored, pretty flowers, often scented, they will keep the blooms coming from the early days of your spring garden through to summer.
They look great planted with tulips, providing early interest as the bulbs grow through. Team zingy varieties like 'Apricot Twist', 'Winter Orchid' or 'Red Jep' with classic tulips such as 'Orange Princess' and 'Queen of Night' for a bold and bright statement.
2. Viola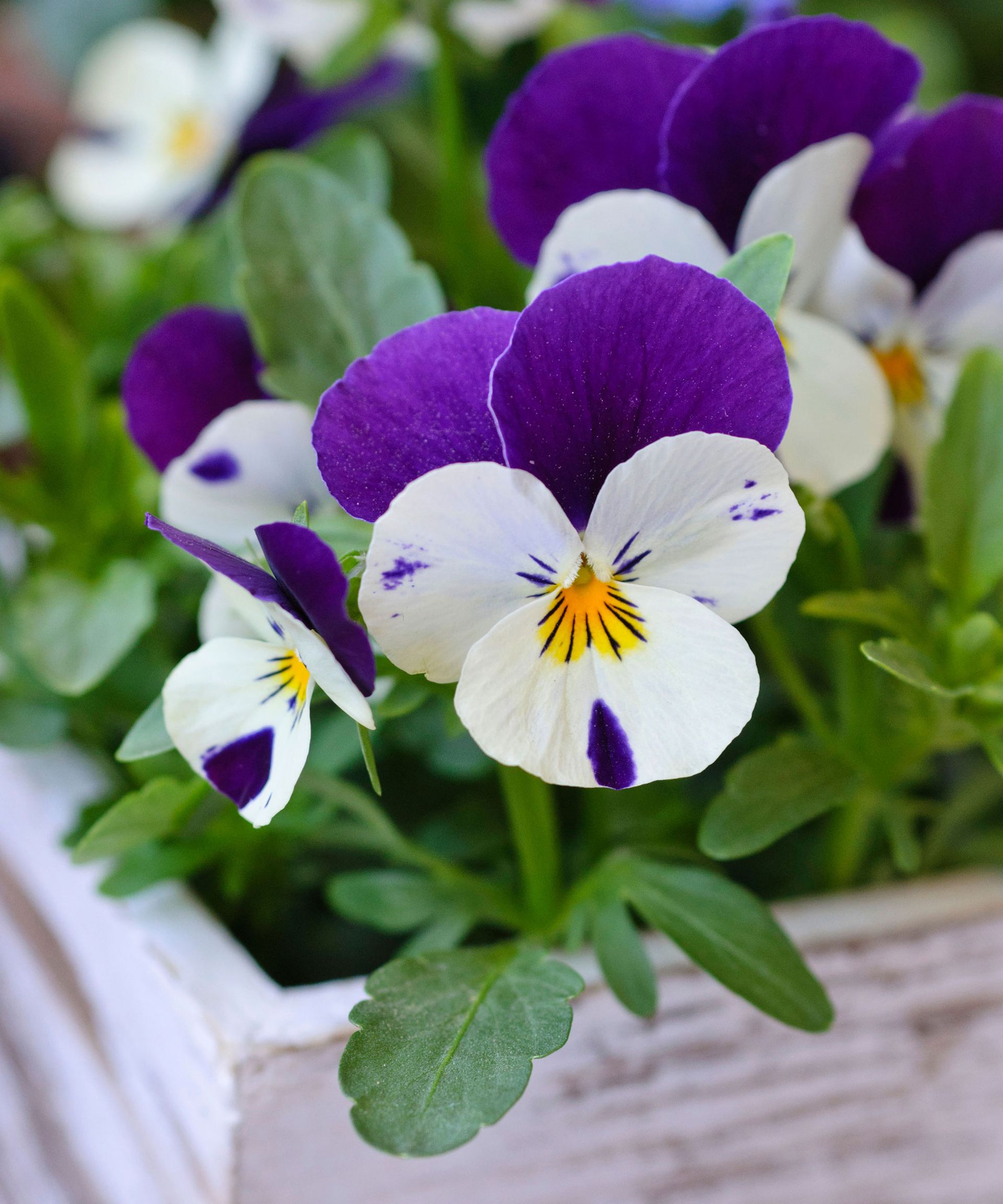 Best for: Single-colour planting in small pots or window boxes
Height: 6-12in
Spread: 6-12in
Hardiness: USDA 5-9
The pansy is a great flower to take your spring container gardening ideas through the winter-spring period though it can be a little blousy for some. Choose Viola cultivars with a single or bi-color palette for intense pops of color and rich velvety textures planted in small pots.
Group outdoor planters together as table-top decorations, or on a step by your front porch. These are temperate plants, so look for varieties that have been bred to suit your local climate – use for shadier corners and keep containers well-watered.
There are many color variations to choose from. Recommendations from White Flower Farm include the purple and yellow 'Halo Violet', or dark maroon Viola cornuta 'Rubin' or the scented purple and white marbled 'Columbine'.
Violas are also available to buy from Walmart.
3. Bellis perennis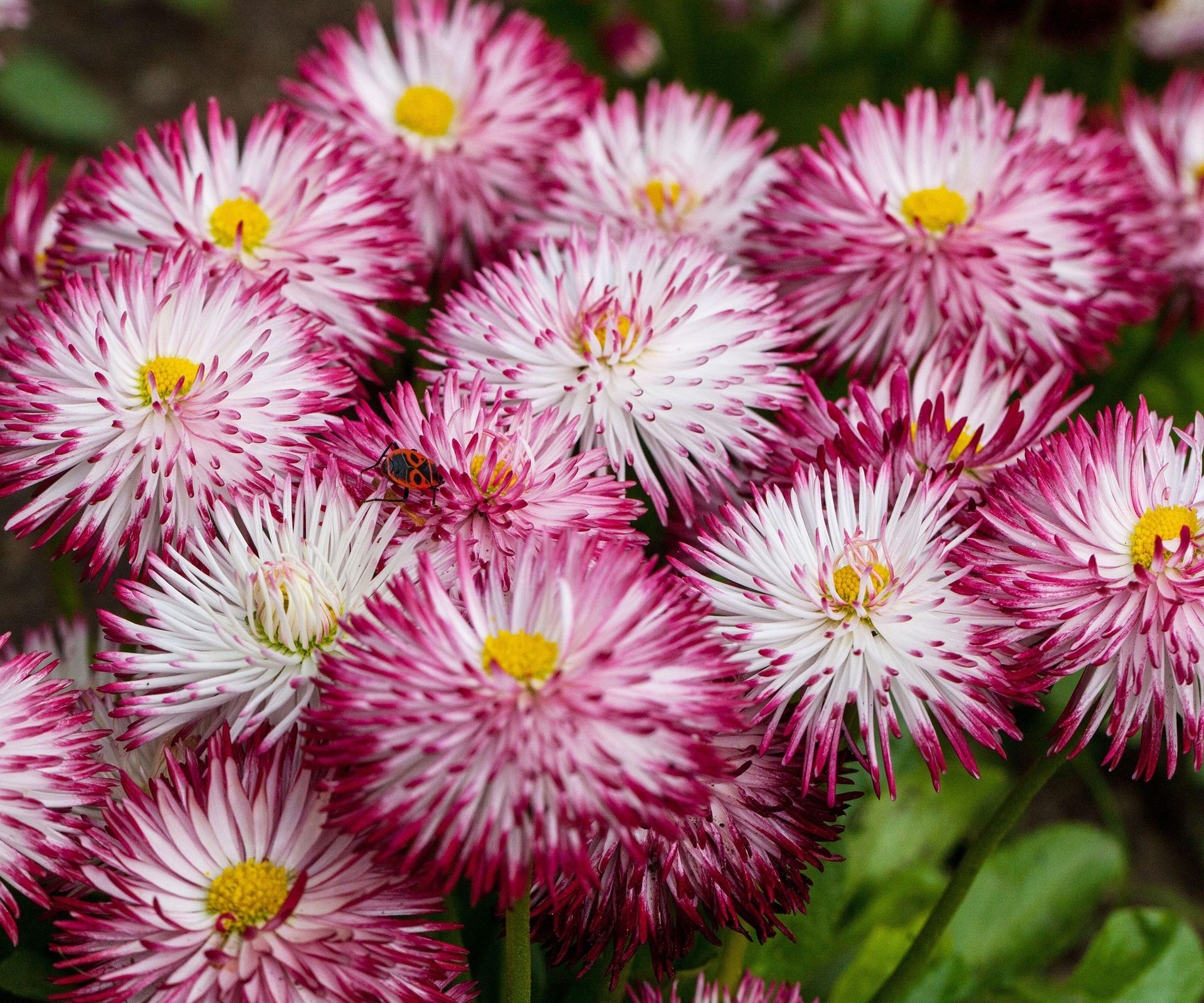 Best for: Sun or part shade
Height: 6in
Spread: 8in
Hardiness: USDA 4-8
The cheery pink and white pompom flowers of the English daisy make a good companion in all sizes of spring containers from window boxes upwards.
Nature Hills nursery recommends the Bellisima™ cultivar as being 'very cold hardy throughout USDA zones 4-8 and highly adaptable. A perennial or biennial in warmer climates and annual in cold winters, English Daisy are fantastic for fast, easy color in pots and planters.' These daisies will flower merrily all spring and deadheading will encourage a later flush in summer too.
4. Primula auricula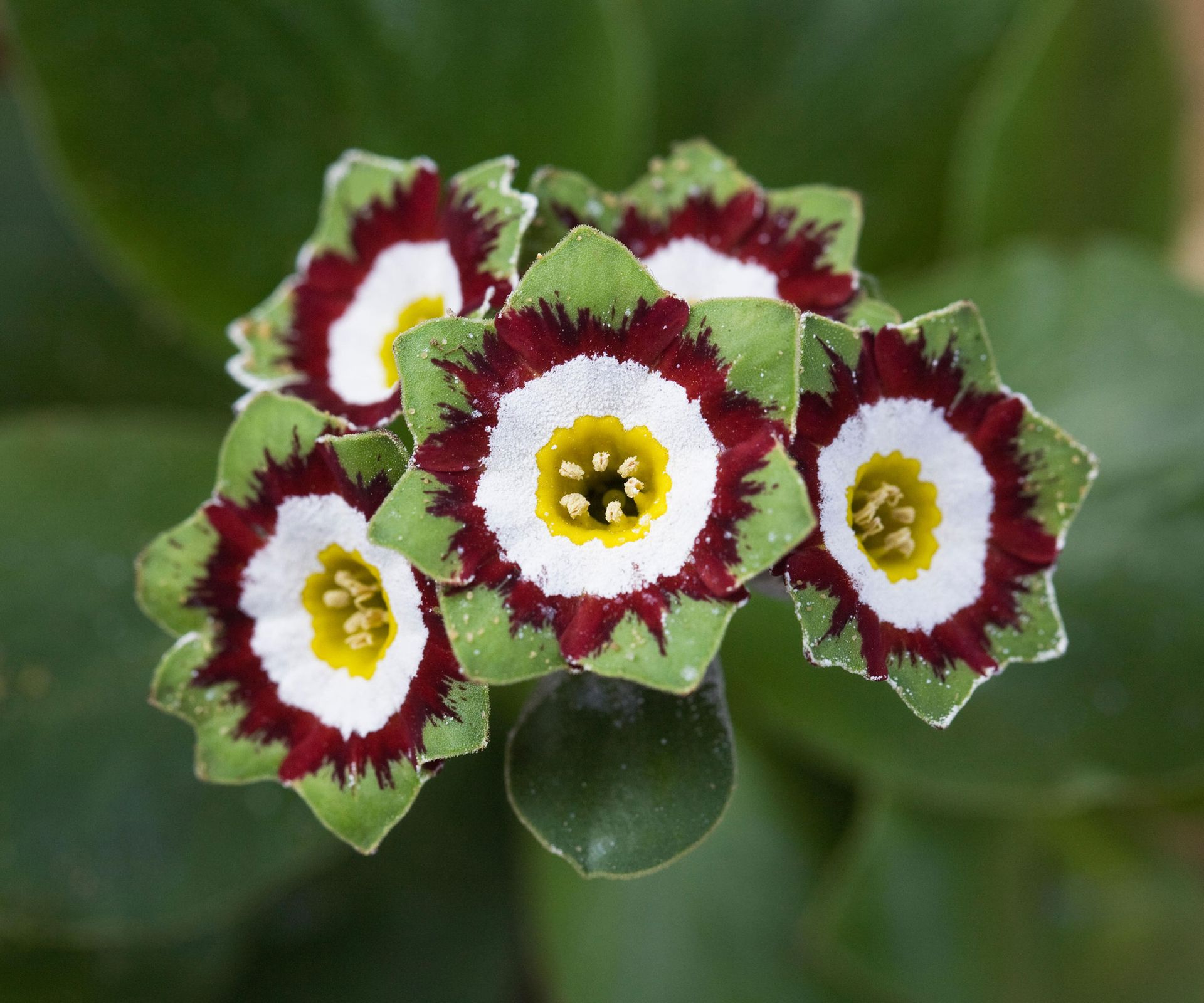 Best for: Plant collectors
Height: 8in
Spread: 8in
Hardiness: UDSA 3-8
If you're looking for more unusual spring flowers for pots, these are quite specialist plants and one for the fanatic. They work best in containers, planted solo, but displayed as a collection to show off the diversity of ornate flower types. In traditional horticulture, this would be referred to as an auricula theatre, but a shelf or window ledge would also work.
Flowering in mid to late spring, they suit small, traditional terracotta pots and need to be planted in gritty, well-drained compost to mimic the alpine conditions they would be found in. There are hundreds of cultivars to choose from with varying degrees of ornamentation. Here, 'Lady Emma Monson' is typically ornate, with the flowers displaying four colors.
5. Anemone blanda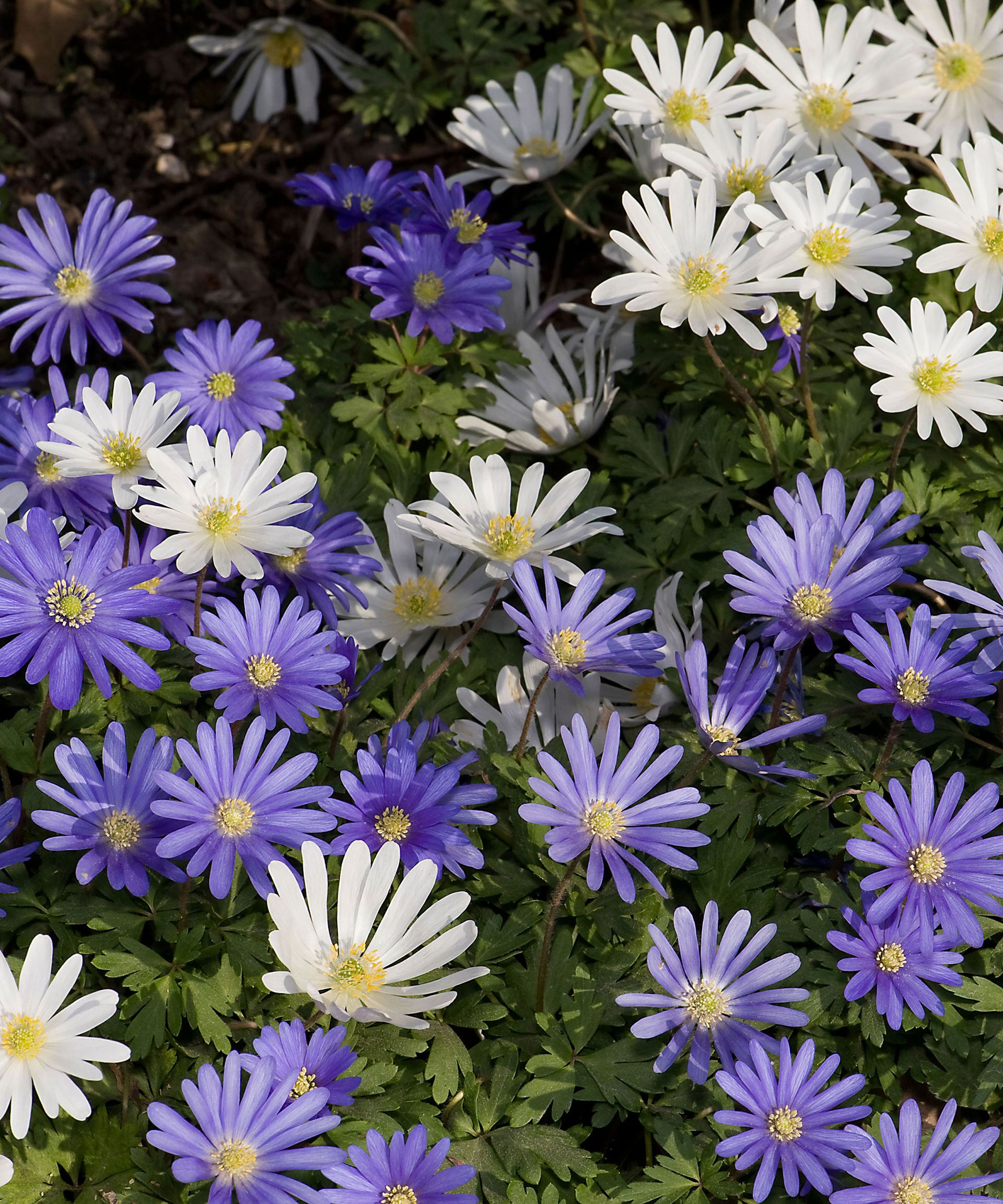 Best for: Larger containers
Height: 5in
Spread: 4in
Hardiness: USDA 5-8
Start these spreading woodland plants from corms in a large container, perhaps underplanting a shrub or small tree such as Amelanchier lamarckii, where they will spill over the sides.
Later on you can divide and spread these shade-loving plants through shady borders to naturalize and repeat. The emerging foliage, deeply cut and feathery is lovely enough in its own right and the sunny daisy flowers that appear from mid spring to early summer are really joyful, whether you choose white, purple or blue or a blanda anemone mix as sold by Nature Hills.
6. Fritillaria imperialis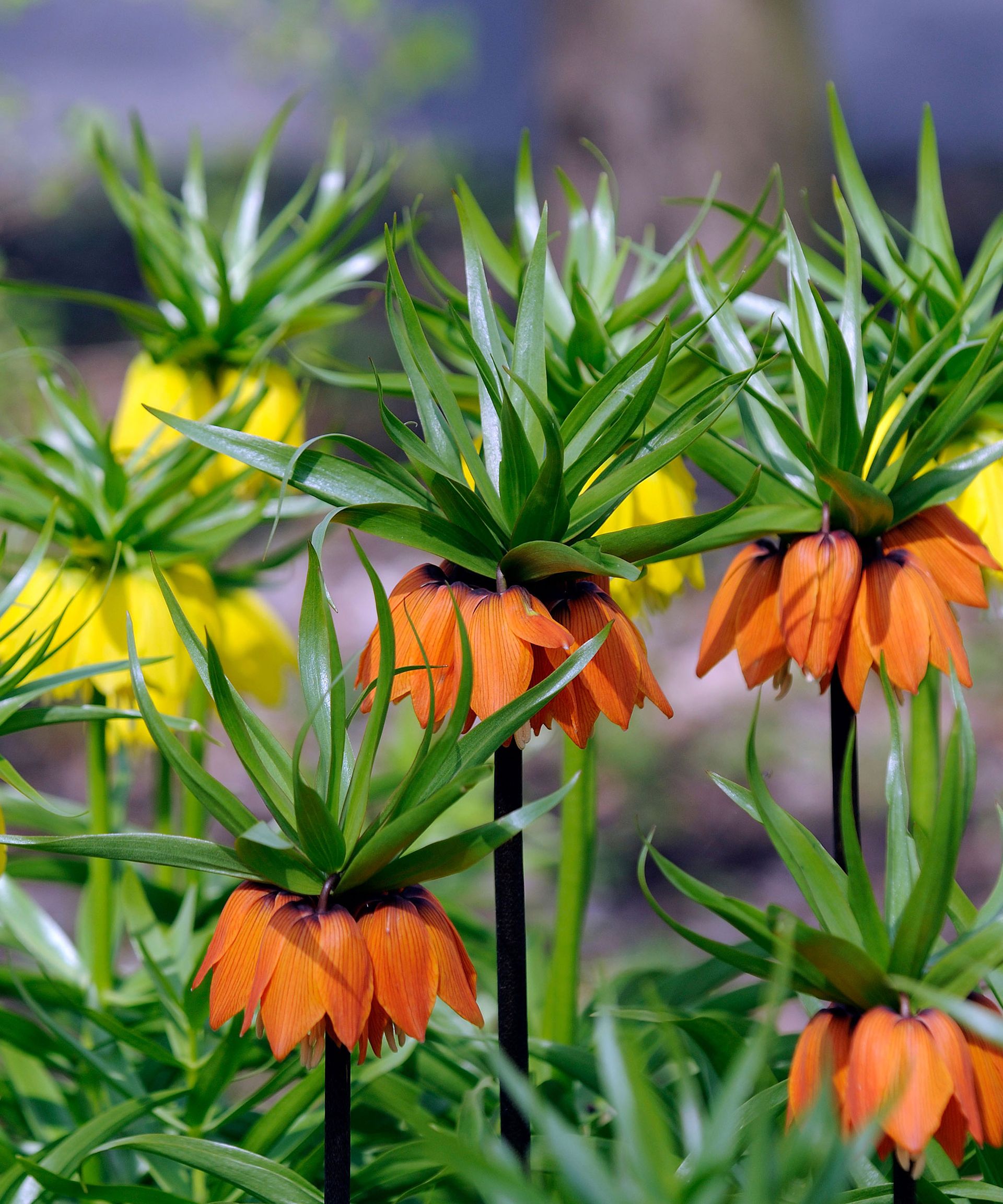 Best for: Small to large containers in sun
Height: 24-36in
Spread: 12in
Hardiness: USDA 5-8
Fritillaries come in a wide range of shapes and sizes. Great spring flowers for pots, whether it's a small cluster of shy Fritillaria meleagris in a terracotta pot, topped with moss; or the far grander Asian F. imperialis as a showy spring centerpiece in a large container.
Underplant hot coloured F. imperialis 'Lutea' or 'Rubra Maxima' with contrasting violas or forget-me-nots and trailing ivy. Plan ahead and plant spring bulbs in fall, or buy ready planted and plunge into your containers. You can replant into borders after flowering. One word of warning, imperialis have an unwelcome scent, so don't use for containers near your front door!
7. Pulmonaria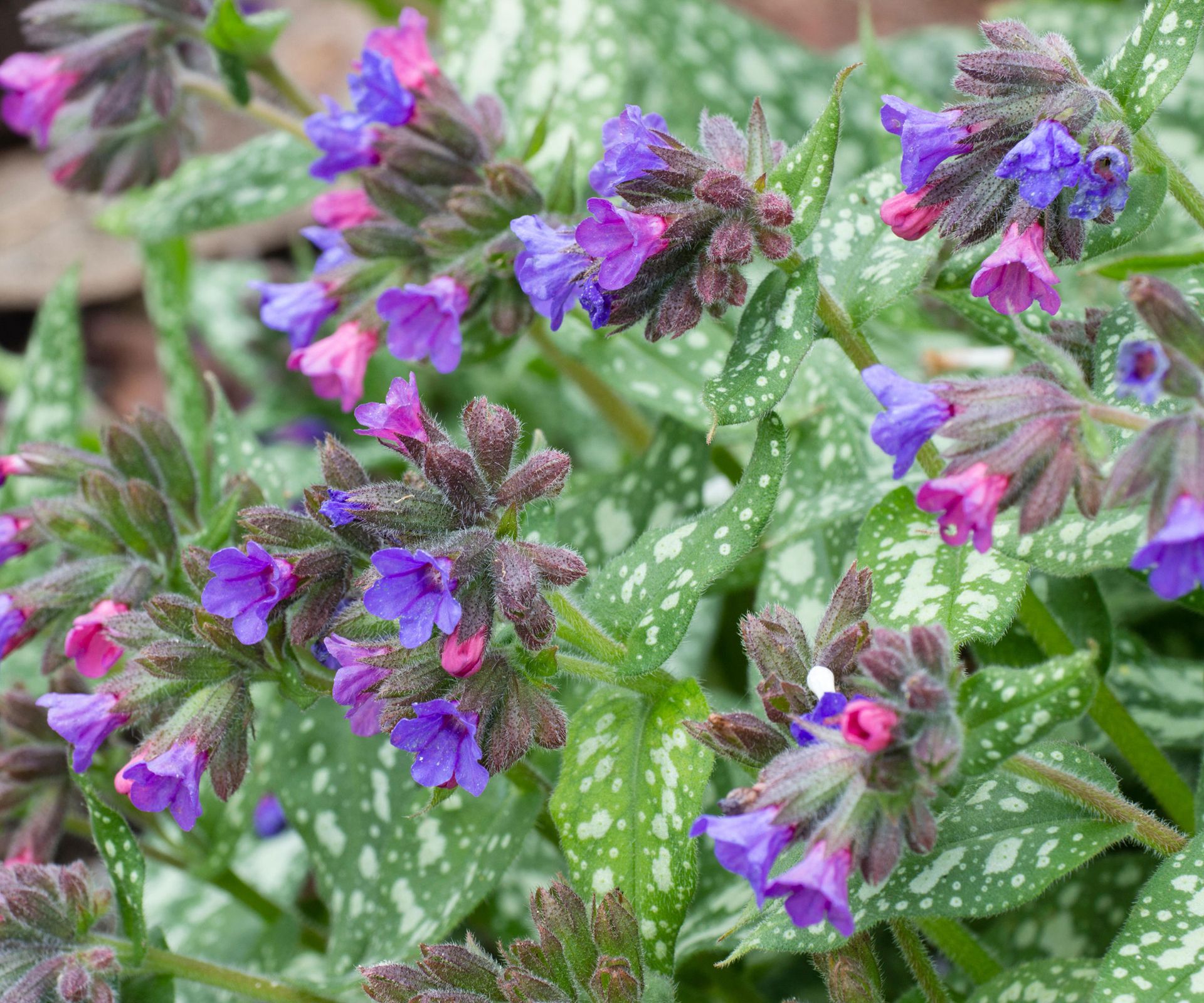 Best for: Shady areas
Height: 14in
Spread: 18in
Hardiness: USDA 3-9
Flowering in mid-spring, lungworts are perfect for a shady corner, adding decorative leaves and pretty spring flowers in pink, white or blue to mixed plantings. Combine with ferns and shade tolerant ornamental grasses such as Milllium effusum, for a contrast in textures and tones of spring greens.
Make sure you add plenty of topsoil to your compost mix and don't let your container dry out as these are moisture-loving plants. Choose from classic and richly colored 'Blue Ensign', or lighter colored 'Twinkle Toes' with decorative, mottled foliage.
8. Primula species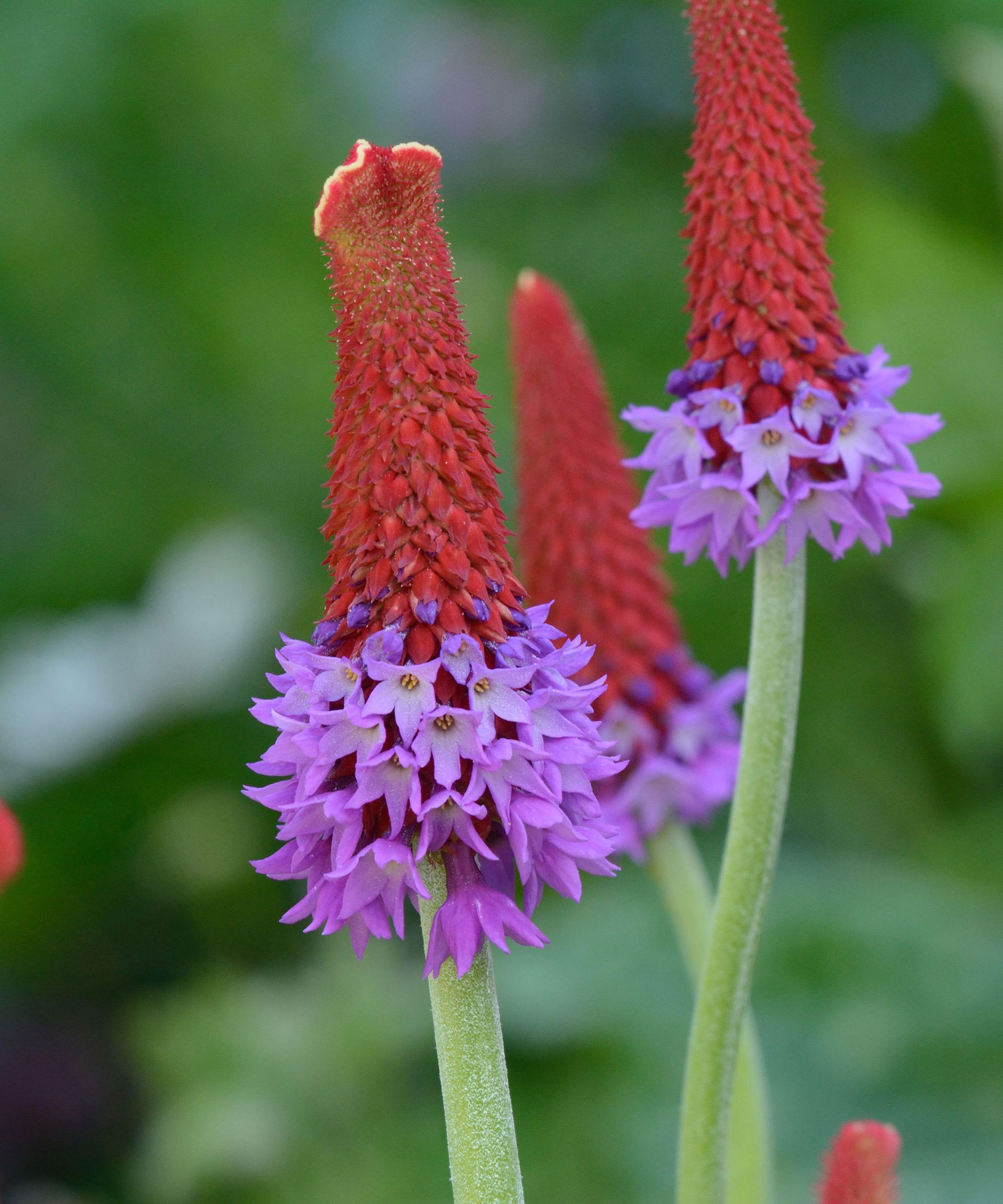 Best for: Natural, part-shady planting
Height: 8-18in
Spread: 10-12in
Hardiness: USDA 4-8
Species primroses are iconic spring plants, with long lasting flowers starting in April. They love cool, moist soil as much as their fancy Primula auricula cousins like it sharp and well drained.
Choose the drumstick varieties, Primula denticulata, or the rocket-shaped Primula vialii for pink and purple color schemes and a more contemporary feel, or the team classic yellow English Primula vulgaris with Fritillaria meleagris or erythroniums and forget-me-nots, for a fresh, cottage garden-themed planter.
9. Forget-me-not
Best for: Underplanting with tulips, fritillaries and shrubs
Height: 12in
Spread: 12in
Hardiness: USDA 5-8
The diminutive forget-me-not is a real winner in spring, and while you might be more familiar with its roaming habit through borders and woodland edges, it is great in containers too, making a good companion plant for emerging tulips and crown imperial fritillaries in pots and other taller, bolder spring plantings.
The soft green foliage and froth of blue flowers will soften the edges of containers, adding a natural look. If you don't tidy the flowers too much, it will self-seed readily, leaving a legacy of spring color for the coming years.
10. Ranunculus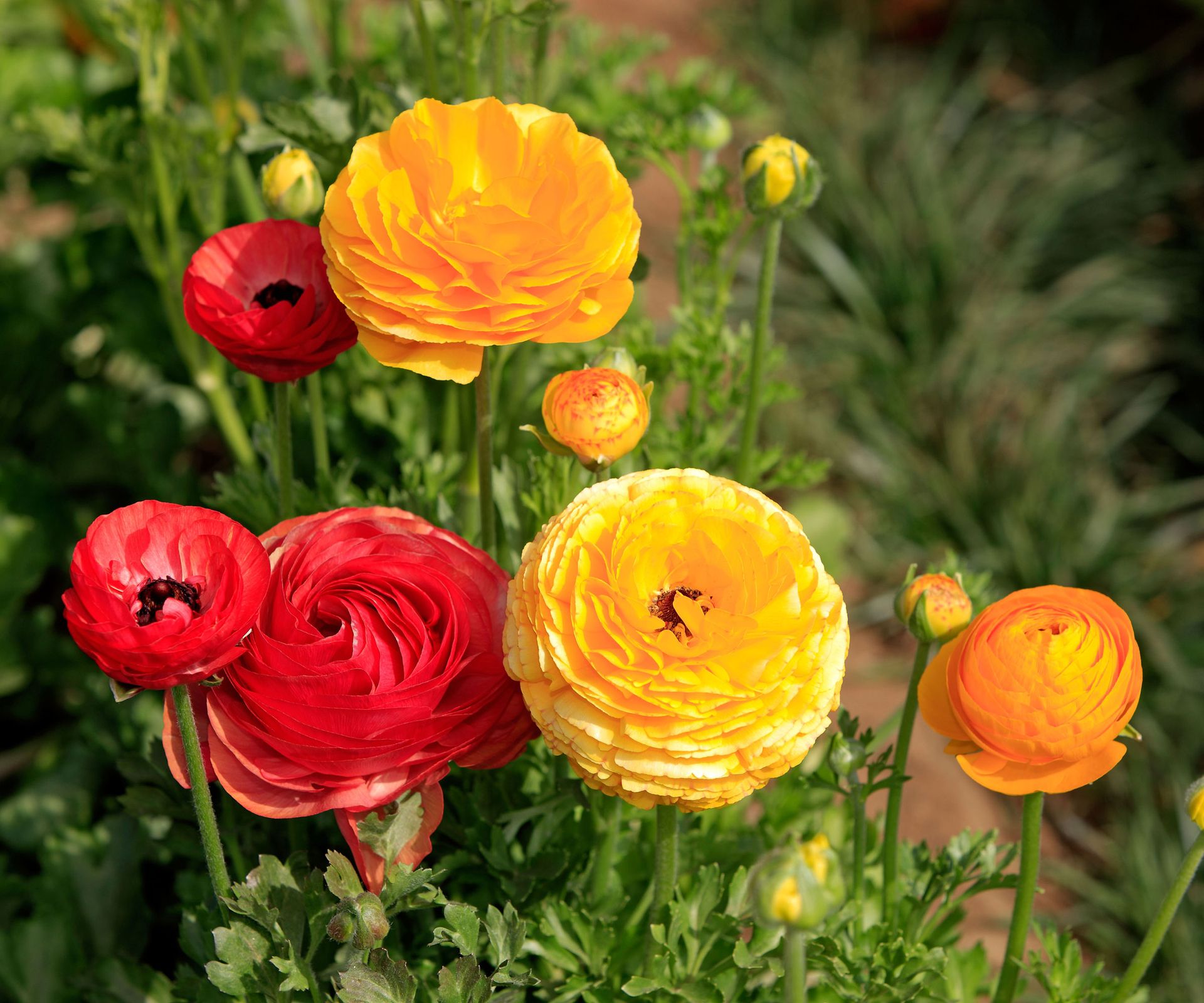 Best for: Providing color once tulips have faded
Height: 18in
Spread: 6in
Hardiness: USDA 8-11
The persian buttercup, Ranunculus asiaticus offers lots of colorful options for containers to go through spring into early summer, depending on where you're gardening. With a sumptuous range of bright, sunny colors the multi-layered blooms look wonderful taking over from tulips.
Although best planted as corms in fall, look out for ready-planted pots in your garden center to add to spring containers. Nature Hills advises: 'If you're in a zone that does get frost, you can enjoy your ranunculuses in containers or as annuals planted after the last frost.'
FAQs
How do you care for spring flowers in pots?
When planting up containers large and small, aim for a good balance between well-drained compost and moisture-retaining topsoil. Many spring plants favor cool moist soils and, while bulbs prefer good drainage and don't like it too wet, it's all too easy to inadvertently let pots dry out when temperatures are still cool. So water regularly and protect new growth from slugs and snails with a covering of chicken wire that can be removed as plants shoot up.
What spring plants can be planted in pots all year round?
Use foliage plants to contrast with flowers and give you year round interest. For example compact evergreen shrubs like skimmias, ivies for trailing over the edges, and purple-leaved semi-evergreen heucheras work well, and are some of the best plants for pots. With this structure you can add seasonal bulbs and perennials.
Refresh containers each season, adding a new layer of compost and repot perennials such as primroses after flowering. You can grow them on through the summer, then divide and replant into containers for next spring. Many spring flowering perennials can be treated this way.
---
Although bulbs are always a winning choice for spring-themed pots, there are so many other options to include too. It means that even if you didn't find time to plant up the likes of tulips and daffodils in fall, you don't have to miss out on the delights of a seasonal container on your patio or deck. And if you're stuck in a container style rut, why not change it up this year with something new and give your planter boxes an instant spring refresh?
Sign up to the Homes & Gardens newsletter
Decor Ideas. Project Inspiration. Expert Advice. Delivered to your inbox.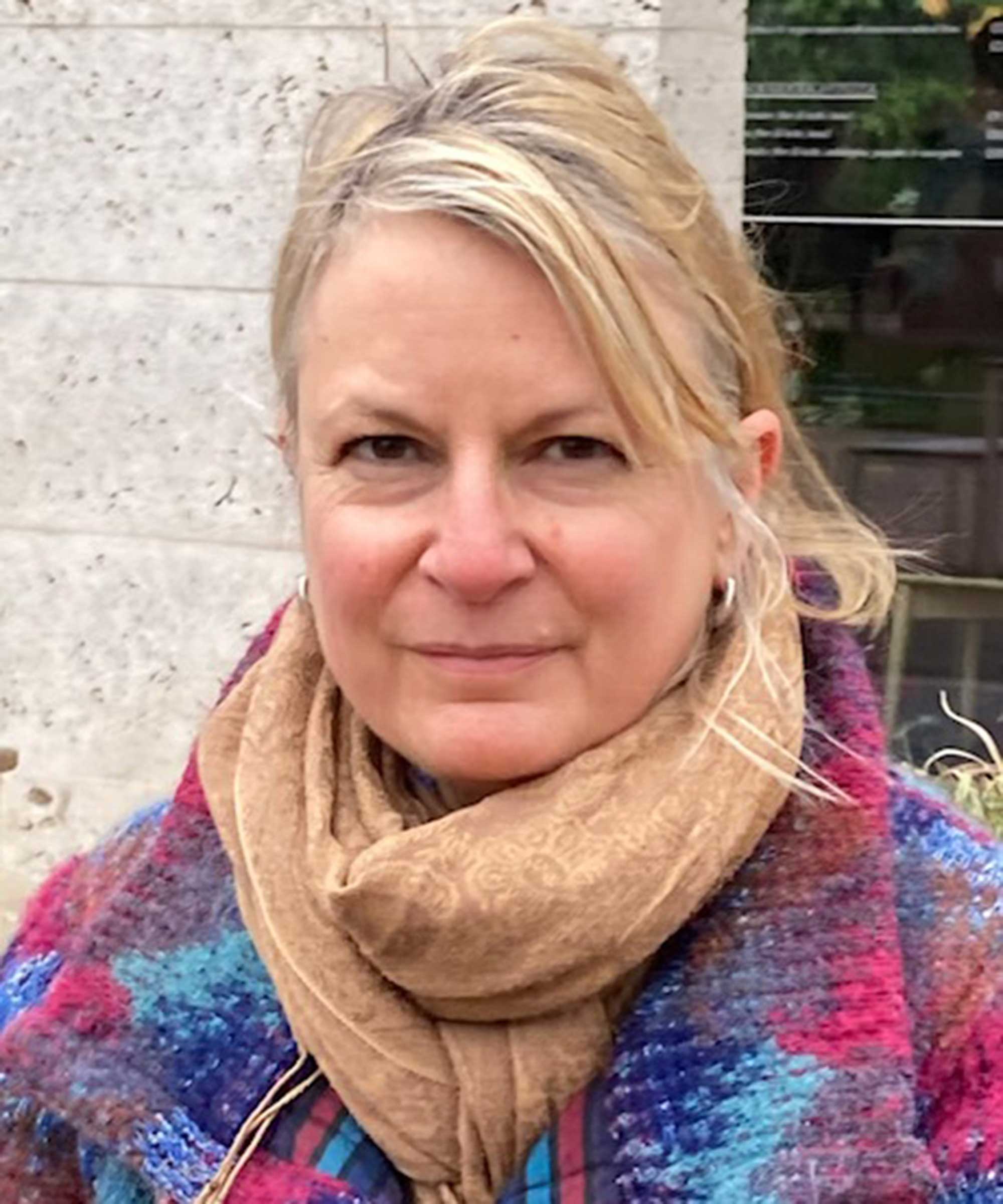 In her years of gardening, Camilla has designed planting schemes for gardens large and small in and around London, written about plants and how to grow them, and worked on BBC gardening TV shows in the UK. She's also works as a therapeutic horticulturist, teaching growing for wellbeing and mental health.