How to grow radishes in pots – key tips for success from an experienced vegetable grower
Picking the best types of radishes for containers and how to go from sowing to harvest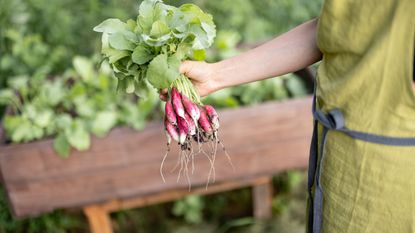 (Image credit: Alamy/RossHelen editorial)
Sign up to the Homes & Gardens newsletter
Decor Ideas. Project Inspiration. Expert Advice. Delivered to your inbox.
Thank you for signing up to Homes & Gardens. You will receive a verification email shortly.
There was a problem. Please refresh the page and try again.
Radishes are a super-speedy crop to grow and provide an excellent peppery hit to any salads. By growing radishes in pots you can very easily grow these crops in around a month.
Salad radishes make the ideal choice for growing in containers. If you are looking to learn how to grow radishes in pots, they all prefer a container that is wide and deep and located in a spot that gets a lot of sunlight but protects them from strong summer rays.
I have grown vegetables for over a decade, going from sowing radishes in a single raised bed in my urban backyard to running a large kitchen garden growing vegetables for chefs. Over the years I have continued to grow radishes, both in the gardens I worked in and on my allotment plot at home. They are a vegetable I still always grow as they are so simple, fast to crop, and a perfect addition to home salads.
Can you grow radishes in containers?
You can grow radishes in pots successfully and they are actually one of the best vegetables to grow in pots. There are many crops you can use as part of vegetable garden container ideas but none will give you a harvest as quickly as radishes, that can go from sowing to harvest in under four weeks.
There are many advantages to container gardening as it gives you full control over the soil and location the crops grow in, while also offering the benefit of raising the plants off the ground away from pests that want to munch on your vegetables.
There are lots of different types of radishes you can grow, they come in a variety of shapes, colors and sizes. It is the shorter-rooted salad radishes that are ideally suited for containers, these are the really fast growing vegetables and can thrive in pots or window boxes. The likes of 'Cherry Belle' (available from Burpee) and 'Early Scarlet Globe' (also from Burpee) are globe-shaped radishes ideal for pots that grow to around four inches in length.
Some of the other types of radish, such as oriental varieties like mooli or daikon, form longer taproots and require deeper pots to fully develop. Winter radishes are larger and grow much slower than the salad types and not as ideal for growing in containers.
How to grow radishes in a pot
The best containers to grow radishes in are wide and deep. They can either be square, rectangular, or circular but ideally at least 12 inches wide in diameter and six inches deep. If you do want to grow larger radishes, then the pot may have to be a minimum of 12 inches deep. Even the ever-popular radish varieties like 'French Breakfast' (available from Burpee) can get to six inches long so will need a larger pot.
Any pot material can be used, though terracotta pots will dry out quicker than plastic ones and need more regular watering. Always make sure any pots or planters have holes for drainage when using them to grow plants.
Fill your chosen container with a good quality well-draining potting soil, such as the Dr. Earth Gold Premium Potting Soil available at Amazon. Make sure to use fresh potting soil and never consider reusing garden soil in pots.
Radishes want a soil pH of between 6.5 and 7.0 and consider adding in a handful of compost to the soil mix to provide extra nutrients. You can test the pH of soil with simple kits, such as the Garden Tutor Soil pH Test Kit available on Amazon.
How to plant radish seeds in a pot
Radishes are always grown from seed and sown directly into their growing spot. As root crops they do not respond well to being grown in trays to then transplant the seedlings into their final position. There is a wide window for when to plant radishes, as seeds can be sown in a container anytime from early spring into early fall. It is best to sow them earlier and later in the season.
Sow the seeds thinly over the surface of the pot, taking care to plant them one inch apart and to leave at least an inch between the seeds and the edge of the pot. Cover the seeds with half-an-inch of soil and water them well. When the seeds germinate, which can be quick and they can sprout in around five days, thin them out as required to two inches apart.
As radishes grow so quickly, the seeds are commonly sown as successional crops in a kitchen garden to ensure a continual cropping of these peppery roots. The same can be done when growing radishes in pots by utilizing numerous pots and sowing radishes every two or three weeks.
How to care for radishes in pots
Radishes prefer cooler temperatures and do grow well between 40-70˚F. They want at least six hours of direct sunlight. Radishes want to get the sun but do not want to sit in the scorching rays of afternoon sunshine, as radishes can commonly bolt and try to set seed if the weather is too hot.
Keep the soil moist but not too saturated. When watering plants in containers, always check with your finger to see the moisture levels below the surface. Make sure the soil does not dry out, as uneven watering can cause radishes to crack as they grow. When judging when to water plants, keep it moist and water your radishes every few days.
Monitor your radishes carefully and keep the tops of the roots covered with soil as they grow. Once they reach a usable size, which is usually around 30 days for salad radishes, then carefully pull the radish from the soil, holding it by the top of the root to avoid the leaves snapping. Getting the timing right for when to harvest radishes is important as roots that are too old, or have grown too slowly, will often be much spicier and can turn woody.
---
Radishes are such versatile and useful crops for any vegetable garden. They can fill space and crop really quickly. It makes them ideal for small vegetable garden ideas and also for growing in pots. Growing radishes in pots is often seen as a great experiment for the family to get children interested in growing vegetables at home.
Sign up to the Homes & Gardens newsletter
Decor Ideas. Project Inspiration. Expert Advice. Delivered to your inbox.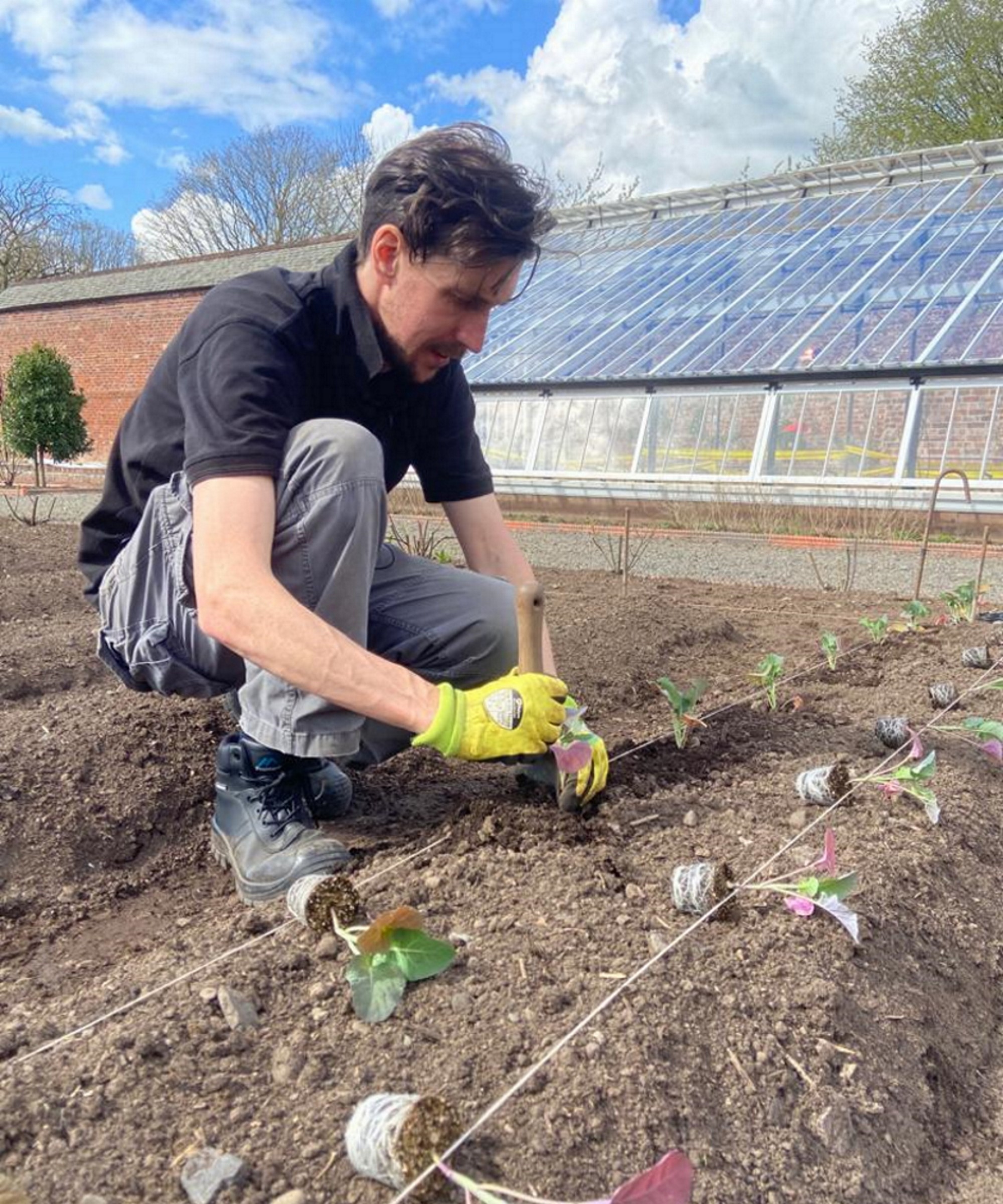 Drew's passion for gardening started with growing vegetables and salad in raised beds in a small urban terrace garden. He has gone on to work as a professional gardener in historic gardens across the UK and also specialise as a kitchen gardener growing vegetables, fruit, herbs, and cut flowers. That passion for growing extends to being an allotmenteer, garden blogger, and producing how-to gardening guides for websites.