How to use a greenhouse in winter – 10 ways to make the most of yours
Maximize your greenhouse space this winter with these expert tips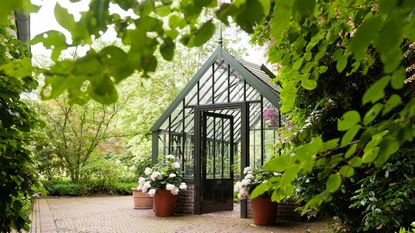 (Image credit: Alamy/Andreas von Einsiedel)
A greenhouse in winter is one of the most useful pieces of equipment we gardeners can own.
While we use them lots in spring and summer, for sowing seeds, taking plant cuttings, growing tomatoes, eggplants and other vegetables, we very often winterize the greenhouse, making sure it's structurally safe, but leaving it neglected and empty in the colder months.
But what a waste: Whether heated or cold, your greenhouse is a haven for overwintering plants, starting hardy annuals, growing salads, nurturing cuttings and getting an early start with summer beauties including lilies and dahlias.
Using a greenhouse in winter
If you have heating in your greenhouse, either electricity or a portable heater that runs on paraffin, you have much greater flexibility when it comes to growing plants undercover through winter.
But even if your greenhouse is unheated, it will still play an important role in your yard during the colder months – though you will need to take extra care with insulation.
Our greenhouse is unheated and plants survive very happily in temperatures that fall well below zero. I make sure I have rolls of frost-protective fleece and bubble wrap close to hand to wrap around pots and throw over plants during the coldest snaps. Based on my gardening experience, here are my top ten ideas for how to make the most of your greenhouse this winter.
1. Store tender plants
You will need to overwinter frost-tender perennials such as pelargoniums, penstemons, gazanias, fuchsias and gaillardias, which won't survive winter in a yard that is hit by frost.
However, they will happily sit out winter in a greenhouse as long as they have some form of extra protection on very cold days and nights.
Lift them from the soil before the first frosts and pot them up in potting soil. Water them, then set them on your greenhouse shelves making sure their leaves don't touch.
Good airflow around plants is essential for their wellbeing through winter and helps prevent fungal problems such as botrytis gray mold. Leaving space between your plants also makes it harder for pests to move between them.
In winter, plants enter a dormant state and do not need feeding or watering until spring, though they may need a drink if they start to wilt in late winter.
2. Overwinter corms and tubers
The bulbs, corms and tubers of dahlias, canna lilies, gladioli and freesias don't reliably survive a winter in cold, wet soil.
They can be dried and stored in trays of dry, sandy soil in a cool, dry greenhouse. Alternatively, wrap them with some dry soil in burlap sacking, like this robust roll by Burloptuous, available on Amazon.
Wait until the first frost has blackened the leaves of dahlias and cannas before lifting them.
If they are already growing in containers rather than the soil, simply cut the stems down to 4in above the compost and move the whole pot into your greenhouse. Always leave a length of stem intact, because this is where the new shoots will appear from next spring.
Next spring, lift the tubers and restart them in pots of fresh compost - they will soon throw out new shoots.
3. Nurture cuttings
I always like to take a few penstemon and pelargonium cuttings in the fall to act as an insurance policy in case the parent plants succumb to the cold.
They quickly root and will be happy in your greenhouse over winter as long as they are watered sparingly and protected with fleece during the coldest spells.
In spring, pot up the cuttings in fresh potting soil and they will soon start to grow. They can be planted in the yard in early summer, when the frosts have passed and they have been hardened off.
4. Sow hardy seeds
Hardy annuals such as sweet peas, cornflowers, rudbeckia and pot marigolds can be sown in the fall and late winter ready to bring early summer color to your yard.
Sow the seeds thinly in pots or trays of seed compost, cover them with a light layer of compost or vermiculite, water and add a lid to the tray - or seal the pot in a clear plastic bag.
Keep the compost damp but not soggy, and they will soon germinate. Remove the lid or bag when seedlings appear and let them grow until they are ready to pot on individually into small pots or modules.
Keep them free of pests and diseases and they can be planted out once they have been hardened off.
5. Grow winter salads and herbs
One of the things I miss in winter is the ready availability of fresh salads and herbs in the garden. Luckily, they can be cultivated all year round in the greenhouse.
I use the summer's growbags that previously contained tomatoes. Simply remove all the old plant material and any pests and enrich the compost with a general fertilizer such as Burpee Natural Purpose Organic Food, available on Amazon. Sow the seeds thinly for the best results.
You can sow hardy varieties of cut-and-come-again leaves now, and they will produce leaves that can be snipped off for salads - and then quickly grow back. I like the spicy leaves that add a bit of punch to winter salads and sandwiches.
Spring onions, spring cabbages, kale, arugula and parsley can also be sown and grown in a frost-free space.
6. Sow fava beans
Many varieties of beans are frost-tender but fava beans (also known as broad beans) are more hardy and can be started in your greenhouse.
Sow one bean in a small pot and then plant them out in fertile, free-draining soil in spring once they have been acclimatized to outside conditions.
They will grow quickly and crop earlier than fava beans sown straight into the soil outside in spring, giving you a longer crop.
7. Store citrus plants
Although citrus trees grow all year round and often produce fruits and flowers in winter and early spring, they don't like the cold and wet so if you have one growing in a pot, and it's easy to move, relocate it in the greenhouse if you suffer from freezing winters.
If your greenhouse is unheated, I would mulch the top of its container with straw and wrap frost-protecting fleece, like this plant cover available on Amazon, around the pot to stop the potting soil from freezing.
Citruses need feeding all year round and a general fertilizer will help through winter. Water every few weeks with rain water, letting the potting soil dry out in between.
8. Restart tender tubers
In March or April, when your greenhouse is getting warmer, it's time to restart dahlia and canna lily tubers.
Make sure they have stayed sound through the winter and discard any that feel soft or have started to rot.
Pot them up in containers of potting soil for seeds, like this Espoma organic compost available from Amazon, as this will help them develop strong young roots.
Keep the potting soil damp but not soggy and once the tubers start to make new shoots, remove two or three to use as softwood cuttings for more dahlias for free.
9. Plant lily bulbs in early spring
If you love growing lilies, you can start planting lily bulbs in containers in your greenhouse in spring, ready for an elegant and exotic summer show.
Because they have been started undercover and earlier than their counterparts in the yard, they will flower earlier, giving you extended color. Plant your lily bulbs in a large pot, around 2in apart at around three times the depth of the bulbs.
They appreciate good drainage, so mix your potting soil with grit and, because they are also hungry plants, add some general fertilizer.
They can be moved to a sheltered area in the yard when the frosts have passed. Make sure you raise the container off the ground to give the bulbs the best possible drainage.
10. Create a succulent planter
Succulents and cacti are fascinating and relatively easy to grow, plus you can create a visual statement in your yard by making a succulent planter.
It is a fun and easy late winter task. All you need is a suitable pot with plenty of drainage holes, and a bag of cactus or succulent potting mix which contains lots of grit for easy drainage (like this Miracle Gro succulent potting mix on Amazon) because cacti and succulents are prone to rotting in damp conditions.
The other thing to remember is to buy a selection of plants that all have the same requirements when it comes to light and care, and check how large they grow so the more robust ones don't overpower their smaller neighbors.
The best types of succulents to grow include aloes, sempervivums, lithops or 'living stones' and sedums. Don't overcrowd the pot and they will soon grow to become an exquisite and interesting addition to your greenhouse and yard.
FAQs
Should I heat my greenhouse?
If you have very cold winters then a heater may make all the difference to your plants surviving the worst of the weather.
Electric heaters are good if your greenhouse has electricity, and paraffin heaters like this Kingfisher one available to buy Amazon are cheap alternatives.
Ideally, buy a heater with a thermostat, like this recommended model on Amazon, so you don't waste money.
What is the easiest way to insulate a greenhouse?
The easiest and most affordable way of insulating a greenhouse in winter is to pin bubble wrap to the interior framework. Big rolls of it are widely available online, as are the clips that secure it to the greenhouse frame. It is easy to install and remove in spring.
Another option for greenhouses not affected by the hardest winters is to use insulating fleece to wrap around and over plants. Make sure you remove it when the temperature rises as it can trap moisture which may cause rotting and mold to develop.
Is my mini greenhouse useful in winter?
Absolutely. Mini greenhouses like this top-rated Vivosun model available on Amazon make ideal compact storage areas for hardy seedlings, cuttings and perennials.
Zip them closed when it gets very cold and cover them with a blanket in the harshest weather. Remember to unzip when the temperature rises to keep plants well ventilated.
Make sure they are anchored to a wall, fence or the ground so they don't blow over in winter storms.
---
Although it is winter, plants in a greenhouse still need light and air so make sure you clean the glass inside and out before moving them in, and open doors, windows and vents on milder days.
Don't forget to close up your greenhouse at dusk to keep in the warmth and keep out pests looking for shelter.
Sign up to the Homes & Gardens newsletter
Decor Ideas. Project Inspiration. Expert Advice. Delivered to your inbox.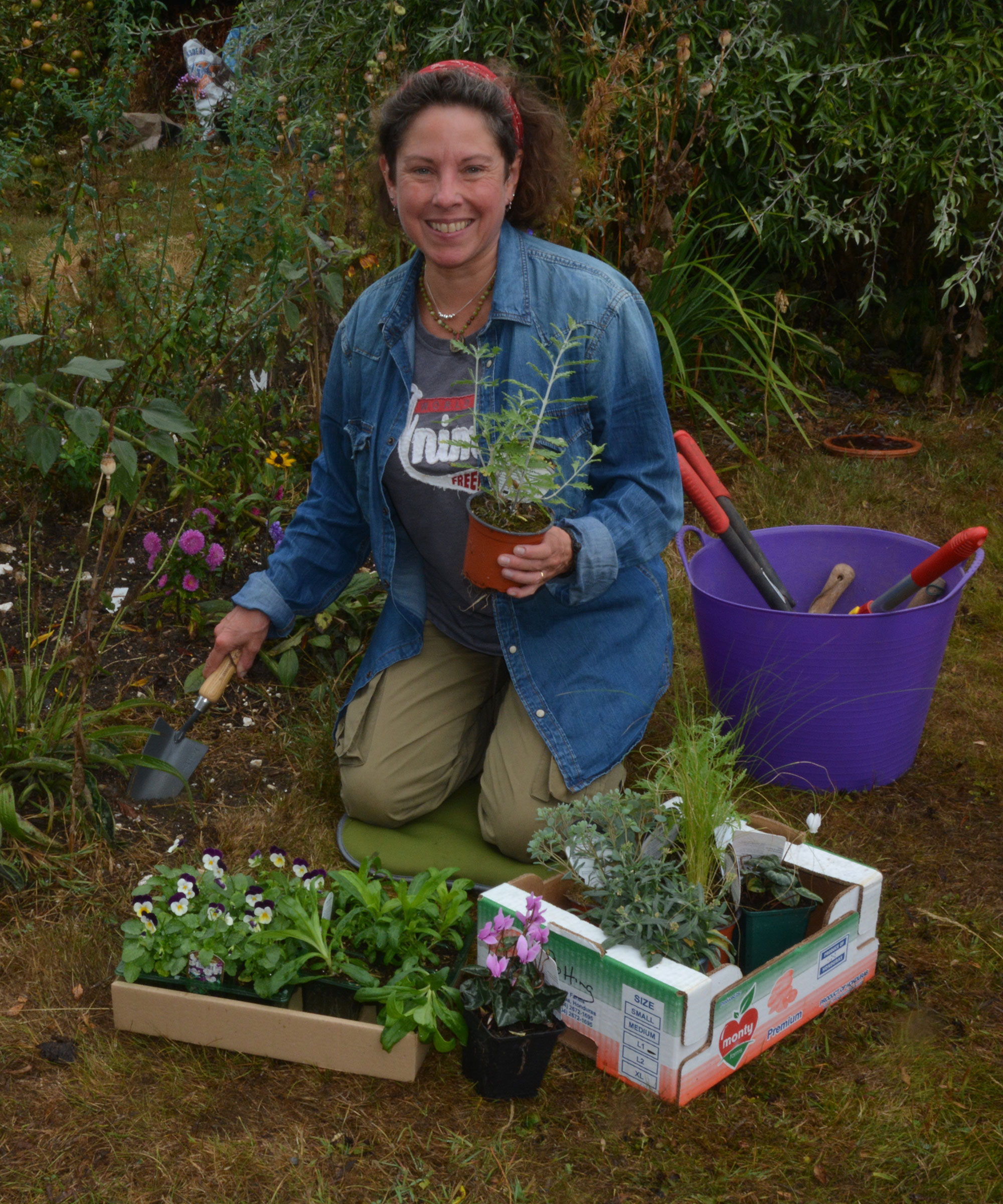 Gardening editor and writer
Ruth is a regular contributor to Homes and gardens. She is horticulturally trained and has qualifications from the Royal Horticultural Society. Ruth spends her working days writing about and photographing the gardening jobs that our readers should be carrying out each week and month, and tests many new products that arrive on the gardening market.