Shrubs with winter berries – 10 choices that will brighten your backyard
These options are not only beautiful, they're good for wildlife too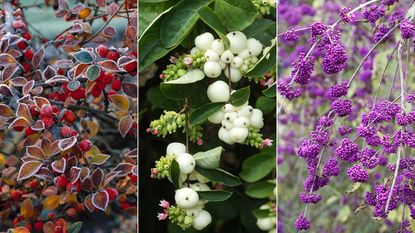 (Image credit: (From left to right) Avalon.red / Alamy Stock Photo – Brian Gadsby / Alamy Stock Photo – Clare Gainey / Alamy Stock Photo)
In the quieter landscape of the colder season, berries shine like sparkling jewels. They also provide food for visiting wildlife through the leaner months. And, many can be cut and brought indoors for festive displays.
It's not just red berries we can bring to our outdoor spaces – there are also blue, pink, purple, and white-berried options to liven up the winter garden. Plus, once warmer weather rolls around, many produce pretty flowers, helping them earn their keep.
10 stunning shrubs with winter berries
Try these beautiful backyard shrubs to brighten up your outdoor space.
1. Holly
Height: 3-30ft
Width: 1-20ft
Hardiness: USDA 3-9, depending on variety
Best for: Festive decorations
The most well-known shrub with winter berries – and a classic choice for making festive decor with – is holly.
'One of our best sellers and one of my personal favorite winter berry bushes is the "Nellie Stevens" holly,' says Autumn Hilliard-Knapp of Perfect Plants Nursery. She describes it as a hardy evergreen shrub with a dense, pyramidal shape and glossy, deep green leaves. 'It grows 15-25ft tall, making it ideal for hedges or privacy screens,' she says.
You can shop the 'Nellie Stevens' holly from Perfect Plants Nursery. This variety is dioecious, so both male and female plants are needed for berry production, Autumn points out.
Another popular variety is the 'Blue Princess' holly, also available from Perfect Plants Nursery. It's known for its striking blue-green foliage and compact, rounded shape, Autumn says. Again, to ensure berry production, it is necessary to have a male pollinator plant, such as 'Blue Prince' holly, nearby, she adds.
Mulching, pruning, and planting in well-draining soil will help these shrubs thrive.
Autumn is a horticulture specialist and marketing professional at Perfect Plants Nursery. With four years of experience in the horticulture industry, she has developed a passion for helping people create beautiful indoor and outdoor spaces to enjoy. Her expertise in horticulture encompasses a broad range of activities, including plant care and selection, landscape design, and maintenance.
2. Beautyberry
Height: 3-6ft
Width: 4-6ft
Hardiness: USDA 6-10
Best for: Purple berries
'Callicarpa americana, or American beautyberry, is cherished for its unique magenta to violet berries that encircle the stems,' says gardening expert Robin Phelps. 'This deciduous shrub thrives in the southeastern United States and provides a spectacular autumnal display,' she says. And the berries often cling on for the colder months, too.
It prefers full sun for optimal berry production, and should be pruned in late winter or early spring to encourage new growth, Robin adds.
Robin Phelps is a gardening and preserving coach at Sowmanyplants.com, with a passion for nurturing green spaces and preserving the bounties of nature. With over 20 years of experience in gardening, Robin began her journey in a small apartment with a balcony and has now expanded to growing on three acres. Determined to learn and share her knowledge, she has since evolved into an expert gardener, eager to guide others on their gardening journey. From navigating microclimates to experimenting with new vegetable varieties, Robin thrives on helping fellow gardeners succeed.
3. Viburnum
Height: 3-20ft
Width: 3-12ft
Hardiness: USDA 2-9 depending on variety
Best for: Versatile shrubs
There are many types of viburnums, and some are bejeweled in vibrant berries through the winter months.
One of these is Viburnum opulus, which produces bright red or orange berries and is a versatile shrub, says Zahid Adnan of The Plant Bible. 'It thrives in well-drained soil and prefers partial shade. Prune after flowering to maintain its shape and encourage berry production.'
There is the cranberry bush (Viburnum trilobum), too, which Zahid also recommends. 'With clusters of red berries reminiscent of cranberries, this shrub adds a festive touch to your winter garden,' he says. Like Viburnum opulus, he advises planting it in well-draining soil and trimming it after flowering to keep it looking neat.
Some winter-flowering viburnums, such as Viburnum tinus 'Gwenllian', bear metallic blue berries. These are sometimes present on the plant at the same time as the blooms.
4. Cotoneaster
Height: 1-10ft
Width: 4ft-6ft
Hardiness: USDA 4-7, depending on variety
Best for: Ground cover
Cotoneasters are tough and easily-maintained shrubs. They produce bright red berries in the fall which hang on through the winter months – until the birds get to them. Many make excellent ground cover plants.
Try Cotoneaster dammeri 'Coral Beauty', or the slightly taller Cotoneaster apiculatus (available at Nature Hills). Both have colorful fall foliage and pretty spring blossoms, and are drought-tolerant shrubs when established.
Cotoneasters can be considered invasive plants in some regions, so double-check for your area before you plant it in your yard.
5. Snowberry
Height: 2-5ft
Width: 1-5ft
Hardiness: USDA 3-7, depending on variety
Best for: Pink or white berries
Snowberries are cold-hardy, deciduous shrubs that produce delicate, pinkish flowers in summer. These are followed by plump, creamy-colored berries that are held in clusters on the arching stems. These berries often stay on the plant throughout winter.
You can grow these shrubs in sun or part shade, and they're generally unfussy about soil type, although it should be well-draining. They can be pruned in early spring.
Snowberries are available to buy from Nature Hills.
Top tip: Some varieties produce pink berries instead of the classic white – try Symphoricarpos x doorenbosii 'Kolmcan'.
6. Firethorn
Height: 6-12ft
Width: 6-12ft
Hardiness: USDA 6-9
Best for: Boundary plants
'With clusters of bright red, orange, or yellow berries, the firethorn is a stunning choice,' says Zahid. These shrubs are relatively low-maintenance, he adds. 'Provide well-drained soil and occasional pruning to shape and remove dead wood.'
Arborist Ned Cromack also recommends these evergreen shrubs, noting how, besides their beautiful berries and springtime, pollinator-friendly flowers, they make an excellent boundary plant. 'They are incredibly spiky, which will deter intruders and up your home security,' he says.
Like cotoneasters, check varieties of firethorn aren't seen as invasive in your area before you plant them.
Ned is a qualified arborist and the Founder of The Bath Tree Company. Starting his career in one of the UK's leading tree nurseries in 2010, he went on to spend over a decade as a tree climber across the UK, Europe, New Zealand and Australia. For him, arboriculture has always been more of a fascination than a job, and an industry that never ceases to inspire.
7. Checkerberry
Height: 3-6in
Width: 12in
Hardiness: USDA 3-9
Best for: Winter planters
Gaultheria procumbens are native, evergreen shrubs, and are also known as checkerberry or the American wintergreen. The female plants have glossy red berries. Their compact size makes them ideal for winter container displays.
In summer, they produce delicate, bell-shaped blooms. They do best when planted in acidic soil and can tolerate shade, and have good pest and disease resistance.
You can buy wintergreen plants from Burpee.
8. Juniper
Height: 1-20ft
Width: 2-15ft
Hardiness: USDA 3-9, depending on variety
Best for: Dense screening
Ned Cromack also recommends junipers for their deep blue-gray berries. 'They provide a valuable source of food for birds and small mammals during the colder months,' he says. 'Plus, they're tough and attractive evergreen shrubs for backyard landscaping.'
Taller varieties make great winter privacy hedges due to their dense form, he adds, while some cultivars are ideal for ground cover.
Try 'Blue Rug' juniper, available from Fast Growing Trees, for the latter purpose.
Junipers do best in full to partial sun and neutral to acidic soil.
9. Reeve's skimmia
Height: 18-24in
Width: 2-3ft
Hardiness: USDA 6-9
Best for: Shade
Skimmia japonica subsp. reevesiana, commonly known as Reeve's skimmia, is another excellent choice for cold-season containers. These evergreen shrubs have a compact form and a profusion of red berries throughout fall and winter. What's more, they will do just fine in shadier areas.
In spring, Reeve's skimmia produces white flowers which are beautifully scented and attract pollinators. This is a hard-working plant, but it's easy to look after.
10. Bayberry
Height: 5-7ft
Width: 5-7ft
Hardiness: USDA 3-7
Best for: Aromatic foliage
Bayberry shrubs, or Myrica pensylvanica, are slow growing, semi-evergreen, and cold tolerant. If pollinated by male plants, the female shrubs produce clusters of waxy, silvery berries in the fall. These persist into winter, attracting birds to backyards.
They prefer a sunny spot with good drainage. Remove suckers that develop to keep their spread under control.
You can buy bayberry shrubs from Nature Hills.
FAQs
Which shrubs with winter berries will tolerate shade?
While gaultheria and skimmia are notably tolerant of shade, most berrying shrubs will grow in such conditions. However, berry and bloom production is usually more prolific in sunnier spots.
Which shrubs with winter berries are suitable for containers?
Try wintergreen, skimmia, and small varieties of cotoneaster or viburnum for winter pots. Take steps to protect your containers from winter weather if necessary.
---
'When caring for shrubs with winter berries, remember to provide adequate moisture during dry spells, but be cautious not to overwater,' advises Zahid Adnan. He also recommends mulching around the base of the shrubs – this helps retain soil moisture and insulates the roots during the winter.
With the right maintenance, your shrubs will thrive – and bring structure, form, and color to your garden for years to come.
Sign up to the Homes & Gardens newsletter
Decor Ideas. Project Inspiration. Expert Advice. Delivered to your inbox.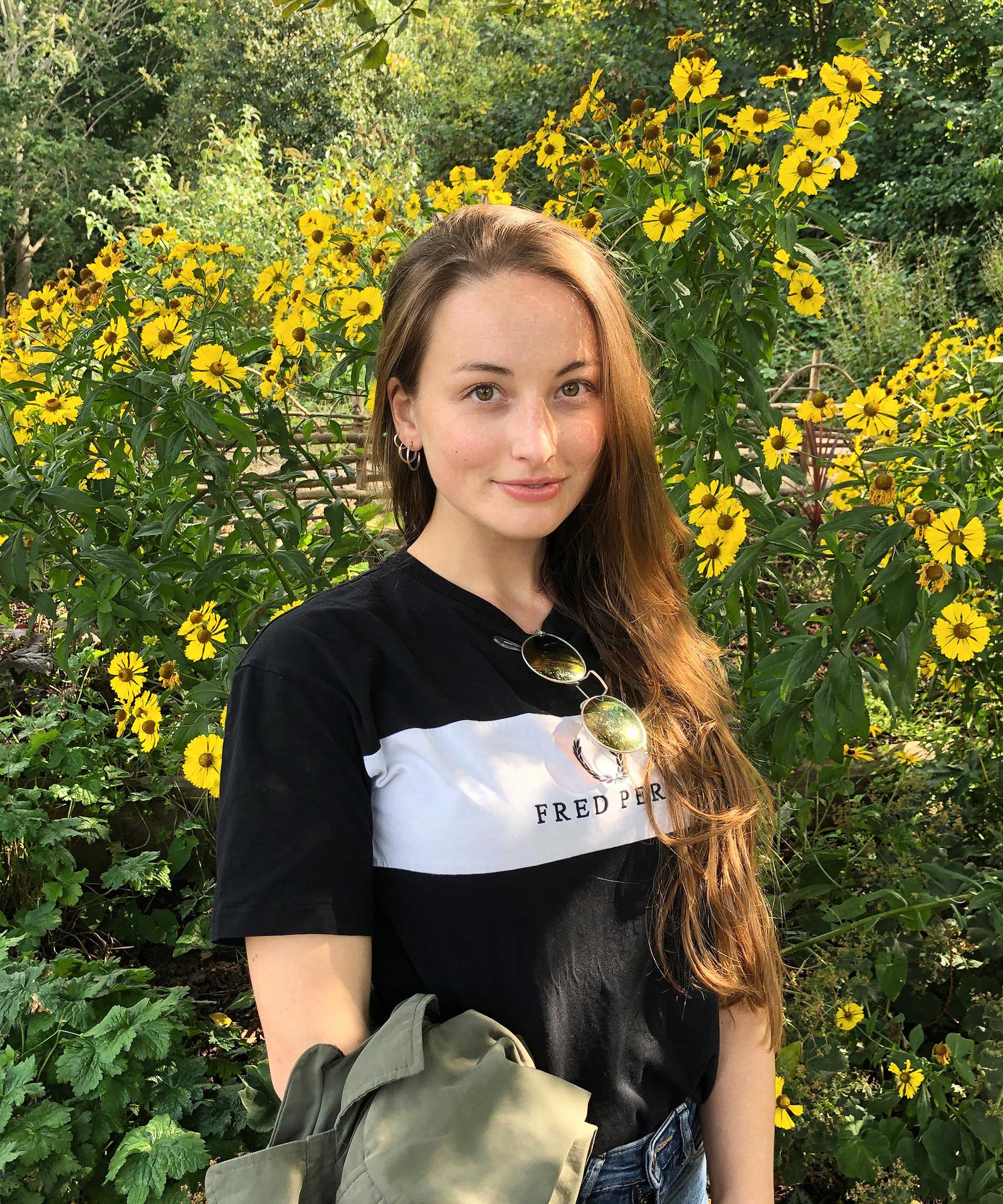 Freelance Gardening Writer
The garden was always a big part of Holly's life growing up, as was the surrounding New Forest where she lived. Her appreciation for the great outdoors has only grown since then; over the years, she's been an allotment keeper, a professional gardener, and a botanical illustrator. Having worked for Gardeningetc.com for two years, Holly now regularly writes about plants and outdoor living for Homes & Gardens.