Charleston House – 5 key highlights not to miss
Charleston House was the country retreat of the influential literary and artistic Bloomsbury Group and offers a wealth of inspiration for creative interiors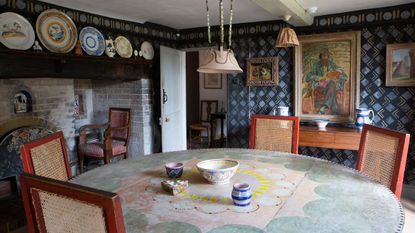 (Image credit: Charleston House / Lee Robbins)
Sign up to the Homes & Gardens newsletter
Decor Ideas. Project Inspiration. Expert Advice. Delivered to your inbox.
Thank you for signing up to Homes & Gardens. You will receive a verification email shortly.
There was a problem. Please refresh the page and try again.
Charleston House occupies a special place in 20th-century Anglo-American modernist cultural history as the creative and intellectual hub of the 'Bloomsbury Group' of artists, writers and other intellectuals.
Known for their unconventional lifestyle, Bloomsbury members, including artists Vanessa Bell, Duncan Grant, and famous literary figures such as Vanessa's sister Virginia Woolf, EM Forster, and Maynard Keynes, shared certain beliefs and ideas, and supported each other in their creative activities. At Charleston House, art and experimental thinking were at the center of their everyday lives.
Set in the beautiful landscape of the South Downs National Park in England, the farmhouse tells the story of the radical decorative style, ideas and relationships of the group, and is among one of the worlds best homes.
With its air of bohemian freedom, through its hand-painted walls, doors and furniture, and fascinating collections – including ceramics, textiles, paintings and sculpture – Charleston House provides myriad elements of interior design inspiration that we could replicate in our own homes.
When to visit Charleston House
Charleston House is open Wednesdays to Sundays, and Bank Holiday Mondays, 10am-5pm.
Charleston House – a history
Charleston House became the country home from 1916 of Vanessa Bell, an artist and interior designer, and her lover Duncan Grant, a painter and designer of textiles and pottery.
Vanessa was one of the first British artists to paint fully abstract paintings in the early 20th century. She also designed textiles to carpets, decorated ceramics and furniture, and was one of the key figures of the Bloomsbury Group.
Her artistic hand can be seen throughout the uniquely hand decorated rooms and furnishings of Charleston House, as can that of her fellow artist Duncan Grant, and their style can inspire bohemian living room ideas.
The move to the farmhouse was an opportunity for them to explore new ways of thinking, living and working.
Charleston House was a place that accommodated alternative interpretations of domestic life, and soon became a gathering point for the Bloomsbury Group.
Charleston House – 5 key highlights not to miss
The rooms to visit at Charleston House offer an insight into the decorative art of the Bloomsbury artists.
Inspired by Italian fresco painting and the post impressionists, the artists designed each room with a different decorative character, with many walls and pieces of furniture hand-stencilled. Also on show are 20th century ceramics, paintings and textiles.
The interiors are a lesson in how to juxtapose unexpected color combinations for rooms and also turn ordinary items of furniture into pieces of art in their own right.
The following are some of the key highlights not to miss on a visit:
1. The dining room table
The concentric circle design on the round table in the dining room at Charleston House was painted by Vanessa Bell.
'You can see the circular motifs and dot designs that recur often in her work. These circular motifs reappear all across the house, from fireplaces to window surrounds,' explains Darren Clarke, Head of Collections, Research and Exhibitions at Charleston House.
Many pieces of furniture and doors are hand painted with the artists' unique designs.
2. Omega Workshops' dining room chairs
'The Bloomsbury group were always looking outwardly to Europe and beyond for inspiration, and throughout the house there are lots of objects that hint at the family's European outlook and reflect their international travels,' explains Darren.
'Vanessa Bell and Duncan Grant were introduced to a radical new style of art from the continent by the art critic Roger Fry – which used bright colors and dynamic, abstract patterns. He called this style 'post-impressionism.
'Together, they set up a design enterprise in 1913 – the Omega Workshops – which created domestic furniture and objects decorated in the post-impressionist style. They wanted these items to be used in everyday life.'
The dining room chairs at Charleston House are an example of items of furniture created by the Omega Workshops. Originally the frames were a deep red color and the cane was golden – a dramatic design that would have stood out in any room.
3. Hand stencilled walls
Each room has a different decorative character. Duncan Grant and Vanessa Bell used a very distinctive palette, with strong colors, coco browns and pinks, boldly applied, which was quite shocking at the turn of the 20th century.
Many house guests of the time helped to hand stencil the dining room walls, which feature black wallpaper covered with hand-stencilled oak-yellow chevrons and sponged grey diamonds.
Hand stencilled walls and furniture can also be seen among the other bohemian bedroom ideas in Vanessa and Clive Bell's bedrooms at the farmhouse.
4. Charleston House garden
'Proudly an artist's garden, the walled garden is a riot of color,' says Darren.
'Vanessa Bell and Duncan Grant would choose new annuals from the seed catalogues so they would have something new to paint every summer – hollyhocks, red hot pokers, Iceland poppies, and globe thistles.'
It is an artist's garden, with extraordinary color contrasts, and flower bed ideas with unusual planting companions.
'The garden was a space to paint and work in, but also to relax, entertain and play. It is also full of art, with humorous sculptures and decorative objects strategically placed throughout – from a cast copy of a 16th century Venus, to a levitating lady made by Quentin Bell in the 1970s,' adds Darren
5. The artists' studio
'The studio at Charleston House was built in 1925 and was where Vanessa Bell and Duncan Grant worked side by side, until 1939 when Vanessa had a studio built for herself in the attic,' says Darren.
The space was for work and also for play. During the interwar years, the artists threw many large parties here, which spilled out into the garden.
'At Charleston, it was all about blurring boundaries between art and life – art wasn't separate to the space, it was part of the space. There are lots of objects and artworks in the studio that connect the family to places they have been, and to people who were important to them.'
Who lived at Charleston House?
From 1916, artists Vanessa Bell and Duncan Grant lived at Charleston House, along with Duncan's lover David Garnett and also Vanessa's two young sons, Julian and Quentin.
Although Vanessa was married to the notable art critic Clive Bell, they had an open relationship and he continued to live in London.
Following the end of the First World War, the house occupants returned to their lives in London and Europe, but for the next 20 years would continue to spend summers at the house with friends and visitors.
At the outbreak of the Second World War in 1939, Vanessa and Duncan returned to live at Charleston, along with Vanessa's husband, Clive Bell.
When did Charleston farmhouse open to the public?
Charleston House and its garden opened to the public in 1986.
The Charleston Trust charity was set up in 1978, following the death of Duncan Grant, to restore and maintain the house.
Sign up to the Homes & Gardens newsletter
Decor Ideas. Project Inspiration. Expert Advice. Delivered to your inbox.
Rachel is senior content editor, and writes and commissions gardening content for homesandgardens.com, Homes & Gardens magazine, and its sister titles Period Living Magazine and Country Homes & Interiors. She has written for lifestyle magazines for many years, with a particular focus on gardening, historic houses and arts and crafts, but started out her journalism career in BBC radio, where she enjoyed reporting on and writing programme scripts for all manner of stories. Rachel then moved into regional lifestyle magazines, where the topics she wrote about, and people she interviewed, were as varied and eclectic as they were on radio. Always harboring a passion for homes and gardens, she jumped at the opportunity to work on The English Home and The English Garden magazines for a number of years, before joining the Period Living team, then the wider Homes & Gardens team, specializing in gardens.