This 1800s British cottage was once the village reading rooms – now it's a colorful home
Bursting with character and charm, Jojo Humes' stylish country house is a testament to her vision, hard work and creativity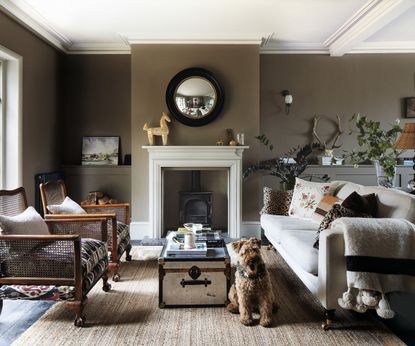 (Image credit: Marisha Taylor / James French)
In the heart of Suffolk, Eastern England, surrounded by miles of green fields, is the characterful village of Debenham where Jojo Humes, founder of Sojojo Interior Design Studio, now lives with her 14-year-old son, Teddy.
'In 2019 we were living in the market town of Woodbridge, where I grew up,' says Jojo, 'but as my eldest children had flown the nest and there had been a change in my marital status. It was time to embrace new surroundings.'
Jojo focused her search on Debenham for its outstanding high school, and it was there she stumbled across her dream house, with wisteria growing over the front porch and red brick façade. Let's take the tour.
The four-bedroom property had started life as the village reading rooms in the 1800s before becoming a social club in the 1960s, then being turned into a residential property a decade later.
Having previously renovated two houses, 'I am used to living in dust and chaos and this renovation was no exception,' Jojo says. Jojo split the work into manageable sections over the following three years, focusing on one room at a time when money and time allowed.
'It had been modernized back in the 1980s, which meant all the character had been stripped away, and rooms divided in strange ways,' says Jojo. 'The house needed reconfiguring and a complete renovation.'
In March 2020, as the country prepared to go into lockdown, Jojo started work. 'I knew with time on my hands, I could get a lot done and started by knocking out the built-in cupboards in the master bedroom.'
The central stairwell was dark with no natural light and Jojo wanted to create a grand landing by borrowing space from both front bedrooms and revealing an original window. 'The minute we could have tradespeople back into our homes, new walls were built, and a beautiful bespoke handrail, banister and galleried section fitted.'
Downstairs, the wall was knocked through from the living area into the kitchen to give the rooms an open-plan feel, with fitted glazed double doors which allowed the flow of light throughout the space.
As a designer, Jojo's passions are color, texture and pattern. 'I wanted to give each room a strong identity but not steer too far from traditional Victorian colors,' she says. Each room is rich and vibrant, from the bright mustard yellow in the hallway (above and below), the blues in the master bedroom to the soft-pink walls in the kitchen.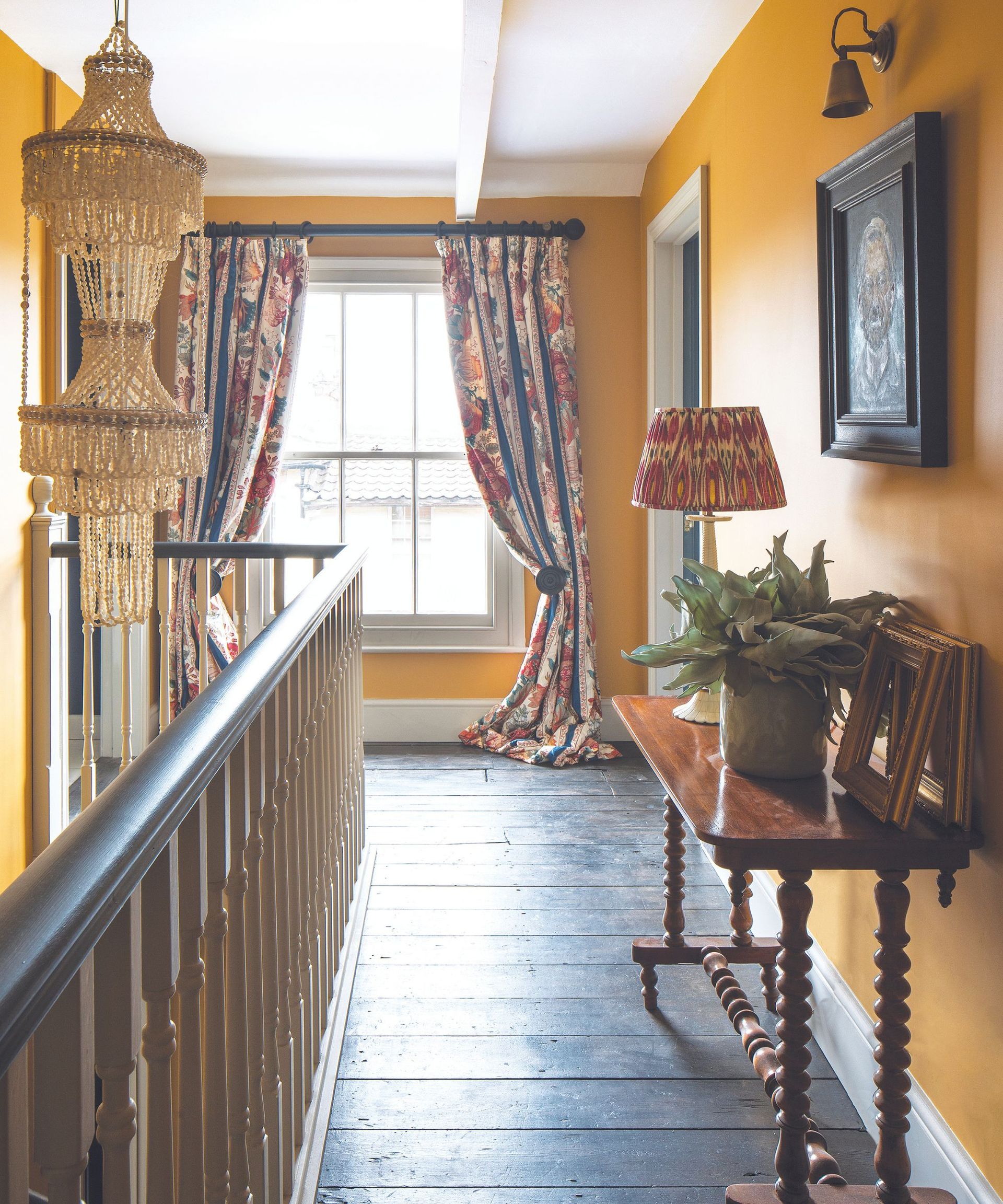 Jojo's skilfully curated mix of antique furniture, vintage fabrics, artwork and bold patterned wallpaper creates interest and comfort in equal measure.
Rich-blue walls in the primary bedroom (below) create an indulgent feel. Walls in De Nimes, Farrow & Ball. Rug and kantha bedspread, both Ebay finds
In the bathroom (below), the same blue from the bedroom continues on the bath panelling. Tassi wallpaper, Colefax and Fowler. Try Haines Collection for similar vintage fabric.
Teddy had his heart set on a red room (below). Walls in Indian Lake, Mylands. Vintage desk and chair, Ebay.
'What has emerged surpasses anything I could have imagined,' smiles Jojo. 'I love the energy in the house and feel so blessed to have had the opportunity to inject new life into this beautiful building and make it my own.'
Interior design / Jojo Humes
Sign up to the Homes & Gardens newsletter
Decor Ideas. Project Inspiration. Expert Advice. Delivered to your inbox.