This elegant NYC apartment is a masterclass in using color and pattern
Vintage pieces and statement art join together to add character this subtly colorful space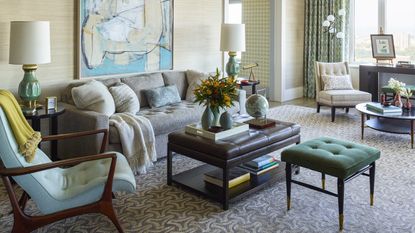 (Image credit: Eric Piasecki)
When interior designer Gideon Mendelson and his team took on this extraordinary project in Manhattan for a recently married couple in their 40s – he an investment banker and she a small business owner – his goal was twofold: refinement and quality.
Having designed an apartment for the husband at an earlier time, Mendelson was thrilled to have the opportunity to design for him again, this time incorporating the apartment decor ideas of both husband and wife in the process.
Mendelson took on the challenge of marrying two different aesthetics to create something unique and personal with two entities in mind: the husband likes handsome and modern with a touch of global; the wife chose patterns and colors with a touch of whimsy.
The focus was to create a home that worked for both, a well-curated, sophisticated space full of visual interest that shows off stunning views of New York's famous Hudson River and northern Manhattan.
Functionally, the aim was to create space to entertain friends and family from overseas and have plenty of ample storage ideas for their belongings.
This elegant home consists of three bedrooms and three bathrooms, the end result being more than the sum of its parts. Entire rooms appear larger, enhanced with personal accessories and delightful furnishings.
Below, we take the tour.
The living room
The living room was planned around a place to entertain friends and unwind at the day's end.
Aesthetically, Mendelson and his team kept the palette simple, the living room colors being shades of minty greens, charcoal, and cream; a palette that naturally evokes warmth and feeling.
Texture in the interior design, also, reigned supreme with the hemp and wool area rug, the nubby sofa fabric, and lots of furry pillows.
Kitchen
The kitchen was totally redone, creating wonderful, spacious areas made even more delightful with refined surfaces and cosmetic changes.
The kitchen layout makes the most of the wonderful views over the Hudson River with a cool breakfast bar.
Dining room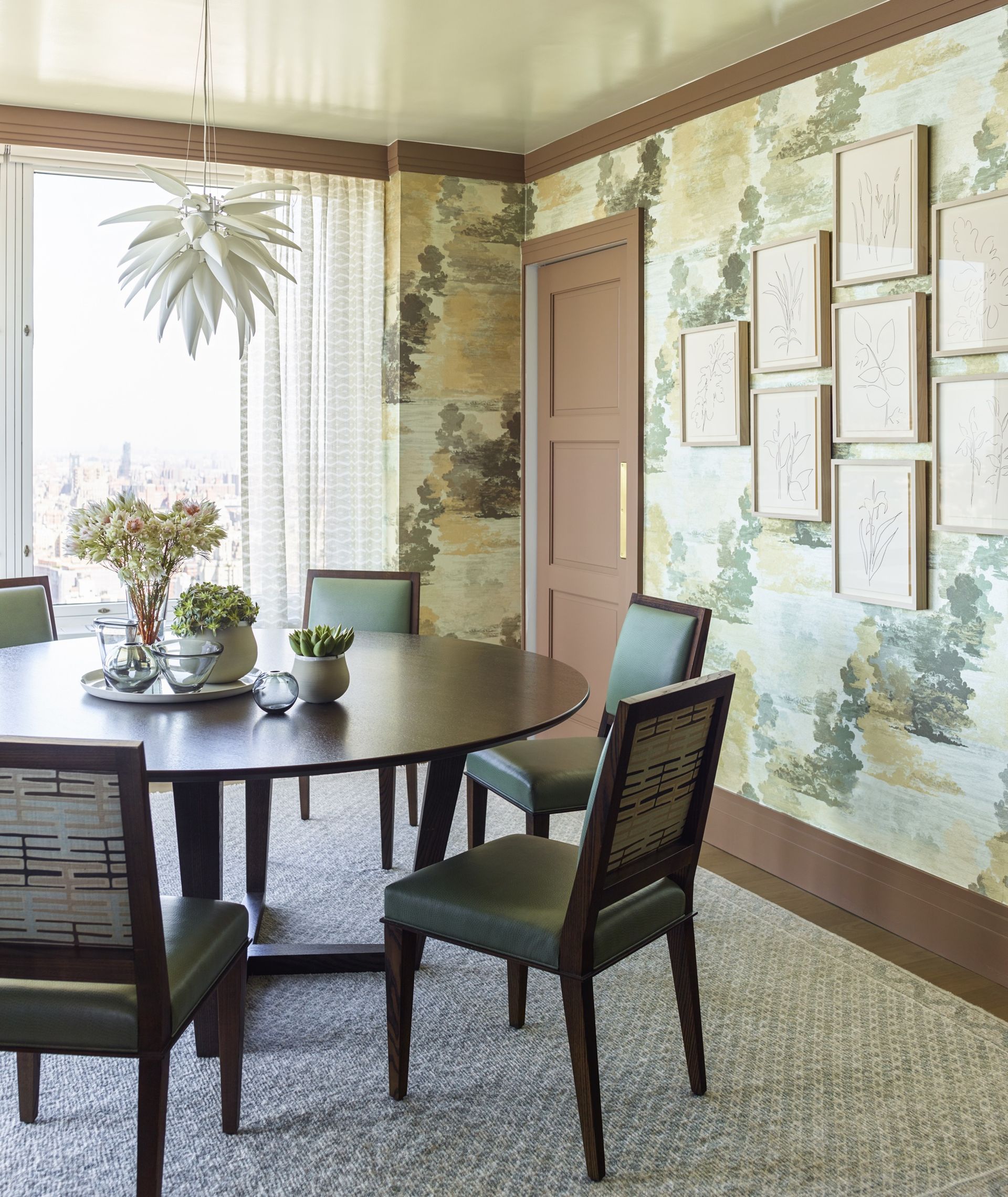 For the dining room, a large round table made the most sense architecturally, lending itself to intimacy and conversation.
The table and chairs were custom-made by Mendelson. A graphic wallcovering and dark trim add drama to the room and immediately prompt interesting conversation, the views showing starlight both day and night.
Sitting room
A mix of vintage furnishings in the sitting room keeps things eclectic and yet personal. Its coloring of soft grays, golden yellows and a shot of cranberry help to make it the perfect place to curl up and read a book.
For Mendelson, all of the vintage finds make the project extra special. Lighting, of course, can also bring real artistry to a space and, for this project, the husband-wife team was open to some pretty fun forms of lighting.
Primary bedroom
Mendelson's custom millwork in the master bedroom also took the spotlight, ensuring plenty of bedroom storage.
The various soft blues and neutral colors are both inviting and relaxing. Again, the river views come into play – quite amazing for the couple to wake up to.
Interior design / Mendelson Group
Ruth Doherty is an experienced digital writer and editor specializing in interiors, travel and lifestyle. With 20 years of writing for national sites under her belt, she's worked for the likes of Livingetc.com, Standard, Ideal Home, Stylist and Marie Claire as well as Homes & Gardens.