Living room with brown sofa ideas – 10 tips for classically cozy seating
Earthy and inviting, ground your living room with brown sofa ideas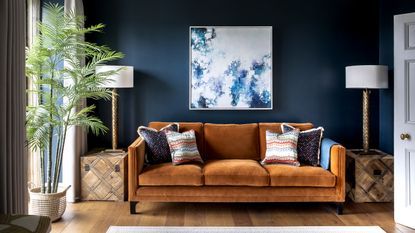 (Image credit: Paul Raeside)
If you're designing a living room with brown sofa ideas as a must-have, you are in the right place.
Adding a sofa in this welcoming, earthy hue to your living room ideas is a classic choice that can easily be given a modern twist – and we have plenty of suggestions to hand on how to do just that.
'Brown is one of the most popular colors chosen for living room furniture thanks to its unparalleled versatility,' says Patricia Gibbons, a member of the Design Team at Sofa.com.
'It doesn't demand a lot of attention, but still feels charming while beautifully complementary with other finishes, or as the perfect color foundation for a variety of other tonal palettes. It's ideal for those who often switch up their home accessories.'
Living room with brown sofa ideas
Far from boring, brown is a color that can be warming, grounding, comforting and cozy – all the things you want from a sofa. We asked the experts for tips on styling a living room with brown sofa ideas, and found some beautiful inspiration for your seating space too.
1. Get on trend with brown velvet
If you want to tap into one of the biggest trends across all living room seating ideas, then pick a sofa upholstered in brown velvet. The fabric is having a moment in a variety of colors, and on anything from armchairs to throw cushions. Using it in brown livens up what could be a dull color, giving it a little shimmer and a hint of luxury. In furniture expert Christine Retlev's Manhattan apartment, a sleek brown velvet sofa acts as the warm heart of a mid-century modern scheme.
2. Choose a brown sofa for a busy home
'Brown is a forgiving color in terms of wear and tear,' says Kelly Collins, Interiors Expert and Head of Creative at Swyft. When planning your living room sofa ideas, it's important to think about how the sofa will be used and by whom.
'Many of us dream of a beautiful white or light sofa but in reality this really wouldn't be feasible with pets, children, etc. A beautiful light brown can be just as elegant, and if you are still craving lighter tones, these will sit well with brown.' This mid-brown corner sofa works perfectly for a big family, and its textured leather surface is adept at hiding marks and scuffs.
3. Pair a brown sofa with warm woods
When picking a sofa, you'll need to also consider the living room furniture ideas that will sit alongside it. 'A brown sofa will also easily sit with many hard finishes, but I would suggest warmer wood tones for your coffee and side tables,' says Collins.
In this living room, a Swyft sofa in the company's orange-brown 'Brick' fabric works perfectly with the bookshelf wall behind it, the warm tones of both pieces softening the mid-century modern scheme.
4. Layer it up with neutrals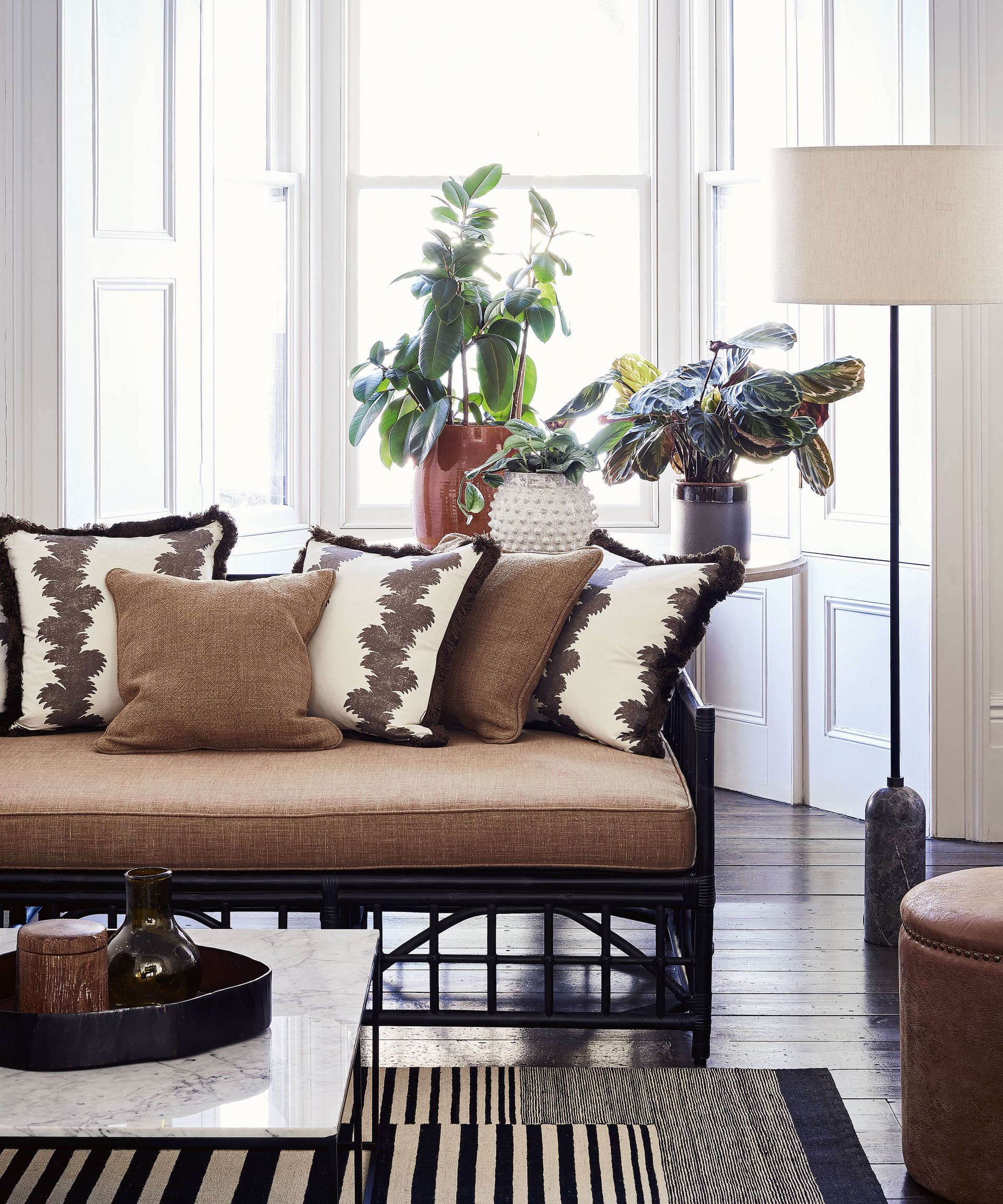 If a brown sofa is at the heart of your neutral living room ideas, think about how you can build it out tonally. 'To add a bit more interest to this neutral color, layering is key, says Collins. 'Don't stick with just one other color – throw in two or three different tones in the form of cushions and throws.'
'Black and white cushions in any pattern, paired with an oatmeal or tan color fabric works well,' says Natasha Bradley, Lead Color Specialist and Interior Design Expert at Lick. In this example, a brown sofa is complemented with black and white living room rug ideas.
'For the summer days, a throw in a lighter tone such as buttercream works really well,' adds Bradley. 'Place the larger cushions at the back, with the smaller cushions at the front, and give the throw a light dishevelled look.'
5. Keep it light for a calming aesthetic
While mid and dark brown sofas will add drama into your living room, some of us prefer the quiet life. Choosing a light brown sofa will help create a calming environment, particularly when paired exclusively with lighter neutrals, as demonstrated in this living room. Here, a light brown sofa is matched with warm beiges, woods and greys, as well as lots of softly curved shapes – you'll feel so relaxed, you might even need to consider a sleeper sofa.
6. Go au naturel
'A brown sofa can add a softness to the space making it feel warm and comforting,' says Bradley. 'Thinking about the color palette of nature is the best way to celebrate this in your home. Neutral colors such as [Lick's] Beige 03 and Taupe 01 are a great way to make a space feel cozy, and they can be complemented with Green 02 as an accent.'
In this space, a brown ochre sofa is paired with blue living room ideas in the form of deep cerulean walls and water-reminiscent abstract art – as well as a verdant pot plant.
'Color can also be introduced through soft furnishings, such as pillows, throws and a rug,' adds Bradley. 'An oversized throw for the winter nights, olive green, or mustard is a stunning match.'
7. Choose leather for timeless comfort
'A living room staple, tan sofas are proving particularly popular this year, closely following the ever-favoured grey,' says Sofology's Buying Director Suzy McMahon. Leather might be popular for white sofa living room ideas too, but it's in its more natural brown state that it works best – especially if you're up for a bit of curated rusticity.
'Leather designs are one of the simplest ways to introduce this versatile shade into your home, offering a look that only improves with age, making it the perfect addition to busy but relaxed homes,' says McMahon.
8. Add patterns for a bohemian look
With their earthy connotations, brown sofas work excellently at the heart of bohemian living room ideas. 'We like to style our brown leather sofas and lighter brown fabrics with neutral beiges and creams, along with accents of patterning and texture to create a rustic, bohemian-inspired look,' says Gibbons.
'Think deep leather Moroccan pouffes, geometric shaggy Berber rugs, rattan accessories, macrame wall hangings and houseplants galore – an effortlessly pulled together aesthetic which remains timeless and stylish.'
9. Blend with warm colors
While nature may initially inspire you to pair your brown sofa with cooler hues, dig a little deeper and you may be drawn to the heat of earth's fiery core. 'I would generally stick to a warmer color pallet rather than a cooler one,' says Collins. 'For example, reds, oranges and creams rather than blues or greens.'
In this living room, a brown sofa is paired with a warmer, lighter brown on the walls, and red stripes ranging from rust to crimson on the textured rug.
10. Pick a cool tone for a formal living room
If you've been pondering ever-popular grey sofa living room ideas for your more formal sitting room, think again. A cooler shade of brown works well for a more business-like feel, as demonstrated in this calm and collected living room. Pair it with grey – either in accents or on the wall, as shown here – as well as extreme neutrals, like off whites and dark browns for a chic look.
What color wallpaper goes with a dark brown sofa?
'Styling a brown sofa is one of the easiest things to do – honestly, most colors will sit with it,' says Collins. If you're worried about which color to pair alongside you sofa, don't be – what you should be considering carefully, however, is the shade.
While dark brown sofas are forgiving in terms of wear and tear, they're not quite so malleable when it comes to color. If you want to pursue a dark scheme, try enlivening the sofa with rich forest greens, or subduing it with dark grey blues. Alternatively, go tonal and play with neutrals with the same undertone as your sofa – soft creamy beiges for a warm brown sofa, or greys for a cooler brown alternative.
How can I lighten my living room with a brown couch?
If you feel like your brown sofa is acting like a bit of a black hole in your living space, break it up – not literally, but with throws and cushions. Choose accessories either in pale neutrals to act as a lightening contrast, or throw in vibrant brights to lift the overall impression of the space.
Keeping your walls pale will also help balance a dark brown sofa, and make the room feel lighter overall. In between the two, you can play with tonalities of the brown, and layer a variety of neutral accessories in multiple textures to make the room feel cozy.
Sign up to the Homes & Gardens newsletter
Decor Ideas. Project Inspiration. Expert Advice. Delivered to your inbox.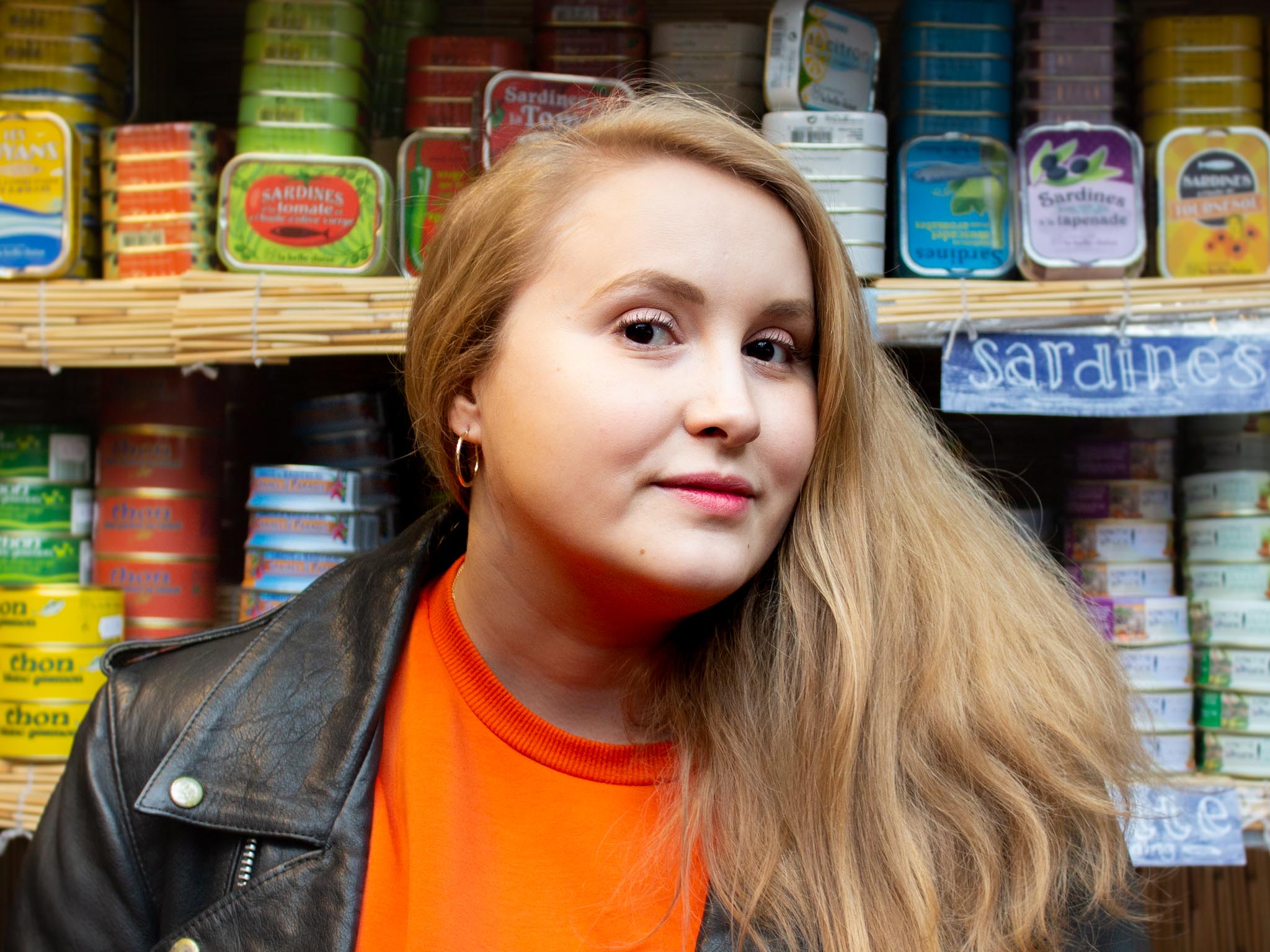 Ailis started out at British GQ, where a month of work experience turned into 18 months of working on all sorts of projects, writing about everything from motorsport to interiors, and helping to put together the GQ Food & Drink Awards. She then spent three years at the London Evening Standard, covering restaurants and bars. After a period of freelancing, writing about food, drink and homes for publications including Conde Nast Traveller, Luxury London and Departures, she started at Homes & Gardens as a Digital Writer, allowing her to fully indulge her love of good interior design. She is now a fully fledged food PR but still writes for Homes & Gardens as a contributing editor.