5 clever landscaping and planting tricks that restored a 19th-century garden to its former glory
The house rests within a six-acre plot overlooking countryside and is teeming with cottage garden perennials, vegetables and fruit trees all enclosed in a Victorian walled garden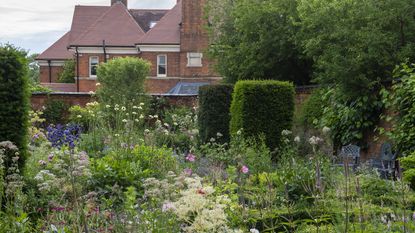 (Image credit: Nicola Stocken)
Come midsummer, the gardens at the historic Westbrooke House dance with a troupe of lively perennials, nimbly choreographed by its owners. And it is almost a decade since Joanne, a dance teacher and examiner, and her husband, Bryan, drove down the avenue of spectacular limes and giant redwoods planted when Westbrooke House was built in 1887, on the outskirts of Market Harborough.
The house rests within a six-acre plot overlooking countryside, a piece of land packed with garden ideas. To one side there's a lower garden, and to the other a walled garden, a former tennis court.
As you look around the garden the walled parterre, lower garden, main house and sweeping lawns face south. As for soil type a clay base runs throughout, but having long been cultivated, it is well-drained loam.
Special features include the original Victorian walled flower and kitchen gardens, natural pond, lawns, collection of miniature hostas, woodland paths and mature trees, and a contemporary lower garden overlooked by a summerhouse from HSP Garden Buildings.
The garden is designed by Rebecca Winship whose original design and planting have been developed by the owners and their gardener. You can even visit Westbrooke House which opens in aid of the National Garden Scheme.
Here's how they kept the life blood flowing through these centuries-old gardens.
1. Assemble a pergola of oak frames to lead the eye
In the lower garden, Rebecca has conceived a striking pergola idea. Oak frames weaves through lush borders featuring aconites, daylilies, dahlias and salvias. There is something dreamlike about wending through the giant-sized oak frames straddling the path in the lower garden.
'As you approach each picture frame, it feels like a journey during which a series of views are unveiled, and your pace inevitably slows,' says Joanne.
2. Combine contemporary design with traditional elements
The couple envisaged restoring the walled garden as a Victorian-style cutting garden and, guided by designer Rebecca Winship, subsequently created a contemporary lower garden inspired by a visit to the Great Broad Walk Borders at Kew.
'I liked the planting on a diagonal, with blocks of color in blues and oranges, purples and yellows,' says Joanne.
Rebecca planned a contemporary design with prairie-style planting that would create beautiful views from the house. 'Rebecca's first design placed the summerhouse across the diagonal, but we wanted it parallel to the steps, to screen us from our neighbour,' says Joanne.
A sinuous garden path idea in self-binding gravel, leads through beautiful borders, embracing en route two oval-shaped lawns.
3. Use hard landscaping and water together
The path is punctuated by an unadorned oak pergola. A rill stretches from the raised patio towards the steps, built according to a sketch by Joanne, in perhaps one of the most impressing garden landscaping ideas seen here.
'I originally wanted a rill running throughout the lower garden, but decided against it because of the high maintenance,' she says.
Bespoke metal casings direct the flow of the inky water into a central bubbling fountain, with enclosed slates radiating out like the sun. 'The builder spent many days tapping in the slices of slate to form the rays.'
4. Restore a walled garden to its former glory
Before the Victorian walled gardens were restored in 2014, Rebecca presented two designs. The first was a layout of rectangular or square beds, while the second introduced a central, circular arbour with curving paths and hedging pirouetting out to meet a linear arrangement of flower bed ideas.
'We preferred the marriage of straight-sided beds, enclosing curving beds and paths that frame a central arbor,' says Joanne.
The walled vegetable garden with a Victorian-style greenhouse is adjacent to the flower garden, but the boundary is not symmetrical.
'The design needed to draw the eye into the garden and not to the boundary and beyond,' says Rebecca. So, by setting the pathways and greenhouse at a 45-degree angle, they connect with the diagonal paths within the flower garden, extending the views from one garden to another. 'The style complements the flower garden. I didn't want it to jar when you walked through,' says Joanne.
5. Choose cottage garden favourites to plant
In the walled area, the couple have created a cottage garden full of colorful and architectural plants, ideal for cut flower displays in mid summer.
For compact golden flowers the Achillea 'Coronation Gold' has a second flush of flowers, if deadheaded. Geranium nodosum 'Clos du Coudray' which bears violet, trumpet-shaped flowers gives soft ground cover.
For a cow parsley effect there's Ammi majus. Angelica archangelica is a statuesque biennial that self-seeds once settled which is the bestarchitectural plant.
And Eryngium bourgatii, a prickly perennial with violet flowers is perfect for drying. Clematis viticella 'Dark Eyes' is a great climber with sumptuous velvety purple flowers and is trained up obelisks.
Sign up to the Homes & Gardens newsletter
Decor Ideas. Project Inspiration. Expert Advice. Delivered to your inbox.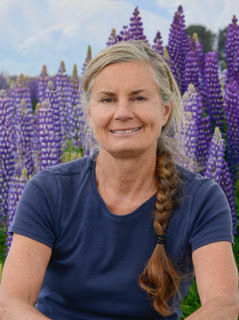 Nicola Stocken is an award-winning photographer and writer, conveying the beauty of gardens and plants through words and pictures that appear in publications worldwide. For some 30 years, she has photographed throughout the British Isles, meeting the remarkable people behind some of the country's loveliest gardens, specialist nurseries and unique plant collections.