Experts say this paint technique could drastically improve your sleep – here is how to use it
'It's a good choice for healthy living spaces.'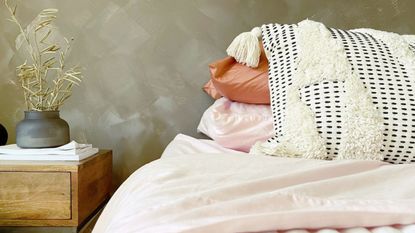 (Image credit: Happy Beds)
Until now, nature-inspired blues and greens have been touted as the ideal colors for a soothing space but there is a trending paint technique on the scene said to aid sleep, too.
Although nothing new, limewashing is being called one of the most relaxing bedroom paint ideas by a recent study*. An ancient painting technique, the process involves mixing lime, water, and colored pigments to create a textured and breathable finish on walls, explains interior designer Artem Kropovinsky. 'It is a good choice for healthy living spaces.'
Here, sleep experts share why limewashing could promote a good night's sleep, with tips on how to embrace this soft and textured paint trick at home.
Why limewash is the best paint effect for sleep
There are many ways to use limewash at home, but it could be most effective in the bedroom according to a recent study by English sleep psychologist Dr. Katherine Hall. Found to be antiseptic, antifungal, and antibacterial, the breathable paint finish has been shown to improve air quality in a bedroom (or any room in the house for that matter) which, in turn, can improve sleep.
As far as sleep-friendly bedroom tips go, it is also one of the most beautiful options, says Tahwii Spicer, sleep technologist, designer, and owner of The Porter House Co. 'Limewashed walls are a timeless treasure suited for an array of design preferences,' she says.
'It offers a nostalgic feel which is why many find it comforting. As a result, it pairs perfectly with a bedroom aesthetic geared to a serene mood.'
Tahwii Spicer has worked professionally in the field of sleep medicine as a registered sleep technologist (RPSGT) for nearly 10 years. She has since pivoted into the home decor sector and currently, owns The Porter House Co. a home decor & housewares shop.
'Limewash can also create different looks depending on how it is applied and aged,' adds Artem Kropovinsky, interior designer and founder of Arsight, making it perfect for luxury bedrooms and laid-back schemes alike. 'It has a soft and chalky look that can enhance the natural light and create a cozy atmosphere. Limewash can also be colored with different pigments to match different moods and styles. For example, you can use a light blue limewash for a calming effect or a warm beige limewash for a rustic feel.'
Based in New York, Artem Kropovinsky, founder of Arsight, has a decade of extensive and considerable global design experience. Prioritizing minimalism, sustainability, and authenticity, Artem, alongside his team of professionals, works on projects in the US and worldwide.
How to limewash your bedroom
If you are considering limewashing your bedroom walls, there are a few things to take into account first as this technique is not as simple as cracking open a tin of paint and going at your walls with a roller.
Firstly, you need to prepare the walls by removing any paint, wallpaper, dirt and sealant as the solution soaks best into porous surfaces such as plaster, stone, and brick, says Artem Kropovinsky.
The secret to nailing this alluring paint finish is to find the perfect balance of dilution, usually noted on the back of the lime packet, and apply the wash in thin coats moving in circular motions with a clean, soft brush. 'You can change the pressure and direction of the brush strokes to create different effects like smoothness or texture,' Artem says. The key, he notes, is to create visual interest by varying the texture across the wall. You can achieve this by wiping off some of the limewash with a damp cloth while it is still wet to create more contrast.
Repeat this process for a few coats, allowing each layer to dry entirely before applying the next.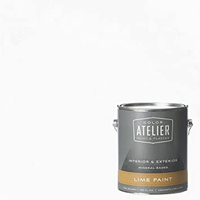 Color Atelier Lime Paint | $98 for one gallon at Amazon
This authentic slaked lime paint is one of the best-rated on Amazon and is perfect for those of us new to limewashing thanks to its pre-mixed formula.
FAQs
How much does it cost to limewash a room?
Limewash doesn't cost much more than your standard tins of high-quality paint, however, costs of application can increase if you need to remove layers of wallpaper, painted backing paper, sealant, or need to replaster to prepare your walls surfaces for application. What's more, the limewash can be tricky to apply yourself, meaning you may also need to hire professionals for a truly perfect limewash finish.
What are the disadvantages of lime wash?
Despite its beautiful appearance, there are a few practical disadvantages to limewash. For example, limewash is not an easy wall finish to apply yourself, especially if you are new to decorating homes, as it requires specific surface, temperature, and moisture conditions to apply to walls and dry completely and safely. This means it is not a simple DIY, and you will likely need a professional to complete the job for you over a few days.
How long will limewash last?
Limewash typically lasts for five to seven years if applied correctly, as it will gradually begin to wear down over time when rubbed against or through general weathering.
---
Limewashing is a truly beautiful way of creating the perfect sleeping environment. With its antibacterial properties and soothing washy patterns, it is the perfect way to make a statement in a bedroom without overwhelming it with color or pattern.
*research completed by Dr. Katherine Hall, a sleep psychologist with over 13 years of experience in clinical sleep in partnership with HappyBeds.
Sign up to the Homes & Gardens newsletter
Decor Ideas. Project Inspiration. Expert Advice. Delivered to your inbox.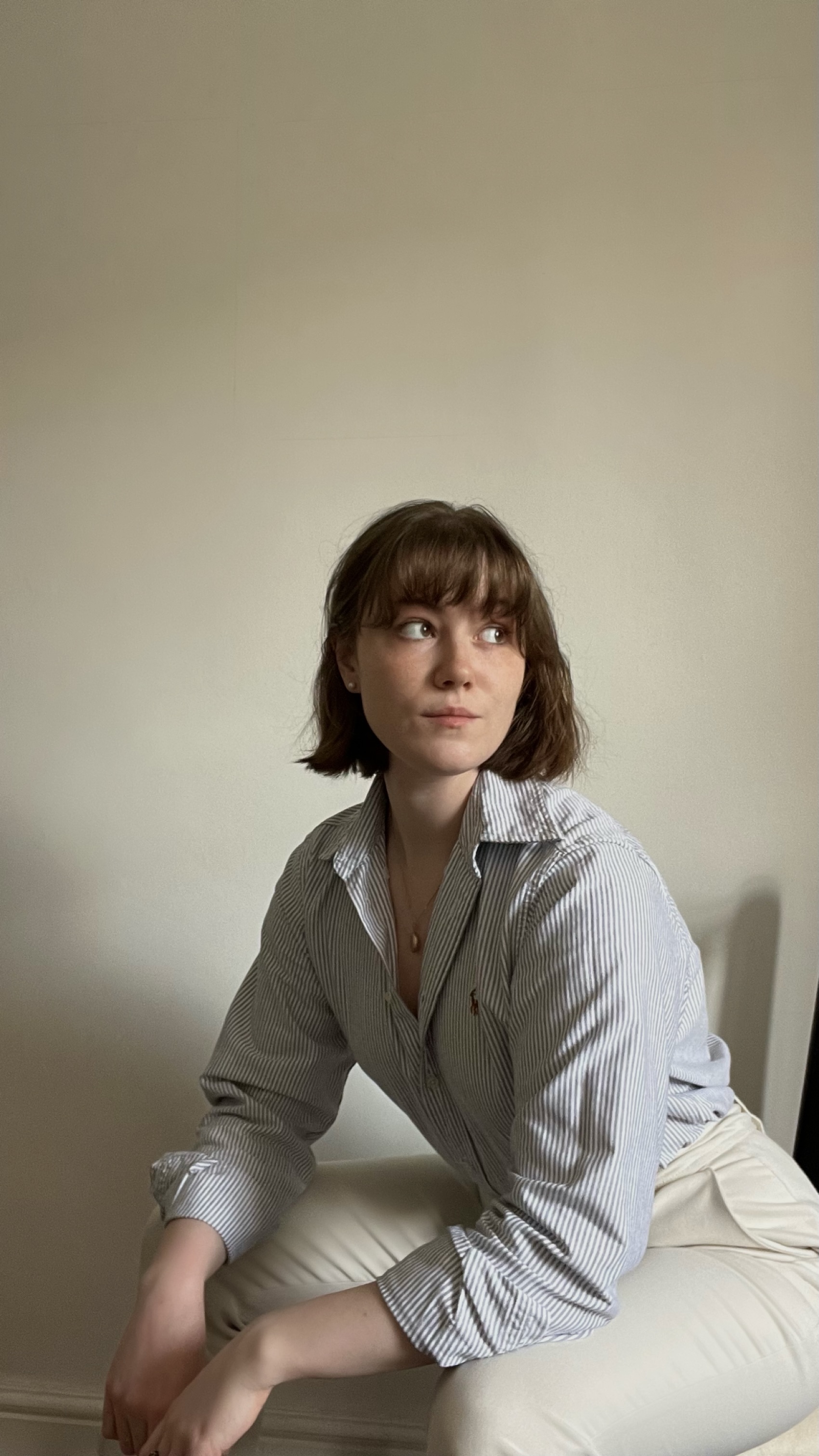 Chiana has been at Homes & Gardens for a year, having started her journey in interior journalism as part of the graduate program. She spends most of her time producing content for the Solved section of the website, helping readers get the most out of their homes through clever decluttering, cleaning, and tidying tips – many of which she tests and reviews herself in her home in Lancaster to ensure they will consistently deliver for her readers and dabbles in the latest design trends. She also has a first-class degree in Literature from Lancaster University.