These are the 7 most calming entryway colors – to create a serene welcome to your home
Whatever size space you are dealing with, whatever style you love, these calming shades will transform your home's entrance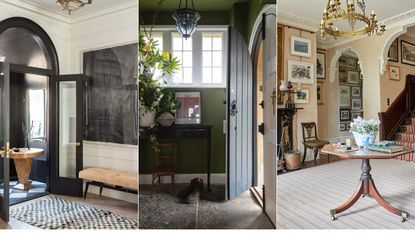 (Image credit: Future/Edward Bulmer/Farrow & Ball)
Sign up to the Homes & Gardens newsletter
Decor Ideas. Project Inspiration. Expert Advice. Delivered to your inbox.
Thank you for signing up to Homes & Gardens. You will receive a verification email shortly.
There was a problem. Please refresh the page and try again.
Out of all the rooms in your home, you want your entryway to be the most calming. It's the first thing guests see when they enter your home, so you want it to reflect the serene vibes that you would like the rest of your house to emanate too.
However, as well as being the most-seen room, an entryway is also the most heavily used. We ask so much of these spaces in terms of practicality too – they need to provide copious amounts of storage for the everyday clutter we throw at them, and yet mask all this chaos so that they still looks chic – and calming.
One thing that's sure to help create the illusion of calm in an entryway? Your choice of entrway color ideas. Pick the right shade for your entryway and you can turn that hardworking space into a peaceful welcome. We asked designers and color experts what shades they would recommend using to create a serene and tranquil entryway.
7 calming entryway colors for a chic and serene space
'Entryways set the mood, be that for the start of your day when you are leaving home, or when welcoming you and your guests into your home. They are a transitional space, often seen through open doorways or between other rooms, so they are the perfect host for versatile, sophisticated, and inviting tones that are easy to combine with a multitude of complementary colors and finishes,' explains Ruth Mottershead, Creative Director at Little Greene.
'Rather than treating these often purely functional spaces as an afterthought, integrate your entryway into the rest of your design scheme, offering a glimpse into your personal style and the interior beyond.'
The most calming colors for your entryway will somewhat come down to what you consider to be a calming color. Plus, the size of your entryway, the shape, and the amount of light it gets. But all these colors are soft and tranquil and will work in any size space and can be adapted to suit any style.
We will say before making any decisions, one of the best small entryway color ideas designers follow is to first order swatches so you can see what shades look like in situ as most of them, being pale and interesting, are shifters and will change under certain lights.
1. Soft whites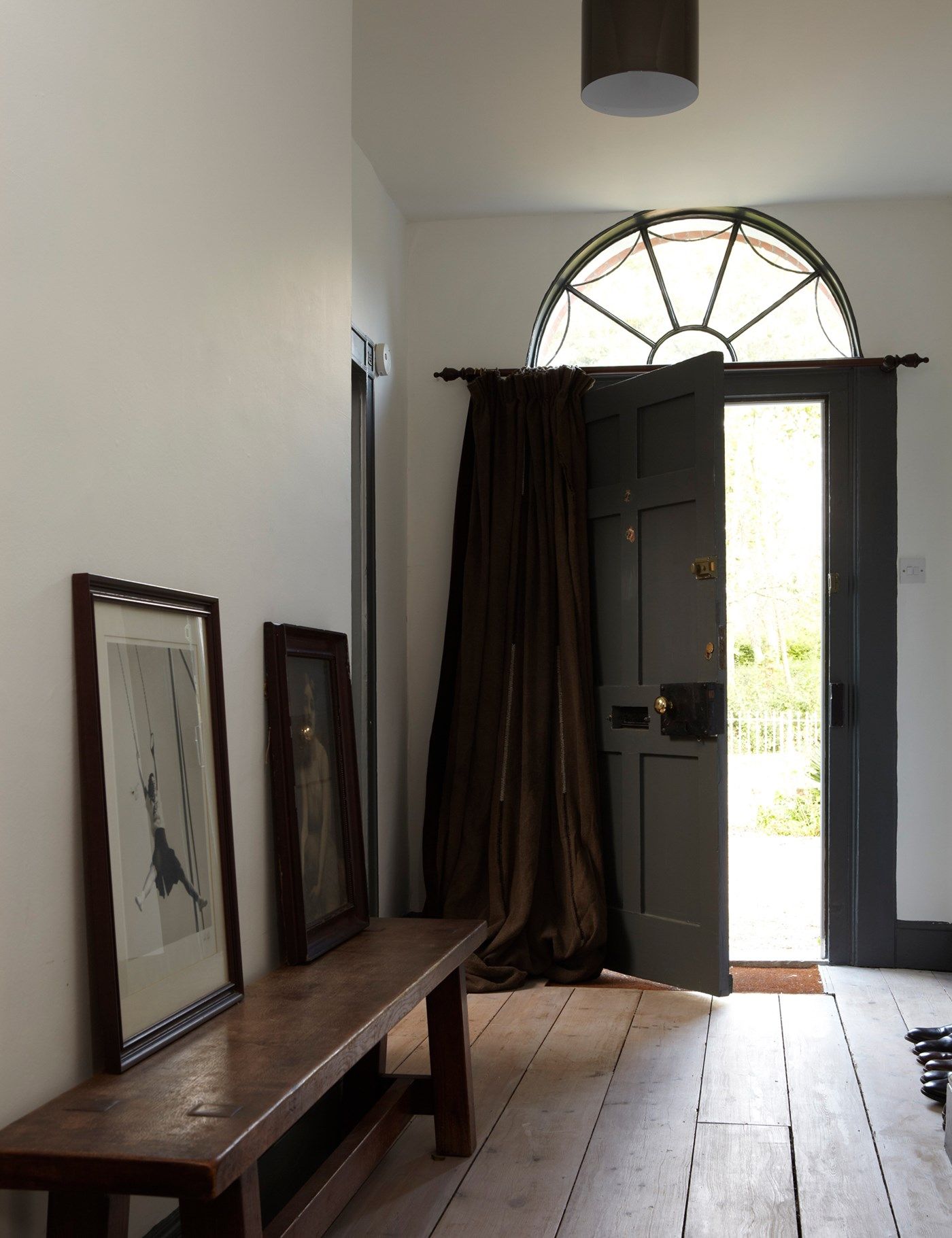 Let's start with the obvious – white. But not just any white, since a white entryway can actually look quite clinical if you go with a pure brilliant white. For a calming feeling, you want to go with softer whites, something with a pink or yellow undertone. These are amongst the best colors for small entryways, because you get the freshness of white, but there's a softness there too.
'I love a tranquil entryway and often pick calm light paint colors for this reason, they tend to have a perennial elegance that is the perfect backdrop for stone slab flooring and unusual eye-catching artwork and mirrors. For a recent mews house, I chose Farrow & Ball School House White, a soft off-white with a touch of chalky warmth that lends itself well to limestone flooring and timber furniture.
'When picking a lighter tone I do prefer to use the Estate Emulsion finish for a softer more tactile finish, however in a smaller hallway where durability is key Modern Emulsion is preferred as I find it scuffs far less easily,' explains designer Katharine Pooley.
Designer Anca Enica agrees that 'Deep, earthy and muted tones are cozy and welcoming for a hallway, whilst helping to cohesively transition between spaces. I do often favor warm off-white neutrals and airy shades, to bring a softness to an otherwise pretty functional space.'
2. Liveable yellows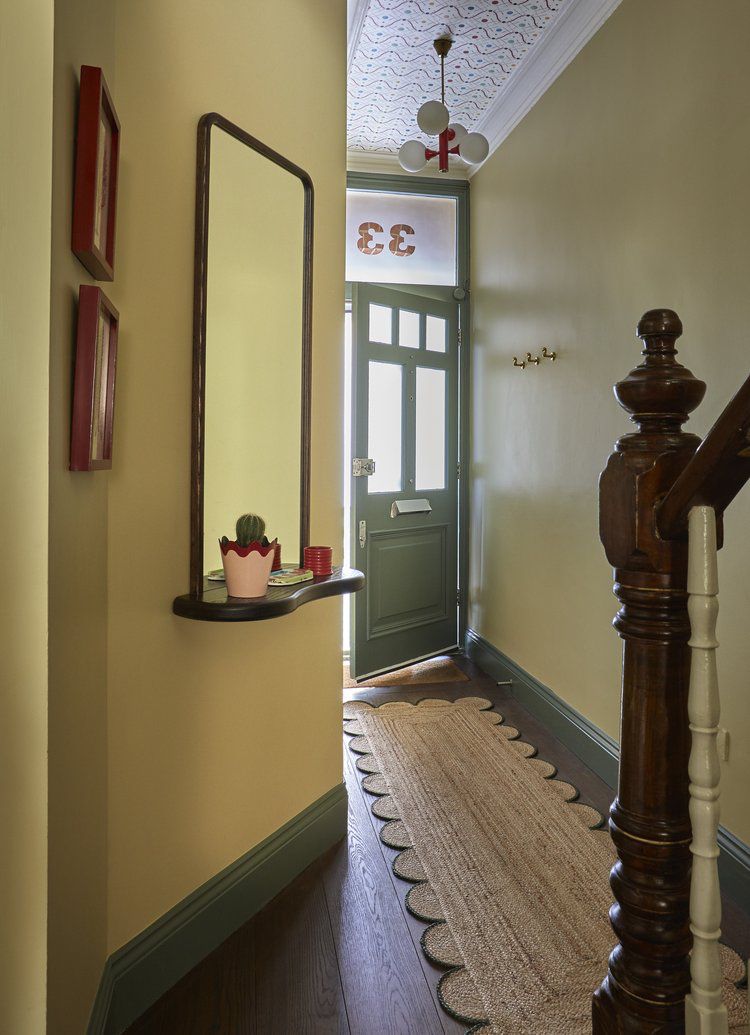 Yellow might sound like a bold color, but pick the right shade and it can be sunny yet serene – the perfect balance. This narrow entryway and hallway designed by Studio Duggan makes the case. Combined with the olive green it's a playful yet calming entrance, with both shades being so muted they almost act like neutrals.
'Halls and passages work well with ochre-based tones,' explains Edward Bulmer, founder of Edward Bulmer Paint (who has also just launched his new course 'A Guide to Pigments, Paints & Palettes' with Create Academy). 'Just bear in mind that starved of light, yellows can seem a bit green. There are, however, ways to make this hue look contemporary: juxtaposed with clear white, it looks fresh and confident. Deep and slightly tobacco-like shades can lend a chic, suede feel to a room, especially if you tie it in with a complementary trim.'
Emma Bulmer, Head of Color Consultancy at Edward Bulmer also suggests yellow as a slightly bolder, but still very calming entryway color. 'Entryway spaces can be narrow or lacking in natural light, so choosing the right color for this space is important in achieving a balanced and welcoming space that coherently leads you through the home. Hallways are a great opportunity to make an impact to the overall sense of your space but you need to be practical and solutions-driven.'
'If you have a light, open entry or hallway space then why not add some rich color , like a yellow, which will be beautifully bright during the day and suitably warm in the evenings and in lamp light. We love our Trumpington, a highly pigmented deep tobacco tinted yellow color, it draws out all the powerful tones in the light but also creates a warm atmosphere when the sun has gone down.'
3. Soothing greys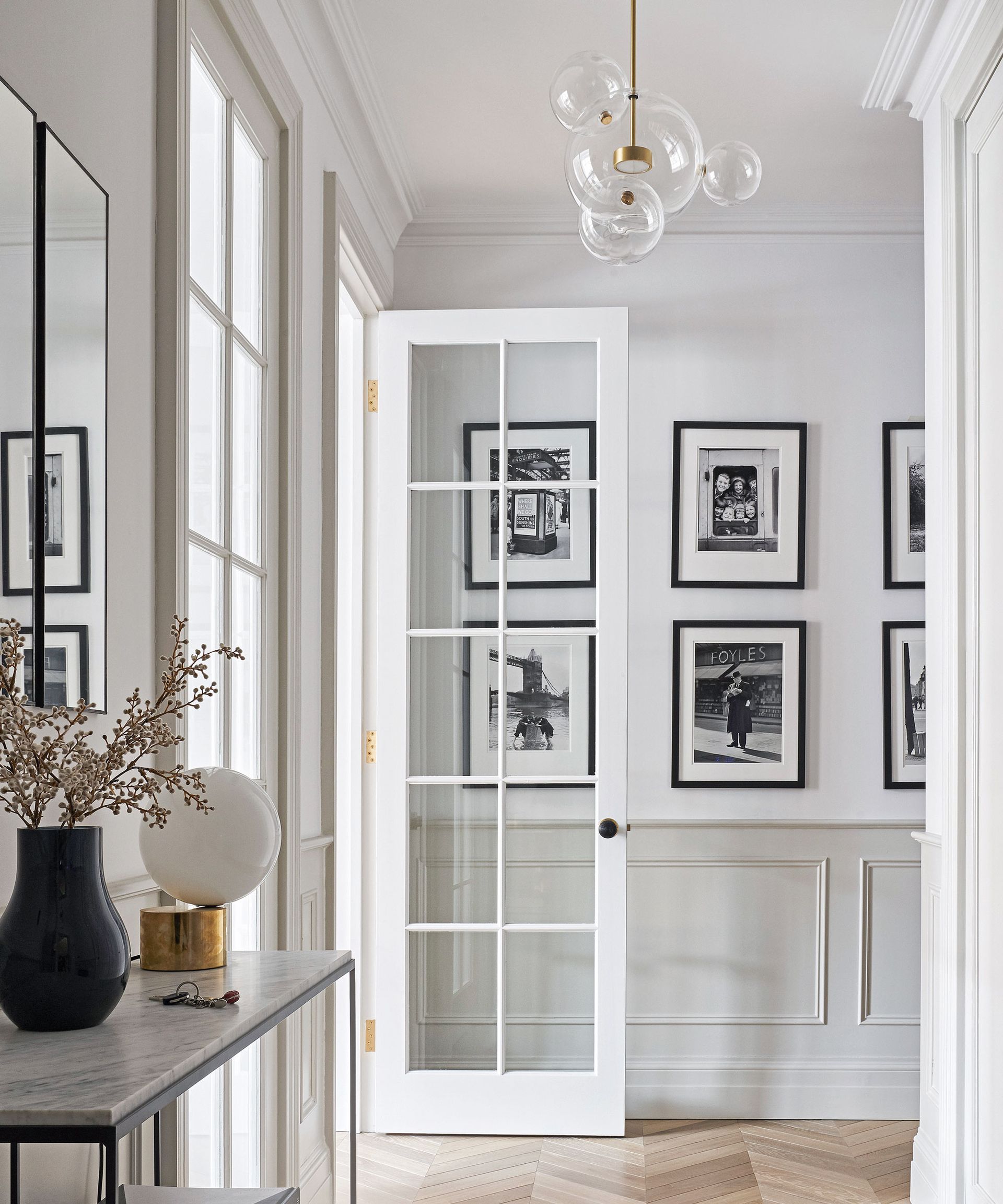 Another classic calming color, a soft pale gray. We are talking really soft and really pale. Much like white, gray hallways can tip over into being too stark if you go for something too cold with too strong of a blue undertone.
With gray, always swatch first, it's a color that can look so different in different lights. Shadow White by Farrow & Ball is a pale grey we are always drawn to. It's a barely there grey with soft, almost beige qualities that are ideal for a calming entryway. There's zero blue going on here, so ideal for creating a cozy feel in a room that might not get too much natural light.
'Since entryways often tend to be narrow spaces, they run the risk of feeling claustrophobic if the wall color is too dark,' explains designer Kathy Kuo. 'I love soothing colors like dove gray, sand, blush, and light sage for creating a calm feeling in your hallways. You can bring bolder pops of color with a runner and with your wall art, but I would err on the side of timeless and organic neutrals for the wall color.'
You can always ground a softer color palette with some darker accents as you can see in this space. Even just the small addition of the black frames gives this light and airy entryway color scheme some structure and focus.
4. Plaster pinks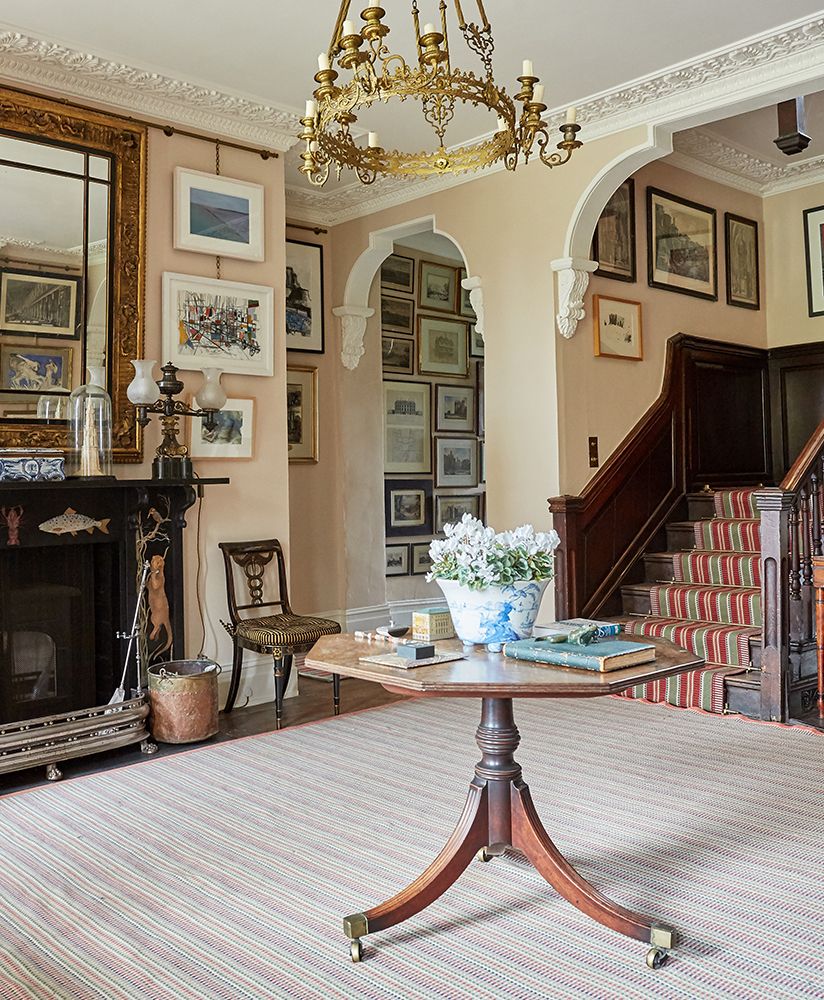 Plaster pinks are the way to do pinks right now. Elegant, warm and calming they are the ideal color to swathe the entrance to your home in. Plus, plaster pink is a really versatile shade that can work with any style and size of entryway. Here, it graces the beautiful, stately entryway of paint expert Edward Bulmer but it would look just as at home in a modern entryway.
'In my own entryway, I have used a calming palette of Lilac Pink for the walls and Milk White for the trim. I believe that an entryway scheme should be as a palette cleanser between other rooms, with colors that are neutral, and based on earth pigments,' explains Edward. 'So the colors that I've chosen here are both warming tones that complement each other and make an entryway feel more homely.
'Even though the entryway is an area that you move through rather than dwell in, I wanted the space to be a room of slow passage, where you can take in the paintings on the walls and feel relaxed while doing so. Lilac Pink is the perfect background color to displaying artwork – the pink is extremely subtle, with only a hint of red and yellow ochre pigment – but it lifts artworks and highlights them beautifully.'
5. Warm beige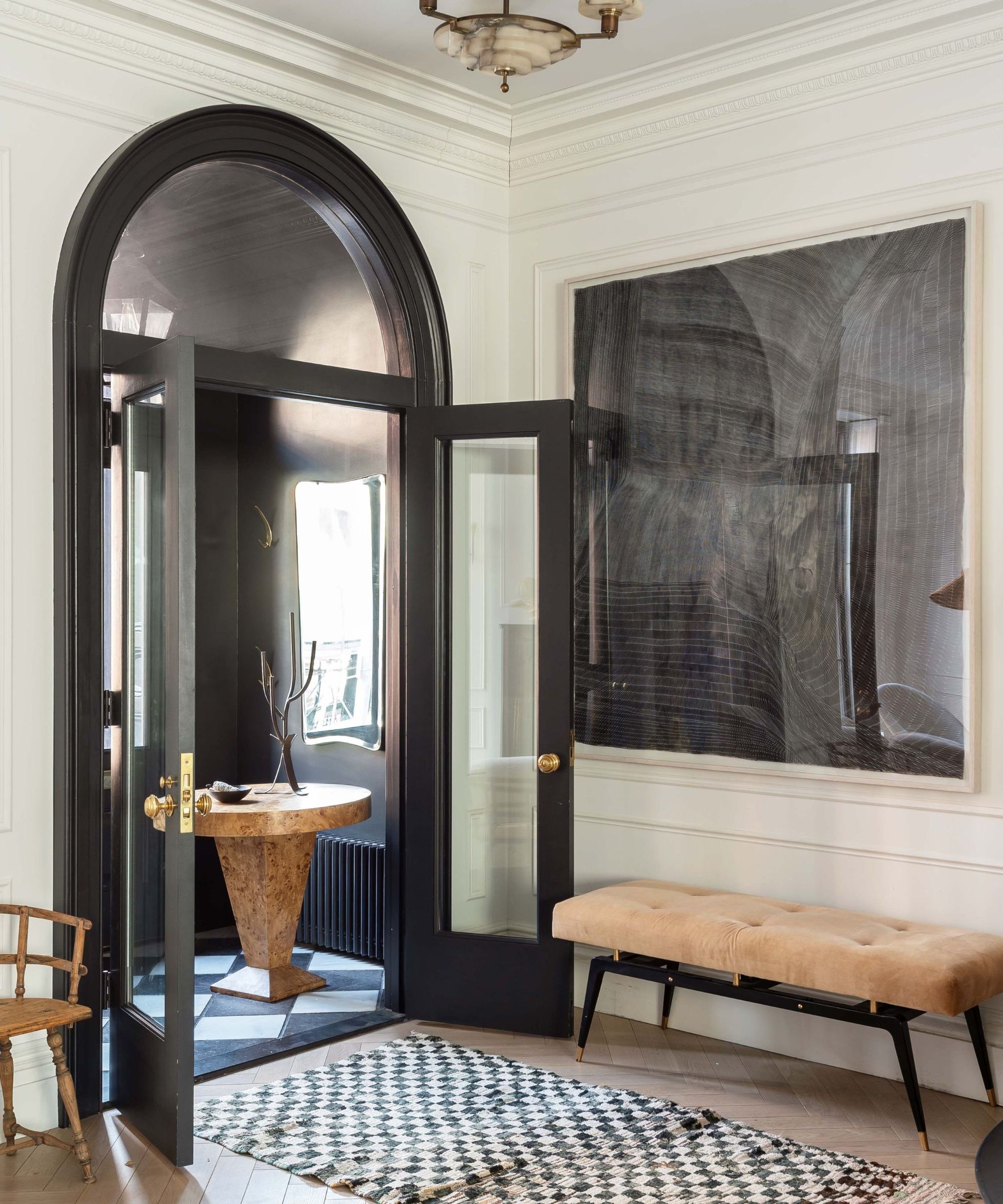 Beige has definitely been having a bit of a glow-up in recent years, once shunned for being too blah, it now has a reoccurring spot in the color trends year on year. It's such a calming versatile shade that's not as warm as cream but far warmer than white. Again, ground this shade with some darker accents and a contrasting clean fresh white to give those more muted shades a lift.
'A neutral entryway is always going to be the most calming, but that said neutrals come in many shades so you can still add personality with your choice of hue and its undertones,' explains founder of TR Studios, Tom Rutt. 'White is a go-to for many but too bright and it can look stark and sterile. Instead, an off-white like Farrow & Ball Pointing or Lime White has a slight lime/warm undertone that feels instantly comforting.'
'Farrow & Ball Wevet is also a great choice to allow for maximum light refraction. Paired with a pop of color on entryway cupboards such as Blue Ground, you can create a really fresh and welcoming entrance. If you're looking to add more texture to walls, rather than a paint, consider using Bauwerk Sandstone, a lime-based paint applied with a textured drag down method application. We love using this as it really adds interest and depth.'
6. Pale greens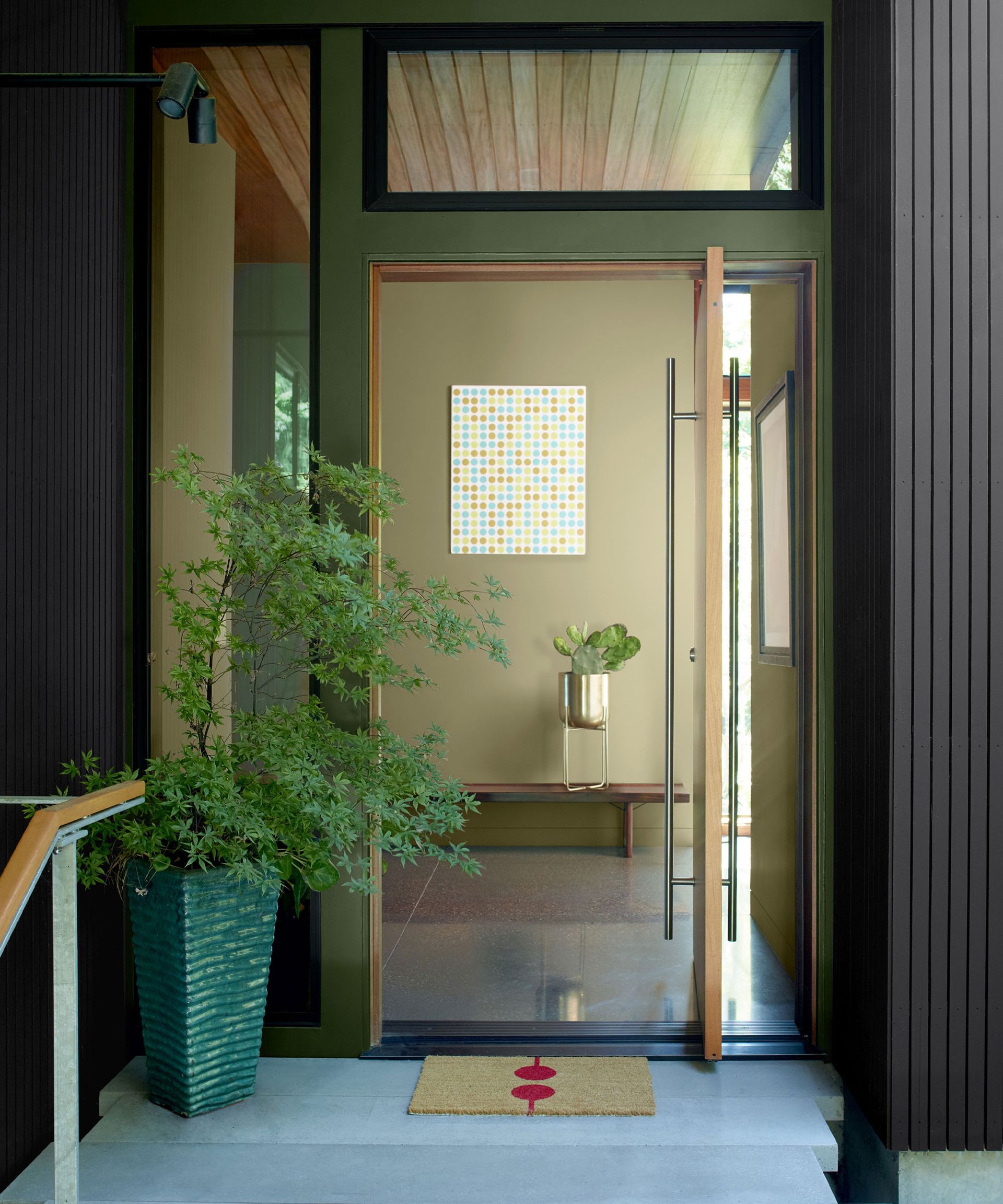 'Pale green is a lovely calming color for the entryway as it imparts a sense of softness and gentleness to the space,' explains Debbie Leigh, Design Manager at ILIV. 'This softness can evoke feelings of comfort and relaxation, making the hallway more inviting and less overwhelming. Green is known to have a soothing effect on the eyes and the mind, most likely due to its association with nature. This works perfectly in a entryway, providing a connection to the outside and evoking a sense of harmony and balance.'
'Pale green usually contains neutral undertones, such as grey or beige, which help it blend well with other colors and elements in the hallway. This ability to complement other design elements can enhance the overall visual coherence, further adding to the calming effect.'
We are big fans of a classic sage green, but this green entryway is persuading us to go more yellow with our greens. Olive greens are both calming and grounding, and have a contemporary edge that you don't get with those softer more sagey greens, an olive green feels very cool.
7. Pastels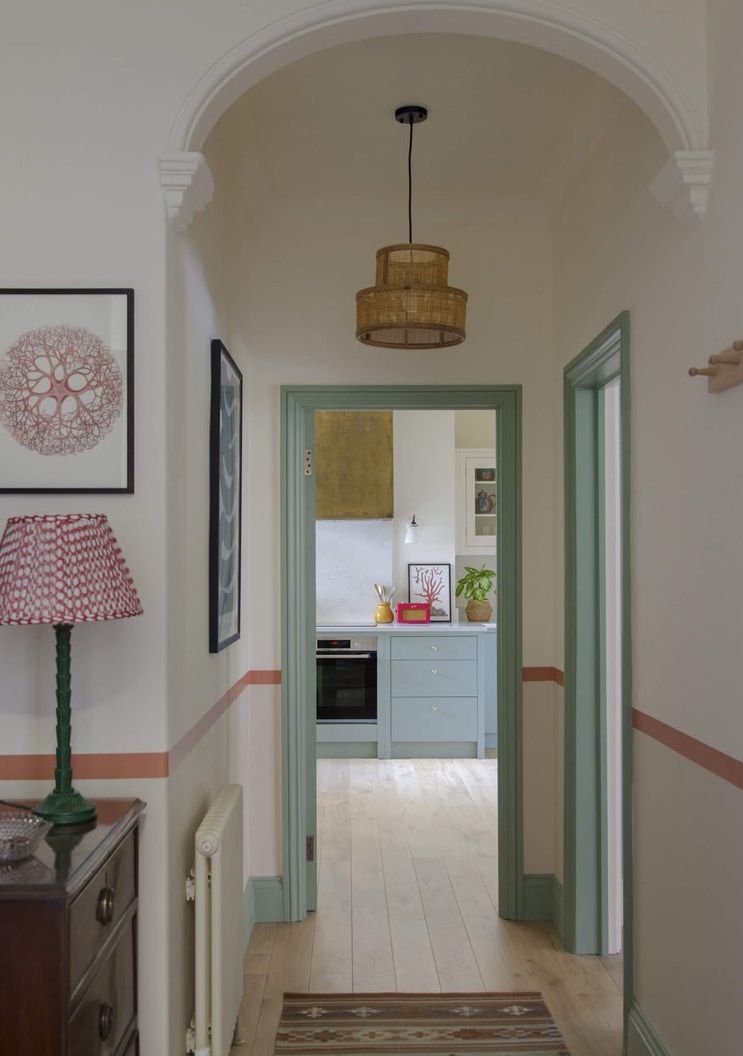 Pastel room ideas may sound a bit saccharine, but pick them in their most muted form and use them in smaller doses and they can feel really sophisticated. Not to mention these soft, pale hues are incredibly calming.
'For a calming entryway you want to avoid anything with a high saturation,' explains Tash Bradley, color expert at Lick Home. So for me, that means soft pinks, greens, and blues. Pink, it's a color that instantly makes your shoulders drop, it's like a lovely warm hug at the end of the day. Green, a soft pastel green is just so pretty. It doesn't ask much from you, your eye doesn't have to register to the color green, it's very neutral and it goes with pretty much any other color. And if If you have lots of natural light, pale pastel blue can be a really calming color for an entryway. Blue is the color of the mind and the lighter the shade of blue the more mentally soothing it is.'
This entryway designed by Brooke Copp-Barton shows how pastels can be chic and sophisticated. Just use them as an accent color if you are worried about the space becoming too sweet and bring these calming hues in on the skirting or architraves or accessories.
'This entryway was in a period apartment block, so for a modern take on a traditional trim, we added a painted stripe and two-tone walls to add color and a more contemporary vibe. Painted doors, baseboard and trim linked the colors throughout the flat and created points of interest in this otherwise long and functional space,' explains Brooke.
FAQs
What is the best color for an entrway?
This very much depends on your space and your style. But you can't go wrong with neutrals in a hallway – soft whites, pale greys, creams, and beige are all safe choices that will make your hallway feel light and welcoming. If you want a bit more color, green and pink would be our top choices as they are uplifting but not overwhelming.
Should you paint an entryway light or dark?
If you are after a calming color scheme in your entryway, we would advise sticking with lighter shades. Entryways are so often sapped of natural light, that choosing a dark color can make them feel quite cave-like. However, there is a case for darker shades in a really small or narrow hallway as dark colors can blur the edges of the room, making the tiny dimensions less obvious. But do approach darker colors in an entryway with caution, we know they look wonderful in so many gorgeous homes we see online and in magazines, but consider walking through that dark space multiple times a day. Will you tire of it? As we always advise just order swatches to help make your decisions.
---
These colors, paired with fantastically efficient entryway storage ideas (and a household that's willing to make good use of them), will go a long way to help you create a calming entryway.
Sign up to the Homes & Gardens newsletter
Decor Ideas. Project Inspiration. Expert Advice. Delivered to your inbox.