How to fix a ceiling leak – a step-by-step guide
Learn how to fix damage caused by a ceiling leak with these top tips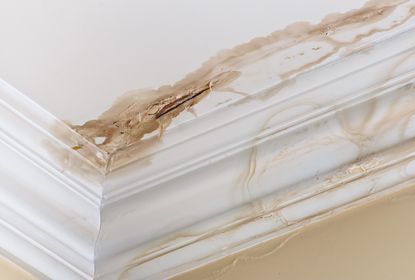 (Image credit: Alamy)
The pros of learning how to fix a ceiling leak? You could save a fortune on repair costs while also adding a new tick to your ever-growing DIY skills list.
It's important to fix a ceiling leak as soon as possible – and not just for aesthetic reasons. Yes, a ceiling leak is unsightly, but it can also cause structural instability, the growth of mold or mildew, and even higher utility bills thanks to inefficient energy use.
Water spots and stains will become apparent as they start seeping through the drywall. You'll need to get to the source of the leak and assess how bad the damage is before deciding on a course of action.
How to fix a ceiling leak
We've rounded up some top tips below to help identify and fix a ceiling leak before you call in the professionals. So whether you are having to do a quick fix or even remove a popcorn ceiling with water damage, this is what you need to know.
1. Identify the source of the leak
Look for identifiable signs of moisture, and remember that it can be the answer to the question, why is my ceiling cracking?
To fix the leak, you'll have to locate the area of your ceiling that is leaking water.
'If you're unsure of where the water is coming from, look for drywall panels that are sagging or crumbling,' says Nick Cryer, founder of construction company Berkeley Place. 'You may also notice areas of the ceiling with tea-like stains.'
2. Lay tarp or drop cloths
It's a good idea to place a bucket underneath the leak to catch dripping water, as well as water that may be released once you start draining it. This way, your floors will be protected from water damage.
3. Drain the leak with a screwdriver
Take a screwdriver and push it into the center or the location of the leak (away from framing boards) to allow the leak to drain and prevent further water damage.
If water keeps accumulating over the ceiling, it can cause a large hole or even a ceiling collapse.
4. Fix the ceiling leak
Once you've identified the source of the leak, you can go about fixing a ceiling with water damage. If necessary, you will also have to fix ceiling cracks or repair a plaster ceiling.
Take additional measures as required, too. If the leak is coming from your attic, you can use any durable material to temporarily block it, including a wooden plank or spare shingling.
You will need roofing tar to secure the patch to fix the problem. If the leak is coming through the roof, you can patch it with tarp but will likely need to call a roofing specialist to fix the problem.
Faulty air conditioning, and plumbing problems under a kitchen or bathroom are also common causes of ceiling leaks.
Do I need to replace ceiling drywall after a leak?
More often than not, it's a good idea to replace the damaged or affected piece of drywall to maintain the integrity of your ceiling. You can do this by learning how to patch drywall ceiling or hang drywall ceiling.
If you have replaced drywall, you may want to know how to plaster a ceiling, or perhaps how to texture a ceiling or how to wallpaper a ceiling if these are part of your ceiling ideas. Or you could call in a professional.
How do you hide a stain on the ceiling?
To hide the stain caused by a water leak, you need to paint a ceiling again. But be careful of the type of paint you use. 'Simply adding a new coat of paint won't solve the problem,' says Nick. 'Water-based paint doesn't form a barrier to stop any water stains from reappearing. The stain blends with the new paint, meaning it will simply stay on your ceiling. It doesn't matter how many coats you add, you won't hide the water stain.'
He adds: 'To cover the stain, you will need a specialist stain blocker or an oil-based paint. This creates a waterproof barrier that the water stain won't be able to penetrate.'
Ruth Doherty is an experienced digital writer and editor specializing in interiors, travel and lifestyle. With 20 years of writing for national sites under her belt, she's worked for the likes of Livingetc.com, Standard, Ideal Home, Stylist and Marie Claire as well as Homes & Gardens.