How to hang drywall ceiling – expert tips for a professional finish
Top tips on how to hang drywall ceiling will ensure your next DIY project goes without a hitch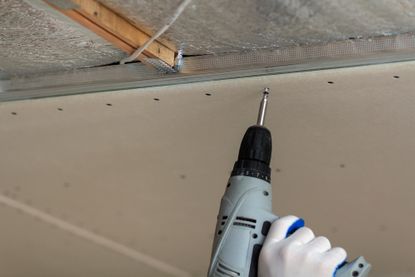 (Image credit: Alamy)
Sign up to the Homes & Gardens newsletter
Decor Ideas. Project Inspiration. Expert Advice. Delivered to your inbox.
Thank you for signing up to Homes & Gardens. You will receive a verification email shortly.
There was a problem. Please refresh the page and try again.
Drywall is a popular and versatile construction material, and learning how to hang drywall ceiling is handy DIY know-how to have up your decorating sleeve.
Commonly used to create walls and ceilings, it is often part of the core structure of a building, but can also be used to create architectural features like eaves and arches. Usually made of gypsum plaster, it's also commonly known as plasterboard.
While it may not be the most exciting project on your interior decor DIY list, it's an important step and will certainly leave you feeling rather accomplished afterwards.
So, whether you're hanging a drywall ceiling instead of trying to remove a popcorn ceiling, or because your original ceiling is too damaged, these expert steps will help you get it right first time.
How to hang drywall ceiling
To make the most of your ceiling ideas, you may need to know how to hang drywall ceiling. You can then plaster a ceiling and consider texturing a ceiling or installing ceiling tiles.
Before you begin pay attention to any issues and fix ceiling leaks and deal with a ceiling with water damage.
Sometimes, it's enough to patch a drywall ceiling but if instead you need to hang drywall ceiling, follow this step-by-step guide with advice from Nick Cryer, founder of high-end construction company Berkeley Place.
You will need:
Drywall sheets
Drywall screws
Drywall adhesive
Safety gloves and glasses
Electric or battery screwdriver
Utility knife
Measuring tape
Framing square
T-square
Drywall paper
Putty
Sandpaper
1. Ceiling before walls
'If you are drywalling the ceiling, fix the ceiling drywall first, then the walls,' advises Nick.
If you start drywalling the walls first, you could end up with the ceiling drywall being unsupported along the entire length of one wall. Wall panels installed later will fit against the ceiling to help support the edges.
2. Measure carefully
Measure the wall's width and cut the drywall sheet so that it's about 1/4in shorter than the measurement.
You can mark the exact dimensions on the plasterboard using your T-square and pencil. You can then use a utility knife to go over the line, before bending the board and cut as you go.
3. Ensure accurate placement
Remember that you have to install the drywall perpendicular to the direction of the joists.
'Before applying the drywall, ensure that the initial board will end up in the middle of a stud, the vertical framing component of a wall,' says Nick.
4. Use drywall adhesive and screws to fix
With an assistant, prop the drywall up and position it tight against the ceiling; it's best to start from a corner.
Score the mark with a utility knife and a drywall square, and snap the excess material against the line.
'Place the board against the studs to have one edge fit snugly next to the ceiling board and another against the adjacent wall,' says Nick. 'Drive drywall screws into the center of the board at a convenient height. Once you've installed the first screws, put in the rest, working from the center of the board outwards.'
Make sure the boards are as close as possible to the walls; all edges of drywall should be fastened to the ceiling studs.
Two drywall boards should be connected on the same stud, before fixing screws with your electric screwdriver along the middle.
As you install your newly trimmed drywall boards, take some drywall adhesive and run it across the studs so that you won't need as many screws.
'Drywall adhesive will also enhance the noise reduction of your walls,' says Nick.
5. Apply putty and drywall paper
For a professional-worthy finish, it's a good idea to finish the joint with putty and drywall paper. Cover the screws ad drywall board joints with a trowel, paper tape and drywall putty.
After applying the putty, sand it with medium grit paper.
Can I hang drywall ceilings by myself?
It is possible to hang drywall ceilings, but it is easier and safer to have an assistant.
How much gap should be between sheets of drywall?
You should ideally leave about 1/4in gaps between sheets of drywall.
Is it best to hang drywall vertically or horizontally?
It's better to hang drywall horizontally to reduce the amount of adhesive you use.
Sign up to the Homes & Gardens newsletter
Decor Ideas. Project Inspiration. Expert Advice. Delivered to your inbox.
Ruth Doherty is an experienced digital writer and editor specializing in interiors, travel and lifestyle. With 20 years of writing for national sites under her belt, she's worked for the likes of Livingetc.com, Standard, Ideal Home, Stylist and Marie Claire as well as Homes & Gardens.