How to install ceiling tiles – for a unique, decorative finish
Brushing up on how to install ceiling tiles offers an alternative to flat, painted finishes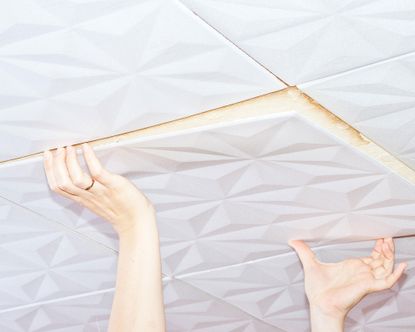 (Image credit: Pavel Mozzhukhin / Alamy Stock Photo)
Sign up to the Homes & Gardens newsletter
Decor Ideas. Project Inspiration. Expert Advice. Delivered to your inbox.
Thank you for signing up to Homes & Gardens. You will receive a verification email shortly.
There was a problem. Please refresh the page and try again.
Learning how to install ceiling tiles will allow you to rethink the aesthetic in a room, providing a unique and decorative alternative to flat paint.
Tiling the ceiling is not as common as painting it, but it can be a stylish alternative, and can also serve to cover flaws in the existing ceiling. Consider it, too, if you've investigated how to remove popcorn ceiling, but prefer the idea of covering it instead – tile is a great option for doing so.
Ceiling tiles can also be a great way to introduce on-trend materials. Chris Scott, managing director of Mascot Bespoke, says, 'We have a job currently where the architect has specified an environmentally responsible cork tile for its thermal and acoustic qualities.'
How to install ceiling tiles for a decorative finish
Installing ceiling tiles can be an alternative to removing texture from a ceiling, but when it comes to realizing your ceiling ideas by installing them, there are two main methods available. We take a look below at the choices and differences.
How to install surface-mount ceiling tiles
If you want to get rid of an unsightly popcorn ceiling or hide stains, surface-mount ceiling tiles are a top choice. Be sure, though, to fix a ceiling leak that's caused a stain, as well as repair a ceiling with water damage as necessary first.
One of the benefits of surface-mount ceiling tiles is that you can apply them directly to existing drywall, popcorn ceilings or joists, as well as to plaster as an alternative to learning how to plaster a ceiling.
You will need:
Surface-mount ceiling tiles
Adhesive
Paint roller
Ladder/tower
Chalk snap line
Caulking gun
Pencil and tape measure
1. Measure and prep
Determine the number of ceiling tiles you will need by measuring the size of the space (length x width) to work out the square footage. It's a good idea to order 10 per cent more than you think you'll need.
Then, prepare the ceiling by cleaning and removing any prominent bumps. Applying a coat of primer can help the adhesive to stick more effectively.
2. Mark and start at the center of the room
Measure the center of each external wall and then mark across the ceiling with a chalk line, which will create a cross and will mark the middle of the ceiling; this is your start point.
3. Apply adhesive and lay the tiles
Take your pencil and mark the center of all four edges of the first tile. Then, line up the pencil marks with the chalk lines and apply to the center of the ceiling.
Use a dry paint roller to ensure it sticks properly and go over it until you are happy it has fixed. Then continue with more tiles and rows until you reach the wall and cover the area.
4. Measure and cut edge tiles
By the time you reach the walls, you are likely to need to cut edge tiles to fit. Measure the size of tile that you need before using a straight edge and utility knife to cut.
Apply adhesive and press the edge tile to the ceiling, and repeat around the room.
How to install drop ceiling tiles
You may want to opt for drop ceiling tiles if your existing ceiling is damaged in any way or needs acoustic proofing.
Drop ceiling tiles are usually applied to a metal grid suspended below the existing ceiling. While installing ceiling tiles by this method allows you to change out tiles easily if required, bear in mind that you will lose height from the room.
You will need:
Drop ceiling tiles and package (including wall tracks)
Pencil and tape measure
Chalk snap line
Hacksaw
Utility knife
Stud finder
Ladder/tower
Laser level
Battery drill and screw fixings
1. Measure the drop ceiling grid
It will be easier to measure the height of your drop ceiling grid with an assistant. Using a ladder, measure down from the existing ceiling to where you would like it to sit. If the existing ceiling is not level you will be able to achieve a level finish by running a rotary laser level around the walls and measuring from the laser line to the desired ceiling height.
Use a pencil to mark the height at opposite ends for each of the four walls.
You can then take the chalk snap line and apply to each of the four walls –and this is where a friend or assistant will come in handy to hold one end while you hold the other.
2. Install the wall tracks
The wall tracks should match the level of the chalk lines you just applied. Use a stud finder to locate studs, and then fix the wall tracks onto the studs, preferably with screw fixings using a battery drill.
3. Place center and side tracks
Use a tape measure to find the center of the room and run the main track down the center line.
Now that you have installed the center line, you can use it as a reference for the side tracks. Place additional run tracks alongside the main one, each the same width as the tiles you will be fixing to them.
4. Install ceiling support system (bent wire hangers)
It is essential to support the middle structure of the ceiling grid to prevent it from sagging.
This is done by locating fixings in the existing ceiling directly above the newly installed main tracks. Eye hooks are fixed and then wire suspension hangers bent and installed at the correct height to create a level ceiling.
Loop the hanger wires through the eye hooks, and then use pliers to bend the wires at the correct height to fix through the main tracks.
5. Install the cross tracks
Now it's time to run the cross tracks at 90 degree angles to the main tracks to create the grids into which the tiles will be dropped.
6. Drop in the ceiling tiles
You can now place the ceiling tiles into position in the grids by reaching through and dropping them in from above.
You will need to cut any tiles that are not full grid size, for example the row against the walls. Do this by scoring with a knife.
How are ceiling tiles attached?
You can choose from two different methods to attach ceiling tiles: adhesive or a suspended grid system.
These are known as surface mount and drop ceiling tile techniques respectively.
'For an on-trend tile like cork, a contact adhesive whereby the glue is applied to both the tile and the wall or ceiling works best,' explains Chris Scott. 'The benefit of this method is that it's fast and the drying time for a water-based adhesive can be as little as 30 minutes.'
What are the easiest ceiling tiles to install?
Cork can be one of the easiest ceiling tiles to install. It can also be an alternative way to texture a ceiling.
'Cork is an easy tile to lay on a ceiling as it's only ⅛in (3mm) thick, light, flexible, easy to cut and manipulate while on site,' says Chris Scott.
'To ensure a quality finish, it's important to make sure that the correct installation process has been followed – a common mistake is to lay the cork tile too soon on a newly plastered surface.'
Sign up to the Homes & Gardens newsletter
Decor Ideas. Project Inspiration. Expert Advice. Delivered to your inbox.
Ruth Doherty is an experienced digital writer and editor specializing in interiors, travel and lifestyle. With 20 years of writing for national sites under her belt, she's worked for the likes of Livingetc.com, Standard, Ideal Home, Stylist and Marie Claire as well as Homes & Gardens.