How to hang curtains over blinds or shades – fast fixes and lasting treatments
Add luxurious layering to your windows by hanging curtains over blinds or shades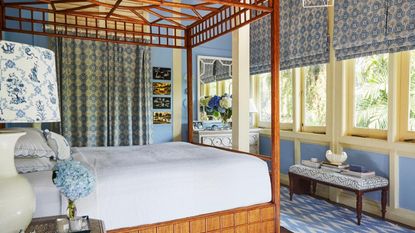 (Image credit: Alecia Neo)
While windows can be dressed on an either curtains or a blind or a shade basis, teaming curtains with blinds or shades is the preferred option for many interior designers and window experts.
The combination creates the possibility of excellent light control, privacy as needed depending on how overlooked the window is, but more than that it makes the window covering feel complete.
In this guide, we examine how to hang curtains over blinds or shades to create window treatment ideas with elegance.
How to hang curtains over blinds or shades
Why is it a good idea to know how to hang curtains over blinds or shades? 'Hanging curtains over blinds instantly elevates the window, taking it from ordinary to extraordinary,' says Kelly Simpson, senior director of design and innovation at Budget Blinds, experts in blinds, shades, shutters, and drapes. And the same goes for the combination of curtains over shades.
How to combine your curtain ideas with blinds or shades by hanging both elements at the window? Here are the details.
1. Focus on line and style
If you're putting together blinds and curtains or drapery, it's important to consider the finished effect. 'Avoid curtains and drapes with horizontal patterns since the blinds naturally have a horizontal pattern that you don't want to compete with the blinds,' says Kelly Simpson.
Hanging curtains with vertical blinds at a large window? The same rules on avoiding repetition apply but in this case, you should avoid curtains and drapes with vertical patterns.
Note that it's generally easiest to select the blind or shade first and then find curtains that complement it. This way round, you can optimize light and privacy control and also insulation from heat and cold as necessary with your window blind ideas then team with curtains that are stationary or that draw across the window as preferred.
2. Hang the blind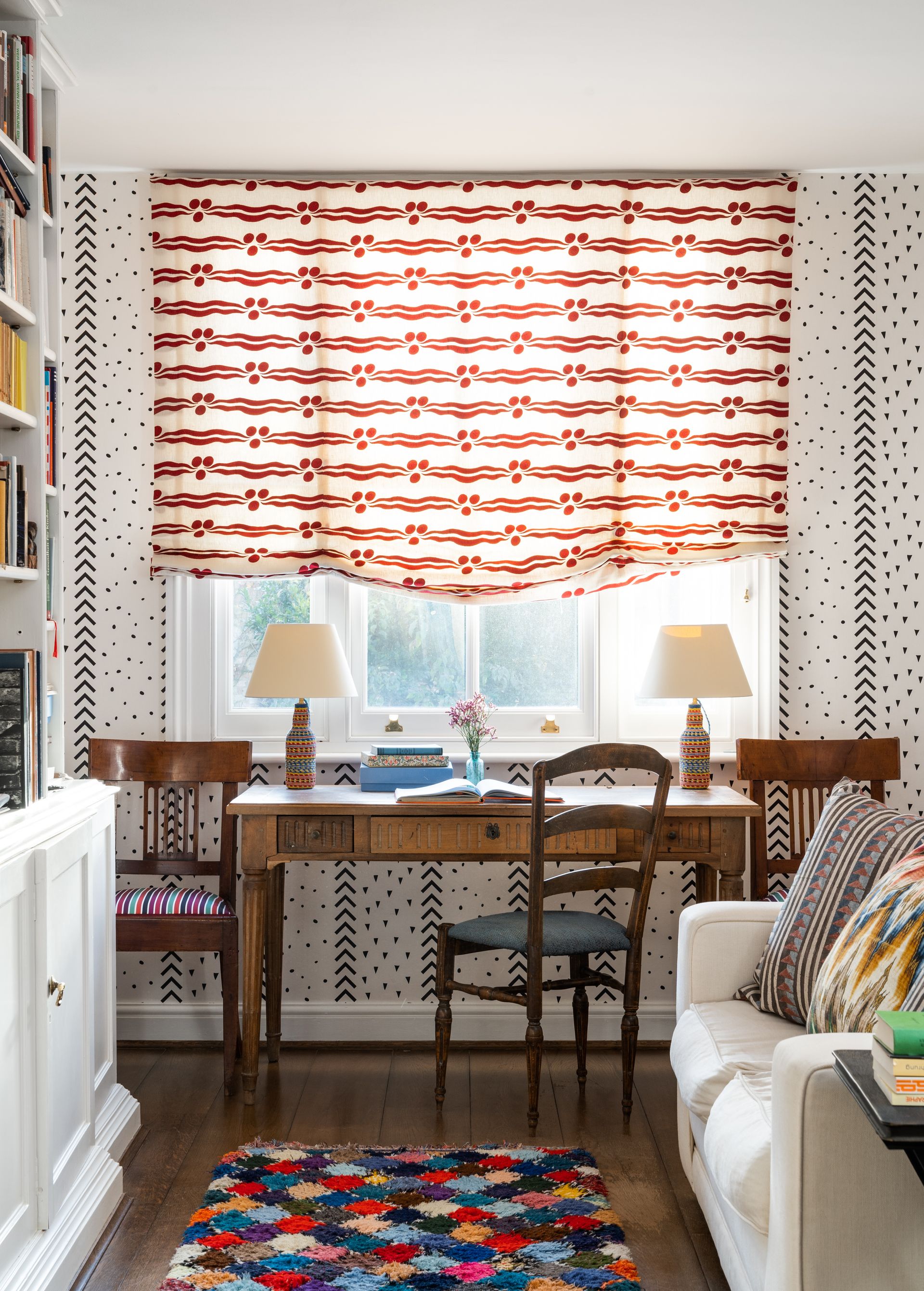 Curtains can generally be hung with either inside and outside mount blinds and shades. Hang the blind or shade first in the desired position if it's not already part of the room scheme.
3. Hang the curtains from a wall-mounted rod
Next, hang the curtains. It is preferable to hang the curtain rod near the ceiling, and this is especially the case if you are teaming curtains with an outside mount blind or shade as it will prevent a clash between the curtain hardware and the top of the blind or shade.
Installing a wall-mounted rod will provide the most sophisticated finish, and can visually stretch your room. 'Curtains and drapery will give you the opportunity to make the ceilings appear higher and the closer you hang them to the ceiling, the greater the illusion,' says Kelly Simpson.
4. Hang the curtains using blind headrail brackets
An alternative to hanging the curtains on a rod mounted on the wall is to choose brackets designed to attach to the blind headrail into which a curtain rod can be fitted. You can find bracket designs suitable for both outside mount blinds and inside mount blinds – Walmart has a large selection.
This is a good solution if you're renting and need to hang curtains without drilling, or are dressing a window for the short term. The downside is that it creates a rather bulky combination.
5. Hang the curtains from a rod on tap-in brackets
Another option if you don't want to make holes in the wall to hang a curtain rod for curtains to team with inside mounted blinds or shades is to use tap-in brackets. These tap-in brackets can easily be fitted to the top of the window frame using a hammer. After that you can thread the curtain onto the rod, place it into the brackets and hang it over the blind or shade.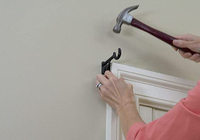 Spark Innovators Black Tap Bracket, $14.99, Amazon.
These no drill curtain rod bracket installs in seconds on any window size and fit all standard size curtain rods. You can expect no damage to your walls with these tap in curtain brackets.
Where should blinds be used with curtains?
Use blinds with curtains for living spaces and bedrooms where they'll create a more decorative treatment. 'A room should have many layers of interesting things to look at. I think it can look unfinished without a shade,' advises Aileen Warren of Houston-based Jackson Warren Interiors.
However, there are locations in which it's preferable to hang blinds or shades without curtains. 'Shades work best for windows that are over furniture, built-in cabinets, or an area that you would not want drapery fabric to touch the floor,' explains Noelle Isbell of Noelle Interiors.
Blinds or shades can also be preferable hung without curtains in compact spaces, while the latter are reserved for larger rooms. 'Drapery works well in bigger spaces. They add volume, and dress a space to feel more formal and refined,' says Noelle.
How do you hang curtains over Roman shades?
To hang curtains over Roman shades, wall mount a curtain pole near the ceiling. This will work whether they are being teamed with inside mount or outside mount Roman shades.
The combination is the coziest of all the pairings when it comes to curtains plus blinds or shades since they're both made from fabric that gathers into soft pleats. As for fabric combinations, think pattern teamed with solid, opaque shade teamed with sheer curtains, or even complementary patterns for the most eye-catching window treatment.
Sarah is a freelance journalist and editor. Previously executive editor of Ideal Home, she's specialized in interiors, property and gardens for over 20 years, and covers interior design, house design, gardens, and cleaning and organizing a home for H&G. She's written for websites, including Houzz, Channel 4's flagship website, 4Homes, and Future's T3; national newspapers, including The Guardian; and magazines including Future's Country Homes & Interiors, Homebuilding & Renovating, Period Living, and Style at Home, as well as House Beautiful, Good Homes, Grand Designs, Homes & Antiques, LandLove and The English Home among others. It's no big surprise that she likes to put what she writes about into practice, and is a serial house renovator.