How to make a home cozy for Thanksgiving – 6 designer tips for homey hosting
As friends and family gather around, a cozy home sets the scene for a perfect Thanksgiving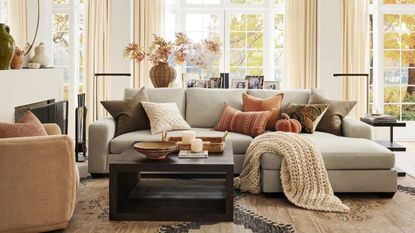 (Image credit: Pottery Barn)
Thanksgiving is the perfect time of year to gather around friends and family at home and have a good catch-up tucked away from the cool outside weather – but how do you make a home cozy for Thanksgiving?
Making a house cozy comes down to six simple basics that are simple to replicate, designers say, with the simplest of changes paying off the most.
Between creating cozy nooks and seamlessly scenting your space, here's how to create a homey haven for Thanksgiving.
How to make a home cozy for Thanksgiving
Much like making a home cozy for fall, prepping for Thanksgiving is all about creating a warm and welcoming space that encourages people to come in and settle down – the key is to make everyone feel at home.
Here's how the designers pull it off.
1. Opt for cozy plaid patterns
One of the best ways to quickly but drastically change how your room looks throughout the year is to experiment when decorating with pattern, begins Vivienne Chow, interior decorator and owner at Viv and Tim Home:
'Plaid and flannel always remind me of cozy fall and Thanksgiving decor. You can easily incorporate plaid pillows to style on your living room sofa or any accent chairs you have throughout your home. The best part is that you can continue using your plaid pillows for Christmas decor and even throughout the rest of the winter season! My favorite plaid pillow cover I use in my home every year for the holidays comes from Amazon, and I would recommend it to everyone.'
Vivianne loves all things home decor and making spaces function to their fullest potential, while Timmy is the handyman and tech enthusiast continually decking the house out in smart home automation.
2. Layer throws everywhere
You can't have a cozy home without the best throw blankets – and that's just fact,' says Jennifer Verruto, designer, founder, and CEO of Blythe Interiors.
'While normally one might hide blankets in storage when not in use, during the chilly months I recommend adding a decorative throw draped over the back of the couch or thrown over the armrest for a cozy touch,' she shares.
'Fall is all about being warm and cozy, so I recommend adding throw pillows and a blanket draped over the couch for an inviting touch. By adding throw pillows, you can incorporate warm colors like amber, mustard, mint or sage green, or even ivory and black that bring an autumnal color palette to your existing decor.'
Jennifer Verruto is Founder and CEO of Blythe Interiors. Blythe Interiors has of a team in Spokane, WA, and a San Diego Design studio/showroom as well as an online shop.
3. Layer scents as well as decor
There are several ways to make your house smell like fall, with fragrance layering perfect for making your home feel cozy. It also helps to elevate your guest's experience, says Elizabeth Vergara, founder, and lead designer at Vergara Homes.
'I like to fill a few small bowls with pumpkin spice potpourri to create a yummy aroma in each room, and decorate table tops or side tables with fall foliage, pumpkins, and gourds.'
You can layer potpourri with candles, simmer pots, and home-baked goods to create a delicious scentscape guests won't want to leave behind.
Elizabeth Vergara is the owner of Vergara Homes, a home renovation company with a passion for bespoke and quality home design. Elizabeth has been helping homeowners as a design-build specialist for the past 13 years and has experience in both construction management and architectural design.
4. Never skip the candles
'Candles are naturally cozy – especially those with wood wicks that crackle when burning,' Melissa Knieriem, CEO and founder at Frankfort Candle Company, says.
One of her favorite ways to style them for Thanksgiving is by using decorative items that you might already have in your home like branches, ceramics, and vintage decor: 'The "tip" here is that you don't always have to BUY new decor, make use of what you already have and give it new life through a new arrangement or styling! Placing a cozy candle in the center of a decorative vignette, especially a candle that reminds you of those you love, brings additional warmth to the season.'
Warm Cider and Cinnamon Woodwick Candle
This candle infuses your home with honey and vanilla scents that creates an inviting ambience you're sure to appreciate.
Melissa Knieriem began making candles during the pandemic as a passion project, and launched Frankfort in 2022. She now creates some of the best vintage-inspired candles on the market.
5. Try out muted warm palettes for a laid-back feel
When picking out your Thanksgiving decor with coziness in mind, it can help to skip the saturated tones and pick up warm muted tones for an earthy, grounded vibe throughout your home, says Jennifer Verruto, designer.
'By ridding your home decor of bright, garish colors, you'll create a more calming and inviting space, which is the perfect vibe for fall.'
6. Don't forget the dining table
The Thanksgiving table decor is often the focal point of the holiday celebrations, so why not bring some coziness to this space too, suggests Kathy Kuo, designer, and founder of Kathy Kuo Home: 'I like to set my dining room table with a vase of autumnal foliage surrounded by a variety of Thanksgiving gourds for that sweet seasonal touch.'
Don't just stop at the table either, layer cozy throws and faux fur on chairs and benches for guests to cuddle into when dining or enjoying an after-dinner drink.
Interior design expert Kathy Kuo founded her eponymous home store in 2012 – and it has since gone on to be an e-commerce destination for luxury furniture and decor essentials from a variety of beloved home vendors. Kathy and her store specialize in styles like French Country, Coastal Beach, and Modern Classic while offering interior design services to their clients.
FAQs
What decorations can I put up for Thanksgiving?
When decorating your home for Thanksgiving, decorations usually revolve around the harvest season and are not too dissimilar to the fall season. Gourds, fall wreaths, and other harvest-inspired pieces fit in perfectly, with a generally cozy appeal brought in through warm-toned soft furnishings.
What are Thanksgiving colors?
The best colors to use in your Thanksgiving decorating are golds, browns, warm-toned neutrals, and plums. These warm earthy tones evoke both a cozy atmosphere and the harvest season, perfect for Thanksgiving. Other colors such as greens can also be brought into the scheme when used in darker hues for an earthier vibe.
---
The coziest thing you can have in any home is a fireplace – even if it is fake, says Elizabeth Vergara, lead designer: 'If you have a fireplace, light it up and fill it with firewood or different size candles to warm up the room,' she recommends. Focusing family time around this spot is sure to make your Thanksgiving like something out of a Hallmark movie.
Sign up to the Homes & Gardens newsletter
Decor Ideas. Project Inspiration. Expert Advice. Delivered to your inbox.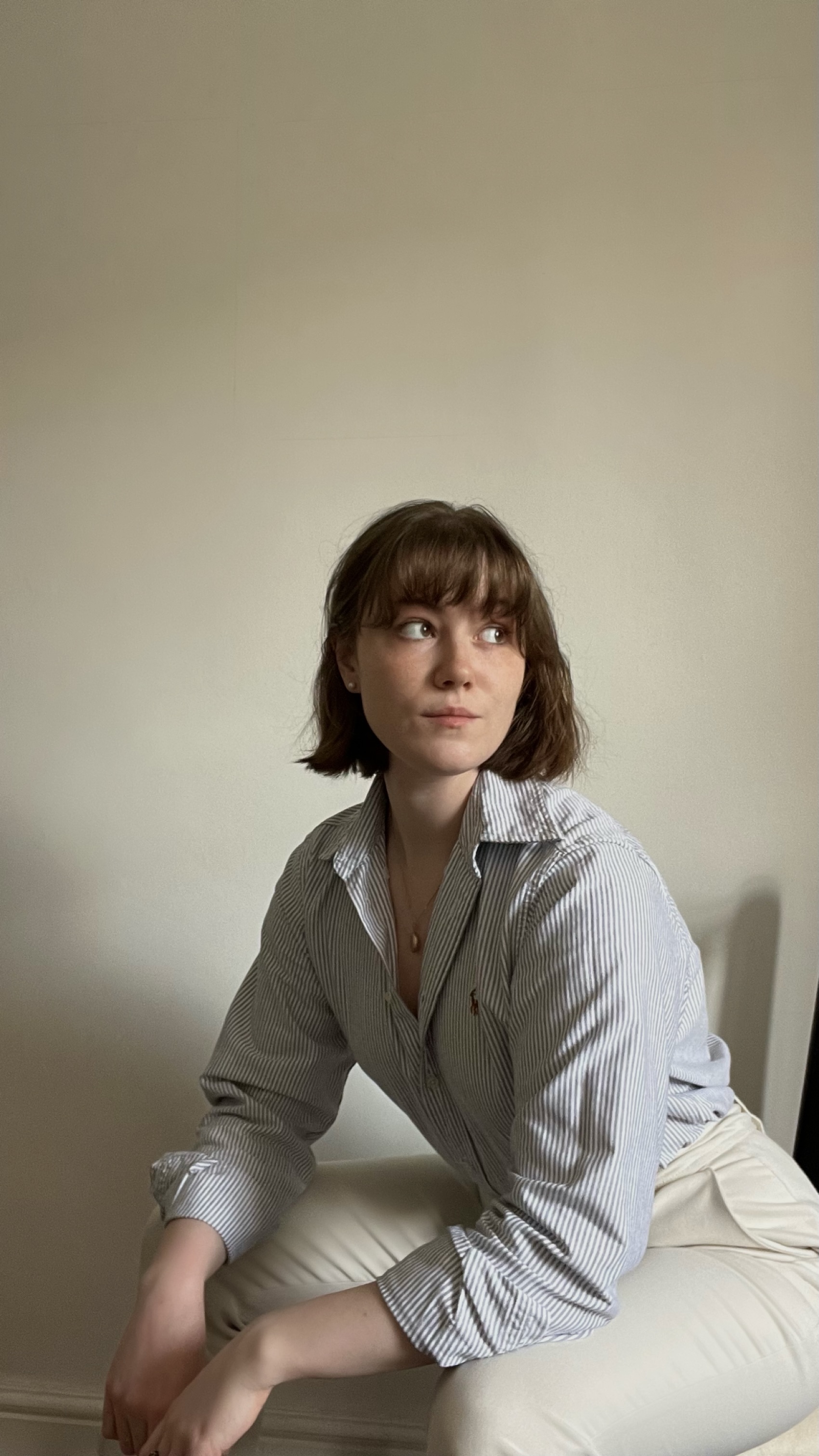 Chiana has been at Homes & Gardens for a year, having started her journey in interior journalism as part of the graduate program. She spends most of her time producing content for the Solved section of the website, helping readers get the most out of their homes through clever decluttering, cleaning, and tidying tips – many of which she tests and reviews herself in her home in Lancaster to ensure they will consistently deliver for her readers and dabbles in the latest design trends. She also has a first-class degree in Literature from Lancaster University.