Thanksgiving decor ideas – 12 tips for celebrating the holiday season in style
Dazzle your guests with Thanksgiving decor ideas that make this year's festivities feel extra special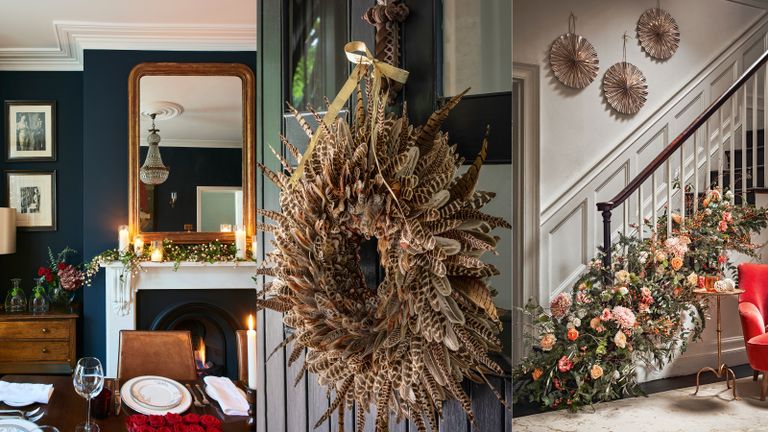 (Image credit: Jonathan Gooch/Mark Bolton/Adrian Briscoe)
After friends, family and a dinner table full of food, Thanksgiving decor ideas are exactly what you need to get the holiday season started.
Following last year's stifled festivities, you probably don't need any encouragement to get the party going – but with this year's Thanksgiving set to be a very special shindig, you might want some guidance in upgrading your holiday aesthetic.
As well as Thanksgiving table decor ideas befitting of a long-awaited reunion feast, look to sprinkle the holiday spirit throughout your entire home, from the front door to the fireplace.
Thanksgiving decor ideas
Whether you're looking for autumnal tricks to keep your guests feeling cozy, or spectacular decor statements to dazzle and entertain, we asked the experts to share their favorite Thanksgiving decor ideas, and tips for making fall gatherings feel extra special.
1. Start the festivities at the front door with a wreath
Set the scene for a cozy gathering indoors by welcoming your guests with Thanksgiving wreath ideas. To differentiate from your upcoming Christmas edition, choose a wreath style that majors in autumnal motifs like pumpkins, bare branches and rust-colored leaves, while adding just a touch of holiday sparkle with a bouncing red bow.
Alternatively, go all-in with the Thanksgiving theme and riff on the bird that will likely take center stage at your family meal. This spectacular wreath is made using stunning striped pheasant feathers.
2. Put the dinner table at the heart of the fun
'Thanksgiving for us is three days of meals all together with our grown children and their babies, plus various guests, on Bray's Island in South Carolina,' says interior designer Beth Webb (opens in new tab). Feasting is arguably the most important part of the holiday, meaning that the dinner table should be where you concentrate your decor efforts.
Keep it traditional with Thanksgiving centerpiece ideas that celebrate harvest fruit and vegetables or foraged items from your local woodland, or keep it contemporary with unique colorways or pared-back Scandinavian style. 'Adding your own style to your table setting is important,' says Jessica Hanley, Founder of Piglet In Bed (opens in new tab), who designed this tablescape in collaboration with Olive & Co (opens in new tab). 'It's an opportunity to showcase some new pieces you might have discovered recently, and helps create a vibrant atmosphere with pops of color.'
3. Wow your guests with statement entrance decor
The floral flourishes shouldn't stop at the wreath on your door – consider greeting your guests with a statement piece of celebratory decor in your entrance hall. This stunning staircase display sees seasonal flowers wound between the balustrades, with pops of warming autumnal color courtesy of berries, chrysanthemums and roses, with foliage provided by on-trend eucalyptus. You can even consider weaving in some of your best Thanksgiving decorations in there, and treat it as you would a Christmas tree.
4. Rethink your Halloween pumpkins for an autumnal look
'It wouldn't be fall without a pumpkin, but there's more possibilities than the typical orange ones,' says Carmel Donohue, Founder of Poppy Belle Florals (opens in new tab). Pumpkins may have been central to your Halloween decor, but their time is not over. Think about how to make a pumpkin planter as a centerpiece to your Thanksgiving table, or consider giving your faux ones a festive reimagining with a lick of paint.
'Colored pumpkins are a vibe this autumn, so have fun getting the spray paints out and being creative. Mix and match your home-made creations with the range of decorative pumpkins from [the likes of] TK Maxx and Homesense to incorporate different colours, sizes and textures into your doorscape. Whether you want to add one or ten in to your display, eclectic pumpkins are the perfect finishing touch.'
5. Kick off a soiree at the cocktail station
Offering your diners a welcome drink on arrival is the first step in being a consummate host. But for times when you're busy in the kitchen, keep your guests entertained and with a full glass in hand by creating a drinks or cocktail station. Cover a console table with a colored tablecloth for understated grandeur, and set the scene by framing artwork – here, made from wallpaper panels – with generous limbs of greenery.
'I love to set up a Bloody Mary 'station' for Thanksgiving,' says home decor designer Joanna Buchanan (opens in new tab). 'The drinks are just the right color and there are so many festive and colorful add-ins that guests can select from. Of course, be sure to add a fun selection of cocktail picks so people can mark their glasses!'
6. Shake your tail feathers with bird-themed decor
While excitement brews for the turkey's arrival to the dinner table, whet your guest's appetite by dotting feathered friends around your decor. Birds make for a beautiful theme for fall decor ideas, with the rust-colored game birds like pheasants the perfect muse. In this living room, a marble mantel is surrounded by a beautiful watercolor-painted wallpaper featuring the birds. For something a little more impermanent, consider adding feathers to your floral arrangements, or bringing out bird and nest-shaped ornaments.
7. Warm up by a festive fireplace
After all that dinner, you're going to need a spot for light snooze. There is simply no better spot to recline in the colder months than in front of the fireplace, so make sure this feels like an even more special part of the home with festive fall mantel ideas. Here, the fire's warmth is boosted by an array of candles and sparkling wreaths atop the mantelpiece.
Dressing and accessorizing the space around the fireplace can be key to making the best of it. A large fireplace, offset by a symmetrical arrangement of chairs, is a tried-and-tested classic, and makes an inviting setting to sit in front of.
8. Create an immersive atmosphere with scented decor
'Fill your room with warming autumnal scents like pumpkin and cinnamon spice for the complete autumn experience,' says Hanley. 'You can light candles in your desired scent as well as use natural diffusers for a subtle scent that isn't too overpowering.'
Thanksgiving is certainly the time to get out your best reed diffusers, or fill bowls with scented pine cone decorations and dried orange peel, but it might be that all that cooking helps to do the job for you. 'If artificial scents aren't your thing, you can create your scents naturally by baking a seasonal cake, cooking some nuts or even mulling some wine,' says Hanley. 'Get in the kitchen and make your favourite autumnal dish.'
9. Spruce up your dining chairs
It's easy to get so preoccupied with your dining table decor ideas at Thanksgiving that you forget about the space around them.
'Not only do you want your guests to be comfortable when sat at your gorgeous tablescape, but making your chairs look comfy is perfect for achieving that cozy autumnal look,' says Hanley. 'Decorate your chairs and benches with some cushions and maybe even throws which guests can remove if they wish to. Pick cushion colours which complement your color scheme and match the fabrics you have already used on the table for consistency's sake.'
In this example, upholstered chairs in a color that doesn't exactly fit in with a traditional festive scheme are given a holiday makeover with bunches of pine branches and cones, tied up with a red bow to complement the rest of the decor.
10. Glow up with soft, warm lighting
'Everyone looks better in a warm glow,' says interior designer Benji Lewis (opens in new tab). 'Lighting is one of the easiest ways to create a cozy atmosphere.' Reaching for the dimmer switch and scattering your best candles throughout the living spaces is absolutely essential to creating a romantic holiday atmosphere in your home this Thanksgiving.
'If you don't have a fireplace to hunker down next to, try using ambient lighting in the form of table lamps and floor lights,' adds Lewis. 'The only reason you should ever use an overhead light over the coming months is to get ready in festive sequins.
11. Get a contemporary look with pampas grass
'Pampas have been a dominant trend throughout the summer and this isn't going to change anytime soon,' says Donohue. 'Bring the autumn harvest feeling into your home with these tall fluffy stems, which add both texture and height to any area.'
For an on-trend look, pampas grass is a great addition to dried florals displays, or as a standalone statement, that can work all across the home and, as demonstrated here, among your fall porch ideas.
'Suitable for a mantlescape, shelfscape, tablescape or a larger display set on the floor, this subtle stem is a seasonal must, and the neutral shades will flatter your existing décor,' says Donohue.
12. Keep your guests cozy with textiles
There's nothing quite like being pleasantly full and wrapped up in a blanket, with nowhere else you need to be for the rest of the day. To make that dream come true for all your guests this Thanksgiving, ensure your seasonal soft furnishings are ready and waiting to envelope them in comfort.
Blankets, throws and cushions that embrace the shades of traditional fall color schemes are a must-have in your living spaces, for the evening's relaxed festivities, as demonstrated in this living room designed by Beth Webb. Ensure you swap your lighter summer blankets for heavier fall ones in wool or similar for maximum coziness.
What is Thanksgiving, and why is it celebrated?
Thanksgiving, which occurs on the fourth Thursday in November, is based on the colonial Pilgrims' 1621 harvest meal.
In 1621, the Plymouth colonists and Wampanoag Native Americans shared an autumn harvest feast that is acknowledged today as one of the first Thanksgiving celebrations.
For more than two centuries, days of thanksgiving were celebrated by individual colonies and states. It wasn't until 1863, in the midst of the Civil War, that President Abraham Lincoln proclaimed a national Thanksgiving Day to be held each November.
The holiday continues to be a day for Americans to gather for a day of feasting, football and family.
How should I decorate my house for Thanksgiving?
At Thanksgiving, your guests always come first – so think about what you would want and need from the day if you were the visiting party. Firstly, a bit of otherworldly dazzle and the occasional surprise is a great way to take your guest's minds away from work and into the holiday spirit. Welcome them with a wreath or floral display in the entrance hall, and dot low-key elements of fun around the living spaces, or leave little gifts in the guest bedrooms.
The center of your attention should, however, be the dinner table. Think about adding a centerpiece or runner to elevate it from your usual dinner party decor, and include candles or just a little touch of sparkle to create both warmth and the sense of a special occasion.
Ailis started out at British GQ, where a month of work experience turned into 18 months of working on all sorts of projects, writing about everything from motorsport to interiors, and helping to put together the GQ Food & Drink Awards. She then spent three years at the London Evening Standard, covering restaurants and bars. After a period of freelancing, writing about food, drink and homes for publications including Conde Nast Traveller, Luxury London and Departures, she started at Homes & Gardens as a Digital Writer, allowing her to fully indulge her love of good interior design. She is now a fully fledged food PR but still writes for Homes & Gardens as a contributing editor.