Thanksgiving decorating ideas – celebrate the holiday season in style
Host a Thanksgiving to remember, even if it is just through Zoom this year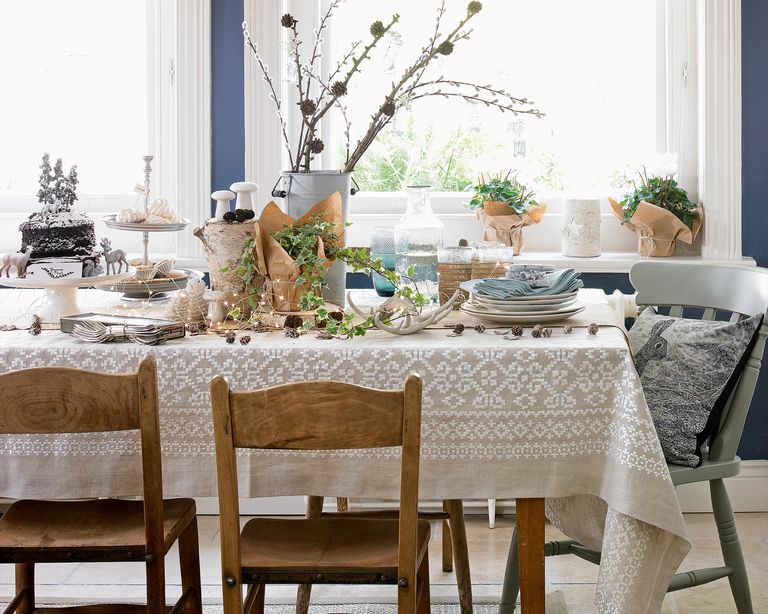 (Image credit: Future / David Brittain)
Thanksgiving this year will be like no other, with entertaining in many households simply impossible. This does, of course, mean that you have the perfect excuse to double down on decorating ideas to make your home look more festive than ever.
Our roundup includes our favorite Thanksgiving decorating ideas – and, as you would expect, they are simply stylish. 
What is Thanksgiving, and why is it celebrated?
Thanksgiving, which occurs on the fourth Thursday in November, is based on the colonial Pilgrims' 1621 harvest meal. 
In 1621, the Plymouth colonists and Wampanoag Native Americans shared an autumn harvest feast that is acknowledged today as one of the first Thanksgiving celebrations. 
For more than two centuries, days of thanksgiving were celebrated by individual colonies and states. It wasn't until 1863, in the midst of the Civil War, that President Abraham Lincoln proclaimed a national Thanksgiving Day to be held each November.
The holiday continues to be a day for Americans to gather for a day of feasting, football and family.
What day is Thanksgiving on?
Thanksgiving is always celebrated on the fourth Thursday in November. This year, it falls on the 26th November 2020.
1. Dress a table fit for entertaining
If you're hosting the Thanksgiving feast this year, you likely have a lot on your to-do list, and between carving the turkey and baking the pumpkin (or pecan) pie, setting the table should be high on your priority list. 
If you are a traditionalist, choose a selection of simple yet timeless decorations that you can use every year. A selection of glassware, foliage and candles should be enough to satisfy most. 
However, Thanksgiving often calls for plenty of seasonal color – think burnt orange, mustard yellows and a warming taupe palette. If you really want to stay true to tradition, a turkey centerpiece is a must – and why not throw in a pumpkin or two.
2. Dress your Thanksgiving table with foliage
Pot plants, foliage cut from the garden – even a wreath you might usually hang on the front door – can all be used to dress a Thanksgiving table. We love the simplicity of this scheme and how brown paper has been used to create a unified scheme.
3. Create a welcoming fall entrance
Opt for a wreath that you can leave up all season long. This one is great for Halloween, Thanksgiving and Christmas, thanks to the faux berries in a fall color palette.
A trio of differently-sized pumpkins only adds to the warm and cozy feel that awaits as you enter. 
4. Warm up by the fire
There's nothing quite like a fire in the fall, when you're tucked up under a cozy throw with the flames flickering from the fireplace. 
Dressing and accessorizing the space around the fireplace can be key to making the best of it. A large fireplace, offset by a symmetrical arrangement of chairs, is a tried-and-tested classic, and makes an inviting setting to sit in front of. 
However, it's not only the fire itself that can add a magical touch – the surround itself can be turned into a fabulous feature to show off to your guests.
5. Set up a drinks' station
Prepare an area for Thanksgiving drinks and nibbles with sparkling fine crystal and glass.
Cover a console table for understated grandeur and set the scene by framing artwork (here made from wallpaper panels) with generous greenery swags.
6. Display a menu
Hang a menu behind the buffet table to animate the walls and to help everyone better navigate the Thanksgiving spread. Then add plenty of pine cones, candles and fresh foliage for interest.
7. Add fall foliage
Beautiful and considered dried floral flowers can really set the tone for festivities,  creating a great atmosphere and helping guests feel welcome. They animate the space and can thrive in the cold climates.
Try bringing  the outside in, foraging for natural seasonal foliage such as pampas grass, pine branches and berried ivy, as well as fir cones and mosses.
8. Decorate with bell jars and cloches
For an incredibly affordable and easy Thanksgiving decoration, put some dried florals or pine cones in a bell jar on a console table or mantel. Faux snow will add to the festive feel, and can work all through the Holiday season.
9. Use a timeless table setting
Create a special setting to gather friends and family together for their Thanksgiving feast.
Team classic country-style furniture pieces – with simple rustic elements, fresh foliage, gathered nuts and feathers for a refined Thanksgiving table that'll let the food and good company do all the talking on the big day. 
10. Create a festive display
Picked from the garden patch or found in farm shops, pumpkins or squashes are a great starting point for creating a seasonal display.
Often associated with Thanksgiving and Halloween celebrations, the humble pumpkin is not just a kitchen staple at this time of year, it is also ideal to display in the home. 
A cultivar of the squash plant, pumpkins come in many shapes, shades and sizes, feature smooth and knobbly skins and are filled with succulent flesh and seeds. 
11. Take your entertaining outside (weather permitting)
Cozy up with your favorite souls in a cocoon of enduring materials, an outdoor wood burner and an abundance of fluffy throws and blankets.
See more outdoor dining ideas – for dining outdoors over Thanksgiving and Christmas.